This article by Chuck Strom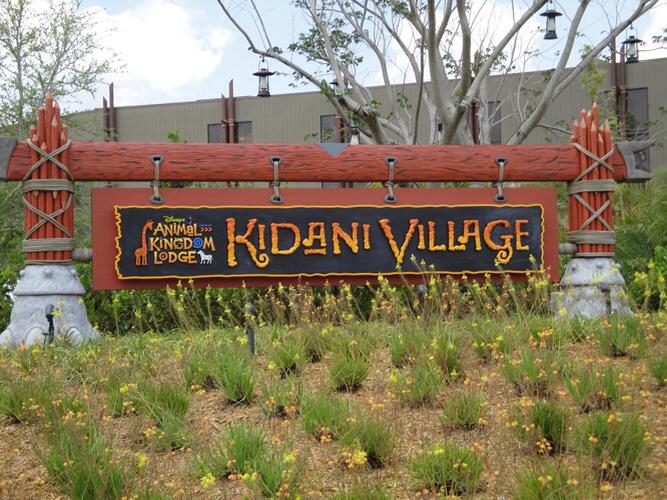 Resort Overview
Disney's Animal Kingdom Lodge is divided into two sections – the Original Jambo House which includes both standard hotel rooms and Disney Vacation Club Villas, and Kidani Village comprised of 324 Studio and one-, two-, and three-bedroom Disney Vacation Club Villas.  Animal Kingdom Lodge was designed by Peter Dominick (who also designed Disney's Wilderness Lodge).  The design is a fusion of African tribal with the architecture of East African national-park lodges.  All of the public areas and most of the guest rooms have views of a private savanna populated with exotic African animals and birds.
Kidani Village itself is a 5 story building in the shape of a backwards 3.  It includes 324 Studio through 3 bedroom units, views of one of two savannas, a pool, and Sanaa, a table service restaurant that features Indian-African Fusion cuisine.  In addition, it includes standard features you would expect at a Disney Resort hotel including a fitness center, arcade, gift shop, and other recreational activities including tennis, shuffleboard, and basketball. There is also a beautiful fire pit just outside the lobby surrounded by comfortable rocking chairs.  The facilities at Kidani Village and Jambo House are available to guests in each section and two areas are connected by a short walking trail.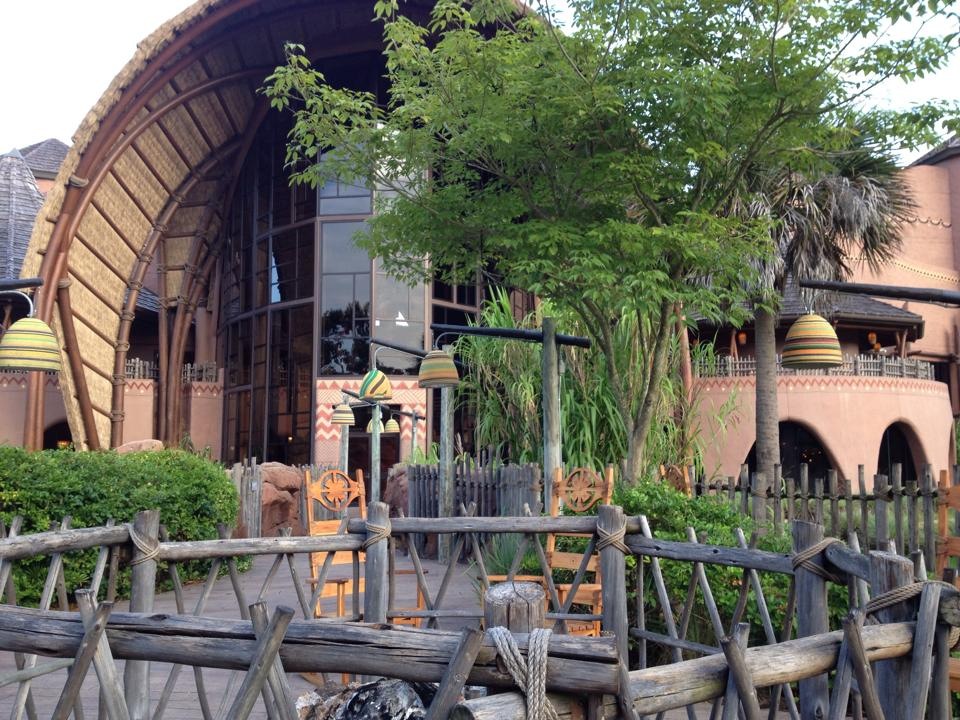 Arrival and Lobby Services
If you arrive from the airport via Disney's Magical Express, you will be deposited right at the entrance to the lobby area at Kidani Village.  Arriving by car or taxi, you will proceed through the security gate (you'll need a photo id) and then drive to the lobby area.  There is a small dedicated parking lot for those checking in.  Look carefully for the check-in parking signs – they can be difficult to see!
Disney's Animal Kingdom Lodge participates in the Online Check-in program which allows you to provide personal information and certain room requests up to 60 days before your arrival.  When you arrive, look for the "Online Check-in" sign near the registration desk and Cast Members will have the resort information packet prepared and waiting for you.  If your room is ready, they will give you the room number at that time, otherwise, they will call or text you with the room number as soon as it is available.  Officially, check-in time at Kidani Village is 4:00 PM, and check-out time is 11:00 AM.
If you haven't checked-in online, proceed to the Registration and Check-In area. The Cast Members will take your personal information, including a card for room charges.  Registration usually proceeds quickly, but during busy seasons, children can play in a nearby area made just for them that includes kid sized furniture and a television that plays non-stop Disney movies.
If you didn't customize and order your MagicBands online in advance, the Cast Members at check-in can get them set up for you.  The Concierge Desk, located to the right of the Check-in area, is the place to go to get Disney World Tickets and dining reservations, if you don't already have them.  Always keep in mind that dining reservations can be made up to 180 in advance online and you are much more likely to get your first choices if you make your reservations before you get to the resort.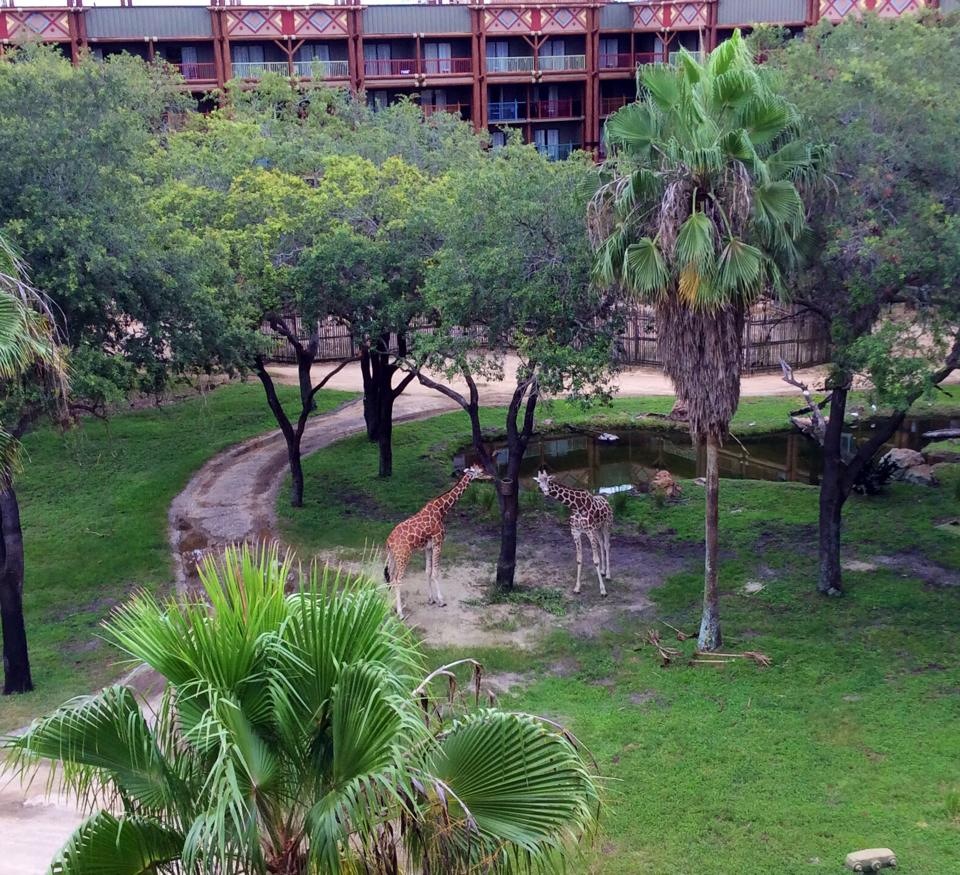 What about the Rooms?
All of the rooms at Kidani Village are quite spacious and can accommodate anywhere from 4 to 12 people, depending upon the room type.  All have a balcony and more than half overlook a savanna with exotic animals and birds.  When making your room requests, you can request a low or a high floor.  Rooms on the higher floors give a more panoramic view of the savanna, but less intimate views of the animals.  Rooms on the lower floors may have a giraffe looking in the window when you awake in the morning, but your sight line may be restricted by trees or rock formations.  The choice is up to you.  Of course, if you'd like to save some money or DVC points, request a room that does not overlook the savanna.  Other than cost, there's no difference in the savanna/non-savanna view rooms and there are plenty of public viewing areas so there's no chance that you'll miss seeing the animals.  Ask yourself how much time you'll spend in the room and how much seeing the animals from the room really matters to you before making your selection.
Studios: At 366 square feet, the Studios comfortably sleep up to four people and include one queen-size bed and one double sleeper sofa.
One-Bedroom Villa: The 807 square foot one-bedroom villa sleeps up to five people and provides a full kitchen, a second bathroom, and a living room.  The bedroom has a King-size bed and the sleeper chair and sleep sofa in the living room provide sleeping accommodation for three additional people.
Two-Bedroom Villas: The 1173 square foot two-bedroom villas sleep up to nine people and include a full kitchen, 3 bathrooms, and a living room.  The Master Bedroom has a King-size bed, the 2nd bedroom has either two queen beds or a queen bed and a sleep sofa, and the living area has a sleep chair and a sleep sofa.
Grand Villas: The 2200 square foot, three-bedroom, two-story Grand Villas sleep up to 12 people.  In addition to the three bedrooms, fully-equipped kitchen, and living room, they also boast 4 bathrooms!  The Grand Villas also have two-story windows in the living room that offer amazing views across the savanna.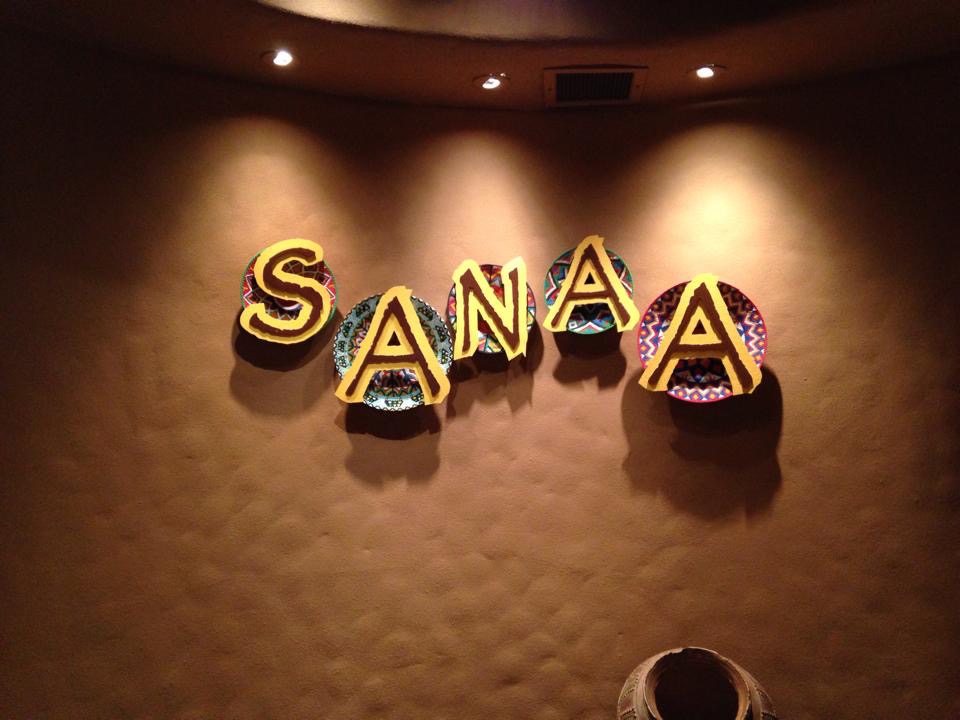 Restaurants and Dining
Sanaa – Kidani Village has one restaurant located downstairs from the lobby. Sanaa offers diners a delicious opportunity to sample a bounty of African-Indian fusion dishes.  The highlight of any meal here is the Indian Bread Service with all the dips – don't miss it!  The restaurant offers a fine selection of wines to go with whatever you choose to eat.  The décor is inspired by African markets but the real draw is the 9 foot tall windows that look out onto the savanna.  Dine on exquisite fusion cuisine and watch as exotic African animals and birds graze by the window. Sanaa participates in the Disney Dining Plan and costs 1 credit on that plan.  Tables in Wonderland cardholders are eligible for a 20% discount on food and beverages (including alcohol).
Pizza delivery is available from Disney's own Pizza service as well as some of the national chains.  Be wary of ads for pizza delivery that are slipped under your room door.  Many times they are scams!  They take your credit card information and then disappear.
Maji Pool Bar, located near the pool, offers a selection of special drinks, beer, and wine and a "grab-and-go" dining options.
Other restaurants, including the Animal Kingdom Lodge counter service restaurant, can be found at Jambo House.
Getting There
By Car – Disney's Animal Kingdom Lodge Resort is just off of I-4 in Lake Buena Vista.  Use Exit 3 – West Osceola Parkway and then follow the Parkway for about 5.5 miles.  For your GPS, the address is
Disney's Animal Kingdom Lodge Resort
2901 Osceola Parkway
Bay Lake, FL 32830
Latitude: 28.353637 North, Longitude: 81.602756 West
From MCO – Orlando International Airport – Disney's free Magical Express Bus service will transport you and your luggage directly from the airport to your Resort and back again for your flight home.
From Sanford International Airport – There are few transportation options from Sanford, unless you are renting a car, and what options there are tend to be more expensive.  Overall, it's about a 40-minute drive from Sanford to Disney's Animal Kingdom Lodge Resort. A taxi from Sanford International Airport to Disney's Animal Kingdom Lodge may cost between $120 and $150, depending on traffic. Mears offers town car service to the Resort for about $140 each way.  For larger groups, SUV and Van service is available for about $190 each way. These prices don't include the tip!  Do the math and you'll likely find that it's cheaper to just rent a car for the duration of your vacation.
What Else Do I Need to Know
If you need a good workout while you're on vacation, Survival of the Fittest Fitness Center is the fitness center and spa at the resort. It's open 24 hours a day.
For shopping, visit Johari Treasures. It's on the right side after you enter Kidani's lobby.  Johari Treasures includes souvenirs, basic personal care and pharmacy items, and snacks.
For a daily fix of video and arcade games, check out the Safari So Good Arcade.
For walkers, joggers, and runners, there's a pretty trail connecting Jambo House and Kidani Village.  Unfortunately, it's only about a half-mile long, so lots of back and forth!  If you want something better, there's a mile long trail that connects all three of the All-Star Resorts nearby that offers a somewhat better option.
A coin-operated laundry facility is located near the lobby.  Cost is about $4 per load to wash and dry.
Visit the nightly campfire and just relax in a comfy chair or enjoy the storytellers.
In-room child care is available.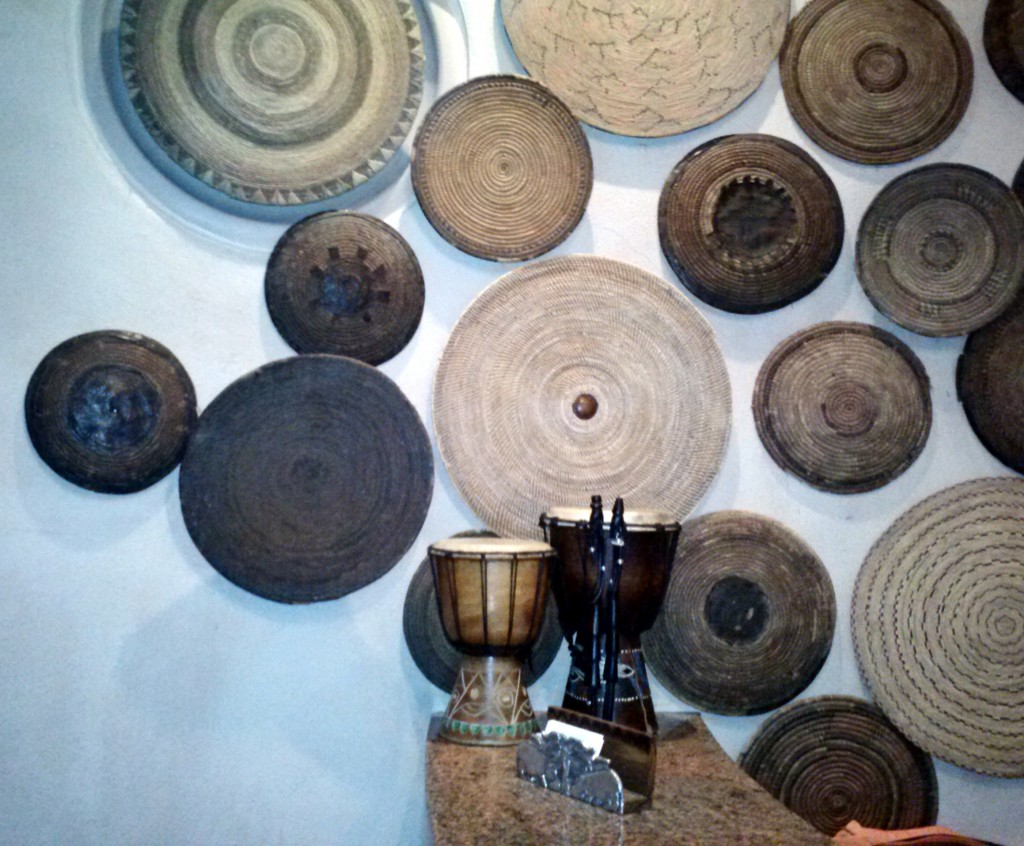 Chuck's Impression of Kidani Village
Kidani Village is a beautiful Resort and I thoroughly enjoyed my stays there.  I would recommend it to anyone, whether you are looking for a romantic getaway for two or a large family gathering, there is something for everyone to enjoy.  Unless you know you will be spending a lot of time in your room, or you want to impress family or friends, or you are taking your children or grand-children for the first time, it is not necessary to pay for the Savanna view.  There are plenty of public viewing areas on all floors of the resort and you can walk out into the Savanna in the camp fire area.  Be sure to try out the dining options here and at Jambo House.  Some of the menu items may fall outside your dining comfort zone, but are well worth the experience.
Full Disclosure:  My favorite Disney Resort in this category (Deluxe Villas) is Disney's Old Key West Resort.  My all-time Favorite Disney World Resort is Disney's Polynesian Village Resort.