Article by Storybook Traveler Holly Averette.
Enchante invites cruisers to "Be Our Guest" for an enchanting meal crafted by 3-star Michelin Chef Arnaud Lallement! Located on the Disney Wish, this adult-exclusive restaurant serves a champagne brunch, an elegant multi-course dinner, and an afternoon dessert experience, the latter of which we will be taking a look at in this article. Let's grab our 24-karat gold silverware and dive right in to take a look at the afternoon offering, Just Desserts!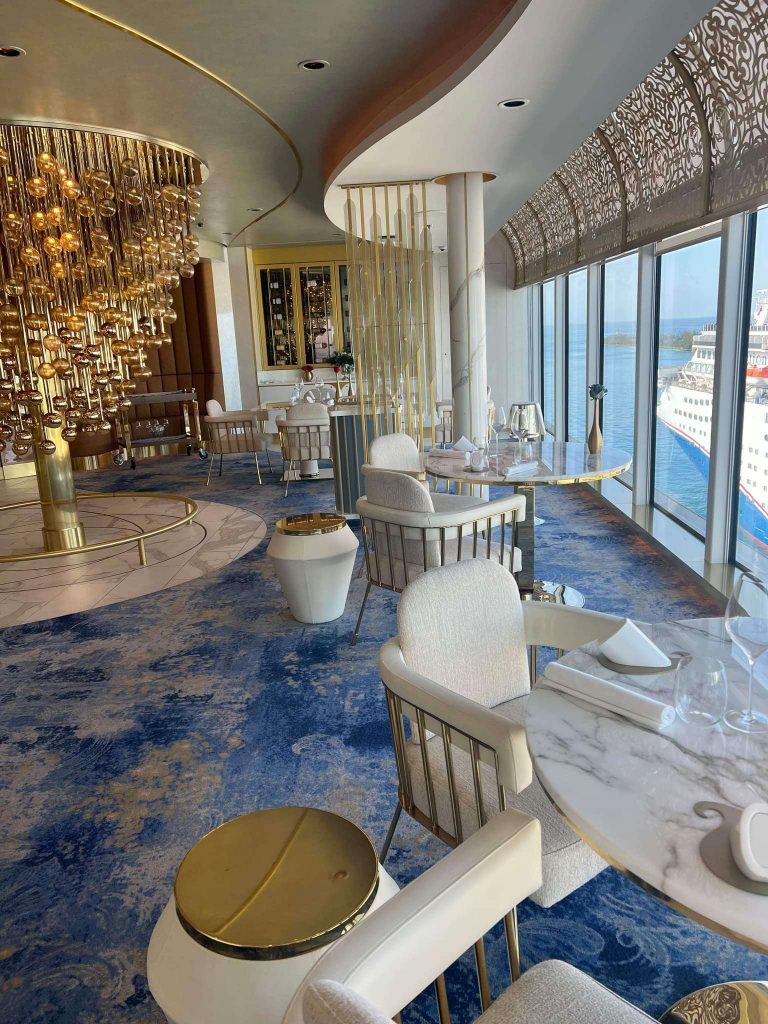 Theming:
I have hidden some clues as to the restaurant theming at the beginning of the article. Did you catch them? If you guessed Beauty and the Beast, you are correct! Inspired by the glittering candlelight and hospitality of Lumiere, your experience begins as you enter the hallway that leads to the restaurant. The dark gray, opulent gold details, and marble surround leads you to an airy but intimate dining room. Windows along one side of the restaurant offers gorgeous views of the sea or local port while the soft blue and white color palette compliments the ocean views.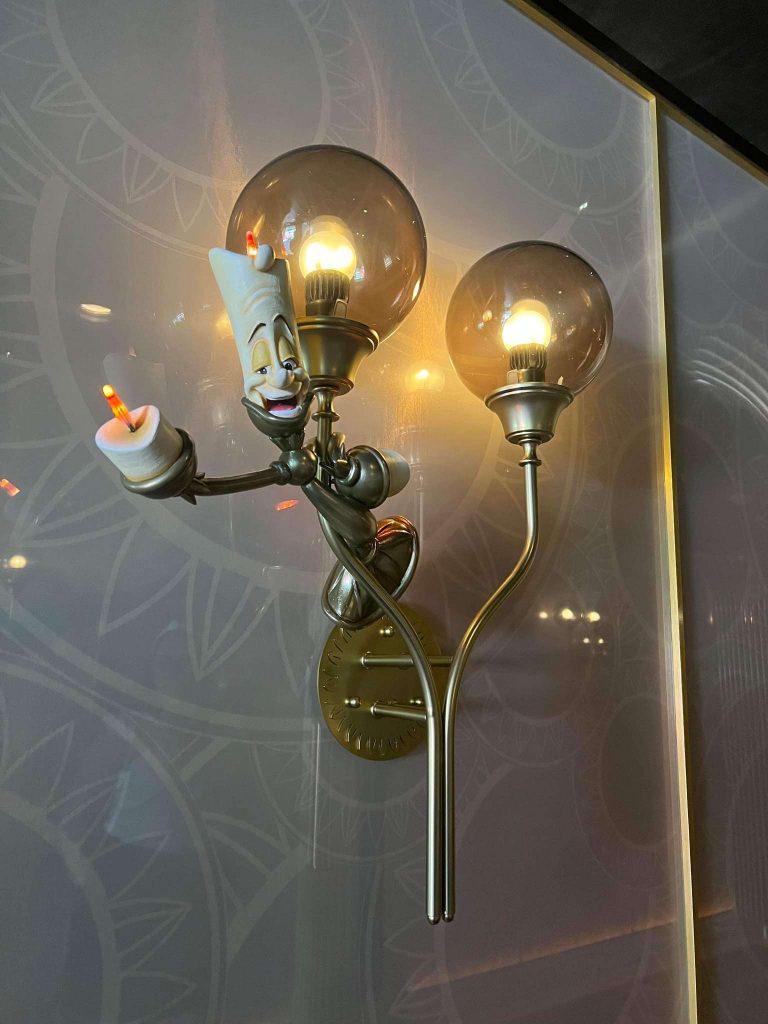 Experience and Food:
The 6-course dessert experience is offered on select days and takes place at 2:00 in the afternoon. It is recommended that you dress "in a manner consistent with the restaurant's sophistication." We opted for casual but still dressy attire for this afternoon event. When we arrived we were greeted and escorted to our table near the window. We were in port this day so we overlooked other cruise ships with Nassau in the distance. I can only imagine how beautiful this view would be while out at sea! After a brief welcome from the host, the sommelier explained the optional wine pairing add on which included 3 glasses, one for each pair of desserts. Prior to the delivery of each course, the host gave a detailed description of each dish. Our first course was the only shared item we had, a tart cut into 4 sections. The shortbread crust was filled with a smooth raspberry filling which was enrobed with a rich chocolate and peanut butter ganache. To top it all off (quite literally) the whole thing was dusted with edible gold dust! Make no mistake, this treat blows away even the best peanut butter and jelly sandwiches!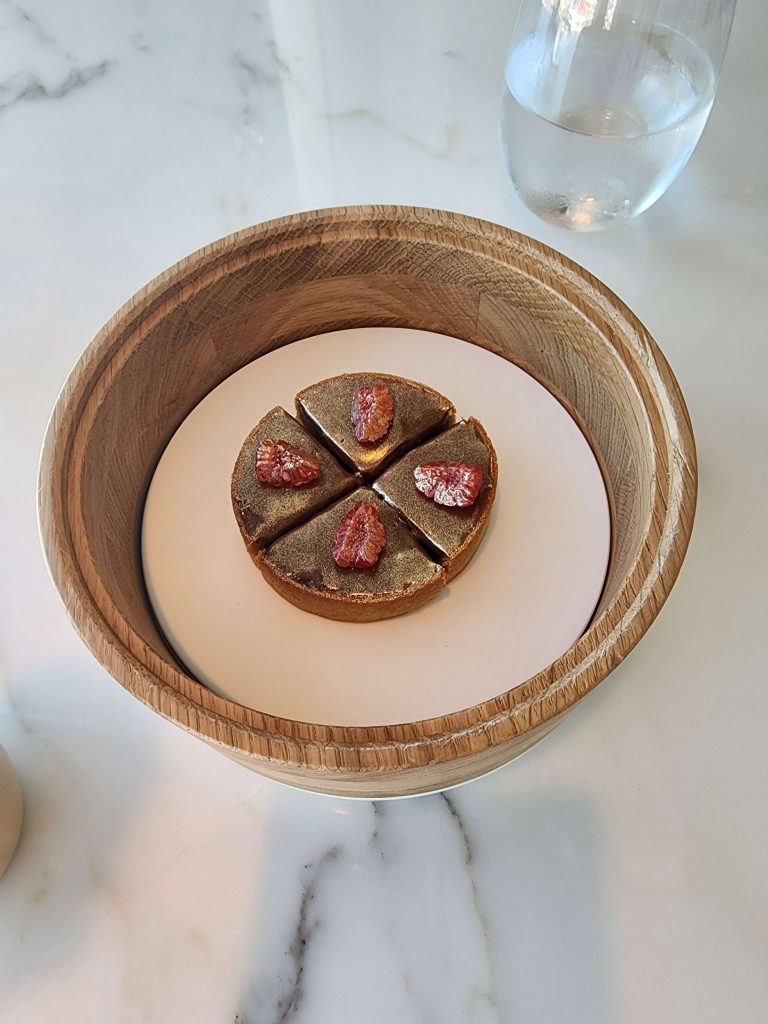 The second dish was an absolute delight! It had a creamy chocolate hazelnut mousse that was topped tableside with hazelnut foam. The entire thing was surrounded by a shortbread cookie with dots of lemon curd, whipped cream, and edible flowers. The flavors and textures worked beautifully together! Next up was a take on a lemon meringue pie. The circular presentation was simple yet eye-catching. The tart lemon filling was balanced well by the sweet meringue and aloe vera foam. Next up was a classic French cake, the fraisier. This version had a delicate sponge cake on the bottom topped with a strawberry gel filling and vanilla creme, all covered in a strawberry glaze. This was served with fresh strawberry sorbet and strawberry compote. Are you sensing a theme with this one? I am admittedly not a huge strawberry fan but this was delicious and so fresh tasting! The first two dishes were nice and chocolatey so the fruit-forward dishes in the middle were a nice break in the experience. Next up was probably the most decadent of the desserts, a take on a chocolate lava cake. The delicate, chocolate shortbread-style crust was filled with a creamy chocolate ganache. A perfectly balanced raspberry sauce was poured over the top tableside. This one had a great wow factor when you cut into it and the chocolate sauce flowed out. This was a rich dessert but it wasn't too sweet and the raspberry sauce balanced the chocolate well.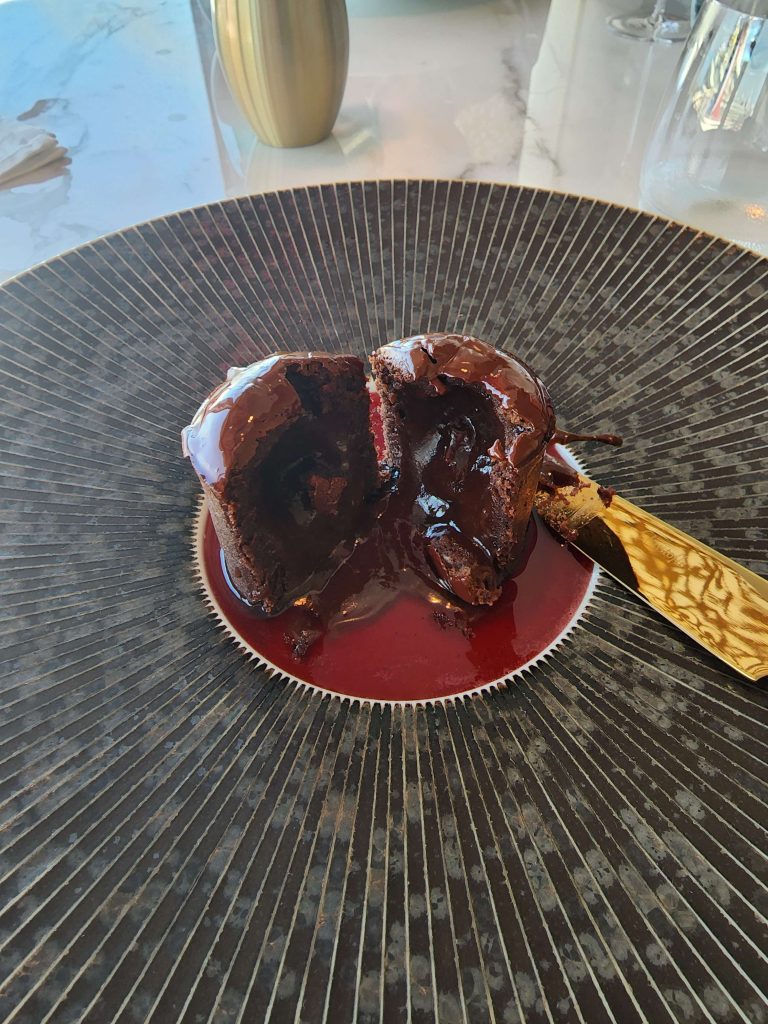 Finally, we ended with another classic French dessert, a slice of pithivier, which is a puff pastry pie filled with an almond cream. This was flaky and buttery and creamy and just plain yummy! Overall, the experience was well-paced and lasted a little over an hour and a half. We could have lingered longer but we were ready to get up and move around a little bit after all those delicious desserts!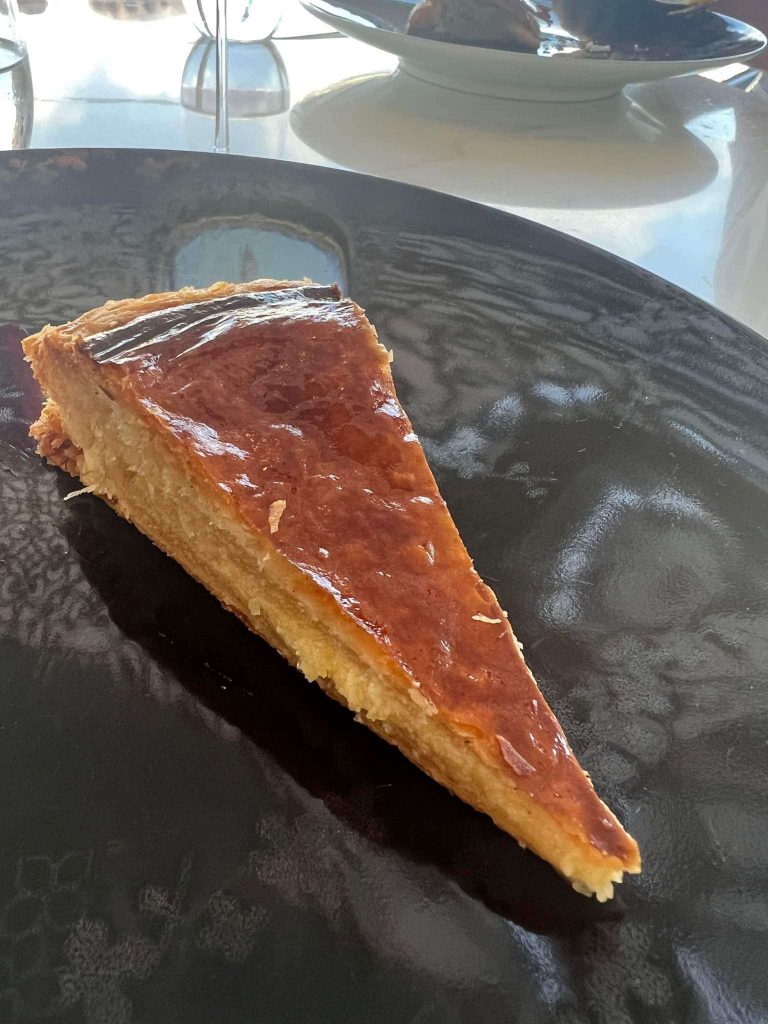 Overall Impression:
I would not consider myself anywhere near a food connoisseur, but I do know one thing for certain, this was such a wonderful experience! Each dish was artfully presented and service was spectacular. So much attention to detail went into this, from the plating to the presentation, even the way each dish was set on the table! I would definitely recommend the Enchante Just Desserts experience to any adult looking for a special or unique experience. While I would never normally consider spending $60 on dessert, the craftsmanship and quality of each dessert was exceptional and easily worth the price tag. The lovely restaurant and quiet ambiance made for a nice escape from the hustle and bustle of the ship. Additionally, the menu does vary seasonally or at the discretion of the chef so I wouldn't hesitate to book this again. Speaking of booking, availability is extremely limited and making a reservation in advance is highly recommended!
Have you experienced Enchate? Let us know your thoughts in the comments!
Article by Storybook Traveler Holly Averette.