Article by Storybook Traveler Holly Averette.
Located on Crescent Lake, Disney's Yacht Club Resort draws its nautical inspiration from the luxurious country clubs of the New England Coast and the quaint resorts that dot the seaside.  The resort opened in November of 1990 and quickly became a favorite among guests because of the convenient location to Epcot and Hollywood Studios. The resort shares many of its amenities with its sister resort, the Beach Club. This article will focus on the Yacht Club, though most amenities, including the famous Stormalong Bay, overlap between the two resorts.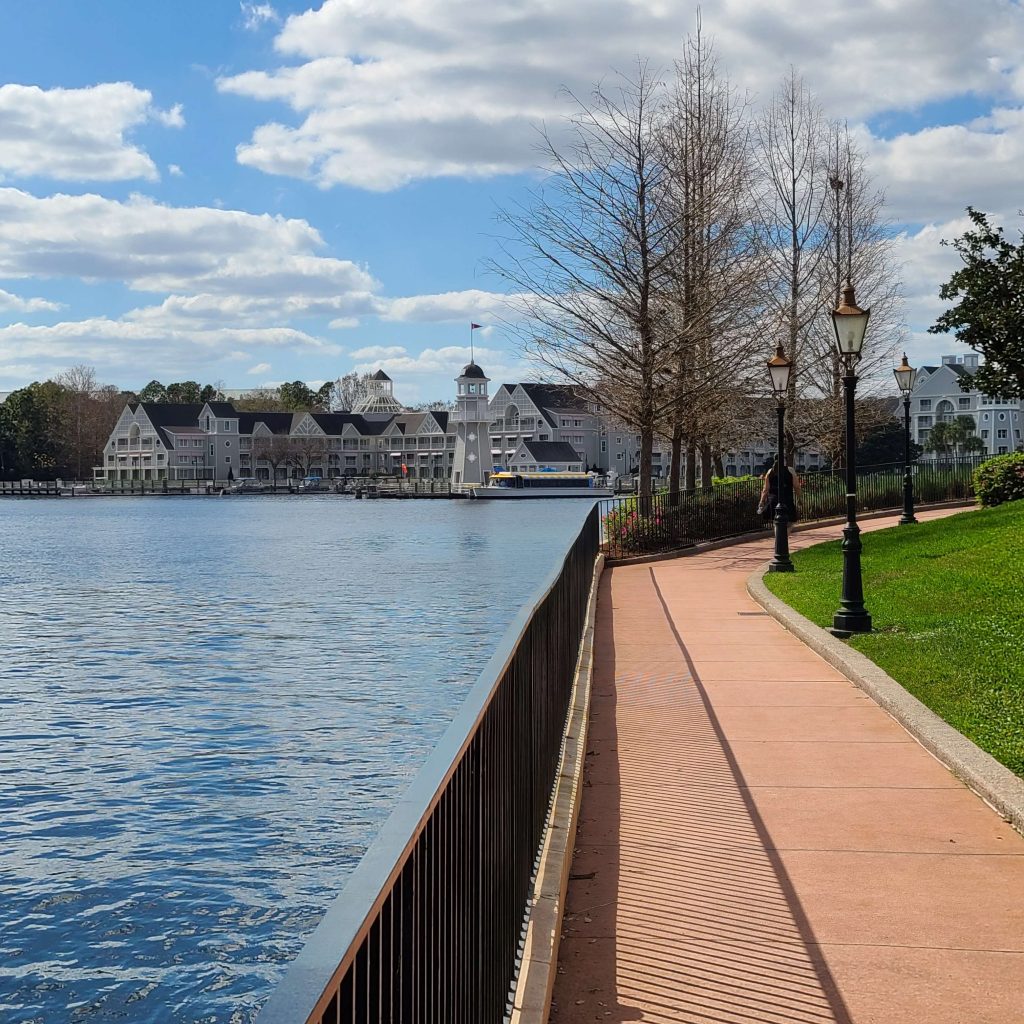 Arrival and check-in experience:
The stately blue-gray color of the 5 story building, the rich wood tones, brass accents, and nautical details welcome travelers as they arrive. If you are arriving by motorcoach via an airport shuttle you will be dropped off right in front of the lobby entrance. If arriving by taxi, rideshare, or private transfer, you will stop by the security gate and confirm you are checking in before proceeding to the lobby entrance. If arriving by personal vehicle you will also need to stop by the security gate. TIP: have your ID and resort confirmation number handy to show the guard. Self parking is complimentary and valet is available for $33/night. Bell services will be available to assist guests with luggage upon arrival and they can hold items until your room is ready. Like other Disney resorts, there is a small kids area with kid size furniture and a TV playing Disney shows or movies to entertain little ones during the check-in process. Alternatively, you may choose to complete online check-in on the app prior to your arrival. Doing this allows you to bypass the front desk and you will receive a text or email notification with your room number when it is ready.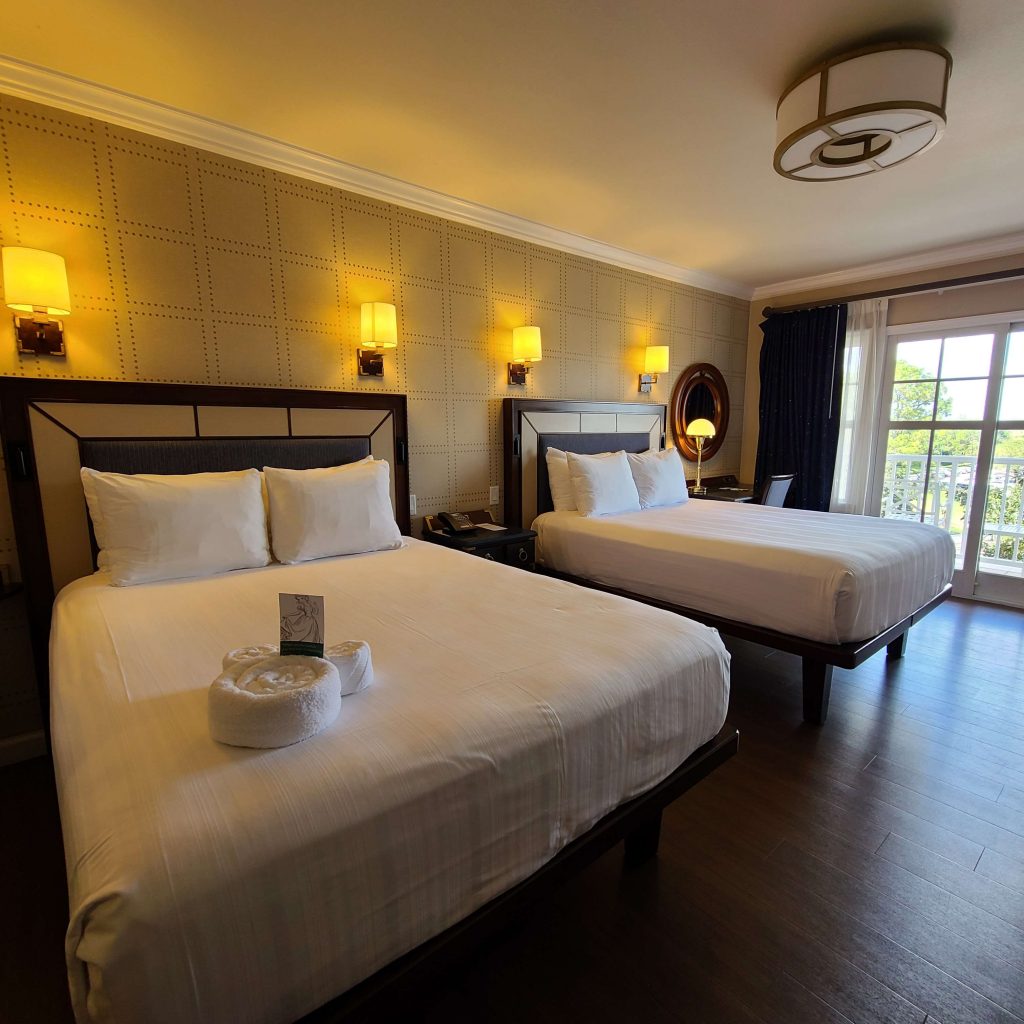 Rooms:
Most guest rooms accommodate up to 4 adults plus one child under 3. Standard rooms measure around 380 sq ft in size, which is slightly smaller than the monorail resorts but similar to the other Epcot area resorts. Most rooms have 2 queen beds, a day bed, and a desk/chair. The desk includes a smaller table underneath that can be rolled around the room if needed. Yacht Club was one of the first resorts to debut the new room designs that included raised beds for additional storage, vinyl plank flooring, and improved closet storage systems. The room is filled with nautical touches, including some cleverly designed curtains filled with fun hidden details! Options for room views include standard (parking lot, rooftop, etc), water, garden/woods, and a king category if you want to guarantee a king bed. There are also various suites and club level rooms available. Room amenities include a hairdryer, shampoo/conditioner/body wash, bar soap, lotion, beverage cooler, Keurig coffee maker with coffee and tea supplies, in room safe, iron and ironing board, and complimentary wi-fi.
Club level rooms and suites are an excellent way to make your trip even more magical! The 5th floor is home to the Regatta Club and most club level rooms. The lounge is staffed by a dedicated concierge team that is available to assist you throughout your stay. The lounge has several food offerings each day including breakfast that serves a variety of continental items and hot dishes, light snacks midday, appetizers in the evening, and desserts and cordials to finish off the night. Select beer and wine are available at dinner time or upon request. Coffee and tea services are available all day as are juice, water, and canned soft drinks. The food options will appeal to most palates and everyone will love the stocked ice cream freezer- all you can eat Mickey bars, ice cream sandwiches, and Olaf ice pops! The lounge has a balcony with additional seating that overlooks the front of the resort and while the view isn't much to write home about, the level of service in the lounge is fantastic!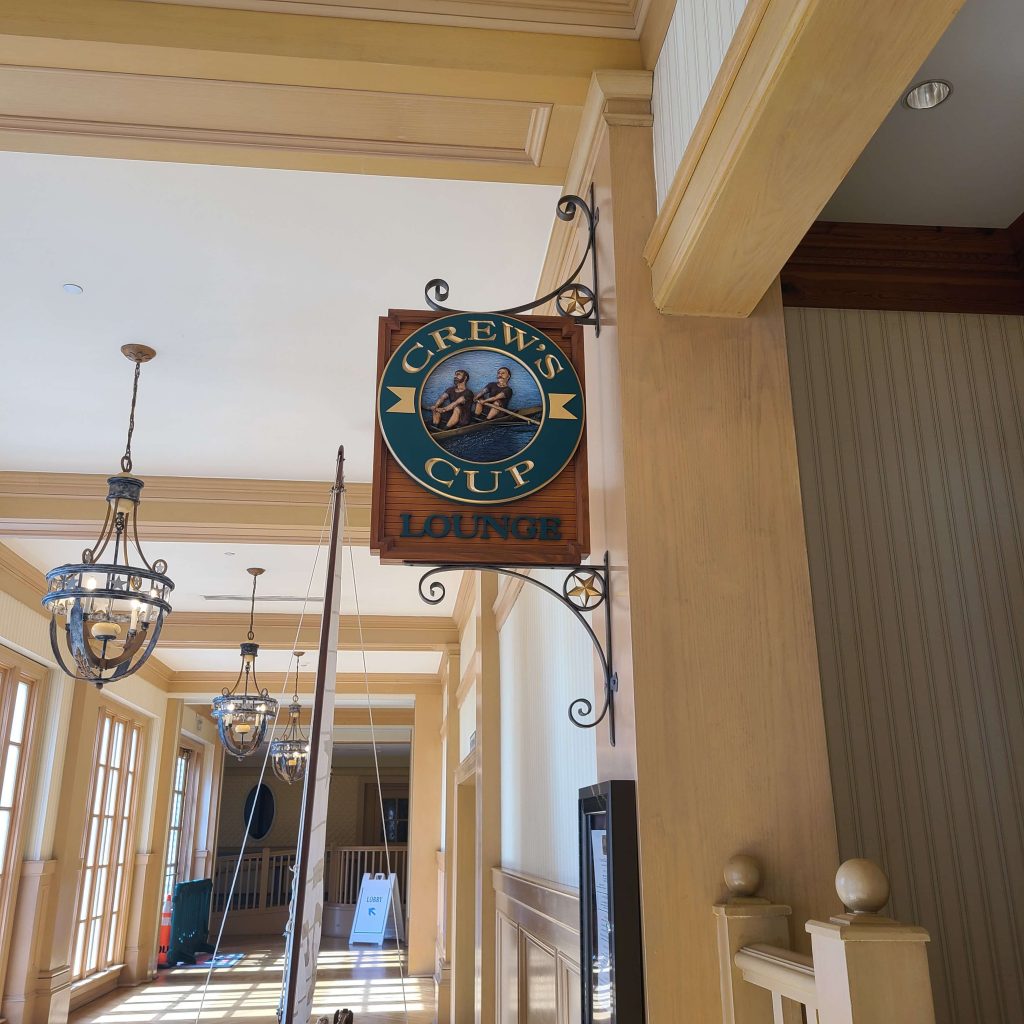 Dining:
Keeping with the New England yacht club theme, you'll find some lovely, hidden gem, dining options at this resort!
Ale & Compass: This cozy, seaside inspired table service eatery serves up three meals a day and is the perfect place to grab a hearty meal to fuel your adventures. Start your day with decadent dark chocolate waffles or shrimp and grits, stop by midday for some yummy fish tacos, or end your day with a steak, pasta, or seafood pot pie. In a hurry? Try the Ale and Compass To Go option! Mobile order your meal and take it back to the room or enjoy it poolside. Stop in the adjoining lounge for a small bite or drink.
Yachtsman Steakhouse: Diners can indulge in a hand cut steak or decadent seafood dish at this signature restaurant. Pair your entree with a variety or steakhouse sides and delicious dessert for a drool worthy experience.
The Market at Ale and Compass: The resort's main quick service is open for meals and snacks throughout the day. The menu features classic American fare, a variety of grab and go/bakery items, and coffee drinks to keep going.
Crew Cup Lounge: Adjacent to Yachtsman Steakhouse, this lounge features appetizers and a variety of drinks and cocktails.
Hurricane Hanna's Waterside Bar and Grill: This poolside retreat serves up classics such as burgers, sandwiches, and snacks alongside a selection of alcoholic and nonalcoholic beverages.
Guests also have easy access to the dining options at the Beach Club Resort- Cape May Cafe, Beaches & Cream Soda Shop, Beach Club Marketplace, and Martha's Vineyard Lounge.
PRO TIP: Stop by the Beaches and Cream to go window and grab an ice cream treat to enjoy while by the pool. You can order any of the ice cream sundaes (with the exception of the Kitchen Sink) off the regular Beaches & Cream menu!
Recreation:
Recreation options abound at Disney's Yacht Club Resort! For many, the biggest draw is the incredible pool complex, Stormalong Bay! It's the largest pool on property, so big that it's actually considered a mini water park! You can check out more about the pool area in the article 5 Things to Know About Stormalong Bay! Each night the resort hosts a marshmallow roast campfire over on the Beach Club beach and movies under stars on the Beach Club Lawn. You'll also find tennis, pickleball, and volleyball courts for the sports enthusiast along with the Lafferty arcade for even more fun. Runners can enjoy a picturesque jog around Crescent Lake. Speaking of Crescent Lake, you may also want to check out the fishing excursions or motorized boat rentals for a fun day out on the water! Cap off your day with a Private Fireworks cruise (fee applies and advance reservations required) to watch the Epcot nighttime spectacular. You can check out details for the private fireworks cruises in this Enchanting Extras Spotlight article!
PRO TIP: The pool can get crowded, especially on hot days. Plan to arrive when it opens or visit during off peak times such as dinner or in the evenings.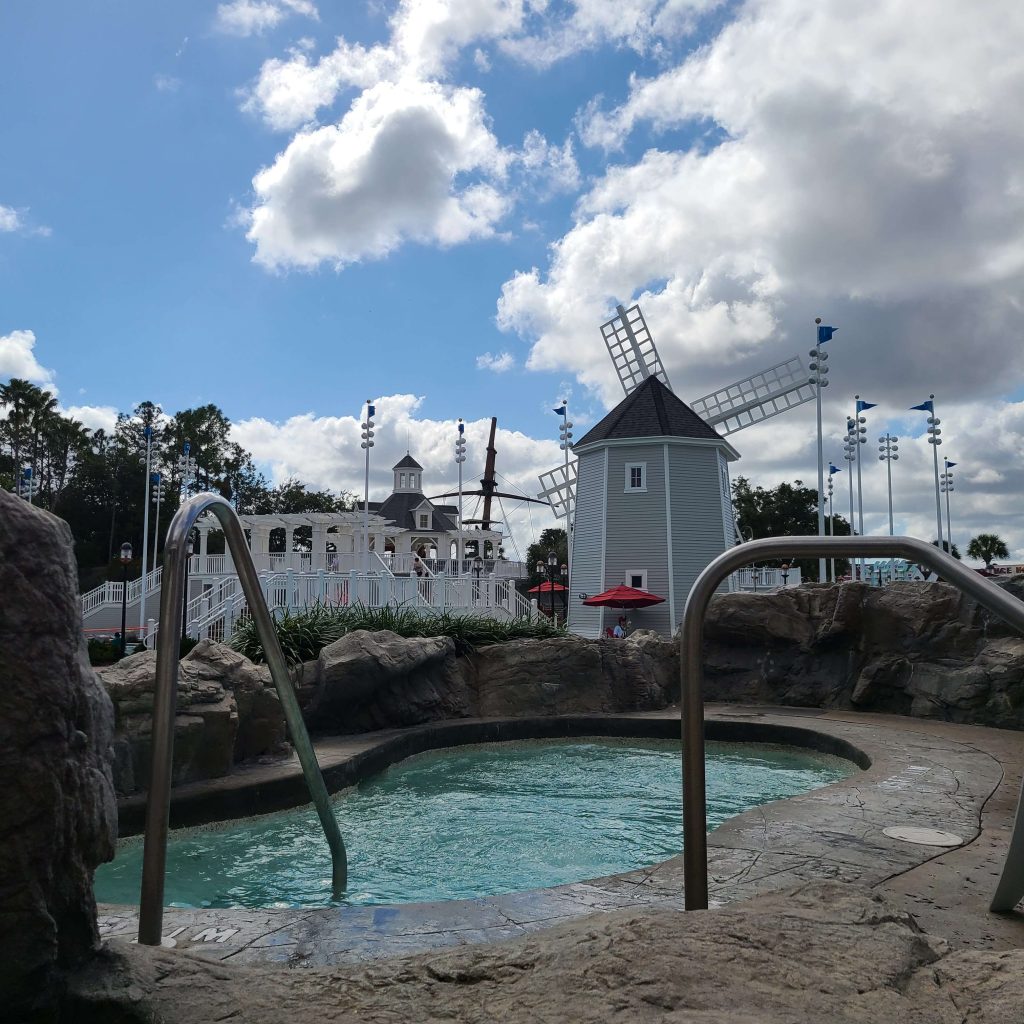 Pros and Cons:
Pros:

Refined, relaxed feel. Can be quieter than its sister resort, the Beach Club.
Boat or walking access to two parks- Epcot and Hollywood Studios.
Good dining with options that will appeal to most people.
Fun pool area!
Guests staying at deluxe resorts have access to extended evening theme park hours on select nights each week. It's like having a private after hours event!
Cons:

While the pool area is amazing, it is very large. This may be stressful or less than relaxing if you have little ones who are always on the go.
Some may miss the lack of a traditional quick service restaurant here. The Market at Ale and Compass is quite small and options are more limited than some other resorts.
Agent Impressions:
I love the ambiance of the Yacht Club. It feels tucked away but it's also right in the middle of the magic! You are just steps away from Epcot and a quick boat ride (or walk) away from Hollywood Studios. That convenience is so nice, especially when traveling with kids. Because of its close proximity to the other Epcot area resorts, entertainment and dining options are plentiful. I love the modern, nautical room design- it's well thought out and functions well. The hidden character curtains may be one of my favorite room details across the property! If you are looking for convenience and plentiful entertainment options, this is an excellent resort choice!
Let us know your thoughts on the Yacht Club in the comments! Is it your go to or on your must stay list?
Article by Storybook Traveler Holly Averette.