This article by Tanner Gamble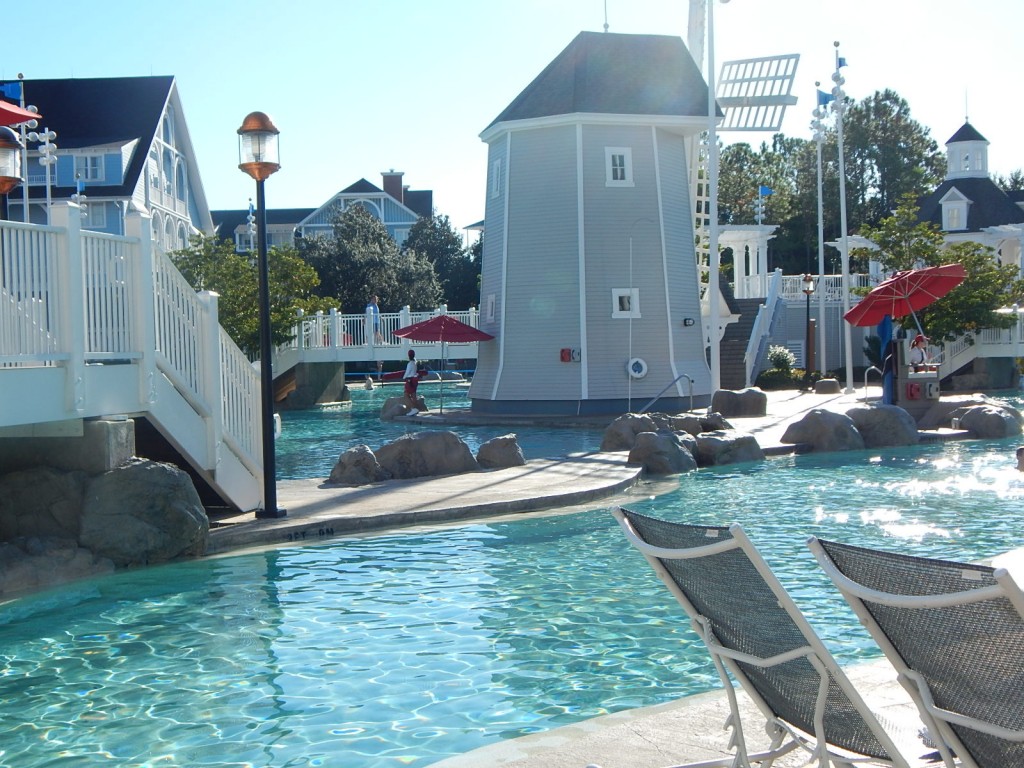 It's important to pack your swimsuit whenever you visit Walt Disney World.  Though the weather can be cool certain times of year, there is always time for a quick swim in the evening or a full day by a Walt Disney World pool.  Most pools are also heated, but be sure to have a towel close by if you emerge in cooler weather.  Though every pool at Walt Disney World has much to offer, Stormalong Bay at the Yacht and Beach Club is truly exceptional!  Here are some reasons everyone should cool off in the waters of Stormalong Bay:
SIZE – This pool is huge with 750,000 gallons of water! You really do need a map to find your way around this pool.  If you are traveling with young children, figure out the best place to park your things so you can keep everyone in view.  If you are planning to use the slide or give the kids time in the sand, make your choices accordingly.  (More on that later)  This place really is big – so be sure to spend a little time figuring out where everything is.  There are lifeguards present, but designate a meeting place just in case.
SAND – This is more than a pool.It wouldn't be the Yacht and Beach Club without sand.  Bring some shovels and other items to make sandcastles on the island of sand in the middle of the pool.   Water depth is very shallow in these areas so it's great for kids (and the grown up kids too) to lie in the water and soak up some rays.
FOOD – It's a scientific fact that pools make you hungry. "Hurricane Hanna's Waterside Bar and Grill" is a great place for a full meal or a light snack.  My personal favorite is "Beaches and Cream" which is only just a few steps away from the pool.  It's best to grab a reservation here or you can get a to-go order.  They have a variety of sandwiches and burgers, but they are known for their ice cream.  Try one of their many sundae varieties, or go all in for the "Kitchen Sink".  This giant pile of ice cream will serve more than four people, so bring your appetite.  Join the "I ate the Kitchen Sink" club on your next trip!
SURPRISES – There are some surprises at Stormalong Bay as well.How about a fun game of water volleyball or basketball? There is also a whirlpool where you can spin around for hours.  How about a lazy river inner tube ride?  Now that's relaxing!  Be advised that the lazy river is deep at 8 feet so be sure to use a complementary life vest.  The biggest surprise of all – spoiler alert – the bottom of the pool is sand!  That's a bonus treat for tired feet at the end of a Disney day.
SLIDE – The longest, wettest, wildest slide on any Disney resort will not disappoint!It's 150 feet tall!  Walk across the path to the large shipwreck.  You will climb a spiral staircase to a nice height where a cast member will let you know when you can begin your ride.  (Note that there is also a very shallow pool in this area which can be a great spot to avoid the crowds.)  Don't take anything with you on this ride – those sunglasses will disappear in the sand (I speak from personal experience, but that's another story).  If your family is planning to spend time on the slide, find some chairs nearby this area.  Check out the walk to the shipwreck together if you have younger children so everyone knows where to go and keep an eye on them.  It is a guarantee that this slide will be a family favorite.
After you cool off in the pool, you are steps away from Epcot and the Boardwalk area, a hidden gem for sure!  What's your families' record on the Stormalong Bay slide at Disney's Yacht and Beach Club?  Start planning your trip now and contact me today!