Article by Storybook Traveler Jennifer Arnold.
It's half way to Halloween!
Halloween season is one of my family's absolute favorite times of the year to visit Disney!   The parks are decorated for fall, special events are taking place, and the coolish air is moving in!
What attraction epitomizes this time of the year?  That has to be the iconic Haunted Mansion!
Tale of Two Coasts!
When someone mentions The Haunted Mansion, many immediately think of Disneyland and Walt Disney World and their somewhat different Mansions.  These were the first two Haunted Mansions to be created, however, Disney enthusiast are sure to remind you that there are Mansions of various types at several of Disney's international parks as well.  For today, let's just focus on the first two located on the West and East Coast of the United States.
The Haunted Mansion has a rich history with the original Haunted Mansion first welcoming guests in 1969 at Disneyland in beautiful Southern California.  East coast guests didn't have to wait long for a second Haunted Mansion to materialize.  In fact, Walt Disney World's Haunted Mansion opened in 1971 as an opening day attraction at Magic Kingdom.
When visiting the Mansion, whether you are on the West or East Coast, you will instantly see a difference from the exterior look of the attraction and its grounds.  A lot of this can be attributed to the Mansion's location in different areas of each park.  In Disneyland, The Haunted Mansion is located in New Orleans Square and has a stately southern mansion design.  However, in Walt Disney World, The Haunted Mansion is found in Liberty Square.  Here, a southern mansion just wouldn't fit!  So instead, Imagineers took inspiration from the Gothic Revival designs of estates, such as upstate New York's Harry Packer Mansion, to create the foreboding Mansion that sits along the Rivers of America today.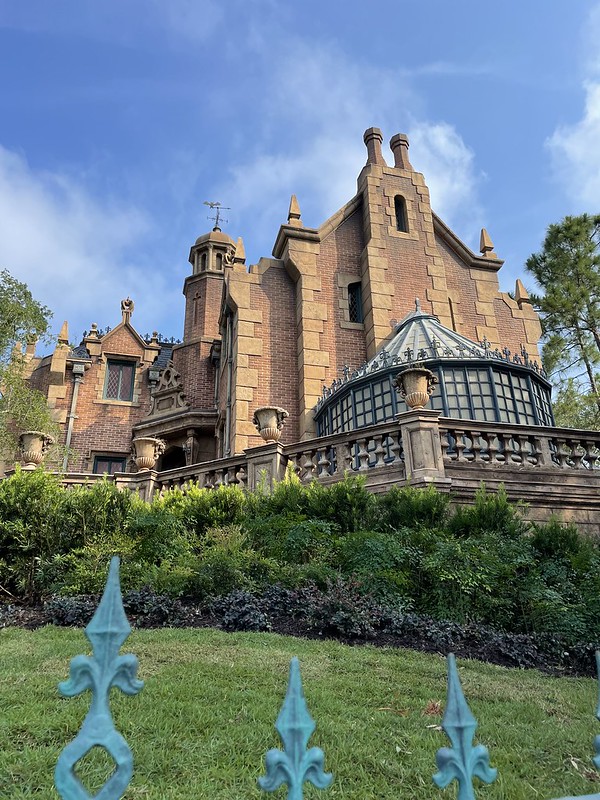 When experiencing this attraction, aside from the look of the exterior of the Mansion and its location in the park, there are several other noticeable differences that can be found inside the attraction.
In Disneyland, for the Stretching Room sequence an elevator is part of the design and guests actually move down in the elevator as the room stretches.  This adds a great touch to the experience and really gives you a feel that the room is stretching.  However, in Walt Disney World, the floor doesn't move and an elevator is not present.  Instead, the ceiling of the room moves as the portraits stretch.
Another notable difference at Walt Disney World, is that there are actually additional rooms in the attraction.  Rooms found in Florida that are not present in California include the Library, Conservatory, and Endless Staircase room.  A keen eye will spot some of the elements of these rooms throughout Disneyland's Haunted Mansion but only in Walt Disney's World's Mansion can you experience the full separate rooms as part of the Mansion experience.
A difference at Walt Disney World that won't be missing for much longer, is the presence of the iconic Hatbox Ghost at Disneyland.  The Hatbox Ghost was a ghost that first appeared for a very short time in Disneyland's Haunted Mansion in 1969 but vanished.  Through the years, the Hatbox Ghost became somewhat of a legend and many thought a possible myth.  However, detailed research by Disney and Disney fans found that the ghost was in fact present at the very beginning but removed from the Mansion within days of his first appearance.  To the delight of many, he reappeared in Disneyland in 2015 and has been a part of that Mansion ever since.  In 2022, Disney announced that he would be coming to Walt Disney World in 2023!  Although he has not yet appeared yet this year, many Mansion enthusiasts can't wait for this to happen!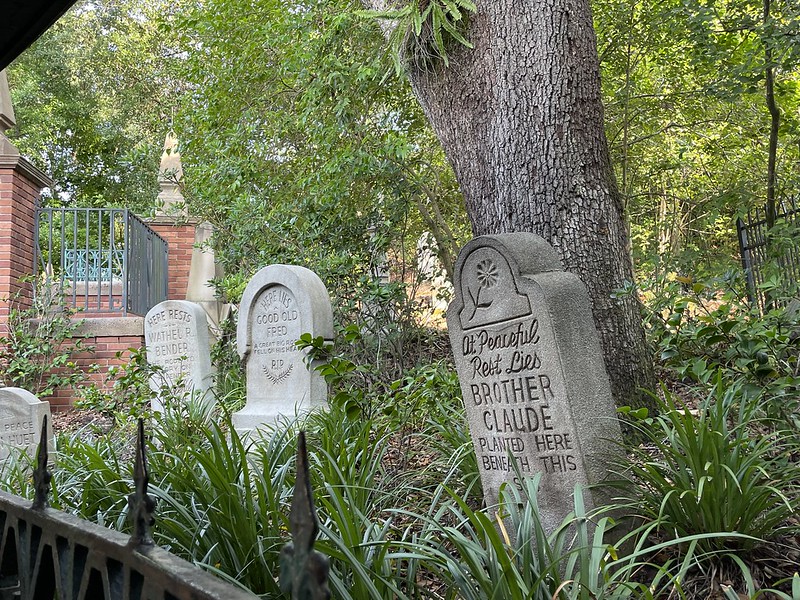 Are you brave enough to visit the 999 grim grinning ghosts?
For some, you may giggle at the thought of thinking you have to be "brave" to experience Disney's  Haunted Mansion.  Although the Mansion may loom eerily in the distance, the attraction, for most, is a playful approach to a haunted house with its classic animatronics and innovative illusions and effects.
As an adult, this attraction is one of my all time favorites and a must do over and over and over again on every trip.  However, a word of warning, if you have a little one that doesn't like the dark this may not be the ride for them.  If you a member of your party perhaps is on the fence about this attraction and willing to try, I'd suggest riding during the daytime hours.  This is especially a good idea as you start approaching the Halloween season.  Evening rides at this attraction can be a bit overwhelming for those nervous to ride especially if you end up with a large group that wants to join in with the scream in the stretching room.  If your little one or even a big one decides that this ride is a no go after moving through the Stretching Room, fear not, just let a Mansion Maid or Butler know immediately after you exit the Stretching Room and you can quietly slip away through a side entrance before boarding a doom buggy.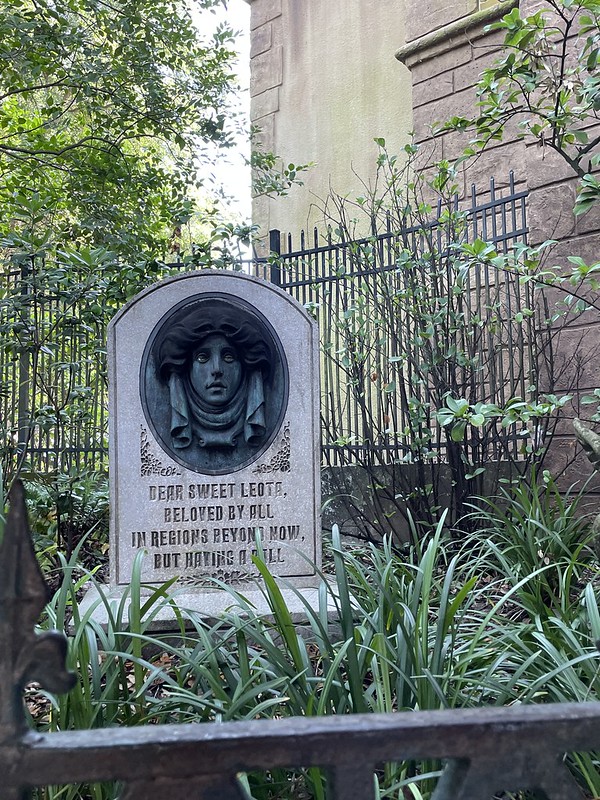 Ready to board a Doom Buggy?!?
Since the introduction of Genie+, wait times have seemed to be longer than in previous years with peak wait times at 45+ minutes or more depending on crowd levels and the time of year you are visiting.  Some guests can be caught off guard by the popularity of this ride and it's good to note that if you have decided to purchase Genie+, reservations for Genie+ normally book up by mid day, depending on crowds.  For standby wait guests, riding in the morning can allow you to experience the lowest waits but I can't stress how much fun it is to ride at night.
We often ride late at night as our last ride of the day.   If you can catch the crowds just right, we've had times where my family would ride, jump off the ride and immediately ride again with little to no wait.  For my family, "closing the attraction" for the night as some of the final guests or perhaps even the final guests of the night is always a great experience.
One tip, if you see a wait time of 13 minutes, jump in line!  13 minutes is a not so secret code that the ride is basically a walk on!
Special times to visit the Haunted Mansion!
At Disneyland, this attraction sees especially long lines during the annual Nightmare before Christmas overlay!  It's a not to be missed experience though and I highly recommend taking the time to visit especially for this overlay!  This special overlay has happened annually and typically appears from September through December each year allowing guests celebrating Halloween and Christmas celebrating the seasons with this unique experience!   Each year there are changes and there is so much to see during this overlay!  You can ride again and again and probably not notice all the different special touches.  If you visit, don't miss the incredible gingerbread house in the ballroom created each year as a unique center piece at the Mansion!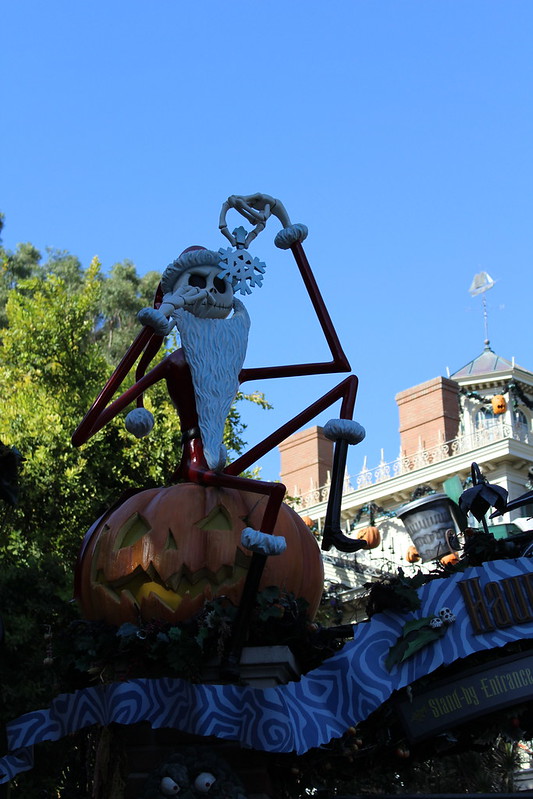 If you're vising Walt Disney World, riding The Haunted Mansion is a must do especially if you're visiting during Mickey's Not So Scary Halloween Party.  During the party, the attraction is bathed in eerie green and purple lights with smoke billowing out of the graveyard and throughout the grounds.  At special times during the evening, you can find Madame Carlotta and Madame Renatta telling stories in front of the Mansion.  Plus, PhotoPass photographers are often on hand taking frightfully fun magic shots with the hitchhiking ghosts or even The Haunted Mansion ground keepers lantern.  If you're not visiting during the party, stop by just before the party starts.   If you're lucky, sometimes you will find PhotoPass photographers taking a few hitchhiking ghost photos before the hard ticketed event begins.
More ways to experience Mansion at home when you're not at the parks!
Looking for more ways to immerse yourself in the Haunted Mansion or perhaps introduce a little one to the ride before your visit?  Through the years, Disney has released various items for those want to experience a little piece of the Mansion magic while at home.
A few years back, a five-issue comic book series was released by Marvel Comics under the Disney Kingdoms line.  The series first launched in March of 2016 and concluded in July of that year.  At the time, copies of the comics could be found in the parks and online.  However now, the series is more of a collector's item and are often only available on resale platforms.  These comics bring the attraction to life and offer an extra layer of fun to any Haunted Mansion fan's collection.
For the younger ones and those young at heart, Disney also released a Little Golden Book of The Haunted Mansion as part of its 50th Anniversary Celebrations in 2021.  In this book, you can join the Ghost Host and explore the rooms of the Mansion.  This book is still in print and is more easily found online and even in many stores that sell Golden Books.
For those a bit older, Disney has released a series of four books, Tales from the Haunted Mansion: Volume 1 – 4, offering several short stories per booked and based off the attraction.   Many compare the level of horror in these books to the Goosebump series offering more of a fun fright than a gruesome tale.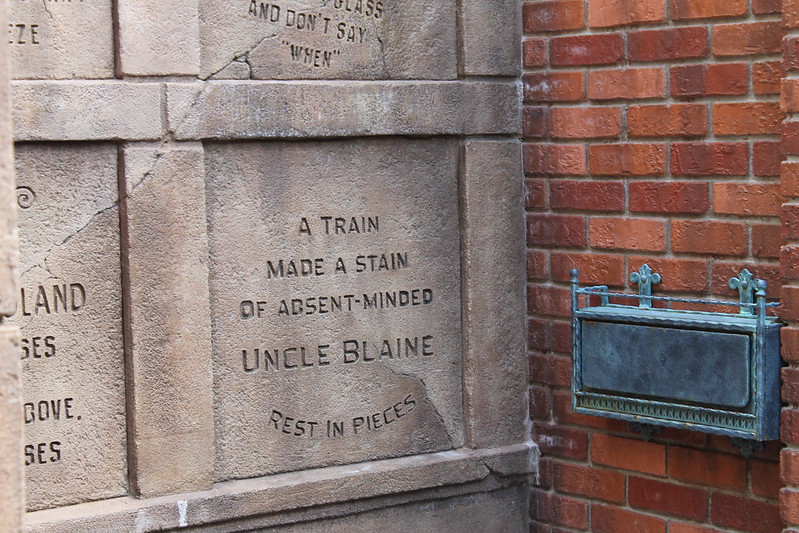 Does your family like to play games?  If so, check out Funko's Disney The Haunted Mansion – Call of the Spirits which is great for ages 8 and up.  Although the instructions can be a little complex, this is a fun game night addition that will introduce players to the Mansion.
Maybe you're looking for something to watch?  If you have Disney+, there are some great options for those missing the Mansion.
If you like documentaries, explore the Behind the Attraction series!  In Season 1 Episode 2 of this series, you'll find a behind the scenes look at The Haunted Mansion.
If you're looking for a movie, maybe check out The Haunted Mansion movie.  Released in 2003, this silly and fun movie stars Eddie Murphy as a realtor who with his family, must escape the Mansion and its residents.
Still another option and a great mashup, is the newer Disney+ release, Muppets Haunted Mansion.  My family loves this movie and although it was originally released in 2021 for Halloween.  We enjoy watching it, no matter the season.  This Halloween based comedy is so much fun!  Here you find many of the gags and songs from the Mansion as you join Gonzo and Pepe as they are challenged to stay in the Mansion for one night!
If you're looking for even more!  Soon Haunted Mansion fans will be able to even experience a new movie!  Coming in July 2023, previews suggest that this movie may take a scarier but still fun approach to the Haunted Mansion.
Article by Storybook Traveler Jennifer Arnold.