Article by Storybook Traveler Jennifer Arnold.
Disney offers something for nearly everyone and this includes offering some very fun and uniquely themed bars and lounges throughout the property.
Today, let's look at my personal Top 10 Walt Disney World Lounges and Bars!
Number 10…
AbracadaBar at Disney's BoardWalk
Step back into the 1940s at this magician-themed cocktail lounge located along Disney's Boardwalk.  Small touches throughout the space give you a hint at the mysterious backstory of the magicians and their assistance.  Here they would gather to explore new tricks and share drinks but one day they simply disappeared, never to be seen again.
The bar has several unique cocktails named for magic including one named simply the Pepper's Ghost.
Number 9…
The Enchanted Rose at the Grand Floridian Resort and Spa
If you're a Beauty and the Beast fan, this location is a great stop!  The details are subtle and elegant!  From the golden chandelier, inspired by Belle's ball gown, to the formal library evoking the surroundings of Beast's castle with its baroque design and whimsical garden touches, this is a great place to relax and just enjoy the beautiful space.
Looking for a few cocktails that add to your Beauty and the Beast vibe, try the Floral Bitter Beauty.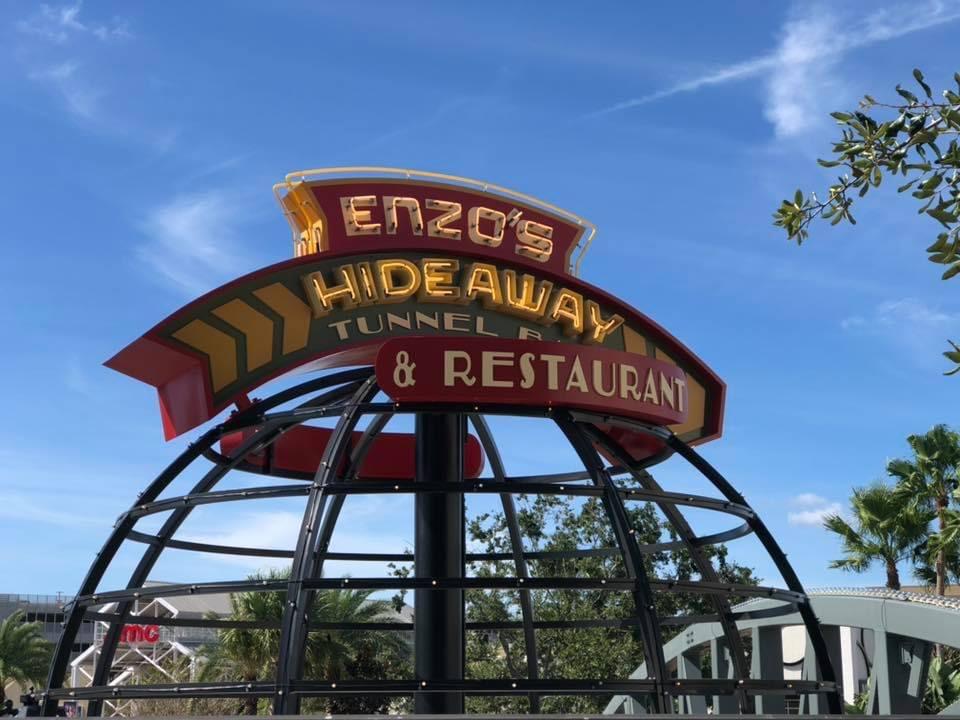 Number 8…
Enzo's Hideaway Bar at Disney Springs
This somewhat hidden location in Disney Springs pulls you back to the 1920s.  With its intimate speakeasy vibe, you enter a nondescript door and go through the tunnel to the bar and restaurant.  As you make your way through the space, keep an eye out and you will find touches here and there offering a glimpse into the history of those rum-running days.  This location is known for its prohibition-era cocktails but don't miss the delicious menu at the restaurant.
While here, relax and enjoy the atmosphere and drinks but before you leave, take a minute to find the secret passage over to the Edison!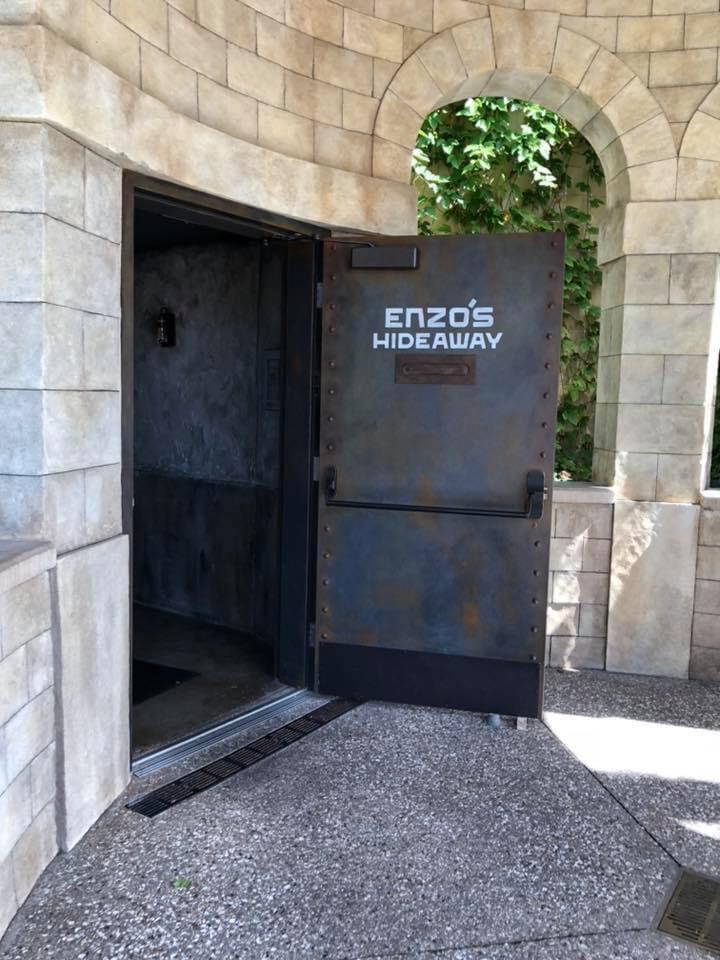 Number 7…
Tune-In Lounge at Hollywood Studios
Step back to the 50s and enjoy some retro fun at this little lounge.  Hidden between two restaurants, 50's Prime Time Café and Hollywood and Vine, it's easy to miss this location but it's definitely a place to stop.  With its small bar and seating areas in 1950s living room themes, Tune-In offers a relaxed atmosphere with several unique drinks including Dad's Electric Lemonade and Mowie Wowie (both include a souvenir glow cube).
Number 6…
Rose and Crown Pub in the United Kingdom pavilion of the World Showcase at EPCOT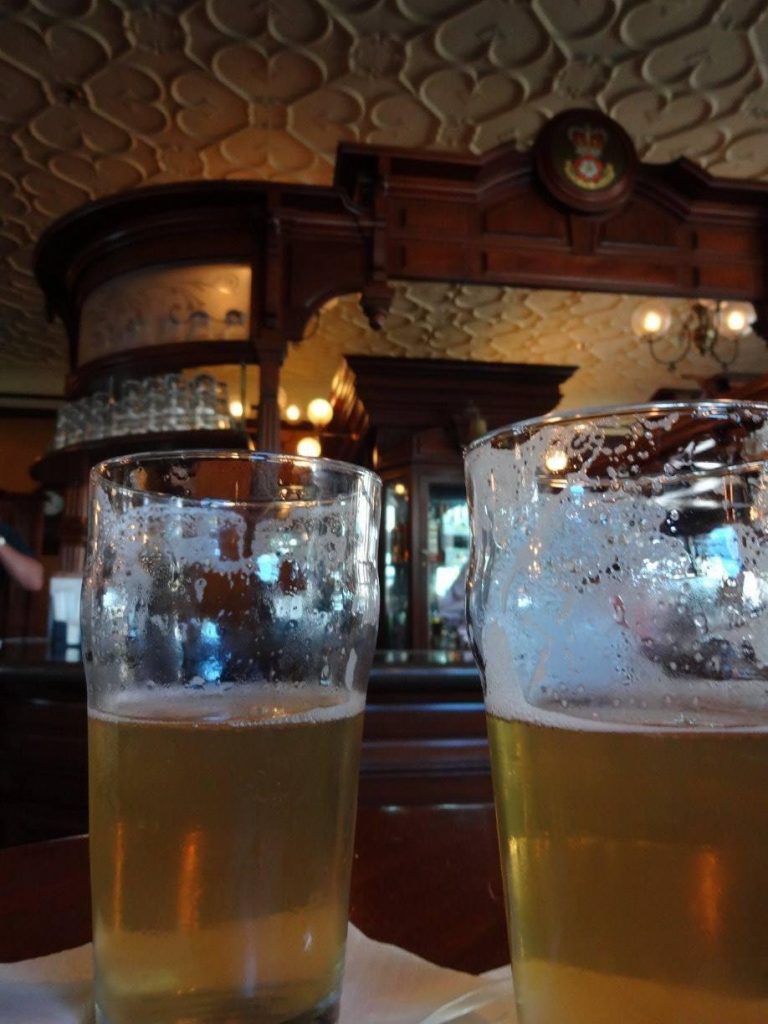 This pub is a must-do stop for me on every trip!  Designed as a beautiful British pub, take a moment to take in the detail of the beautifully decorated bar.  With its extremely limited seating and small space, this location can get a little loud and very crowded.  There are many drink options but I personally enjoy the pub blends including the Snake Bite with half cider and half harp lager or the Black Velvet with half cider and half Guinness stout.  It's great to have a pint at the bar or even take one to go!
Number 5…
Oga's Cantina in Star Wars: Galaxy's Edge at Hollywood Studios
Enjoy some tunes from DJ R-3X, a former Starspeeder 3000 pilot, as you take in the atmosphere at "one of the galaxy's most infamous watering holes."  Oga's Cantina is not to be missed if you're a Star Wars fan!  This location has a fun vibe and some unique drinks.  The Fuzzy Tauntaun and Bespin Fizz are really unique and tasty.
Tables are shared so space can be a little tight and reservations are required.  Also, it's good to know that many tables are standing room only so don't expect to relax and put your feet up.
Number 4…
Space 220 Lounge located in World Discovery at EPCOT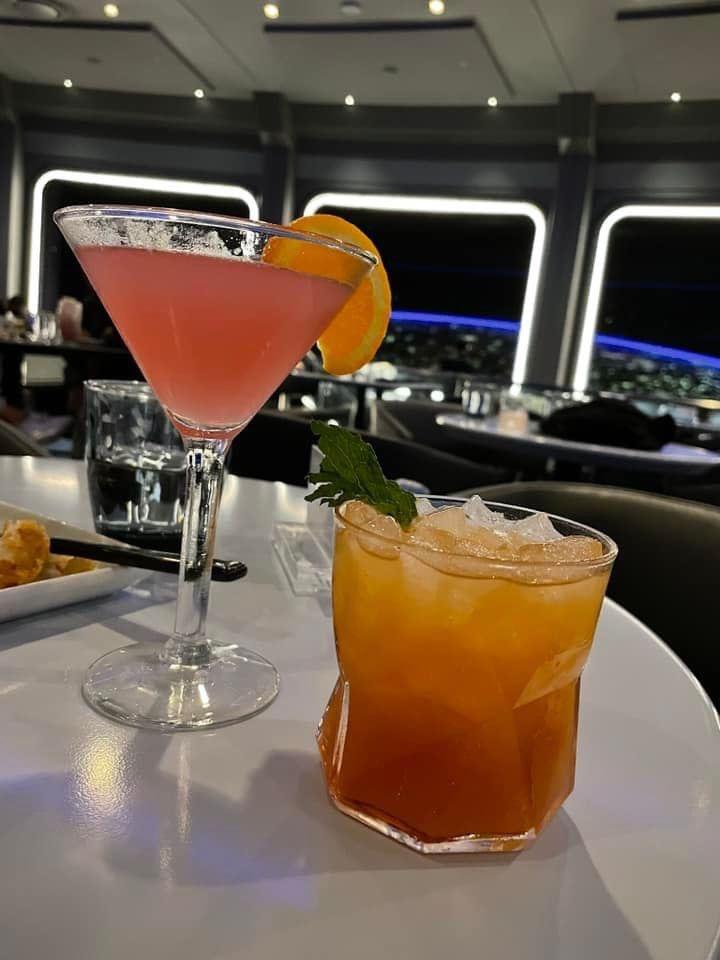 This location can be a tough reservation to secure but so worth the trouble!  Did you know you can order the full menu or just enjoy some snacks and drinks while at the lounge?  I love this out-of-this-world theme and sipping on a drink and watching the various ships and astronauts float by the windows is so much fun!
If you're just looking for a snack and a drink, the Blue Moon Cauliflower is delicious.  The drink menu will take you will take you on a journey out of this world including The Nebula and even the Atmospritz with its Cotton Candy Cloud!
Number 3…
Scat Cat's Club Lounge at the Port Orleans French Quarter Resort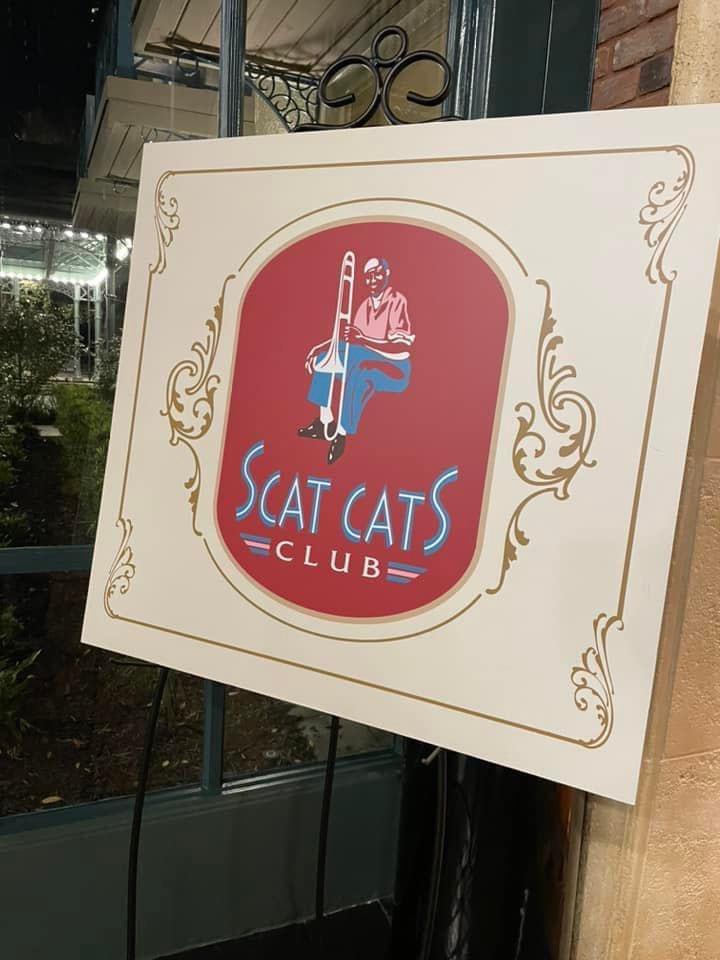 After a long day at the parks, relaxing at Scat Cat's can be a wonderful evening!  Live Jazz, delicious southern-inspired drinks, and some beignets can't be beaten!  Here you can find mickey-shaped beignets or you can even go wild and have beignets filled with your choice of Baileys Irish Cream, Kahlua, or RumChata.  Pair these sweet treats with a specialty cocktail like a Southern Hurricane and you're ready to sit back and enjoy the music!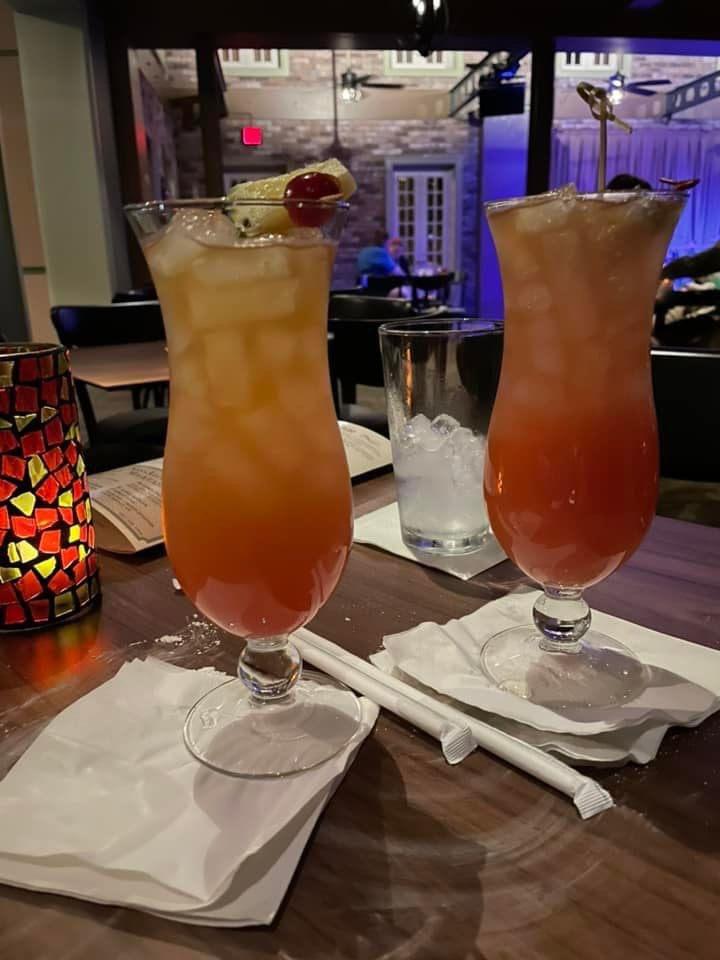 Number 2…
Jock Lindsey's Hanger Bar in The Landing at Disney Springs
Inspired by Indiana Jones' pilot, Jock Lindsey, this vintage airplane hanger turned bar has an aviation ambiance and lots of Indiana Jones hidden gems.  If you're a fan of the movies then this location has got to be a stop on your list!
It also doesn't hurt that the snacks and drinks are really good.  The Air Pirate's Cargo Loaded Pretzel is a great addition to one of their Indy inspired drinks.  Whether you're ready to try a Cool-Headed Monkey, the Fountain of Youth, an Anything Goes, a Reggie's Revenge or other signature libation, this is a great place to take a break while you're at Disney Springs!
If you're visiting Disney during the holiday season, definitely make sure to stop in.  They often have specialty drinks, snacks, and decorations to celebrate the holidays!
And the Number 1…
Trader Sam's Grog Grotto at the Polynesian Village Resort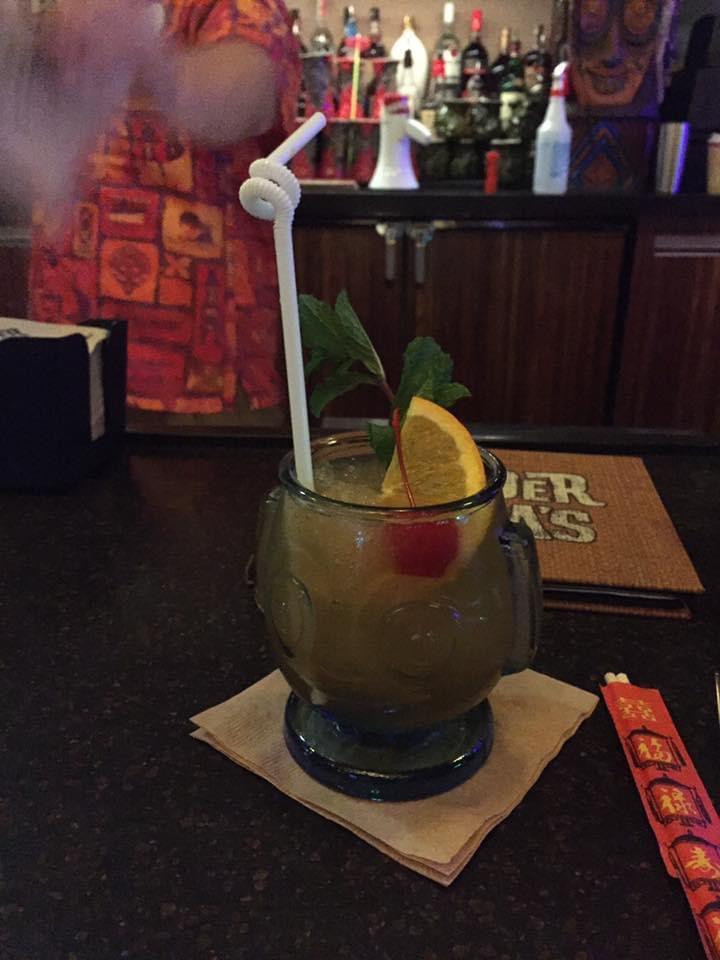 As huge Jungle Cruise fans, the number one place to visit on my family's list is Trader Sam's Grog Grotto.  It's easy to lose time here as you enjoy drinks, snacks, and watch all the antics unfold.  There are so many hidden gems found throughout this tiny bar so really take the time to look all around including looking up in the rafters.
It can be so much fun for everyone at your table to order something different so you can see the fun that accompanies each drink.  I personally enjoy the HippopotoMai-Tai but you can't miss the Dark & Tropical Stormy.  Looking to share, the Uh-Oa or Nautilus is a lot of fun.  You can even try your luck at possibly securing an allusive black pearl by ordering the Polynesian Pearl!
This location can fill up quickly and since reopening after the pandemic, Disney has instituted a virtual queue waitlist.  No online booking, you must be in person to join this waitlist.  You can usually start signing up for the queue around 2:30 at the bar entrance.  The bar is typically open from 3:00 – midnight with it being 21 and older after 8 pm.  Disney will text you when your space becomes available.  However, sometimes if you're there right at the opening there is no wait and you can go straight in.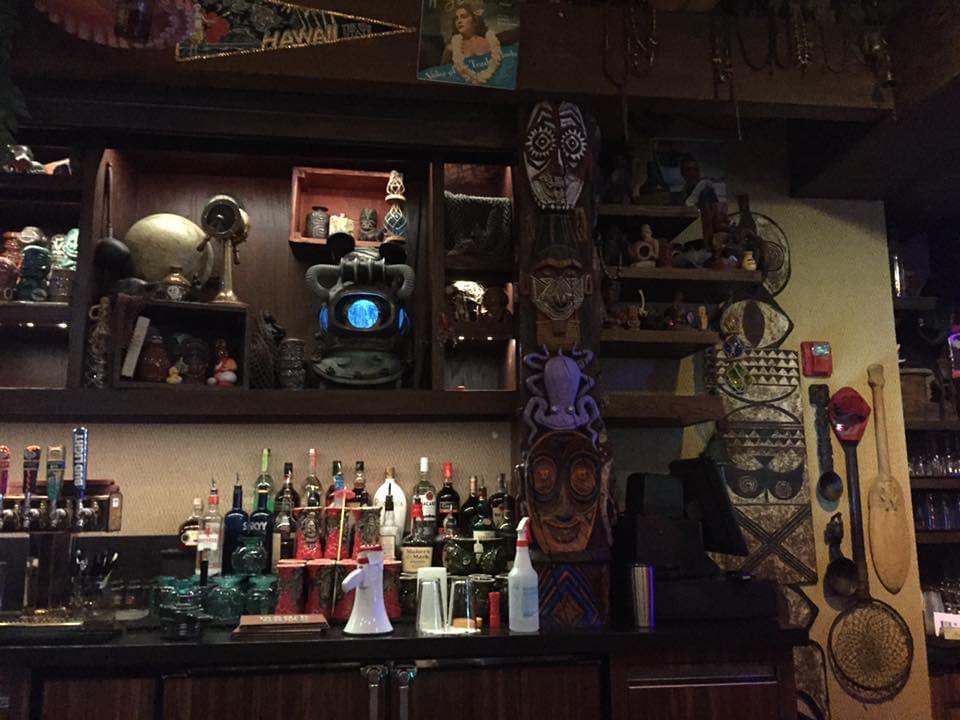 Since there are so many wonderful bars and lounges to visit at Walt Disney World, I had to provide a few honorable mentions!  In no particular order, here are a few locations that didn't make my top 10 but are always worth a visit!
Outer Rim in the Contemporary Resort
Tambu Lounge at the Polynesian Villa Resort
Geyser Point at the Wilderness Lodge Resort
Gurgling Suitcase at Old Key West Resort
River Roost at Port Orleans Riverside Resort
Dahlia Lounge rooftop bar at Coronado Springs Resort
Nomad Lounge & Cocktail Bar at Animal Kingdom Park
La Cava del Tequila in the Mexico Pavilion at EPCOT
Baseline Tap House at Hollywood Studios
Article by Storybook Traveler Jennifer Arnold.