Article by Storybook Traveler Jay Russell
Bright Suns, travelers! When we last met, I passed on some information to you about the new Galactic Starcruiser experience at Walt Disney World. Well, I just got back from a voyage and I am here to give you all the spoiler-filled information you can hope to get. If you are avoiding spoilers, or don't want to know any major details from onboard, I will be writing up a spoiler-free review just for you. Keep your eyes peeled.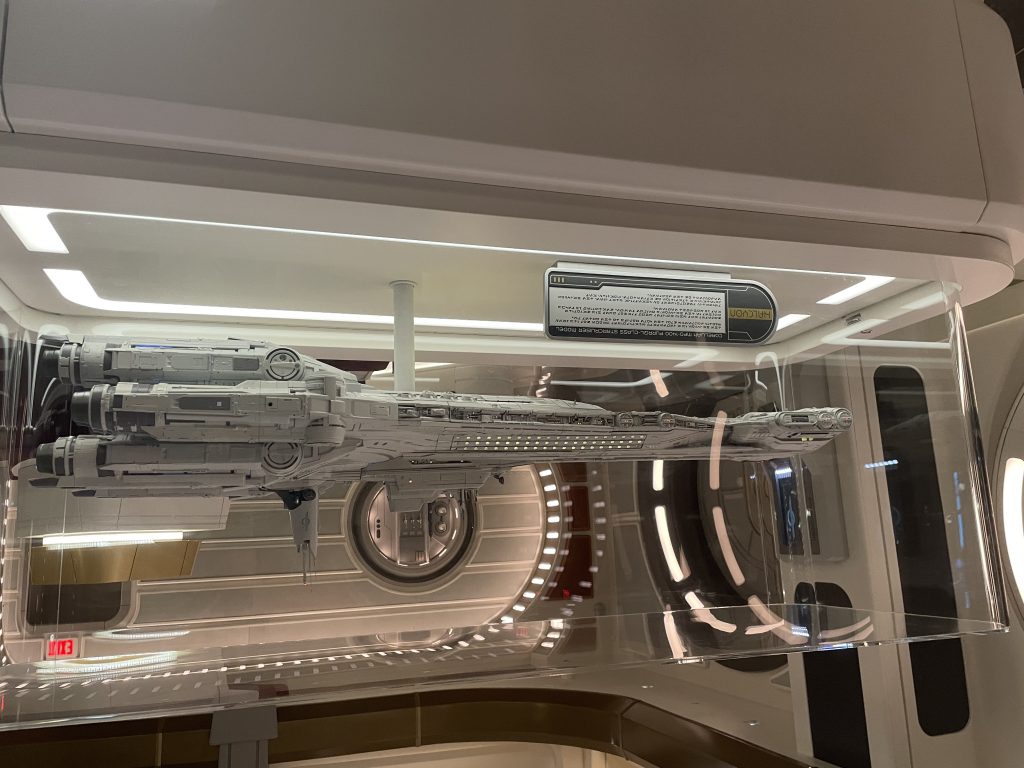 DAY ONE
We arrived right around 1:00 pm (the earliest they will begin boarding). There was a bit of a wait at that time, so it took about 20 minutes to get past the guard gate and to the terminal. Once we arrived, we handed off the car to the valet (there is no self-parking) and our luggage was collected to be brought to our cabin. We were handed a bottle of water each and proceeded to get a few pictures in front of the terminal while waiting to get onboard. This part is very much like any Disney attraction in that you wait outside for a bit, finally get inside and head to the preshow and actual attraction. Once we were inside, we went through a second security area with metal detectors. This area is very reminiscent of going through TSA at an airport or on a cruise. Once we were cleared through security, it was on to the preshow.
We stood before a screen where we were given important safety instructions. We were told what the alert for story moments would sound like and given instructions on where to go and what to do. We were also informed of what to do in the case of an actual emergency. This is rare, but it did happen on the voyage just before mine. I am told an alarm went off and the building was evacuated for about 30 minutes. It seems like it was similar to an in-ride exit from an attraction.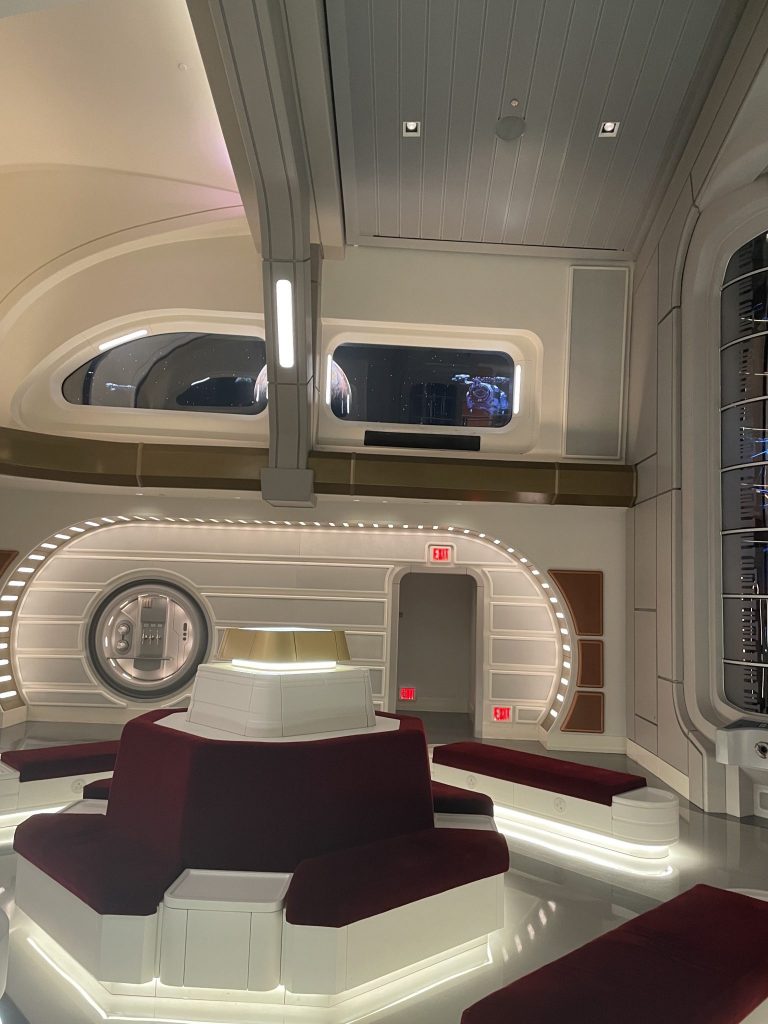 After this preshow, we were guided to the launch pod that would take us from sunny central Florida all the way to the Halcyon in space. As soon as we got situated inside the pod, we were launched and on the way up. Soon, we made the jump to hyperspace and before you knew it, the Halcyon was dead ahead. A couple of loaders came out to meet us and guide us to the dock. The pod doors opened and there was the atrium of the Halcyon in all its splendor. We had arrived.
We stepped out of the pod and took in our surroundings. Beautiful seating all around. A couple of very nice "holograms" showing the CSL logo are on the side. Above us is another level that is basically the main stage for many show elements. In the center of this second level is a gigantic hyperspace map (gifted by Princess Leia, who spent her honeymoon aboard this very same vessel).
Towards the front of the atrium is a large model of the Halcyon. This is right in front of the bridge where you will have some training during your journey. At the back is that second-level stage that I was talking about earlier. On one side is the gift shop for all your CSL needs. This is where all the exclusive "in universe" merchandise is sold. Nothing in here will say Star Wars or Disney or Lucasfilm. Everything in here exists as if you were truly on board a real starcruiser. On the other side is the Sublight Lounge for all of your adult beverage needs. There are a few nonalcoholic drinks available as well. Remember, these drinks are not included in your fare, but you are given an exclusive M-Band to use onboard, so no need to lug your credit card with you.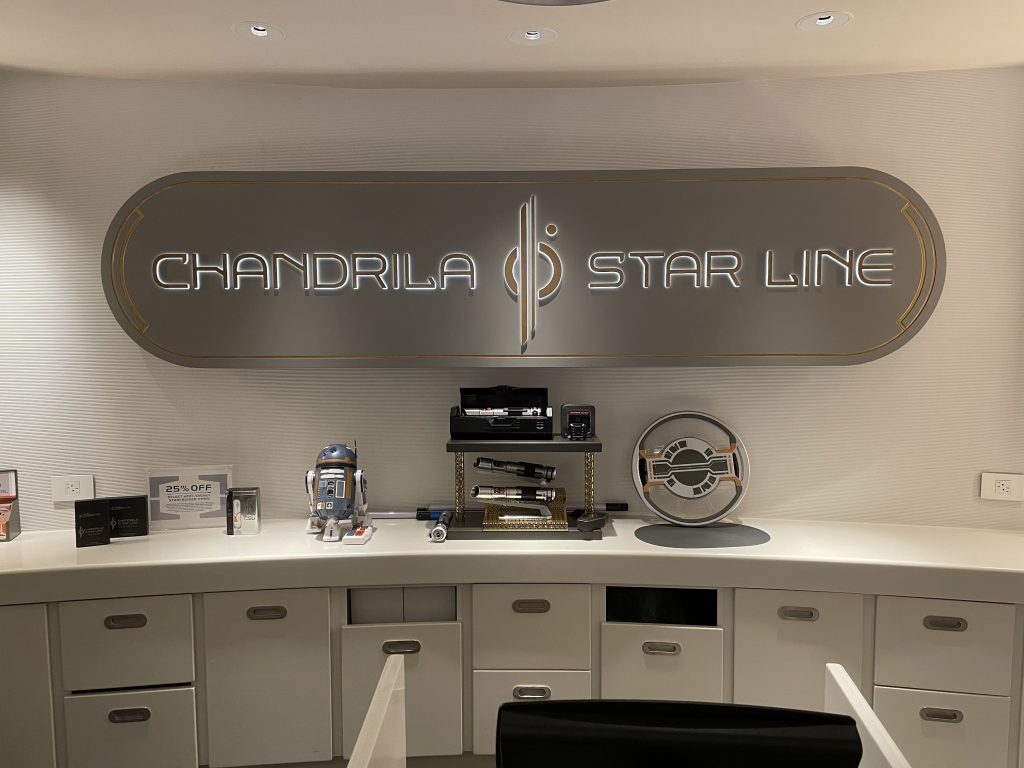 After we got situated in these areas, it was time to find our cabin. My son and I headed to the 4th floor (the Atrium is on six), and down the long hallway to our cabin. This was quite a nice surprise. I had heard many tales of the cabins being small or cramped. We both were very happy with the amount of space we had. A nice queen bed, bunk beds, and a fifth sleeper that pulled out of the wall beneath our viewscreen (TV). There is also a decent-sized bathroom and a great shower that looks tiny until you get in. Giant rain showerhead with a wand inside a narrow, but long, shower that could easily fit two. The TV is one of the new smart TVs that they began rolling out in the Riviera and in the Gran Destino Tower at Coronado Springs. There is also an amazing viewport out into space. This view constantly changes based on where the ship is and what may be happening on the bridge or outside. For example, whenever the ship jumps to hyperspace, you will see it out your "window". These views are great, but the effect is best at a distance. The closer you get, the more distorted the screen gets. You also have the ability to close the viewport, which comes in handy at night as that thing throws off a ton of light. I probably could have read by it, honestly.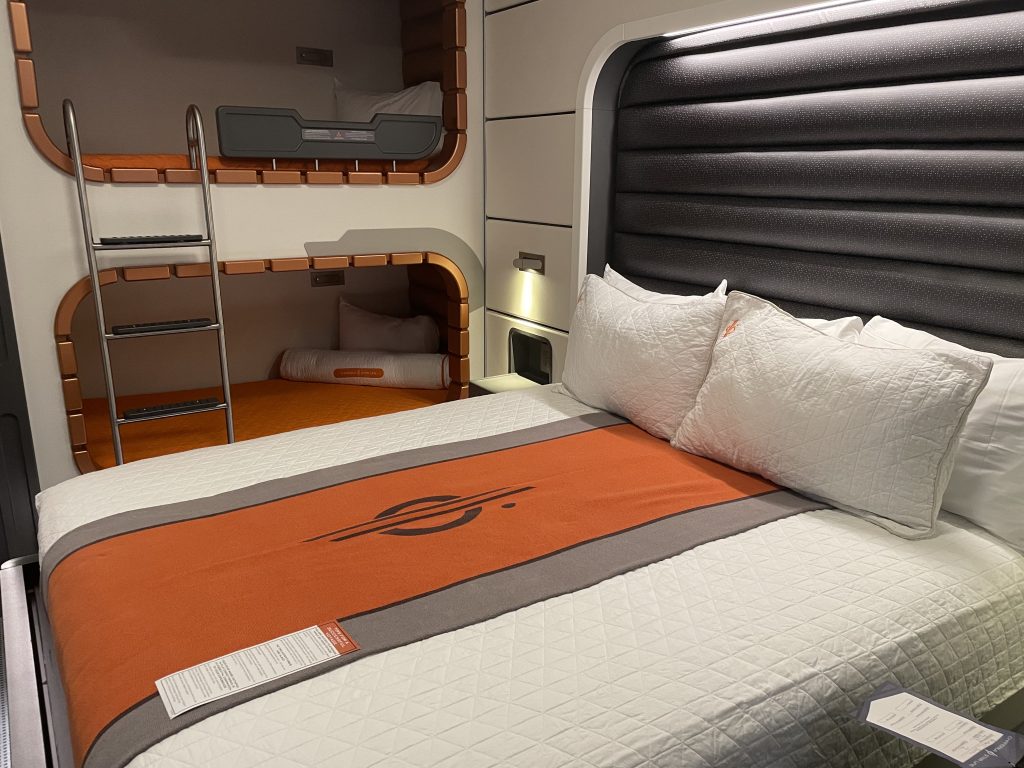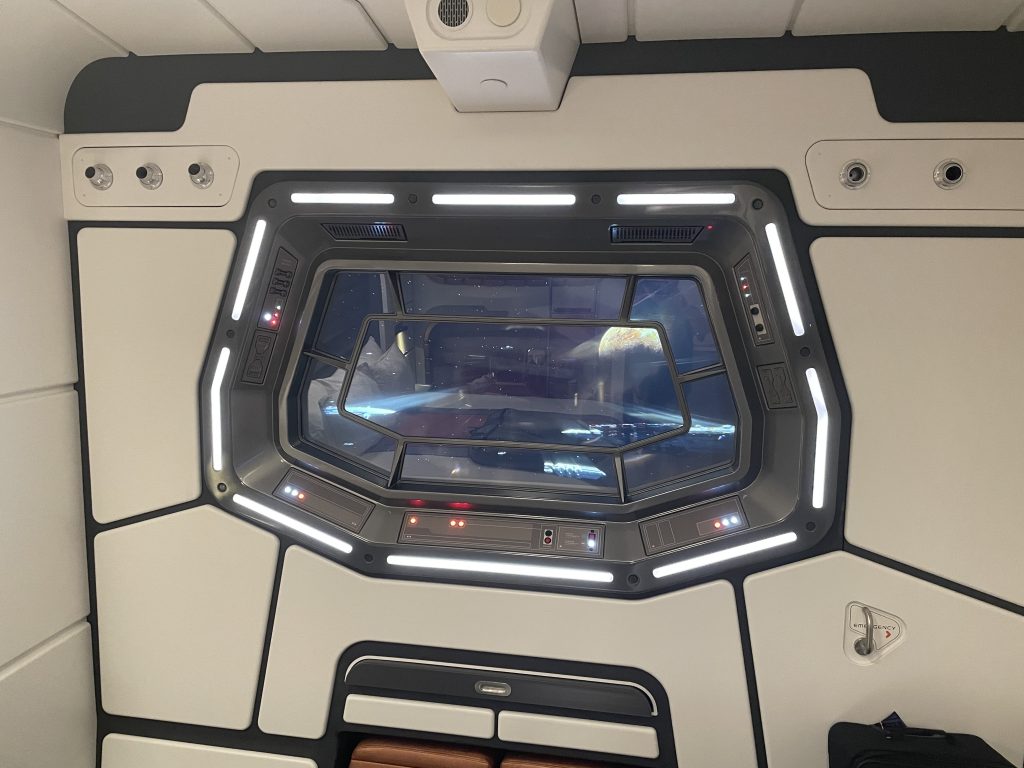 After getting changed into costume (you can dress up onboard and it actually is really fun) we headed out to explore a bit. The plan was to grab lunch in the dining room, but a mission came up on the data pad. The data pad is your phone/tablet running the Play Disney app, or you can get a loaner from Passenger Services. I did not see any difference between the two options. I used my phone; my son got a loaner. Both worked identically.
The first message I got was from Raithe Kole. He is the manager for Gaya, who is the featured performer at dinner on the first night. He is the primary contact on the smugglers path. If you are looking to play as a smuggler, you will definitely want to do this mission.
Soon after that, I received a message from Lenka Mok, the cruise director. She is a very important contact on the Resistance path, so if you are playing that side of the story, this is where you will begin.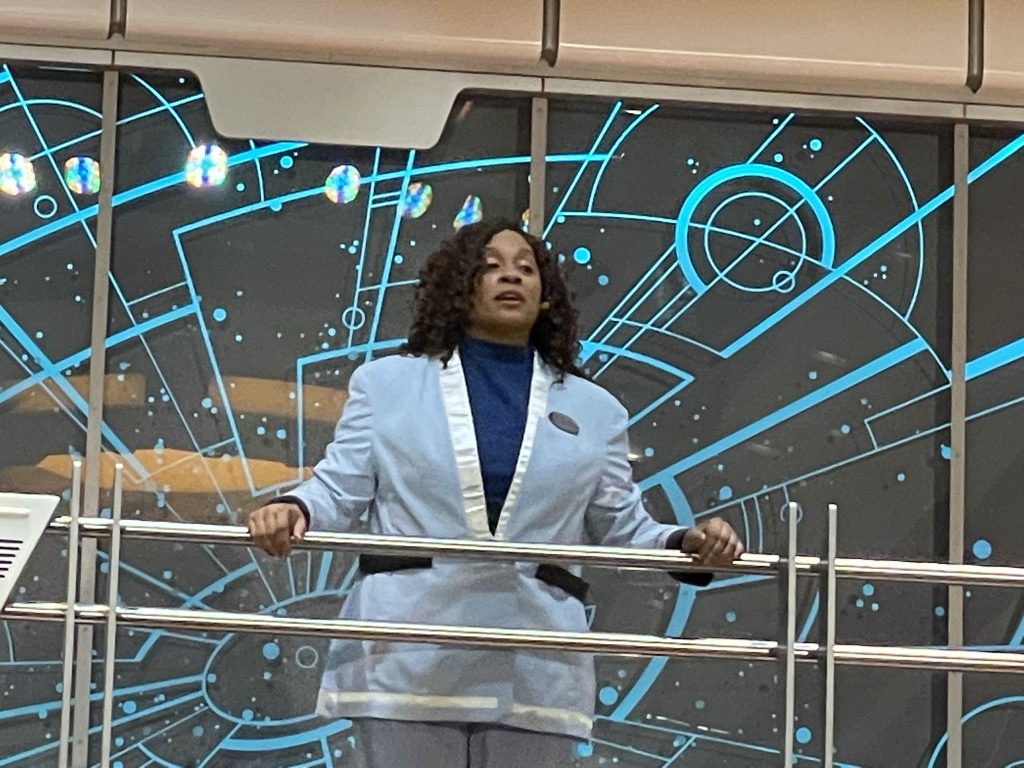 Finally, I received a message from Lt Harmon Croy of the First Order. This was the path that I had decided to follow, so it was time to start my work. The first missions are a kind of tutorial to show you how the puzzle games and data pad work and let you get the lay of the land.
After completing that mission, it was just about time for the muster drill in the atrium. Here you are introduced to the main characters. Captain Riyola Keevan, Raithe Kole, Lt Harmon Croy, Lenka Mok, Sammie the maintenance man, and the Saja, or Lightsaber trainers. The muster drill explains what the story is, what is going on in universe, and a feel for the next day and a half. You learn that the First Order is boarding the ship due to suspicions of Resistance activity. Lt Croy joins and begins plotting to take the ship and stop the Resistance.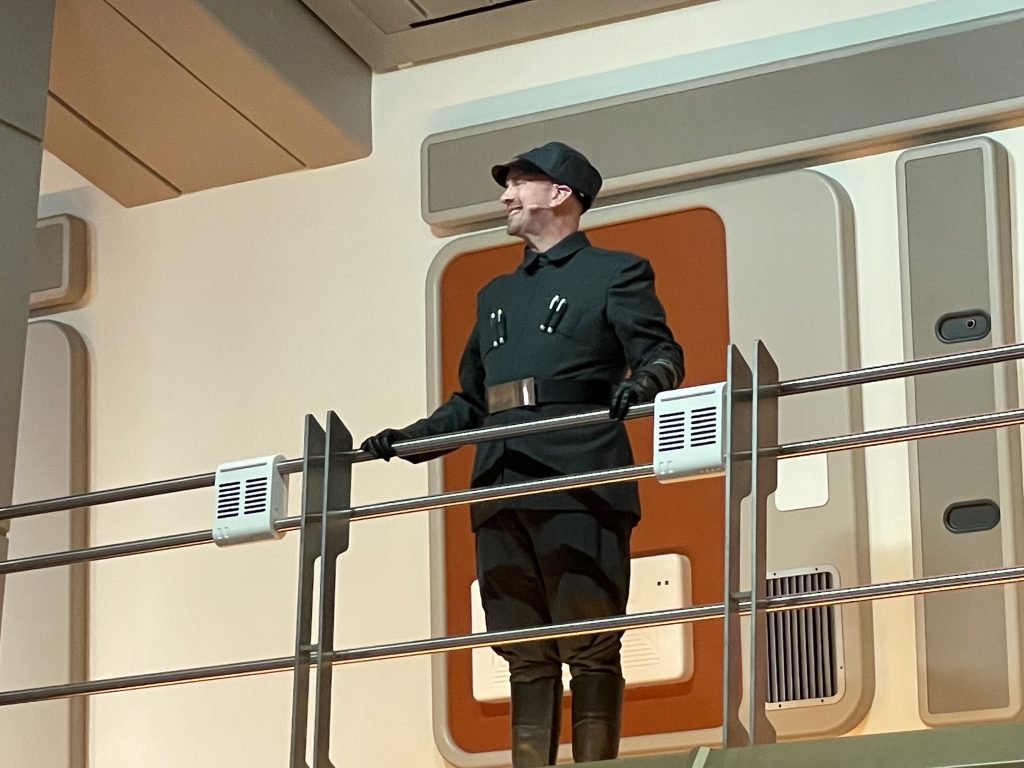 After the muster drill ends, it was close to time for the first dinner seating. My son and I headed to the dining room on the Fourth level. There, we were seated (nice and close to the stage) and we waited for Gaya to arrive. She performed throughout the dining experience and was quite amazing.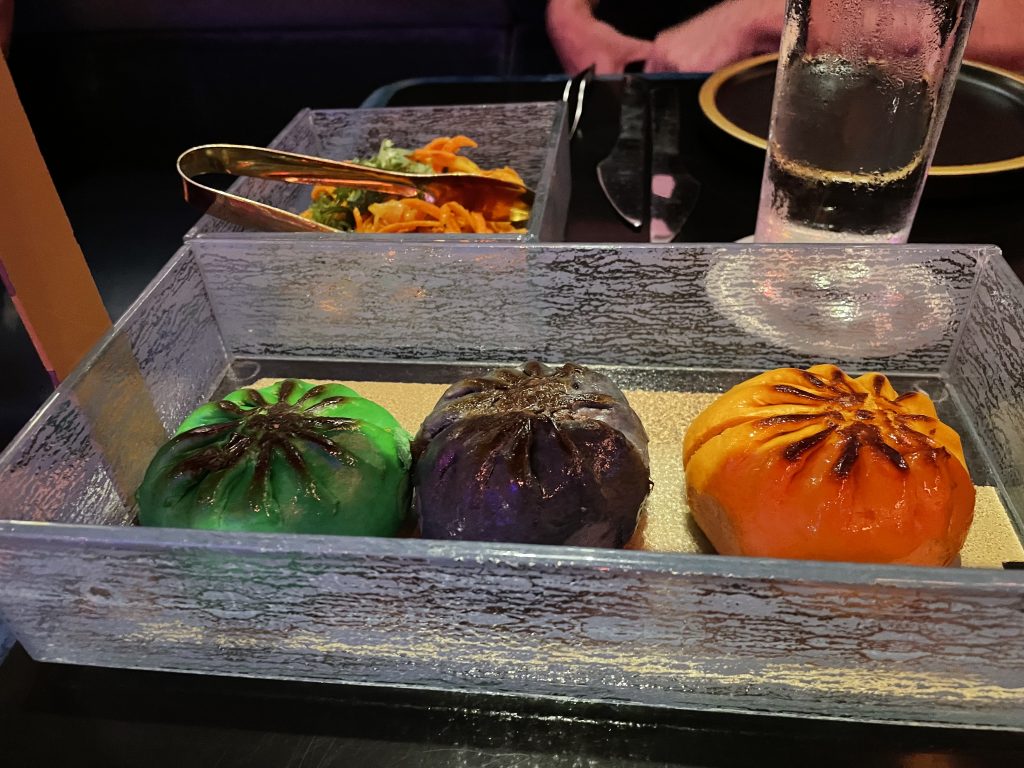 The first course was a trio of colored bao buns. The yellow one was vegetarian, the purple was bantha beef, and the green one was tip yip (chicken). There were also some dipping sauces that were very tasty. The second course was an amazing steak and some chicken that was reminiscent of a really good Chinese take-out. I also enjoyed a glass of Toniray Chardonnay with my meal. The final course was dessert which included a nice caramel chocolate and a fruity dessert as well. All in all, it was an excellent introduction to the culinary adventure you were going on.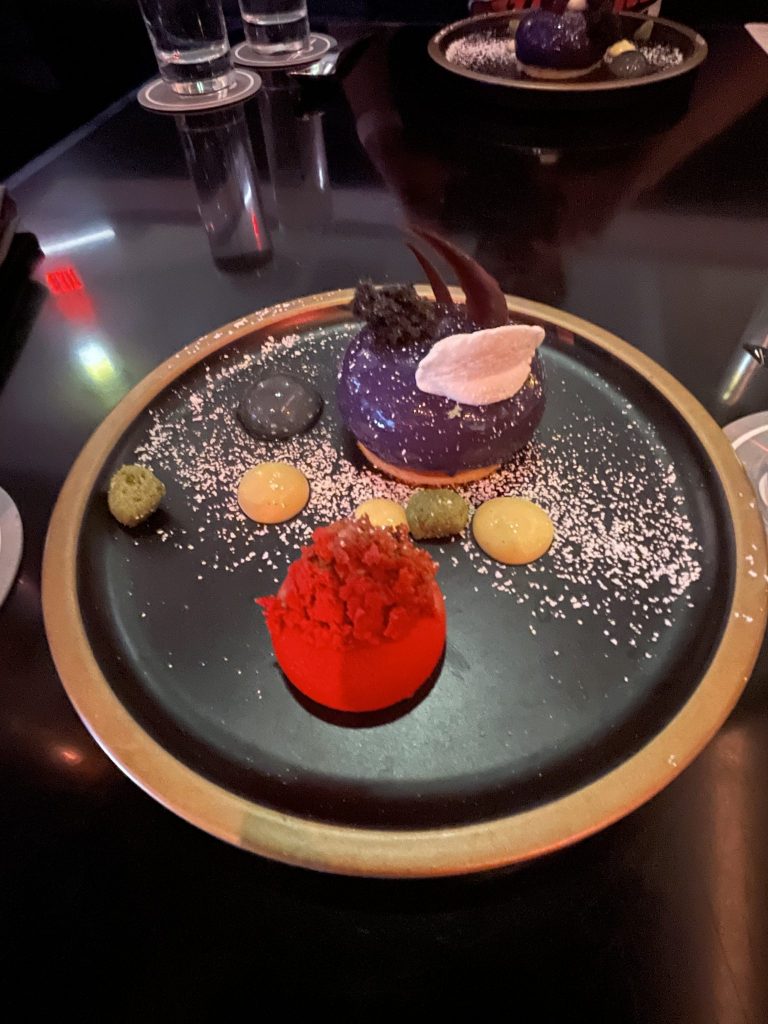 As Gaya sings, things begin to happen showing that all is not normal on this cruise. Some crew and guests smuggle Chewie through the dining room behind the back of the First Order. Gaya also makes many allusions to coaxium (which is from Solo a Star Wars Story as well as Smuggler's Run).
After dinner and the intimate concert by Gaya we were scheduled for Lightsaber Training on the Fourth Floor. We headed to the Training Pod and met our instructor. Very soon after, we had lightsabers and were learning to feel the Force and getting quite good at working with a large training remote. We started by having a tracer beam sent out that we would put the blade into to trigger the blaster that we would then deflect. As things get faster, some handheld shields are introduced to help keep errant blasts to a minimum. Once that skill is learned we moved on and removed the tracer. Here you have to reach out with the Force and feel where the blaster will shoot. This was the most fun part of the training and while it was visually obvious where the blaster was heading, you still felt it was truly reacting to you and your surroundings. It was a little hokey, but more fun than I anticipated. My son also reports that it is quite the workout for 45 minutes.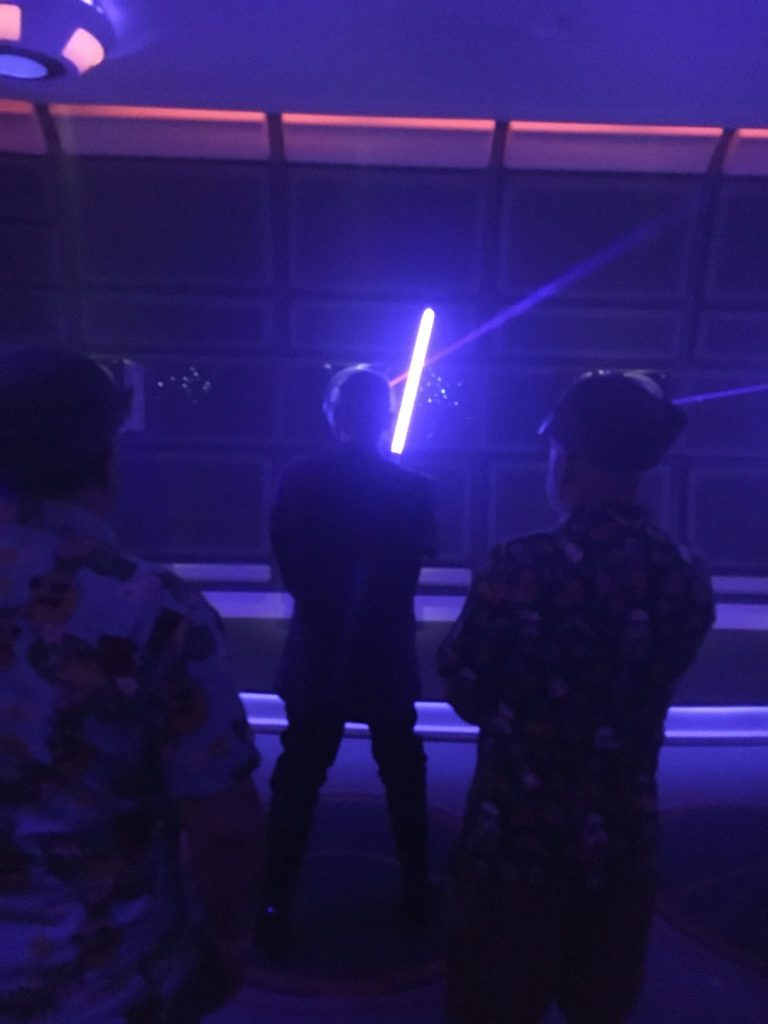 After that there is a small reception in the Atrium and fireworks in space. Small snacks are available at no additional charge.
DAY TWO
We woke up and our transport to Batuu was scheduled for 9:30 am. We had a little time, so we headed off to breakfast in the dining room. Here we were treated to a type of buffet. There were small plates at different stations that had things like eggs, waffles, sausage, sweets, parfait, and other items. Also, there was coffee, juice, blue and green milk, and Coke products. At breakfast I found the only missed opportunity. They had POG juice, which I would have probably tried to label as POrG juice, but that's just me and my twisted sense of humor.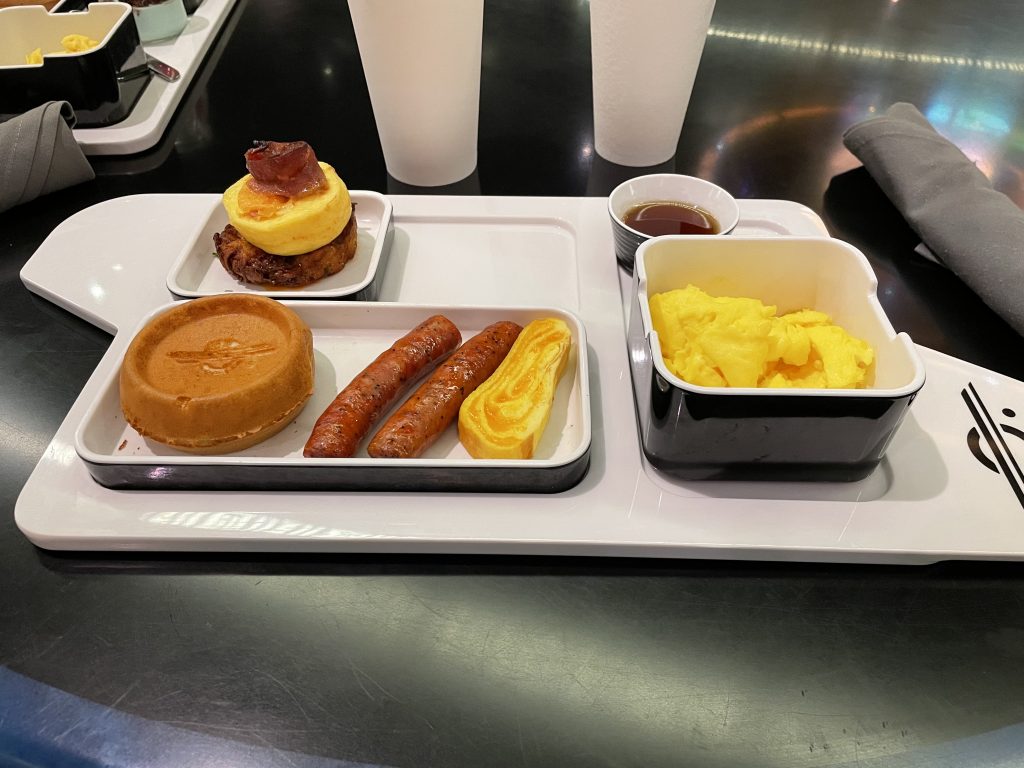 We headed to the Transport Dock on Four (the main settings, as you may have noticed, are on the Fourth and Sixth floors. Cabins are on Four, Five, and Seven. Once aboard our transport (which is a pretty detailed box truck) we were off to Batuu.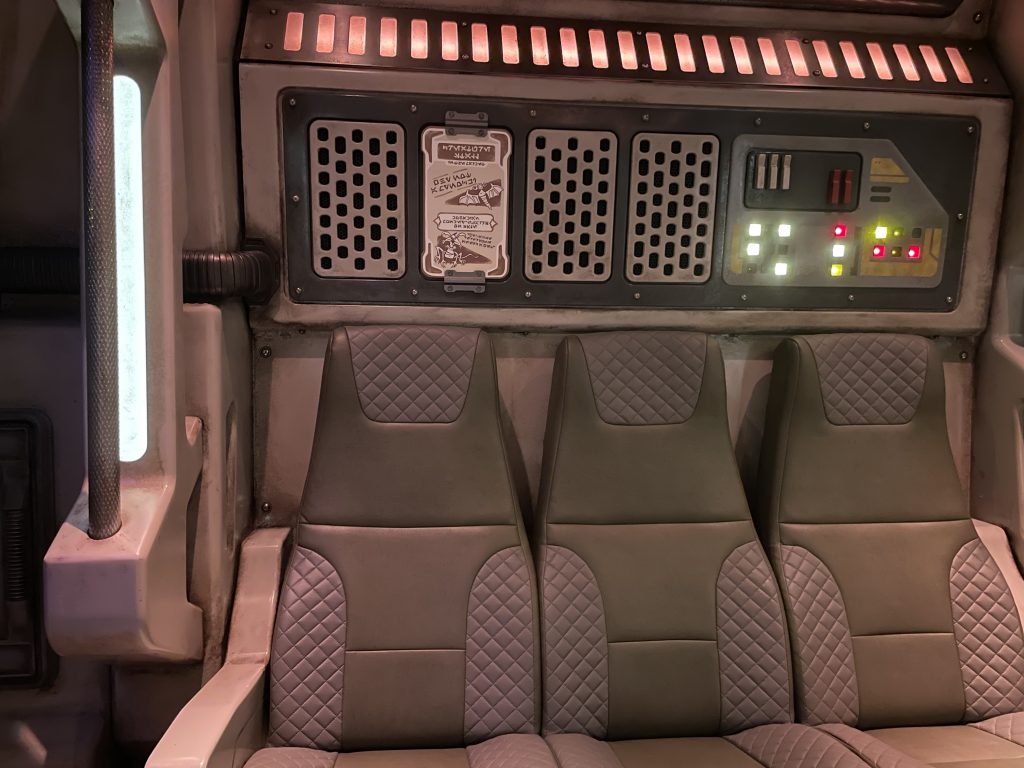 On Batuu, we had four more missions to complete for Lt Croy. One was to locate the Resistance Base, which gave us Lightning Lane access to Rise of the Resistance, another was to find out what was happening with some stolen coaxium, so we got to use our Lightning Lane access to Smuggler's Run. There was also a mission to intercept some data necessitating some searching around Batuu for various items. Finally, we needed to find a forger at Oga's Cantina. After completing these missions, we decided to head back to the Halcyon as it was very hot that day. Good thing, too, because not long after we left, I was told the heavens opened and a nasty thunderstorm passed over. Onboard the Halcyon, we were none the wiser and did not see anything or even hear thunder.
Back in the Atrium, we were invited to attend Cantina Chronicles. This is a fun experience that introduces you to a few of the nonalcoholic concoctions mixed up in the Sublight Lounge. I highly recommend giving this a look and listen. The drinks are tasty and our host, Devin was amazing.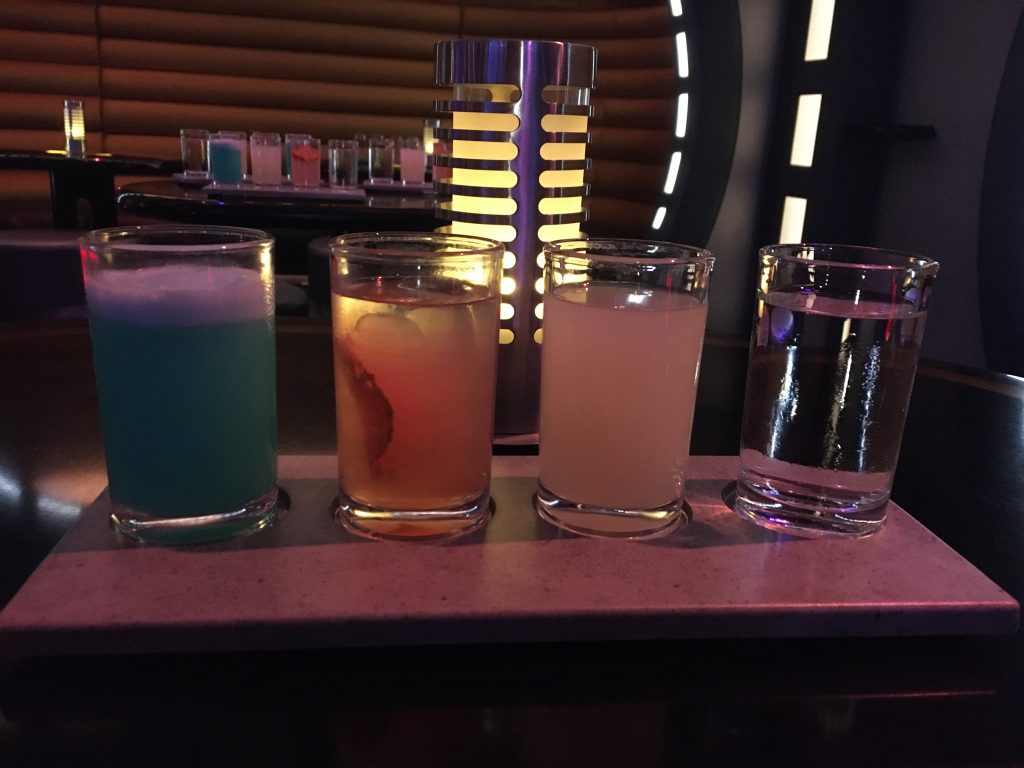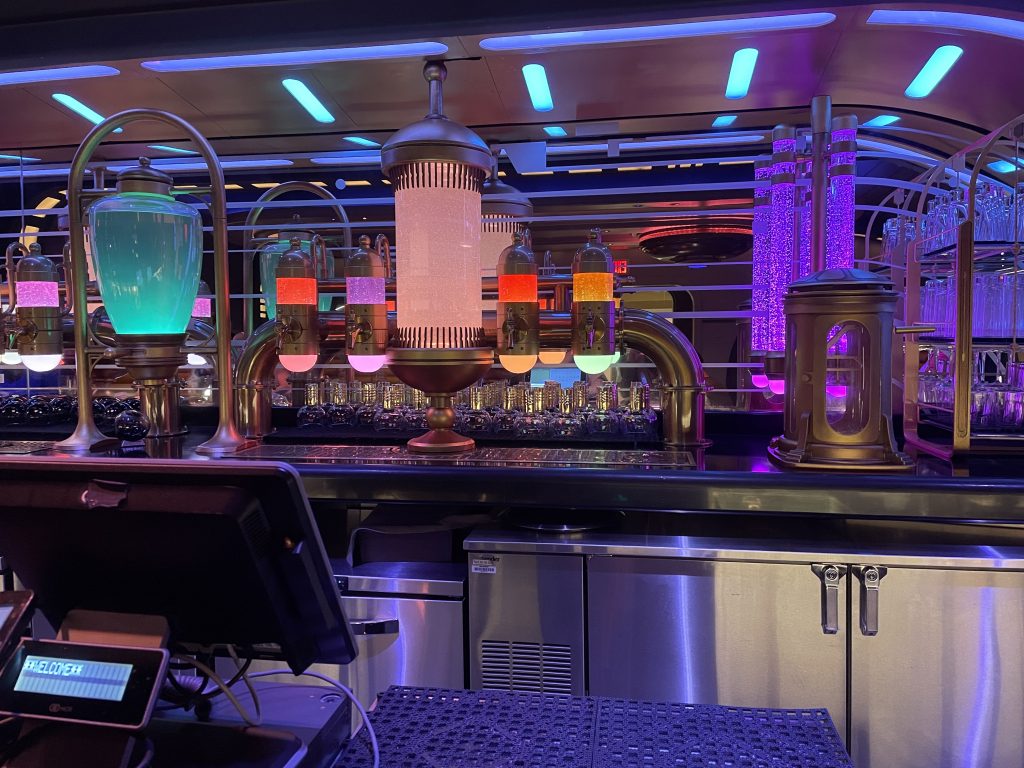 We grabbed lunch in the dining room as opposed to on Batuu. Lunch on Batuu is included from either Docking Bay Seven or Ronto Roasters and this is where one adult beverage is actually included if you are of age. These entitlements are loaded onto your M Band so it is easy to redeem. Lunch on the Halcyon is done in the same style as breakfast, but the menu changes daily. What you may have gotten on arrival day will most likely not be there on day two, so heads up. The lunches are a little more … different than the breakfast. Things will look more "Star Wars" but the tastes are very familiar. If you can get past a purple hot dog bun or a green peanut butter and jelly dome you will be okay.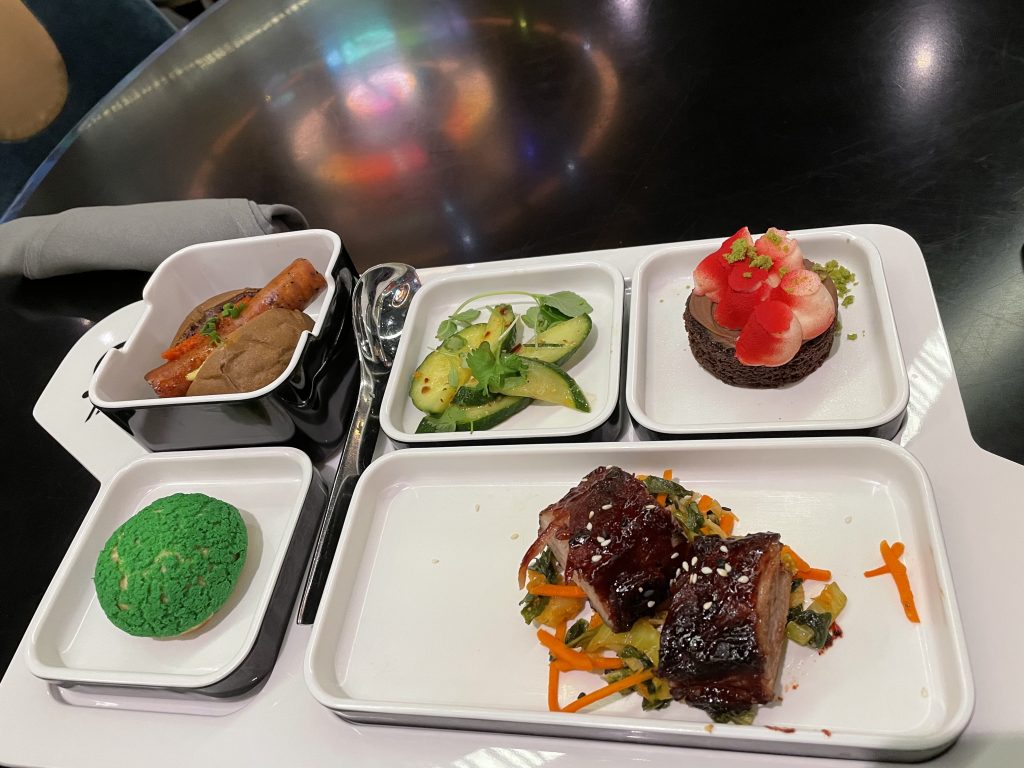 We had a few more missions after lunch, including a full meeting with Lt Croy and a mission to sabotage the ship itself. We also had Bridge Training that afternoon. There we learned how to operate the weapons systems, the shields, the repair consoles, and the loaders, which you may recall I mentioned earlier. This training leads to more story moments including a few key moments for the Resistance. It was odd helping the Halcyon and the Resistance being on the First Order path, but it allowed me to add some depth to my character and also some fun interactions with a few key Resistance members.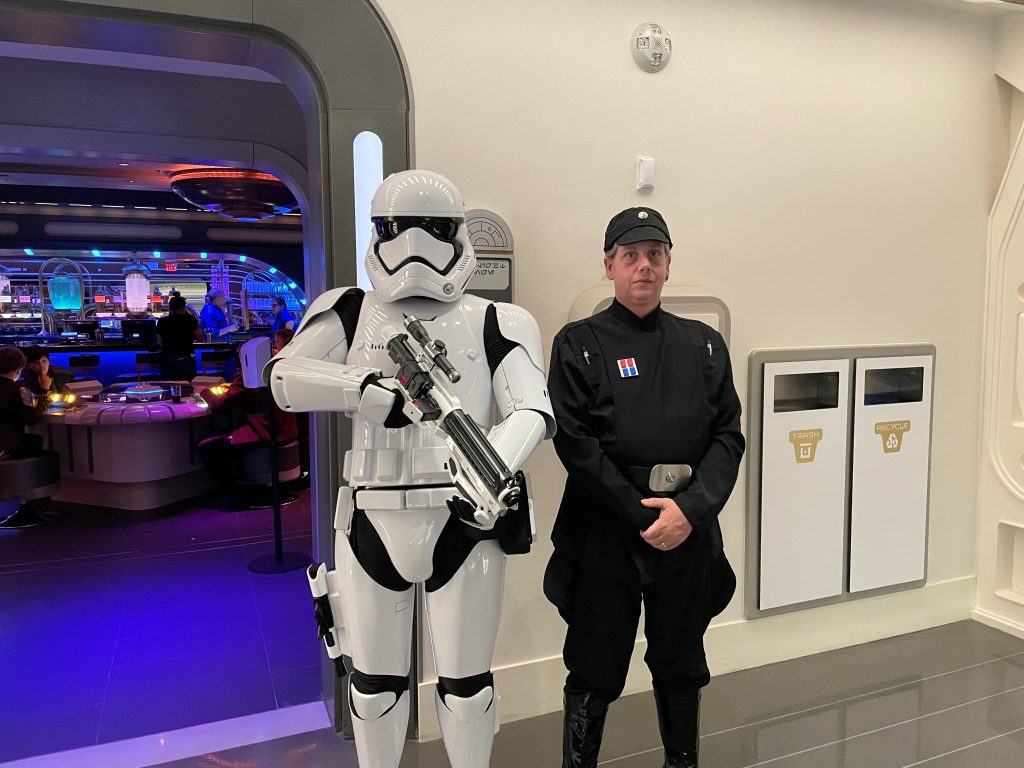 After these missions and puzzles, it was dinner time. Yes, there is a good amount of eating here. This dinner was even more extravagant than the previous night. We were treated to a Four Course Meal this time. The first course was some bread and chips with an amazing queso-type dip and a couple of spreads. The second course is one I am sure most of you have seen pictures of or have heard about. The blue shrimp. Shellfish and I are not good friends so I passed, but my son devoured them all. After that, we received course three. Braised bantha beef with a fig demi glaze and whitefish in a white butter sauce. Finally, dessert was served. I had a nice little extra addition to my dessert as I was celebrating my birthday onboard.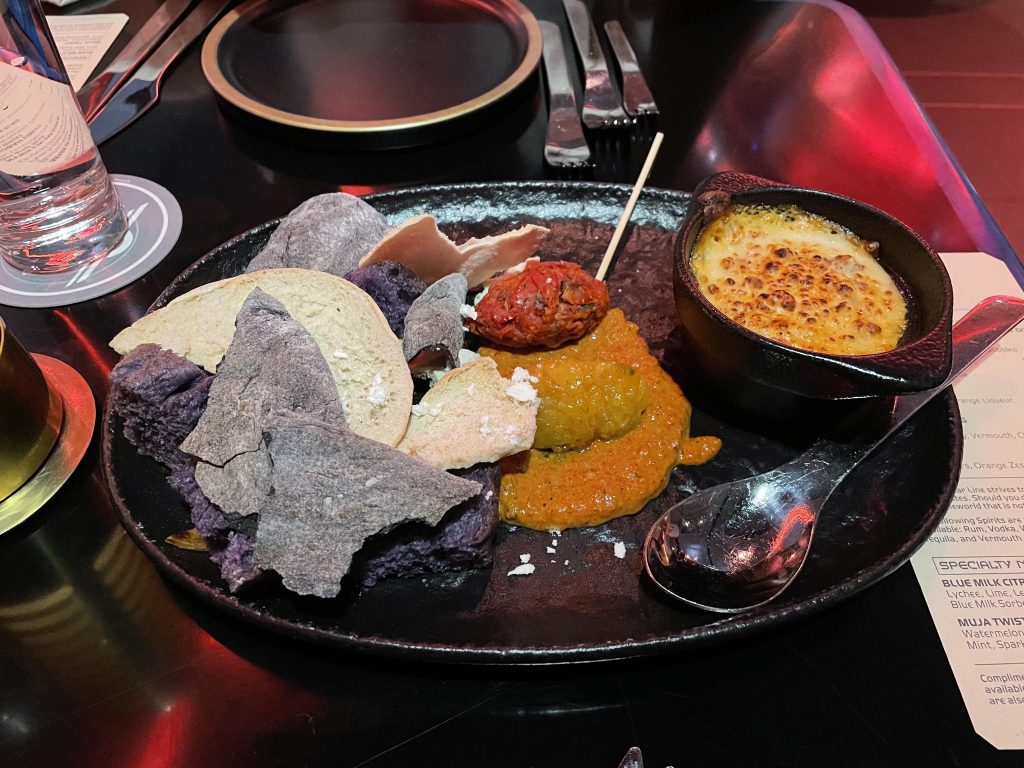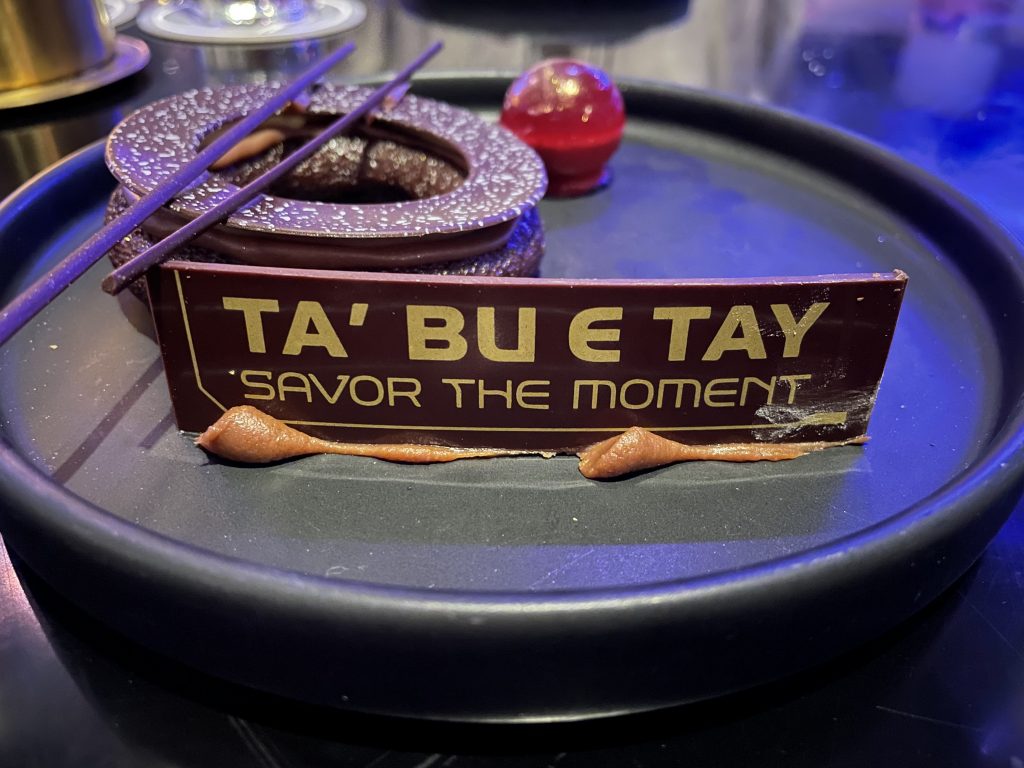 As the day passed into evening the First Order surrounded and blockaded the ship. Things were getting tense as Resistance, Smugglers, and the First Order all worked to undermine each other and ensure that their goals were met. Rey even boards the ship during these events. Of course, with Rey being there, Kylo Ren is sure to follow and follow he does. He boards as well and begins threatening the passengers and crew. He uses the Force to bring a chandelier down over the crowd gathered in the Atrium (think Phantom of the Opera, here). As the chandelier is about to fall completely, Rey bursts in and a very fun duel ensues. This is the moment. Here Rey wields a lightsaber that truly extends when ignited. This is an amazing moment. The fight is pretty well done, but don't expect anything like Anakin and Obi-Wan or Duel of the Fates.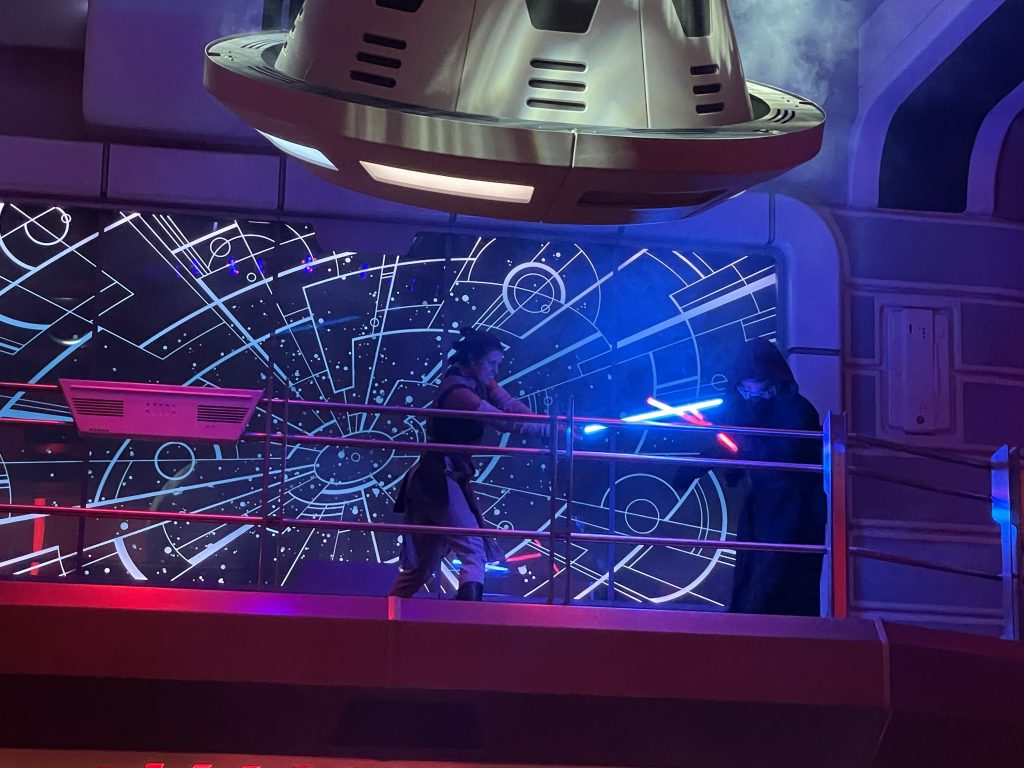 As everything comes to a head, Rey escapes, Kylo orders everyone onboard killed, and the Resistance defeats the First Order. There is a nice celebration with more snacks, another fireworks show, and finally a little dessert party afterward. We all say our goodbyes because when we wake up in the morning, it will be time to disembark.
DAY THREE
We wake up the next morning and head to breakfast. By 8:30 we are fed and packed and head to the pod to transport back down to the terminal on earth. We stop into the final gift shop outside for the Star Wars branded merch, things like t-shirts, water bottles, pins, and the like. Our car is brought to us and we head out exhausted from a nonstop couple of days, but also wishing we could stay longer, or even come back again.
So, is it worth the money? I know you're wondering that. Well, it still depends on you. Do you live for Star Wars (namely the sequel trilogy)? Do you like escape room type activities? Do you mind being trapped in a windowless building for two days? If these things are cool with you and you have some extra credits burning a hole in your camtono this is a very fun and exciting experience. It is expensive. I really caution that if you cannot comfortably afford to do this you need to save up and wait. Don't put yourself in debt for this, or any other Disney Vacation.
Article by Storybook Traveler Jay Russell