By Storybook Traveler Holly Averette. Contact her today to get started planning your next vacation!
The islands are calling and I must go! Nestled along the shores of the Seven Seas Lagoon, the Polynesian was the second of two resorts that opened with the Magic Kingdom on October 1, 1971. Its south pacific theme is evident everywhere you turn. From its tropical palm trees and lush vegetation to its themed longhouses and sandy beaches, the resort is like a tropical oasis that just happens to be overlooking the Magic Kingdom.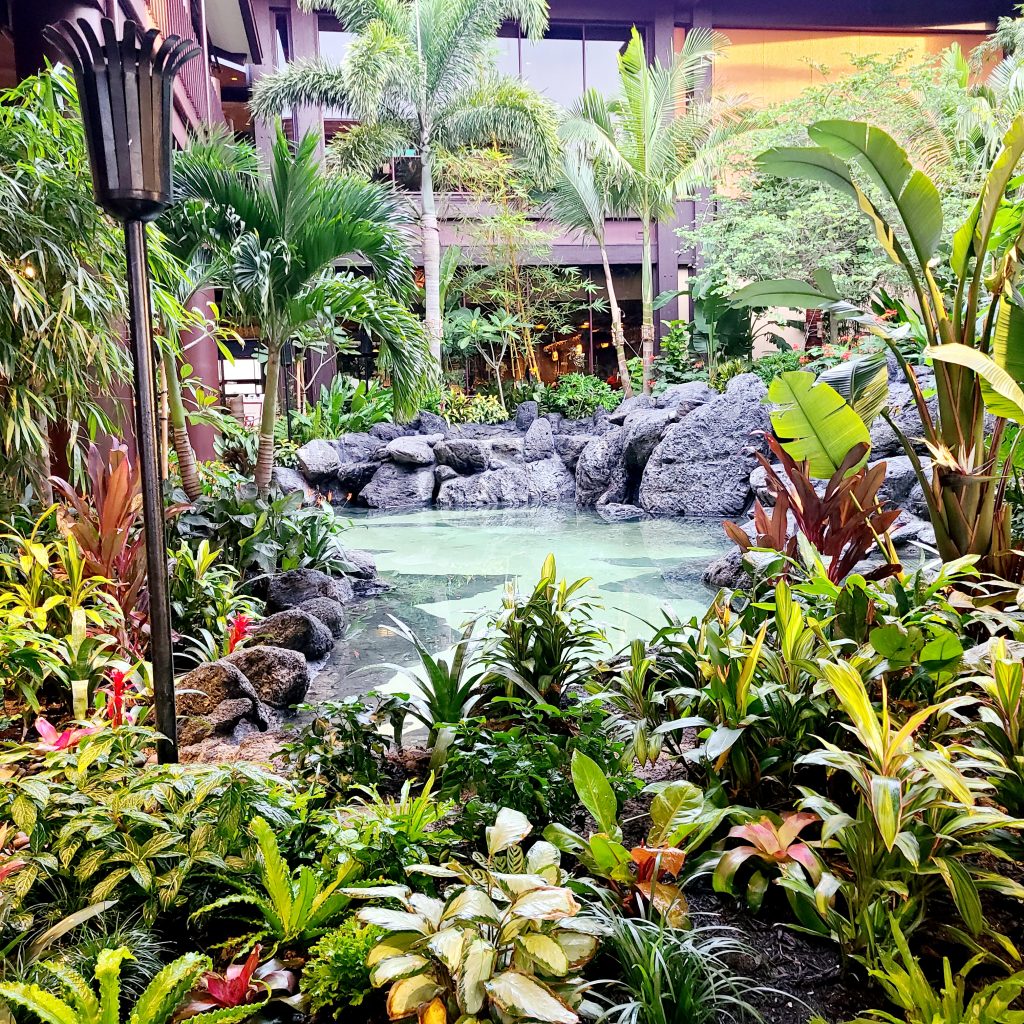 Arrival and check-in experience:
The Great Ceremonial House is home to most guest services including check-in, the concierge desk, bell services, shops, a monorail station, and most dining. If you are arriving by motorcoach via an airport shuttle you will be dropped off right in front of the lobby entrance. If arriving by taxi, rideshare, or private transfer, you will stop by the security gate and confirm you are checking in before proceeding to the lobby entrance. If arriving by personal vehicle you will also need to stop by the security gate. TIP: have your ID and resort confirmation number handy to show the guard. Self-parking is available for free and valet is available for an additional nightly cost. Bell services will be available to assist guests with luggage upon arrival and they can hold items until your room is ready. A babbling water feature sits just out front of the Great Ceremonial House while tropical music and a friendly "Aloha!" greet guests upon their entrance. You may even receive a welcome home lei! There is a small kid's area with kid-sized furniture and a TV playing Disney shows or movies to entertain little ones during the check-in process. Alternatively, you may choose to complete online check-in on the app prior to your arrival. Doing this allows you to bypass the front desk and you will receive a text or email notification with your room number when it is ready.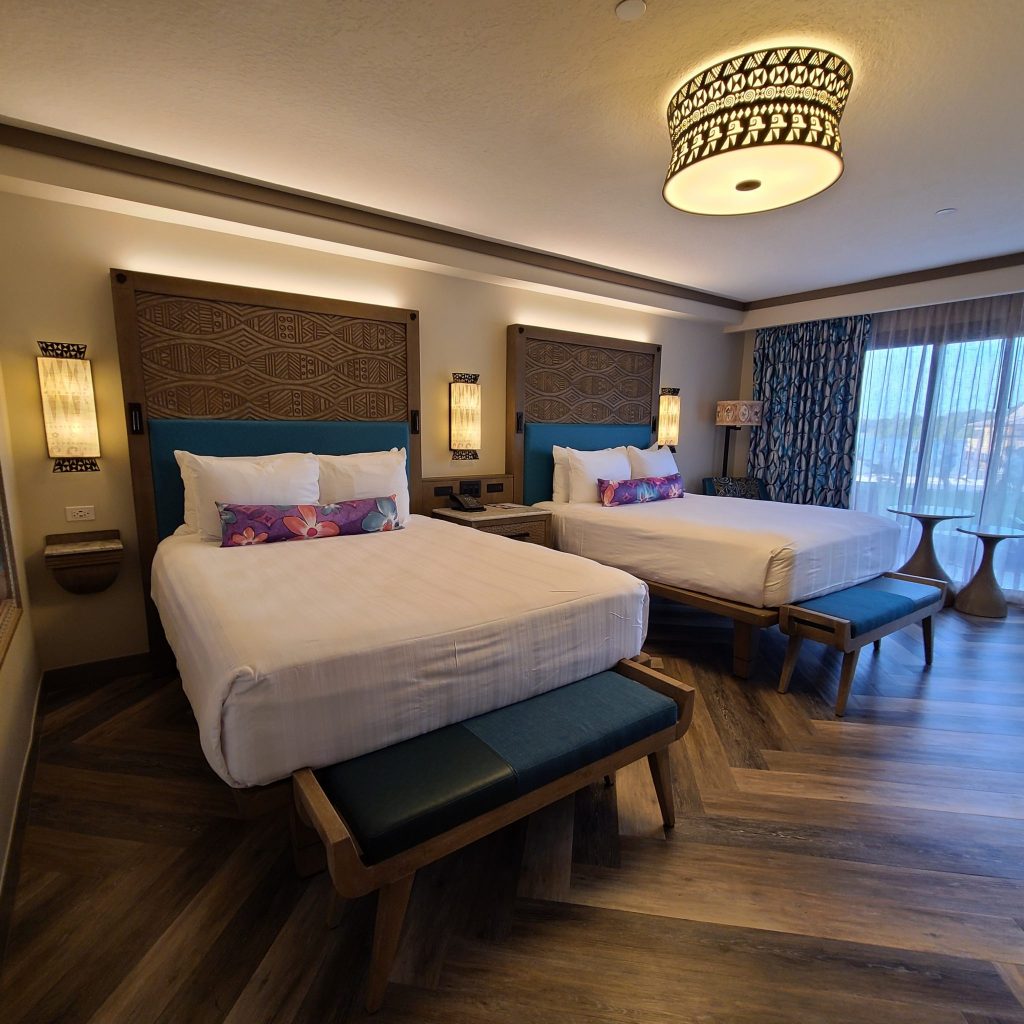 Rooms:
Guest rooms are located in 11 longhouses across the resort. In 2021, the rooms were redesigned with inspiration drawn from Disney's Moana. The warm, tropical color palette along with the various textures and patterns are inspired by the South Seas. You can even spot some of your favorite characters from the movie throughout the room! Most guest rooms accommodate up to 5 adults plus one child under 3. Rooms measure about 415 sq ft in size, which allows for plenty of space to spread out. There are a variety of views available for booking. Options include standard (parking lot, rooftop, etc), lagoon, pool/marina, and theme park. There are also various suites and club-level rooms available. Room amenities include a hairdryer, shampoo/conditioner/body wash, bar soap, lotion, beverage cooler, Keurig coffee maker with coffee and tea supplies, in-room safe, iron and ironing board, and complimentary wi-fi. With the exception of suites, rooms will either have a king bed or 2 queen beds, plus a twin size day bed. Beds feature under-bed storage which makes storing luggage and other items a breeze!
FUN FACT: In keeping with the Polynesian culture, many of the second-floor rooms do not have balconies.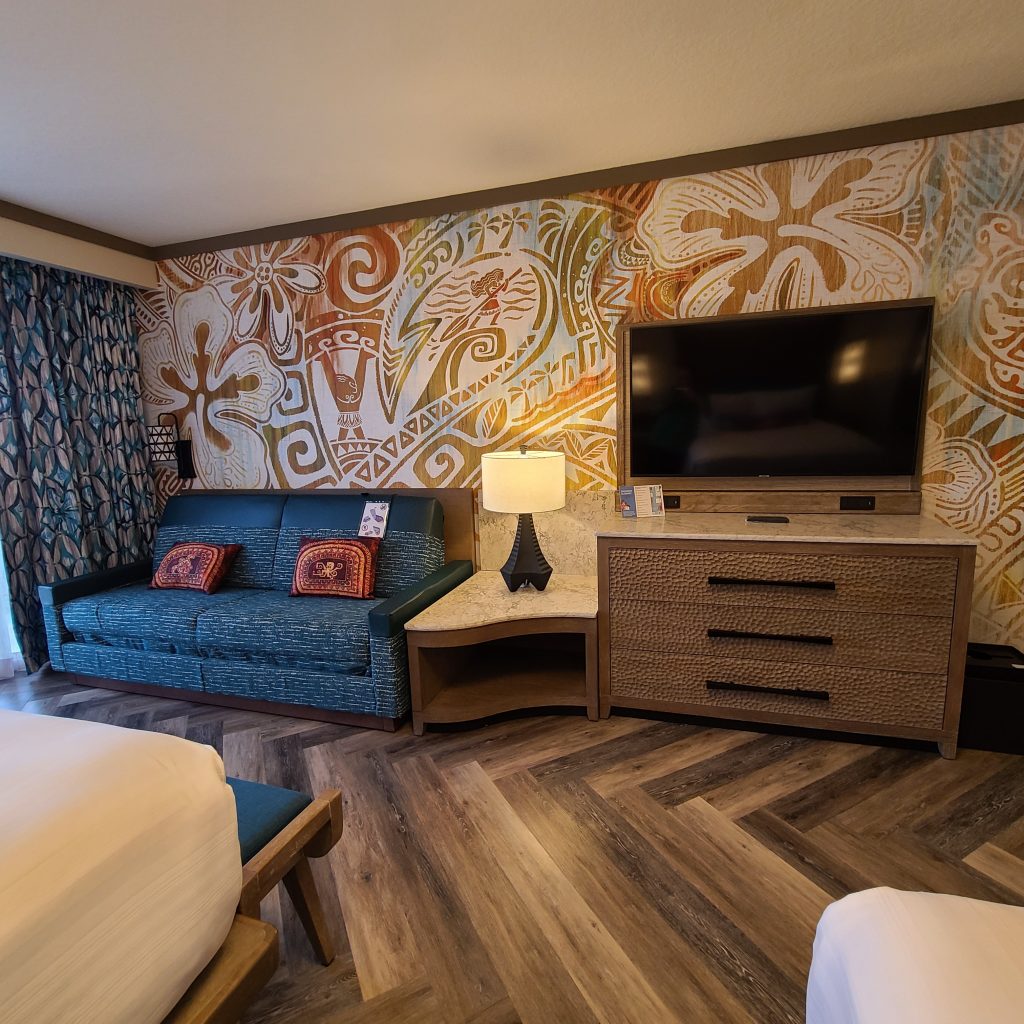 Club-level rooms and suites are an excellent way to make your trip even more magical! The Hawaii longhouse is home to the King Kamehameha Club and all rooms in that building are club-level rooms. The lounge is staffed by a dedicated concierge team that is available to assist you throughout your stay. The lounge has several food offerings each day including breakfast that serves a variety of continental items and hot dishes, light snacks midday, appetizers in the evening, and desserts and cordials to finish off the night. Select beer and wine are available at dinner time or upon request. Coffee and tea services are available all day as are juice, water, and canned soft drinks. Many of the food offerings, especially in the evenings, are inspired by Polynesian or Asian cuisine. The two-story lounge also has an incredible view of the Magic Kingdom and nightly fireworks! All of the lounge offerings are included in your room pricing so be sure to take advantage of them throughout your stay!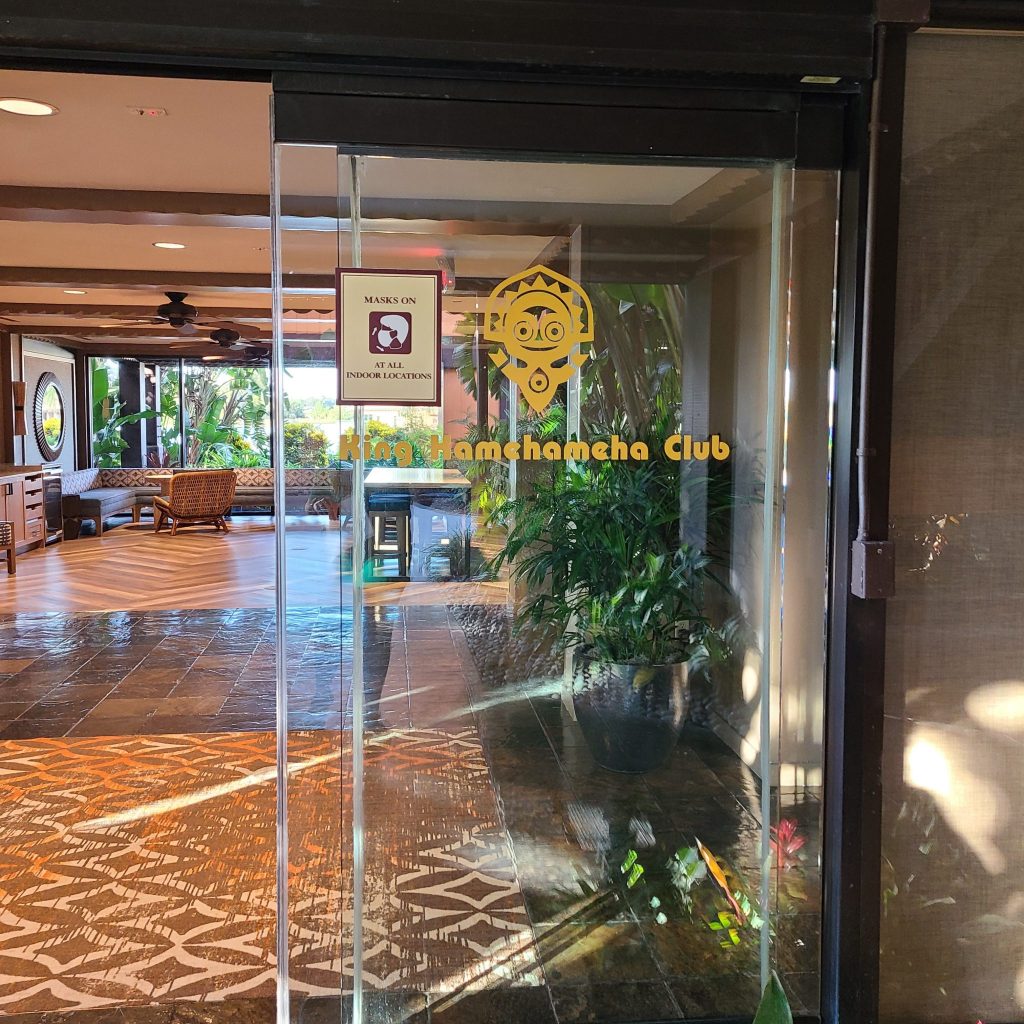 Dining:
The Polynesian is home to several popular dining locations! Many of the menus continue the tropical theme and draw inspiration from the islands of the South Pacific.
Ohana: Serving up family-style meals for breakfast and dinner, Ohana is consistently one of the most recommended restaurants on property! The hearty breakfast skillet features an American-style breakfast inspired by the tropics. Hawaiian-style ham and pineapple bread are served alongside traditional breakfast favorites. Dinner brings a Polynesian feast of grilled meats, potstickers, the famous Ohana noodles, and pineapple coconut bread pudding for a sweet finish to your meal. The Tambu Lounge is located next to Ohana and offers a variety of tropical-inspired drinks and appetizers.
*Note: Breakfast was previously a character meal featuring Lilo, Stitch, Mickey, and Pluto. We hope that this returns one day but at the time of this article, it remains unavailable.
Kona Cafe: This casual cafe serves up three meals a day and features Asian-inspired dishes such as sushi, noodle bowls, stir fry dishes, and poke bowls. The iconic tonga toast is served here for breakfast. I highly recommend the macadamia nut pancakes!
Kona Island is located adjacent to Kona Cafe and serves up coffee and pastries in the morning and sushi in the evenings.
Captain Cooks: The resort's quick-service location is open for meals and snacks throughout the day. There are a variety of hot options such as pulled pork, nachos, meatballs, and burgers as well as bakery grab-and-go selections. If you need a microwave or toaster during your stay, there are a couple available here for guest use. Resort refillable mugs can be purchased and refilled here. PRO TIP: You can find Tonga Toast here as well!
Pineapple Lanai- Just outside the Great Ceremonial House, you will find this snack window serving up the legendary pineapple soft serve.
Barefoot Pool Bar and Oasis Bar & Grill: Both offer quick bites such as salads, wings, fish tacos, and a selection of cocktails and mocktails to enjoy while you relax by the pool.
Trader Sam's Grog Grotto and Trader Sam's Tiki Terrace: This whimsical, tropical hideaway is brimming with fun drinks, savory small plates, and delightful surprises. Visit the outdoor terrace for live music and a lush island atmosphere.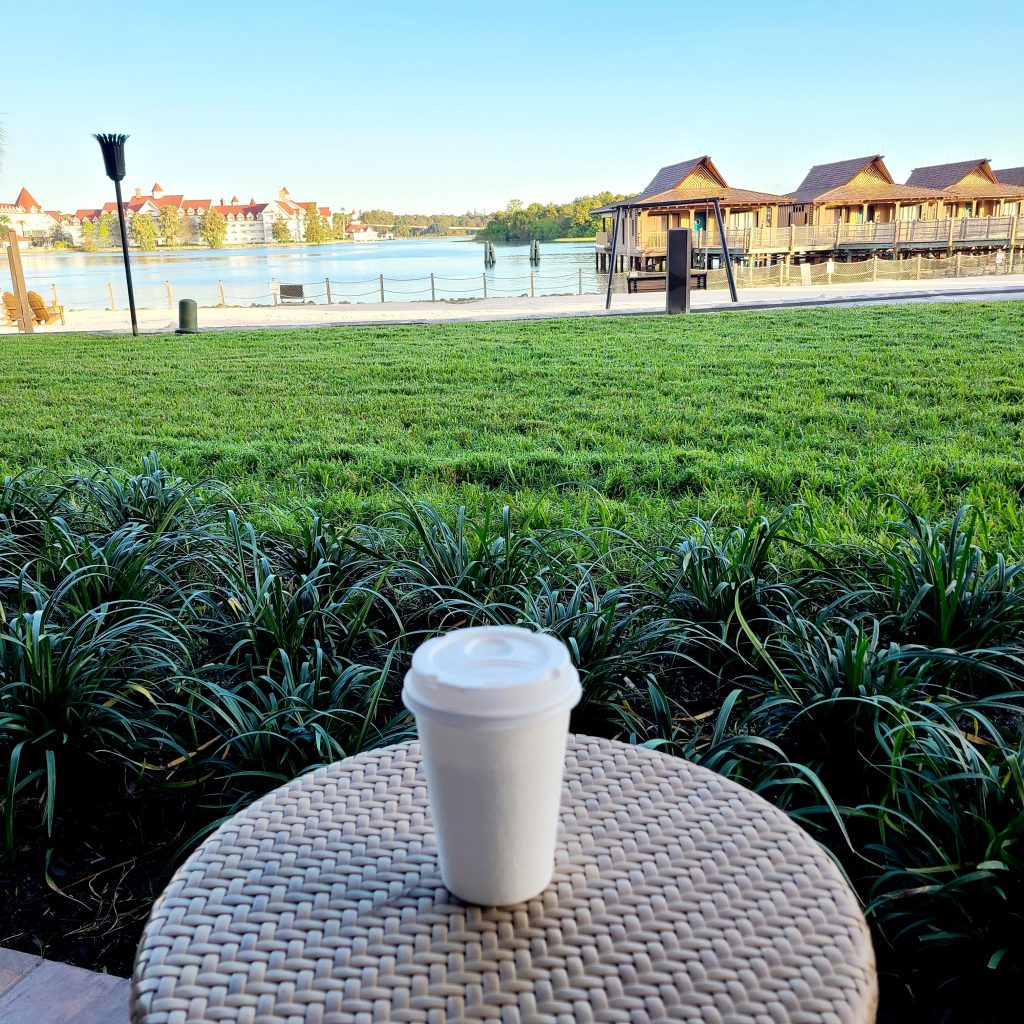 Recreation:
The Lava Pool will delight swimmers of all ages! This zero-entry pool features a 142 ft tall waterslide, a waterfall, stunning views of Cinderella Castle, and a water playset/splash zone just for little ones! The Oasis Pool is perfect for those looking for a quiet escape. Add a poolside patio rental at the Oasis pool for the ultimate relaxing day. Other activities include jogging trails, boat rentals, guided fishing excursions, a nightly campfire complete with marshmallows to roast, and movies under the stars (popcorn included!). Don't miss the chance to see the Electrical Water Pagent that floats by nightly on the Seven Seas Lagoon (check the app for the current times)!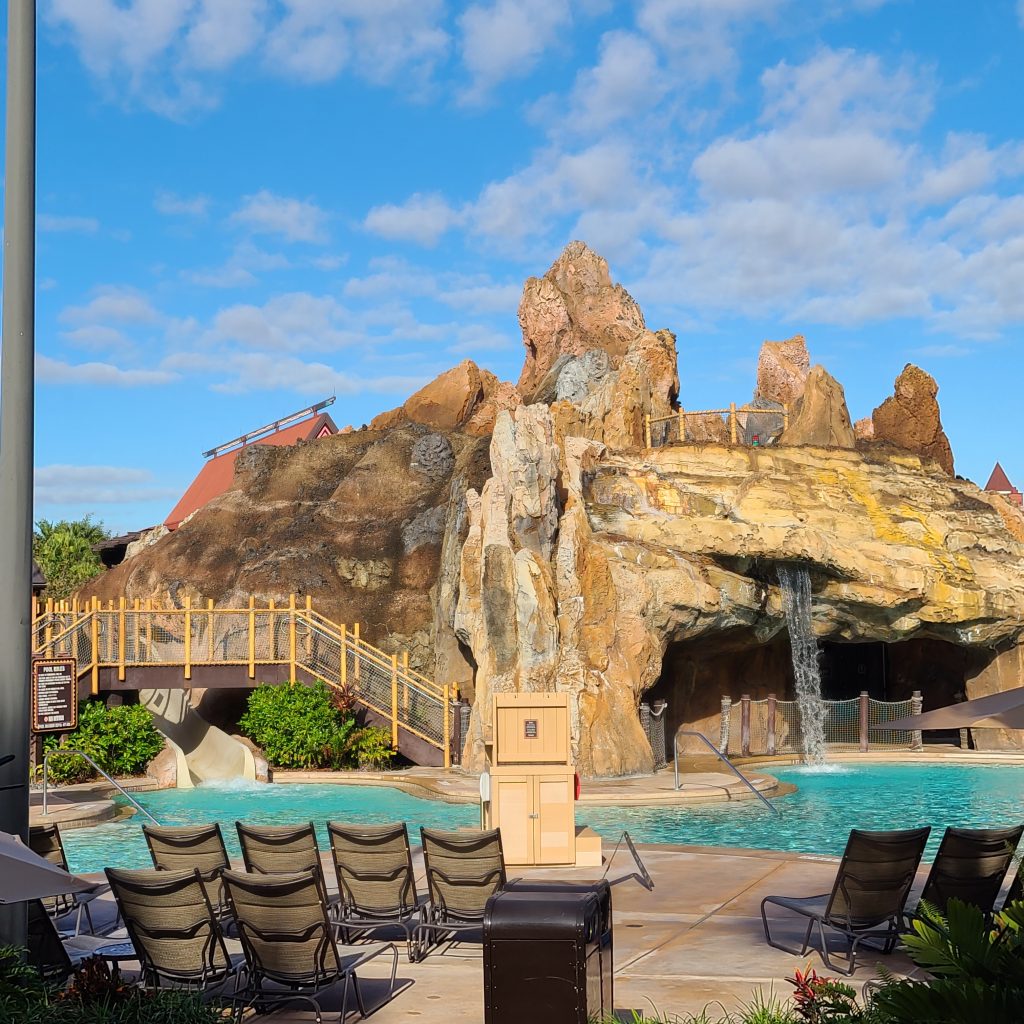 Pros and Cons:
Pros:

Amazing location! You can hop aboard the monorail or boat to Magic Kingdom or take a quick walk over to the Ticket and Transportation Center for access to the Epcot monorail.
Gorgeous castle views by day and fireworks viewing by night from various locations around the resort.
Beautiful and laid-back atmosphere.
Amazing pool area!
Lots of recreation activities make for a relaxing escape from the hustle and bustle of the theme parks.
The monorail is convenient for those using strollers or mobility devices because you can simply roll in and out of the monorail cars.
Guests staying at deluxe resorts have access to extended evening theme park hours on select nights each week. It's like having a private after hours event!
PRO TIP: Don't forget about the boat access to the Magic Kingdom! Most people head to the monorail so the lines for the boat are typically short or nonexistent.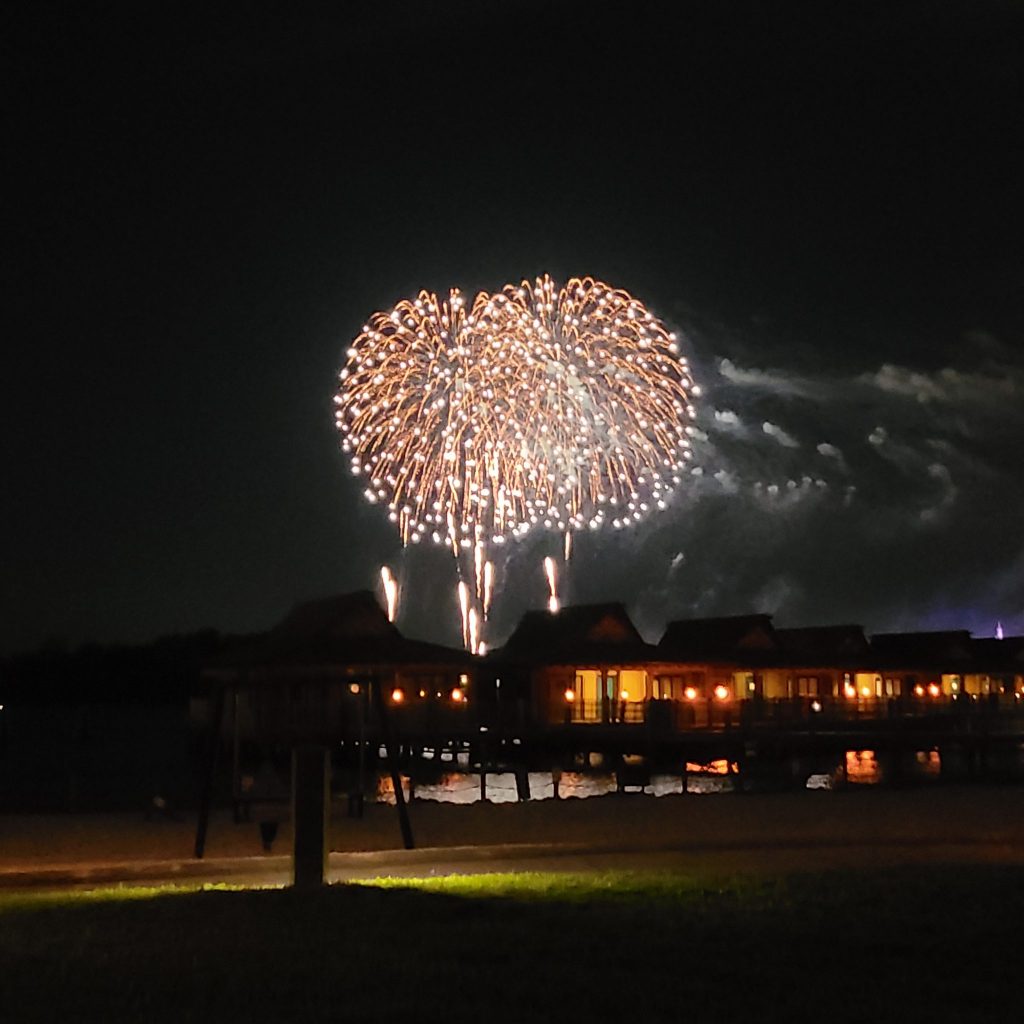 Cons:

There is no direct access to the Great Ceremonial House from any of the rooms. This can be a bummer in inclement weather.
While basic food options such as burgers and chicken tenders are available, many of the food options are a little more exotic which may not appeal to more selective diners.
The resort can be a popular destination for those seeking to "monorail hop" and explore the dining options or beach area. Anyone is welcome to enjoy the beach and restaurants so this can make the resort feel a little bit crowded, especially during peak dining times and in the evenings around fireworks time.
Agent Impressions:
I think this is a great resort for families or those looking for a uniquely Disney experience. It offers a picturesque escape while remaining close to all the action. The room theme is so well done and the room size is nice for a family of 5! I enjoy having multiple transportation options and I love the dining options on-site. I personally prefer a more compact resort with interior access to dining options and other guest amenities. For my family, the evening crowds are kind of a bummer when you are looking for an escape at the end of a long day. Overall, the pros outweigh the cons for my family, it just doesn't happen to be my number one resort. 😉
What are your thoughts on the Polynesian? Is it at the top of your must-do list? Let me know in the comments!
By Storybook Traveler Holly Averette. Contact her today to get started planning your next vacation!