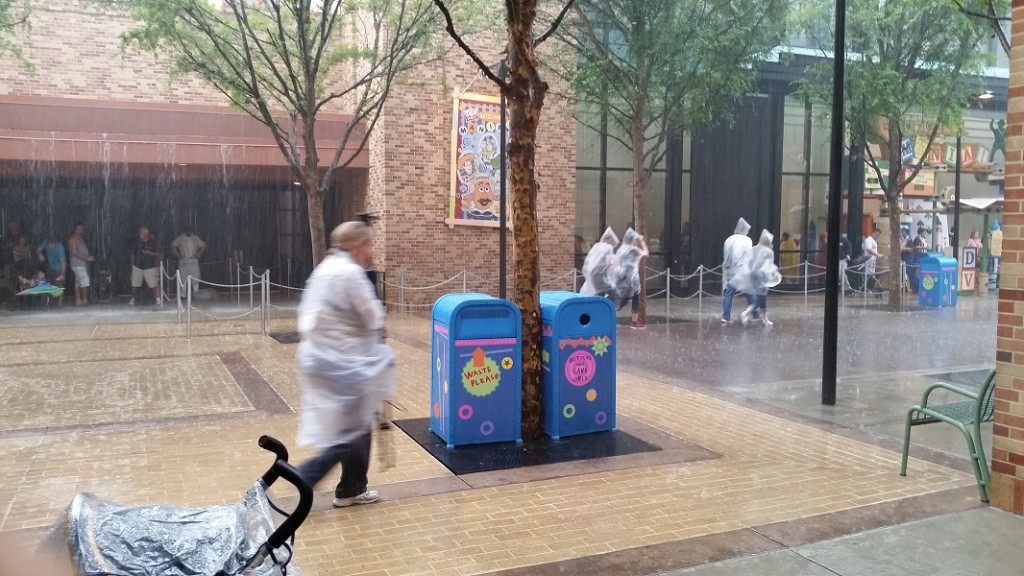 This article written by Chuck Strom
For many families, especially with school-age children, the summer and early fall offer the only opportunity to visit the Walt Disney World Resort in Orlando.  Unfortunately, summer and early fall are the rainy season and there's a good chance rain will be in the forecast pretty much every day, June through early September.  While it may rain on your Parade, there's no reason for that to ruin your Disney Vacation!  In fact, that afternoon shower has some great side-effects – it cools things down, it gives a little relief from the relentless summer sun, it thins the crowds, and it keeps everything green and beautiful.
Preparation
It should go without saying that being prepared for the rain will make your day run much more smoothly.  Here are 5 things you can do to make sure that you are ready for the rain:
Check the forecast in the days leading up to your trip so that you know exactly what to expect.  Very accurate 10-day weather forecasts are readily available on a number of reliable websites;
Pack rain gear!

Ponchos are the first choice of rain gear for many people.  They are light, easy to pack and carry, and easy to take on and off.  Ponchos are readily available for sale at shops and carts all over Disney World.  They are, however, much more expensive than what you can get at your local "big box" store.  If you like ponchos, bring them from home
Rain jackets or light, waterproof windbreakers are my preference.  It is quite hot in the summer in Orlando and wearing a poncho can feel a lot like being in a sauna.  A jacket can be opened and closed to allow some cooling air flow.  Most lightweight jackets can be rolled and stuffed into a bag or backpack as easily as a poncho
Umbrellas are my least favorite type of rain gear.  They are inflexible and difficult to maneuver through the crowded areas of the park.  If this is your preferred method of staying dry, be kind and courteous to your fellow guests that are trying to get around the park;

Don't forget your feet!  If the forecast calls for an all day rain wear rain-friendly shoes to help prevent blisters and also to maintain good traction on the wet surfaces around the park.  If it's just going to be the typical afternoon shower, consider bringing a change of socks;
Once you are at Disney World, monitor the weather forecast daily so that you know what to expect and can be prepared;
Last but not least, adjust that attitude!  In most cases, the show will go on and you don't need to make any changes in your plans just because it's raining.  Grab your rain gear and enjoy your Disney World Vacation.
What about Thunderstorms?
Alright, you're armed with the latest weather forecasts, you've packed some great rain gear, and you're determined to have a great time even if it rains.  In general, stick to your plans no matter what the weather is doing.  The big exception to that is if there are thunderstorms in the area.  Lightening is the one thing that will close all of the pools, the water parks, and some of the outdoor attractions.  If you need to cancel a Water Park day or any day because of thunderstorms, consider going to Downtown Disney for the day.  There are many shops and restaurants to keep the whole family occupied.  In addition, the AMC Downtown Disney 24 always has all of the current big-screen blockbusters running all day long.  If the family is into bowling, Splitsville offers some up-scale bowling and some very delicious dining, too.  If you have gamers in the family, Disney Quest can easily keep them happy for half a day or even more.  If you're very lucky, you might be able get last minute tickets for Cirque du Soleil La Nouba.  And again, there's plenty of shopping and dining, so browse away!
It's raining on my parade!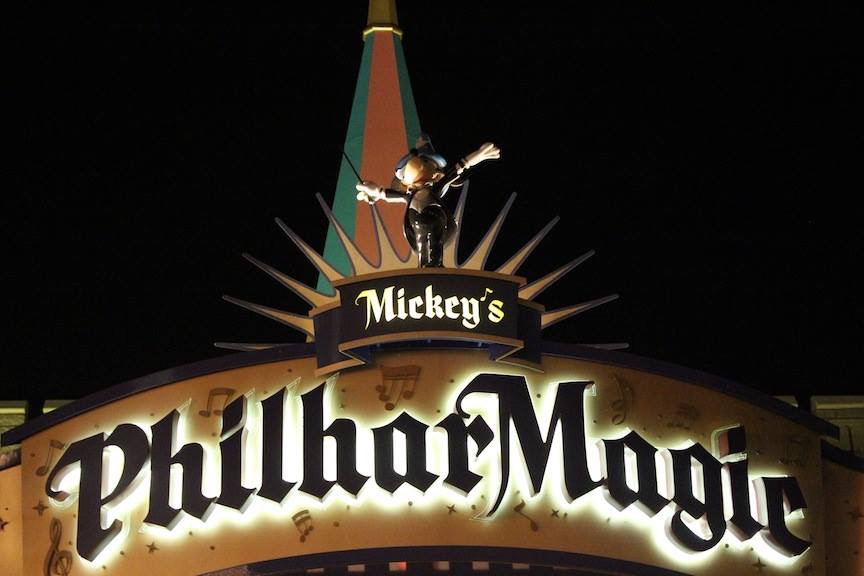 So, now you're in one of the parks and the rain you saw on the radar this morning is right over your head!  Now what?  Where ever you are, avoid the shops!  Most everyone goes into the shops.  Instead, head for the rides and shows with a long covered queue.  Here are some of the best rainy day ideas:
In the Magic Kingdom, Fantasyland's Under the Sea – Journey of the Little Mermaid and Mickey's PhilharMagic are good choices.  In Adventureland, Pirates of the Caribbean and the Enchanted Tiki Room are great places to stay dry.  In Frontierland, visit the Country Bear Jamboree and in Tomorrowland, consider a trip on Space Mountain.  The Walt Disney World Railroad has stations on Main Street, in Fantasyland, Frontierland, and Tomorrowland and can also get you out of the rain for 20 or 30 minutes.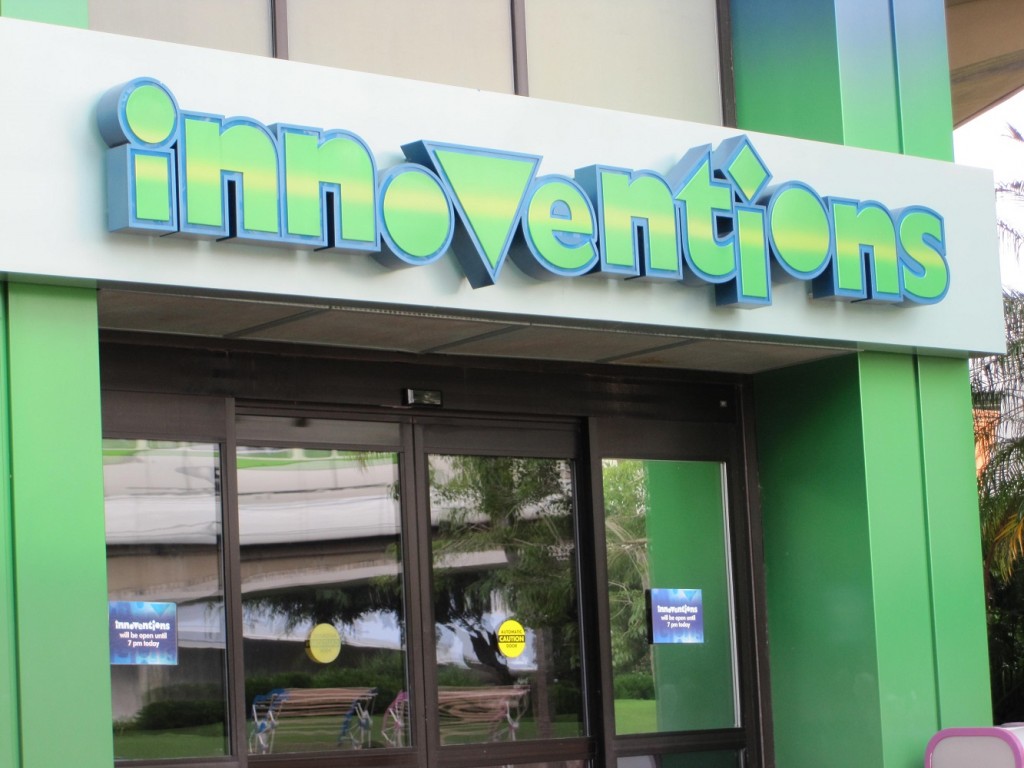 In Epcot, all of the Future World attractions have extended indoor queues and can keep you out the rain.  In addition, the discovery areas of these attractions, like Sea Base Alpha and ImageWorks, can easily provide an hour or more of indoor activities.  The Land Pavilion is especially good because there are three attractions under one roof, plus dining and shopping!  Innoventions East and West also provide a number of learning and discovery activities and Sum of All Thrills can give the adventurers in your group the opportunity to design and ride a roller coaster.
At Disney's Hollywood Studios, Toy Story Midway Mania, Muppet*Vision 3D and Voyage of the Little Mermaid are great indoor attractions.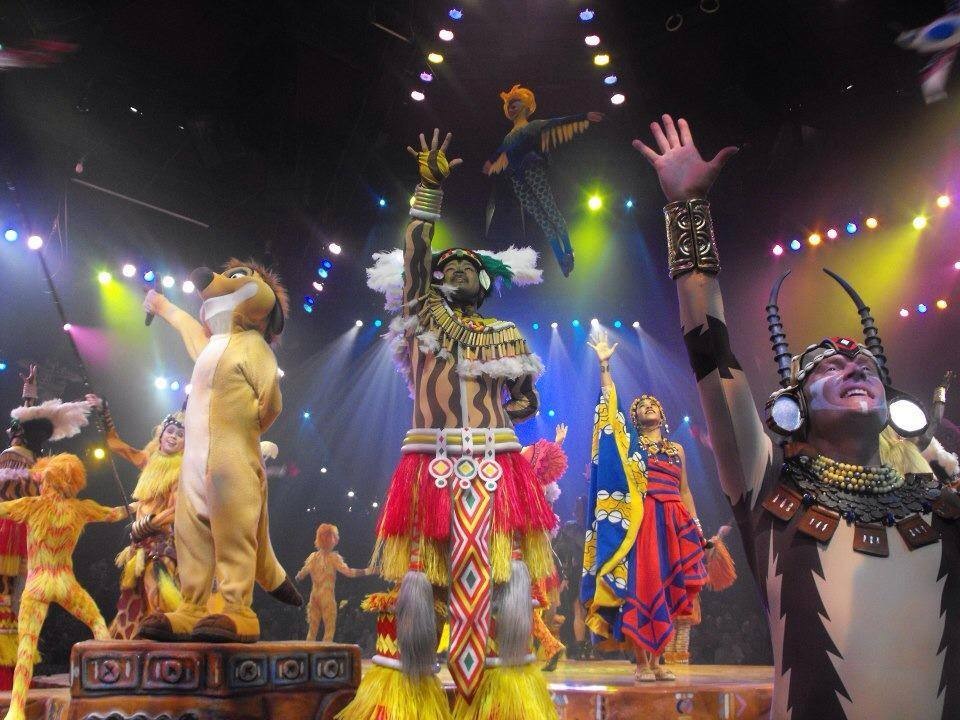 At Animal Kingdom, the two blockbuster shows – Finding Nemo – The Musical, and the Festival of the Lion King – provide great indoor entertaining and a welcome break from the rain.  At the Tree of Life, be sure to see It's Tough to be a Bug.  Much of the queue is indoors, and the show itself takes place in an indoor theater.
If you are in the Magic Kingdom area, consider doing a "resort crawl."  You can jump on the Resort Monorail and visit the Contemporary, the Polynesian Village, and the Grand Floridian.  Each resort has unique architecture as well as dining and shopping opportunities.
What about the 3:00 o'clock parade?  Don't fret, if it's a light rain, the parade will go on.  If it's raining too much for the performers to be safe, there's a "Rainy Day Parade" that runs.  Only in the very worst of conditions is the parade completely cancelled.
Have fun, enjoy the reduced crowds and the cooler temperatures, and remember –
A rainy day in a Disney Park…..
Is better than any day hard at work!