Article by Storybook Traveler Holly Averette
Let's get groovy! Disney's Pop Century Resort celebrates the fads of the 1950s-1990s in a fun and playful way! You will relive the toys, icons, fashion, and more through the larger-than-life decor as you journey through the decades. From a giant Yo-Yo or 8-Track to massive character statues and silhouettes, the resort is sure to delight guests of all ages! Pop Century is located on the Skyliner gondola system which makes getting to Epcot and Hollywood Studios a breeze! The resort was the fourth value resort built at Disney and opened on December 14, 2003. It underwent a complete room refurbishment in 2017/2018.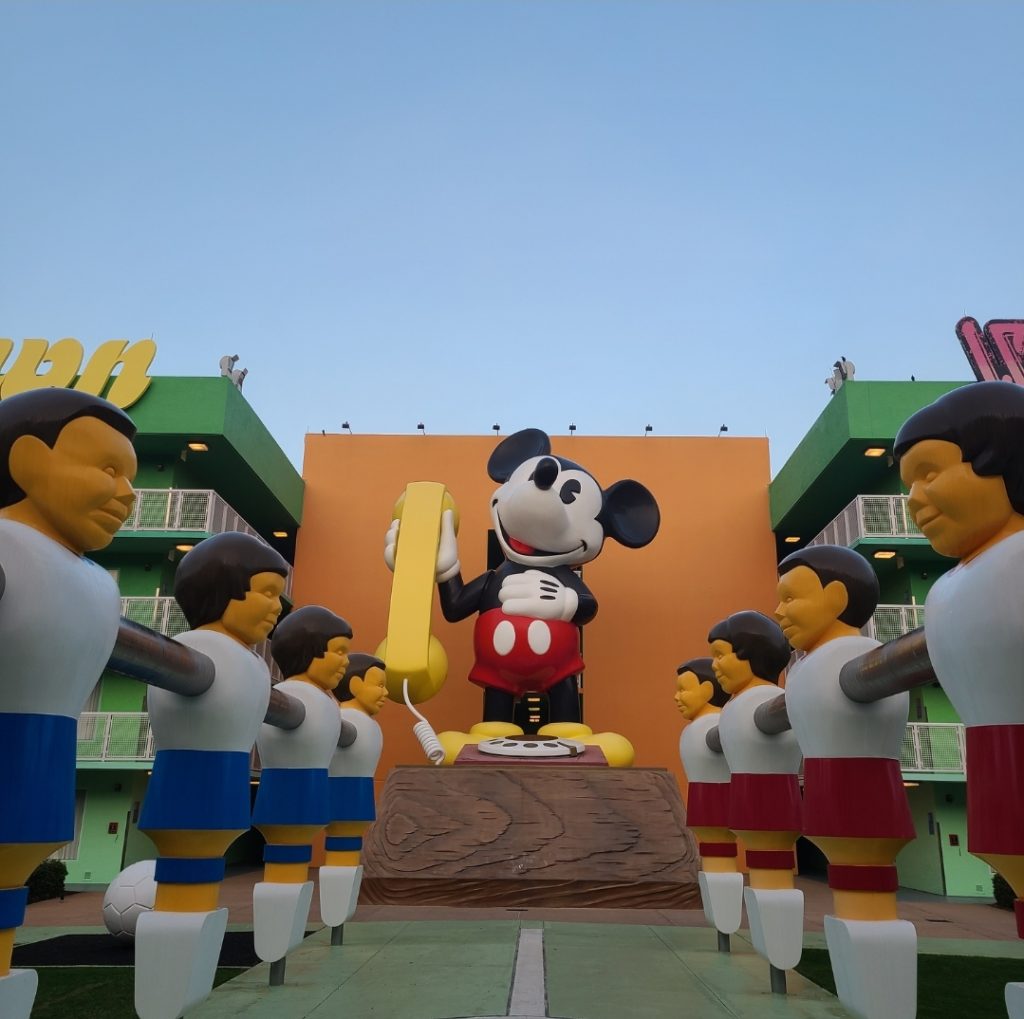 FUN FACT: The original design for Pop Century included an expansion across the lake that would span the early 1900s-1940s.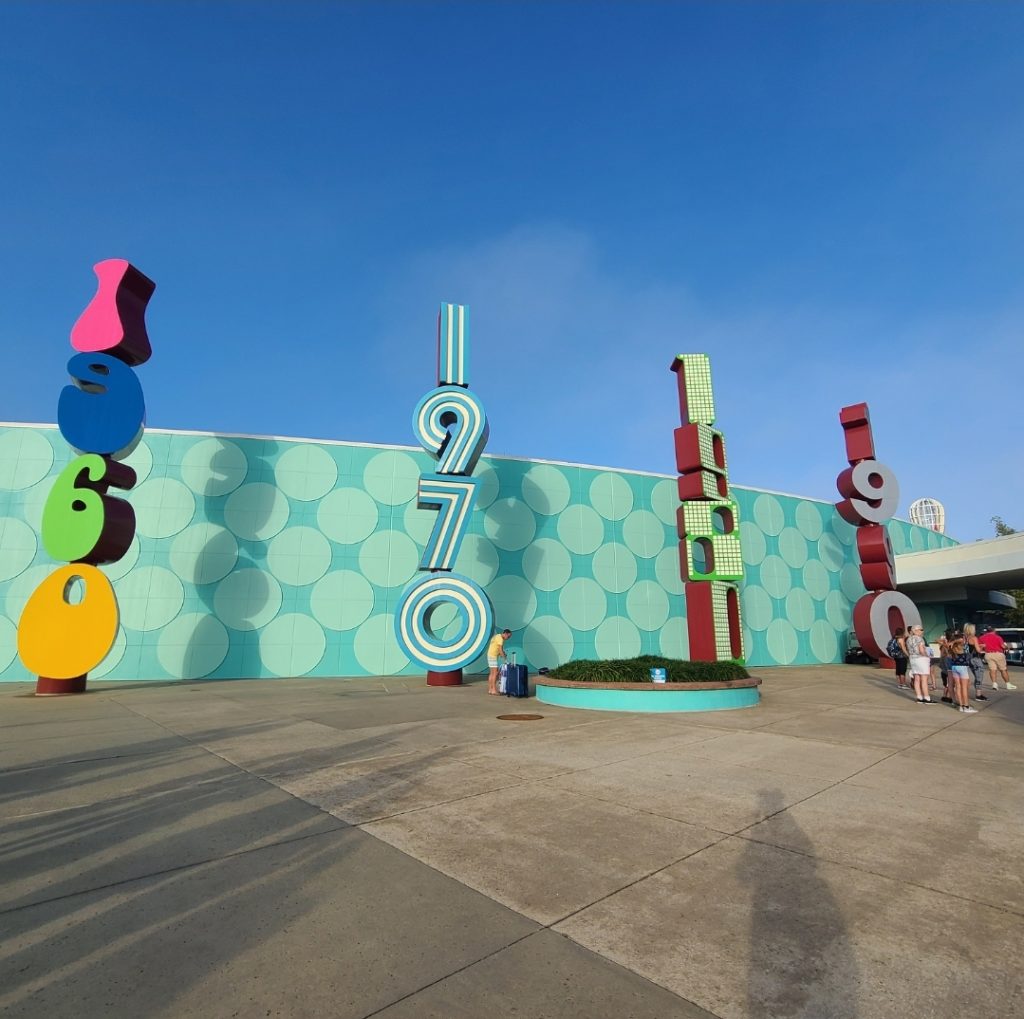 Arrival and check-in experience:
Lively colors and popular tunes from the last half of the 20th century welcome you as you enter Classic Hall, the main building that houses the check in area, food court, and other guest amenities. If you are arriving by motorcoach via an airport shuttle you will be dropped off right in front of the lobby entrance. If arriving by taxi, rideshare, or private transfer, you will stop by the security gate and confirm you are checking in before proceeding to the lobby entrance. If arriving by personal vehicle you will also need to stop by the security gate. TIP: have your ID and resort confirmation number handy to show the guard. Self parking is available for no additonal cost. Bell services will be available to assist guests with luggage upon arrival and they can hold items until your room is ready. Like other Disney resorts, there is a small kids area with kid size furniture and a TV playing Disney shows or movies to entertain little ones during the check-in process. Alternatively, you may choose to complete online check-in on the app prior to your arrival. Doing this allows you to bypass the front desk and you will receive a text or email notification with your room number when it is ready.
Rooms:
Outside of Classic Hall, pathways guide you to the various sections-the 50s, 60s, 70s, 80s, and 90s all have a themed area in the resort. Each room is 260 sq ft and can accommodate up to 4 adults plus one child under 3. Room amenities include a hairdryer, shampoo/conditioner/body wash, bar soap, lotion, beverage cooler, coffee maker with coffee and tea supplies, in room safe, iron and ironing board, and complimentary wi-fi. With the exception of a small number of king rooms, each room has 2 queen beds but the configuration is a bit unique. The second queen bed is actually a fold down Murphy style bed. During the day, the bed is folded up and becomes a table. To pull down the bed, simply move the 2 chairs and pull down on the handle. The table magically folds down under the bed. The mattress is the exact same style and size as the regular queen bed so no worries about comfort! Room view options include standard, preferred, and pool view.  All rooms open to covered exterior walkways.
TIP: Save some money and skip the pool view. These rooms can be loud, especially near the feature pool.
Dining:
Serving up classic dishes, comfort food, grab-and-go items, and delicious bakery treats; the dining at Pop is sure to please everyone in your party!
Everything POP Shopping and Dining: The resort's quick service serves up three meals a day. With a variety of family favorites, everyone is sure to find something they like! Try out the infamous tie-dye cheesecake or grab a large pizza and feed the whole family! The pizza might just be one of the best dining deals in all of Disney!
Petals Pool Bar: Grab a tropical drink, ice cream treat, or poolside snack while you relax by this groovy poolside bar!
FUN TIP: Join the Cast Members in the food court at 8:00 am to dance the Twist or at 6:00 pm and get down to the Hustle!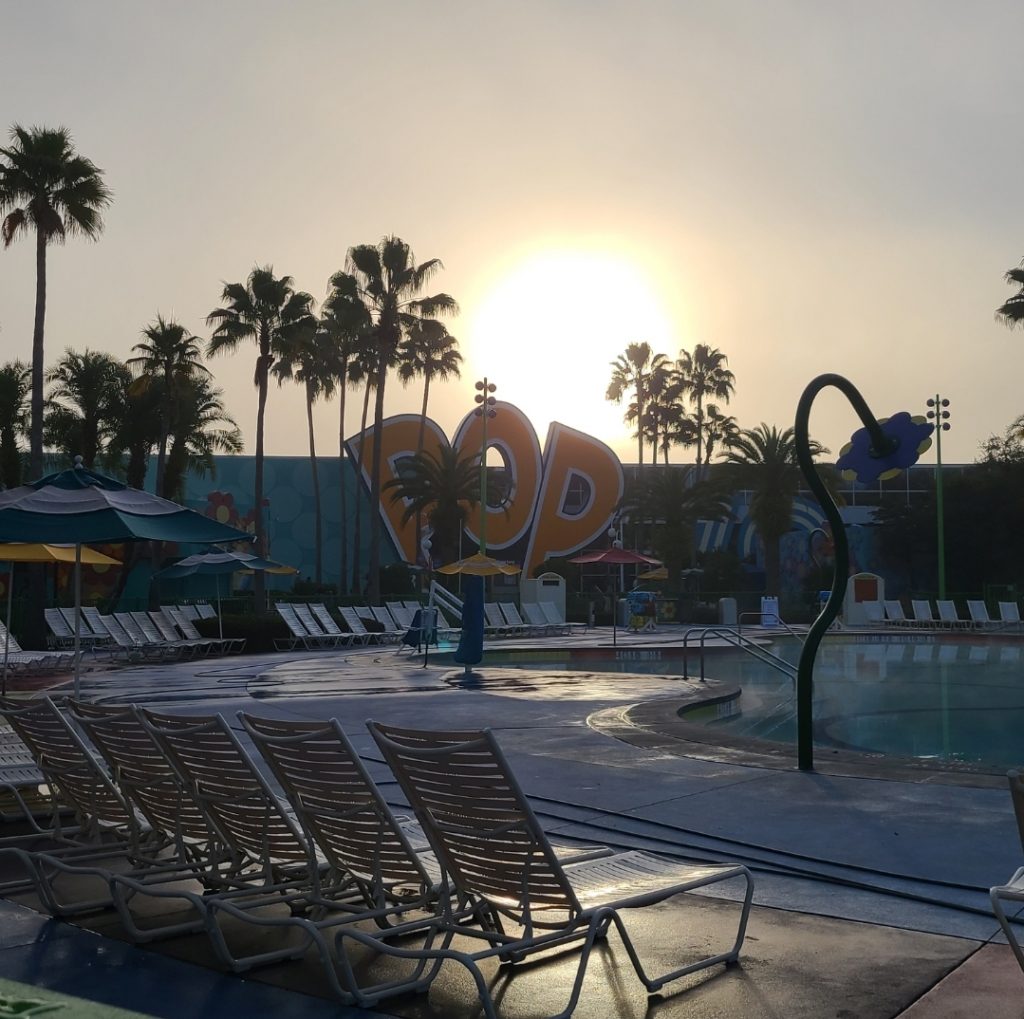 Recreation:
Join the recreation Cast Members for entertaining poolside games at the Hippy Dippy Pool each afternoon or take a leisurely dip in the Bowling or Computer "quiet" pools. The resort has nightly campfires with a marshmallow roast over by Surfer Goofy and nightly movies under the stars by the Hippy Dippy Pool. An arcade is located in Classic Hall for the gamers and a playground in the 70s section is perfect for little ones. A jogging trail encompasses the resort and is a great way to see all the fun memorabilia throughout the property.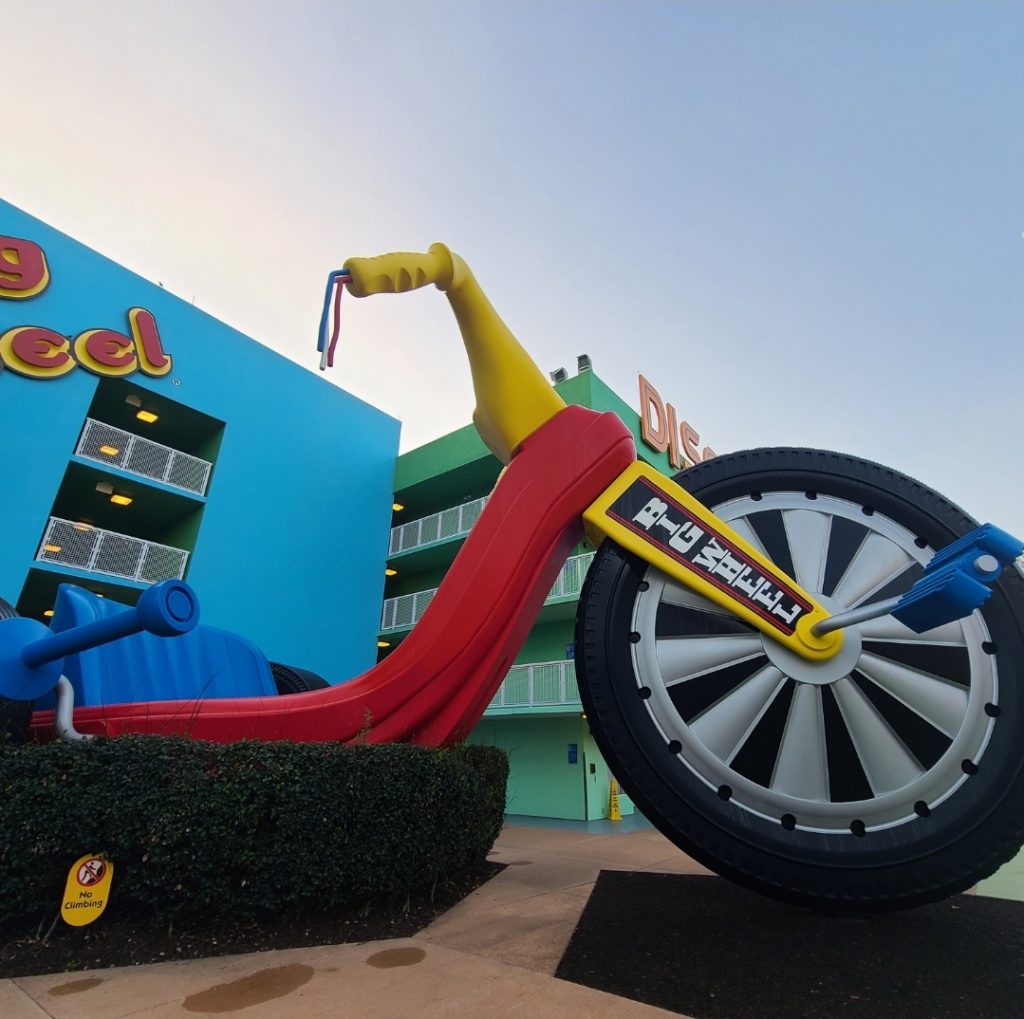 Pros and Cons:
Pros:

Located on the Skyliner for easy access to Hollywood Studios and Epcot.
Great kid appeal.
Excellent budget-friendly option!
Room space is utilized well with plenty of storage.
The Skyliner makes park hopping easy and opens up more dining options at other resorts on the Skyliner.

Cons:

Smaller rooms may be uncomfortable if you put 4 adults in one room or for families that prefer to spread out a little.
No table service dining is available at the resort.
No pool slide or hot tub.
No room options for larger families.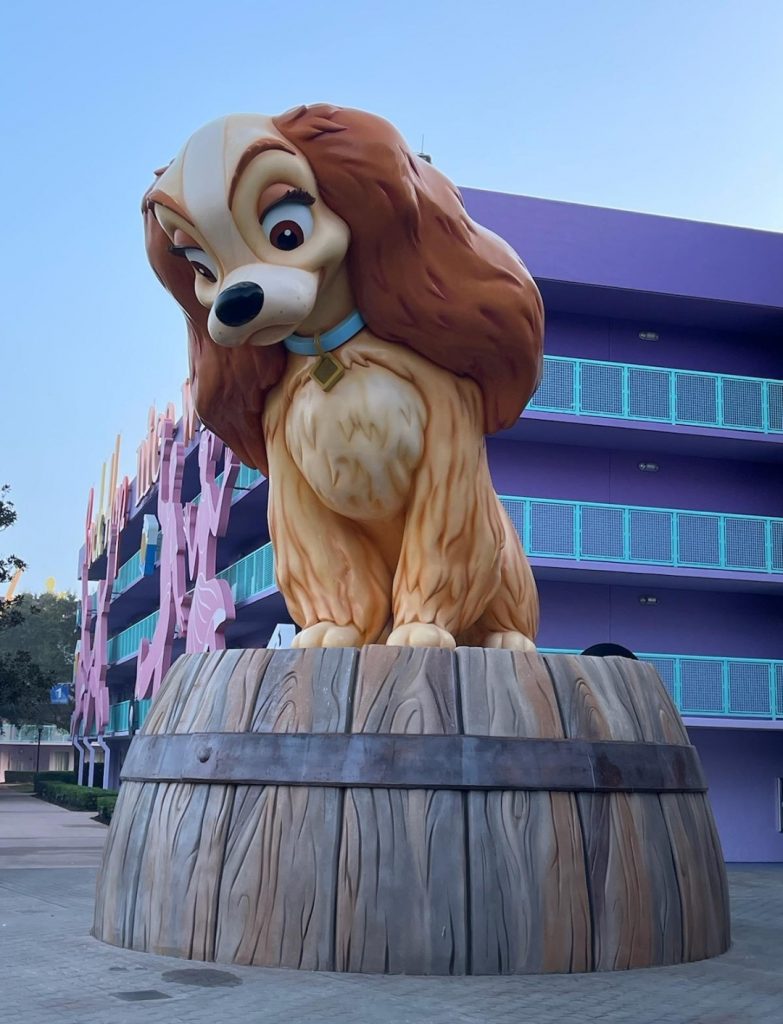 Agent Impressions:
Pop is always my go to when recommending a value resort! The room design is well thought out and the space is used very well. I love the Skyliner and having that transportation option at Pop is a huge advantage over other value resorts. The theme is bright, playful, and fun- it just puts me in a good mood! Kids will love all the fun character statues throughout the resort and parents will appreciate the ease of the Skyliner transportation. You can just push that stroller straight on, sleeping child and all! *Note that side-by-side double strollers do need to be folded but front-to-back doubles can roll right on.*
What are your impressions of Pop Century? Let us know in the comments!
Article by Storybook Traveler Holly Averette