It's halfway to Halloween and do you know what we have on our minds? Mickey's Not So Scary Halloween Party and all the fun we'll have this year!
If you've never attended Mickey's Not So Scary Halloween Party, are you in for an absolute treat! It's a special ticketed after-hours event available only at Disney's Magic Kingdom on select nights in late August, September, and October. Park guests visiting during the day will be ushered from the park at 7pm so that the special party guests can have a magically spooky good time (but you know, not too spooky!) But what does that mean? Well, a few things.
Costumes
During normal hours, guests 14 years and older are not allowed to wear costumes in the parks but that rule is lifted during these ticketed events. That means that whatever you're age, if you'd like you're welcome to enjoy your costumed fun! For some families that means costumed tshirts while others go all out. Disney does provide a few rules and guidelines that you can find on their website.
Some of the best fun can be had when you tie in your favorite Disney themed movie or attraction to your costume. Our family had an absolute blast with the Robin Hood theme this last Halloween.
And speaking of costumes…
Characters
Some of your favorite characters will appear in unique costumes found only at the event. It varies each year as to who will be out doing visits, but you may find Stitch in his Elvis outfit, Pirate Goofy, or the Winnie the Pooh Gang getting into the holiday spirit just like you. Mickey also gets in on the fun!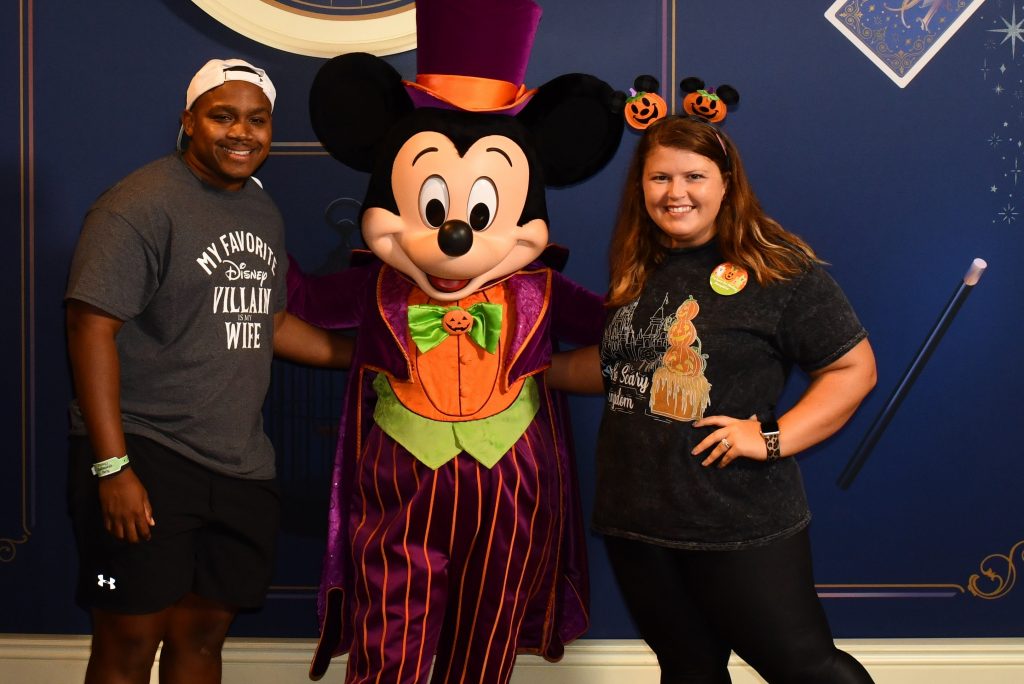 (Photo by Storybook Traveler Emily Engram)
There are also characters specific to the events. One pair seen most years is Jack and Sally.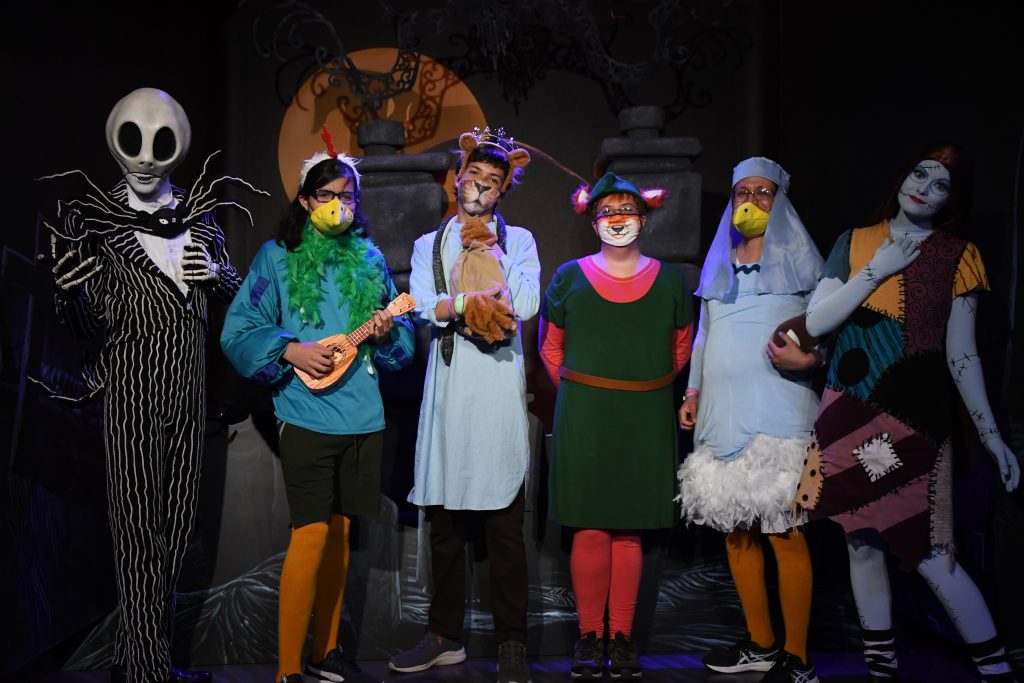 You may also see some pairs that are otherwise out but generally not together, making for a unique photo opportunity!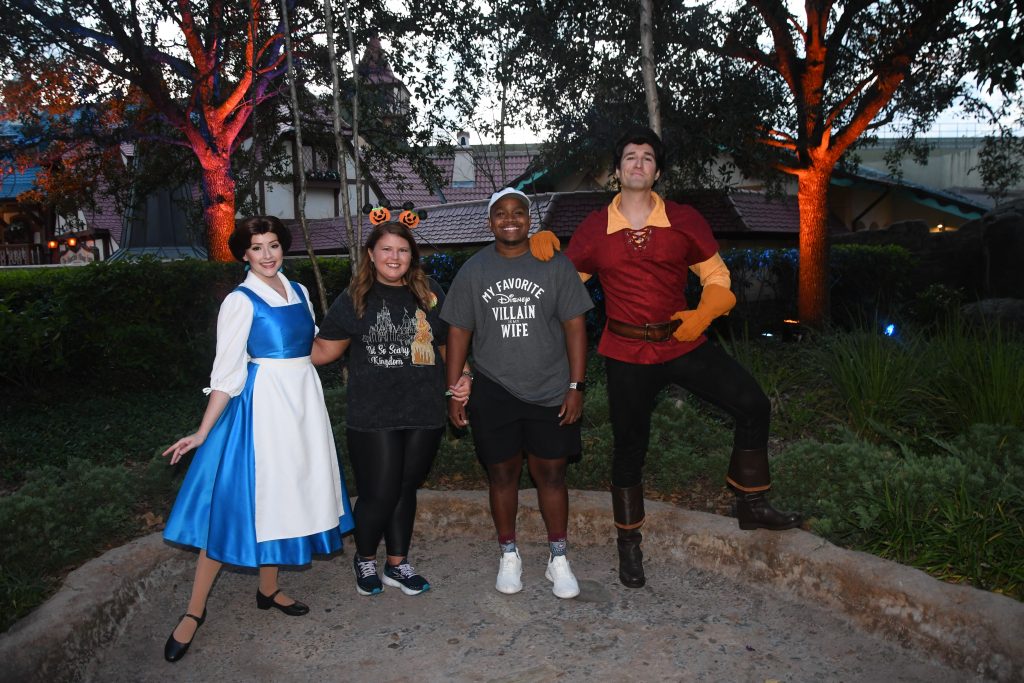 (Photo by Storybook Traveler Emily Engram)
Want a tip? Talk to your Storybook World Travel agent to find out which character lines will start before the party! Jack and Sally's line begins as soon as party guests are allowed into the park and they begin meeting guests prior to the actual start of the party. See them early so you're not waiting in long lines during the party. Other popular meets may have similar set ups, so it's best to consult with your travel agent about how to best maximize your limited party time (after all, you've only got until midnight!)
Special Treats
Disney has some special snacks and treats that are only for party guests each year. They may be a special dole whip, cupcake, or something else with a slightly spooky makeover. While these treats are still at a cost, they're a bit of extra fun during the evening. If possible, we recommend grabbing them later in the evening or during one of the parades so you don't need to wait in any long lines.
And speaking of treats! Did you know that you never get too old to trick or treat at Disney's Halloween Party? Some people say that you can always buy candy at home, but we think there's something special about visiting the various candy trails around the park. Disney Cast Members are extremely generous, usually offering a small handful of candy at each treat station.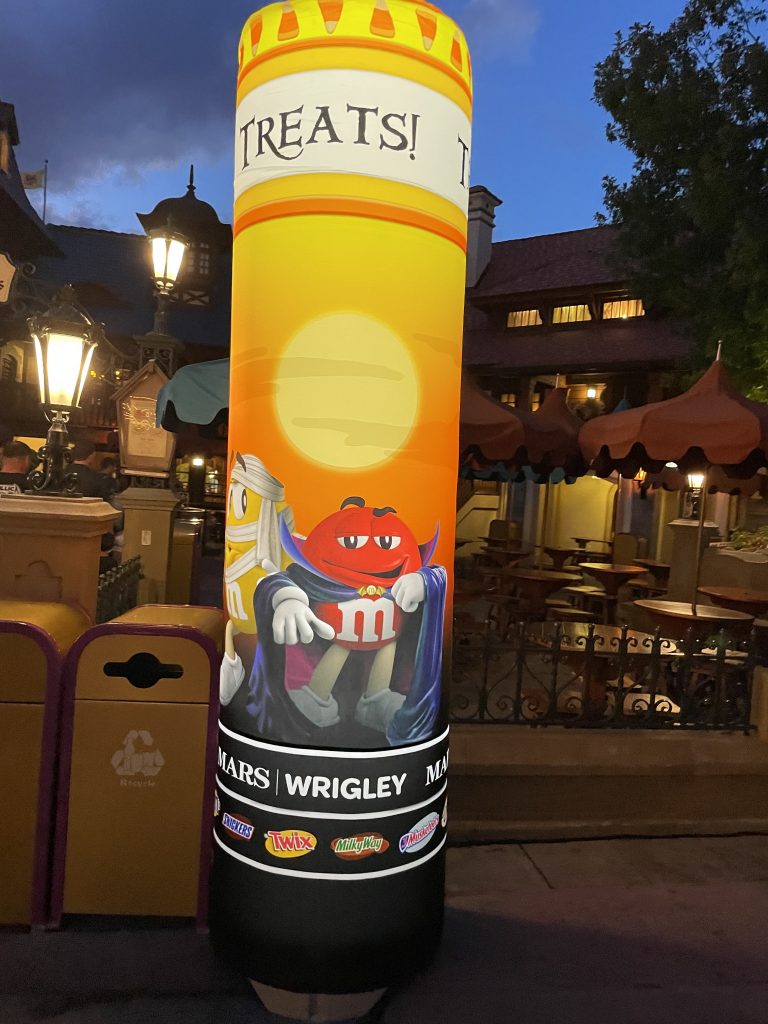 (Photo by Storybook Traveler Emily Engram)
Are you traveling with someone with allergies? Never fear! They can collect allergy tokens at each of the candy trails and then turn them in for treats at one of the allergy check in stations (this last year there was one on Main Street and one in Liberty Square, though they could change location). Disney is sure that everyone gets a treat they enjoy. The person in our group with allergies was excited that not only could they get special treats, but there was an excellent selection ranging from Enjoy Life Chocolate Bars to lollipops and a variety in between.
And as we said, they don't go easy on the candy. Our Prince John wanted to see how much he could collect in one night and rest assured he actually filled his entire bag full. He had a blast going to each of the stations to ask them for a candy tax. We'll see if Robin manages to steal some of it back for the rest of the family once they're home, right?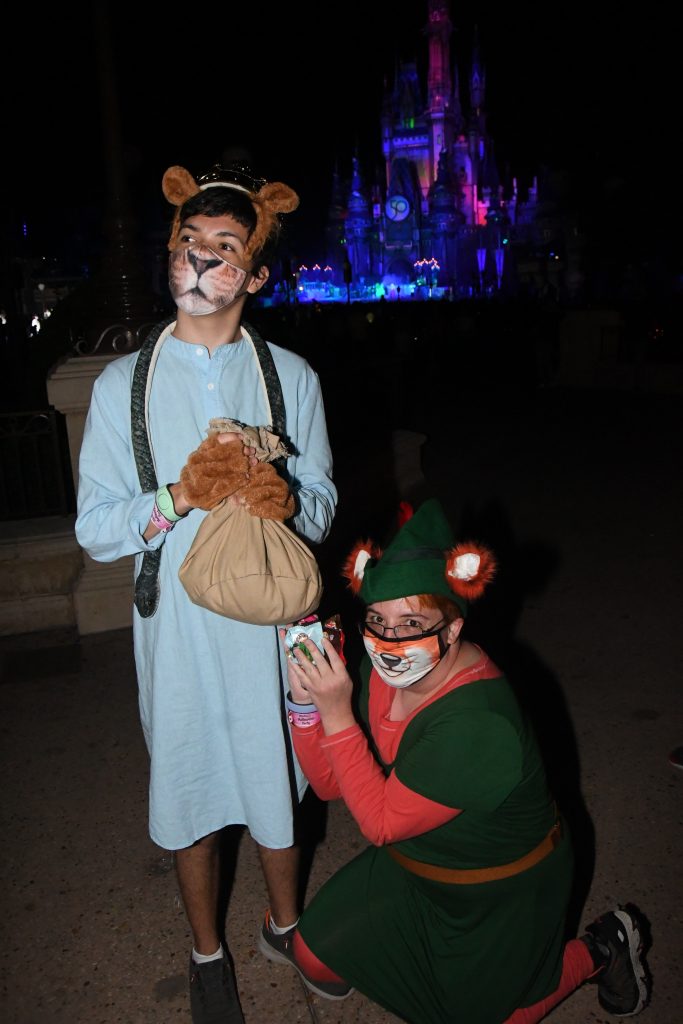 Special Shows
While Disney can change up the shows each year, they've been reliably offering three unique shows that you can only see at Mickey's Not So Scary Halloween Party for a few years now. The first is a special fireworks show. Have you ever wanted to see fireworks at Disney with a Halloween twist? This is your chance!
They also offer a unique parade that many describe as their best parade called Mickey's Boo to You Parade. We'll post some snippets of that on social media this week for you to see if you'd like to visit our Instagram or Facebook!
Finally, for the last few years the Sanderson Sisters have made a delightful, er, spooky appearance at the party. They have a fun show on the castle stage where you'll also get to see some of your other favorite Disney villains. But never fear, the good guys will always win in the end at the Magic Kingdom.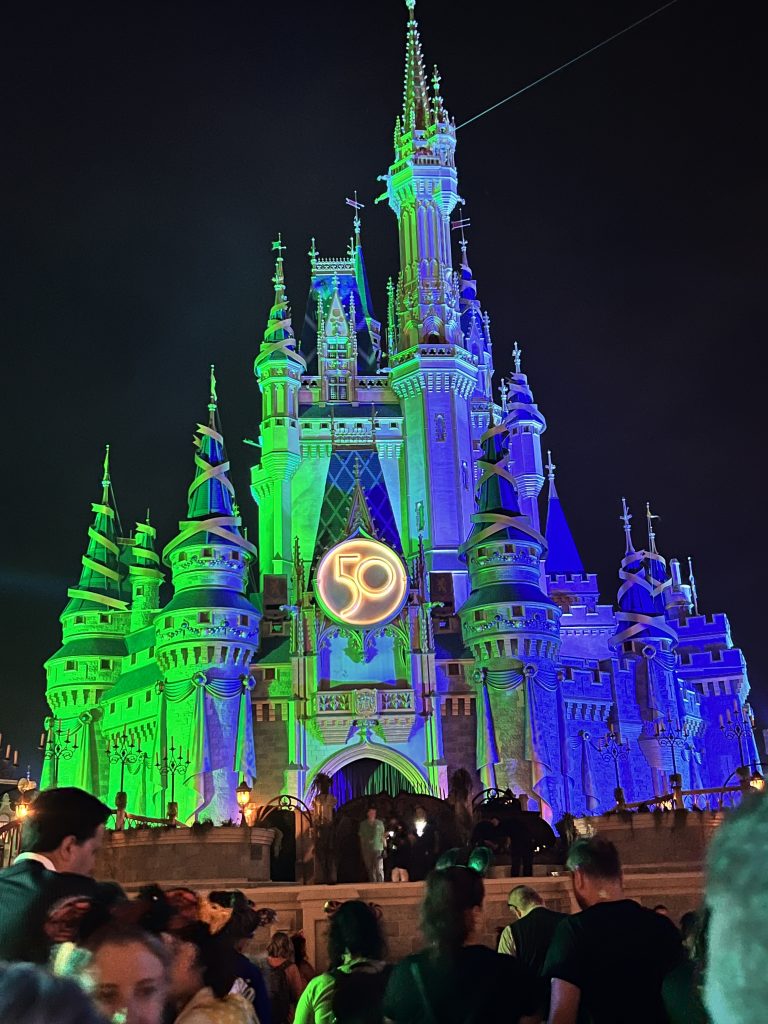 (Photo by Storybook Traveler Emily Engram)
Most of these shows perform multiple times per night to allow for best viewing for all the party guests. Your Storybook World Travel agent can work with you on when the best time to see them for your family is (have little ones? You'll probably want to do an early show! Teenagers in your group? Why not see the less crowded midnight showing of the Sanderson Sisters?)
Unique Ride Experiences
Are you a Disney lover who has done all the rides? Maybe you'll enjoy something unique for a Halloween twist! Jungle Cruise has some special spooky jokes, but our personal favorite was that during party hours the Pirates of the Caribbean has real live pirates visiting. In addition to the normal animatronics you can catch pirates in both the queue and on the ride itself.
Okay but what do I need to know?
As it's named, Mickey's Not So Scary Halloween Party is well… not so scary. If you're looking for a Halloween experience that is more friendly and fun than jump scares and terrors, it may be right up your alley. While it's great for children, it's also wonderful for adults in your group that may want a calmer holiday experience.
You do not need to have a ticket to Magic Kingdom the day of the party. Your ticket to the party will get you in the gates at 4pm, three hours before the party begins. We definitely recommend getting there early to maximize your fun! As we said, some characters begin meeting early only for park guests and it allows you a little extra time in the Magic Kingdom. This also allows you time to get your ride wrist band before the party starts.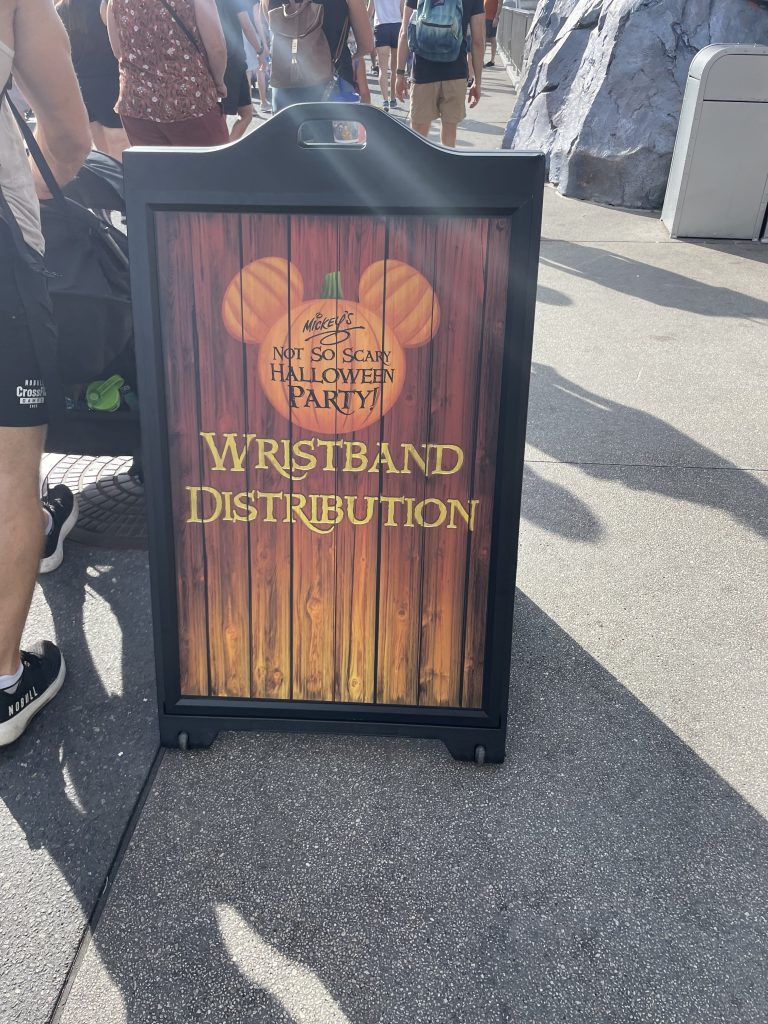 (Photo by Storybook Traveler Emily Engram)
Do keep in mind, the normal time for the Halloween Party is 7pm to Midnight. This can be a lot for little ones and adults alike! Be sure that you plan for some break time the day of the party AND the day after.
Working with a travel agent who can answer all your questions can help you plan the best trip for your family. We're always here to help!