Article by Storybook Traveler Jennifer Arnold
Boo to you!
If your family is like mine, Halloween season is one of our favorite times of year and the perfect season for all our happy haunts to socialize with a visit to Disney!  Whether you have little ones, pre-teens, or even teens in your travel party or perhaps are a group of all adults that are just kids at heart, there's something for everyone!  No matter if you visit Walt Disney World or Disneyland, you will find a celebration of the season with special decorations, exclusive food and drink offerings, holiday merchandise, and even special events!  Additionally, you will often even find resort guests celebrating their love of Halloween with many decorating their resort room doors and windows!  If you're staying at Walt Disney World's Fort Wilderness Resort, campers will also often decorate their campsites with many planning their decorations well over a year in advance!
A must-do for every Halloween fan during the fall season are the parties held at Walt Disney World and Disneyland!  To the delight of many party enthusiasts, recently, Disney announced that Mickey's Not So Scary Halloween Party would be returning to Magic Kingdom this year!  Plus, Disneyland will once again offer the Ooogie Boogie Bash in their California Adventure Park!  Typically, Mickey's Not So Scary Halloween Parties run from mid-August to Halloween usually on Sunday, Tuesday, and Friday nights with a few Mondays sprinkled in and Oogie Boogie Bash runs from mid-September to Halloween usually on Sunday, Tuesday, and Thursday nights.  Offered as separately ticketed events, these parties provide guests with unique character sightings and meet and greets, photo opportunities, attraction overlays, specialty food and drink offerings, exclusive merchandise, special fireworks and parades, and even trick or treating!  If you are considering attending your first party or have been going for years, like my family, these events offer tons of excitement and spooky fun!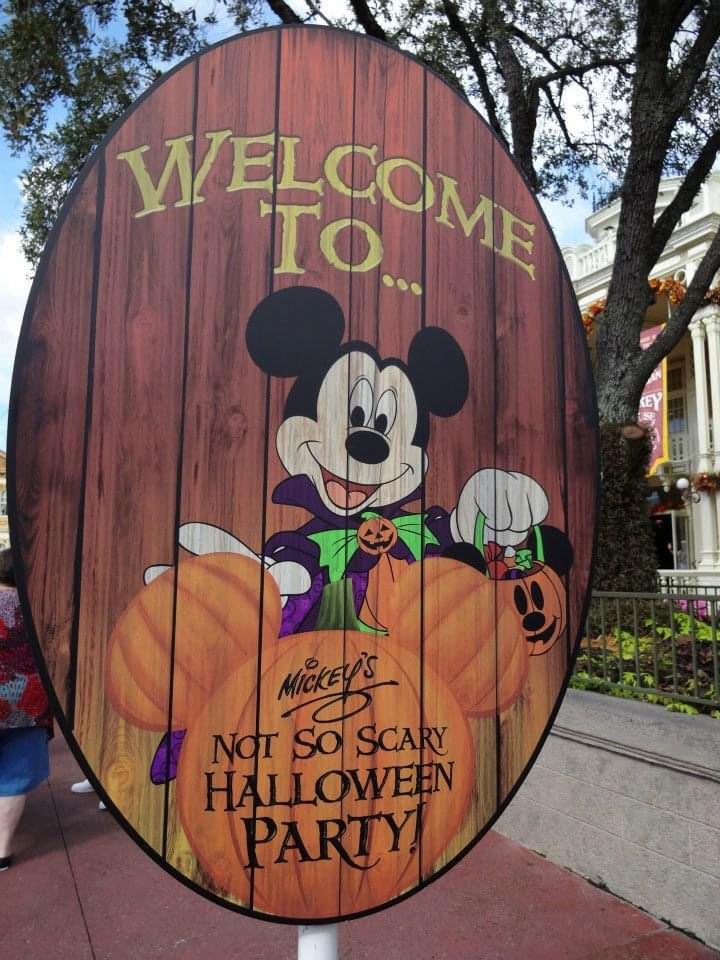 Warning!  Select party dates can sell out fast and often do!  A good idea is to plan ahead and work with your travel agent to purchase your tickets well in advance!  Some coveted dates, such as Halloween night itself, have been known to sell out within the first day of the release of tickets!  Planning and booking ahead with your Storybook World Travel travel agent ensures that no one is disappointed if an event sells out.
A great tip!  When going to the party, no matter your age or the location you attend, make a point to go all-in for the festivities and dress up for the event!  Yes, even adults can dress up but make sure you check the current costume policy to ensure your costume plans don't conflict with any restrictions.  Whether you're ready to go full in with costumes or simply have Halloween-themed t-shirts it will be worth the effort!
My family plans our costumes a year or more in advance and we always try to do something near and dear to our hearts!  Ideas can range from Disney movies, characters, rides, and so much more!  Part of the fun of the parties is deciding on your costumes.  If you're not as adventurous and want to go a more simple route for your costume, consider doing a themed t-shirt.  I've seen some extremely creative groups wearing mainly t-shirts for their costumes!  Everything from families dressed as dalmatians to the seven dwarfs.  Searching on Pinterest or Google can be a great way to start getting ideas but make sure you plan your costume decision early so that you have plenty of time to make it happen or else you'll be scrambling last minute and the fun will instead become stress and no one wants that.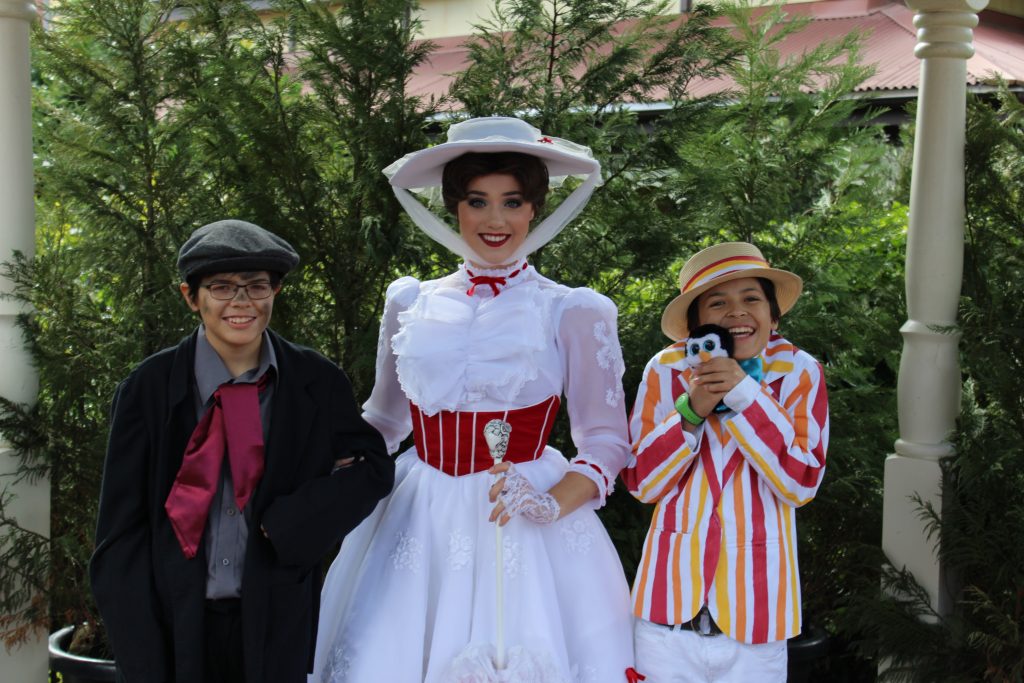 Two important items to remember!  The first is especially important if you're attending Mickey's Not So Scary Halloween Party in Magic Kingdom, think about the weather when planning a costume.  Florida can still be quite hot and humid from August through October so factoring in the temperature and humidity is an important step as you plan out your attire!   The last thing you want is to be miserable all night because you or a family member is so hot.  Also, footwear is another big item!  High-heeled boots with your pirate costume may look cute for photos but after hours of walking through the park, you won't be happy by the end of the night.  Believe me!  I've had bruised feet from the perfect shoes that I just had to wear for my costume and I will not be making that mistake again, no matter how cute the shoes!
Now that your tickets are purchased and your costume is planned, it's time to determine how you want to spend your party day!  The party events typically start early evening and run late.  If you have little ones, perhaps your party day is a good day to sleep in at your resort, enjoy the pool, have an early dinner, and then get dressed and head to the party.  If your group is older and you like to go go go, you may be able to spend the day at the park and then go to the party.  When we've gone as a group of only adults, we've been known to rent a locker at the park for our costumes, spend the day enjoying the park, and then before the party begins, change in a restroom and head to the party.  This is not ideal if you have a complicated costume but it isn't too bad if you've got something easy to throw on.  If you're wearing t-shirts as your costumes, this is super easy as you can wear the t-shirt all day and then just quickly add the accessories and even makeup before the party begins.  If you have spent the day in the same park as the party itself, you can often find several locations for wristband distribution areas where Cast Members are checking in party guests that have also spent the day in the park.  If you spent the day in a different park and are heading to the party, you can then use complimentary on-site transportation to go to the party.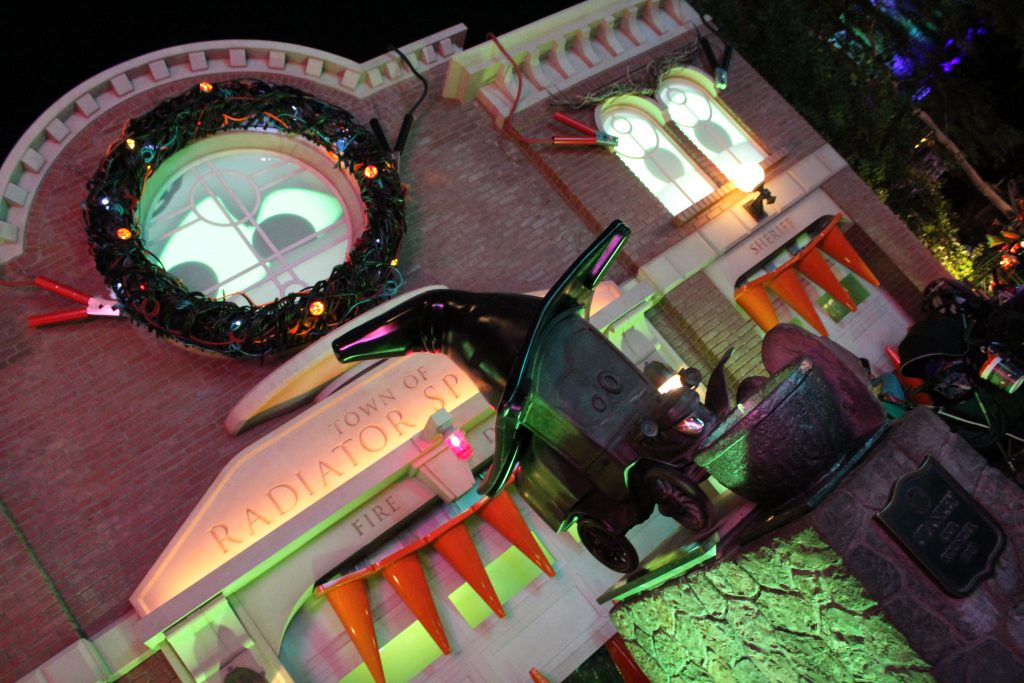 Although party-goers can usually get into the park hosting the party typically about three hours earlier than the start of the party, the times of the parties usually run from 6 pm to 11 pm for the Oogie Boogie Bash and 7 pm to midnight for Mickey's Not So Scary Halloween Party.  Since every family is different, it's best to discuss your options with your travel agent to determine if it would work better to come in early or wait until the official start of the party.
As you enter through the tunnels of the railway station into the park, make sure to watch for Cast Members handing out treat bags for trick-or-treating and grab a bag!  Yes, everyone grab a bag!  Even adults get to trick-or-treat at Halloween parties at Disney!  Besides getting to dress up in costume at Disney, getting to trick-or-treat through the park at designated treat stations is one of the most memorable experiences of the parties, at least for my family.  I can't describe the massive amounts of candy that we've come home with!  It's so much fun!  If a member of your party has an allergy, never fear, Disney still has you covered!   Disney participates in the Teal Pumpkin Project which encourages the inclusion of all trick or treaters!  Teal trick-or-treat bags and a token system for allergy-friendly treats are offered to eliminate the possibility of cross-contamination for people with life-threatening allergies.  The bags serve as an alert to ensure Cast Members don't mistakenly hand treats to those guests and instead they provide fun tokens that can be exchanged at designated locations for safe treats!  This way those with allergies still get the fun of experiencing trick-or-treating in the parks but the peace of mind of knowing that their treats are safe to enjoy!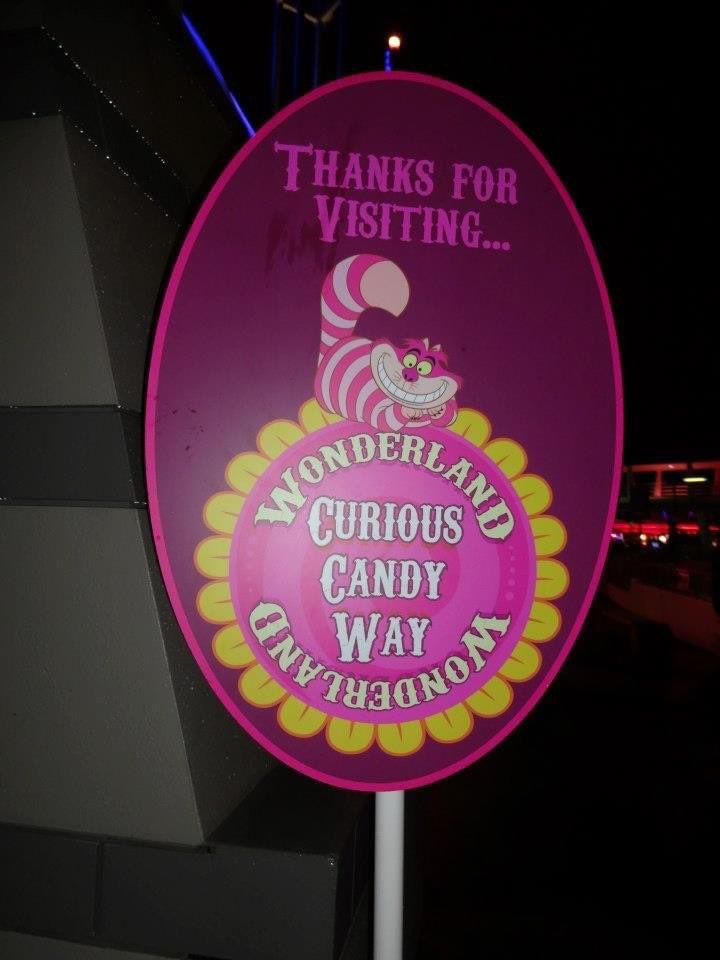 Don't let trick-or-treating distract you though from all the other special offerings you can find at the parties!
Special Magic Shots, just for the party, can be found throughout the park and often some very special ones are offered by Disney's PhotoPass Photographers at the front of the park!  For several years now at Magic Kingdom's Mickey's Not So Scary Halloween Party, just before you enter the tunnels at the front of the park, you'd often find a PhotoPass Photographer taking the exclusive Headless Horseman Magic Shot.  A good thing to remember!  If there is a special photo that you want, don't wait too late to stop by, sometimes the PhotoPass photographers will be reassigned as the party winds down and you don't want to miss a must-do shot.   To learn more about the current Magic Shots available, talk to your travel agent they have the latest information!  Also, consider adding the Memory Maker to your package, if you do, your party photos will be included in your Memory Maker!  Plus, if you work with your travel agent to add it to your package before your trip, you can save money with the advance purchase option!  It's a win-win!
In addition to Magic Shots, you will find numerous photo opportunities with characters with many dressed in their Halloween best throughout the park!  At the parties, in addition to characters often in their Halloween attire, you can also find a few of those rarely seen characters!  These are extremely popular photo ops and I'm not exaggerating when I say extremely popular!  In the past, all the Seven Dwarfs have come out to celebrate!  These characters are rarely seen all together and for this reason, often have long wait times for photos!
Here is another planning item to discuss with your travel agent, if taking photos with characters is important to you!  If you wish to get your photos with characters, especially the characters that are rare to find all together such as the Seven Dwarfs, you will want to get in line early or try to visit later in the evening!  Although the photos don't start until the official start of the party, you will find some lines starting as early as 4 or 5 pm for the extremely popular characters!  Photos with the characters are such a wonderful experience at the parties and depending on which coast you are visiting, you will often even find different characters exclusive to appearing at that party location!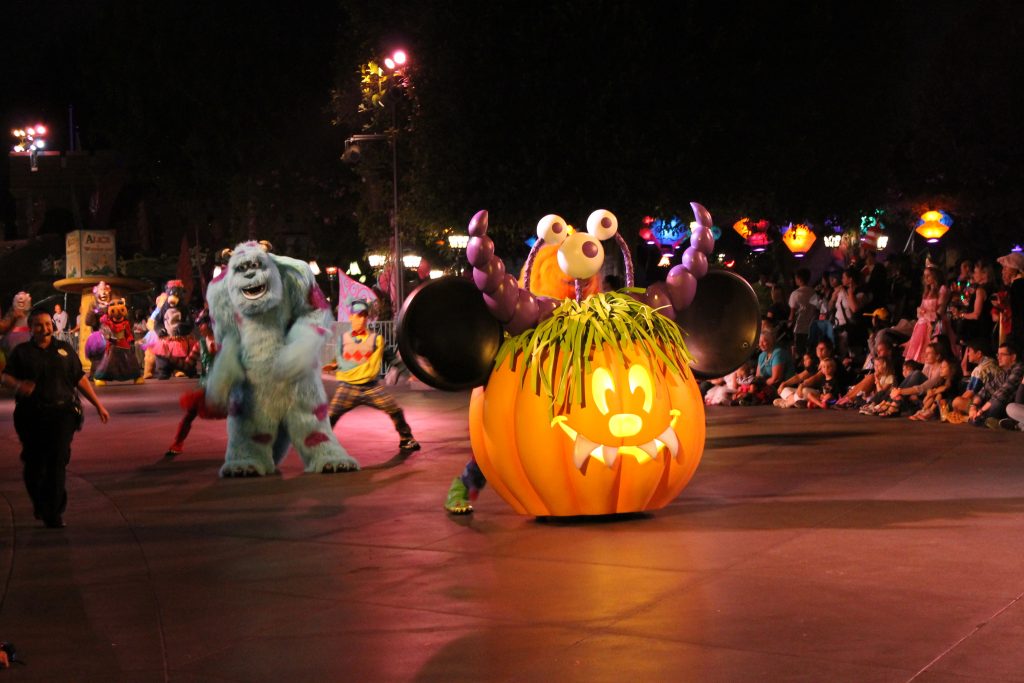 In addition to trick-or-treating, taking photos, and meeting characters, there is still more to do!  Take some time to experience your favorite rides, although not all the attractions may be open during the parties, the attractions that are open often have shorter wait times!
Also, a fun option, catch the special parades and stage shows offered at the events!  At the Oogie Boogie Bash, you'll find the not to be missed Frightfully Fund Parade and World of Color – Villainous show.   At Mickey's Not So Scary Halloween, there are several stage shows often with Villains and this year with the Sanders Sisters plus, the extremely popular, Boo to You Parade!  Get there early for this parade to catch the Headless Horseman riding down Main Street USA (weather permitting)!  With these productions, if there are more than one show, often the later of the two shows will be less crowded and easier to get a seat.  Do try to get there early no matter which performance you attend.  While you wait for the show to begin, relax and people watch!  This is the perfect time to see all the unique costumes that guests create and ooh and ahh at the sometimes extremely elaborate costumes!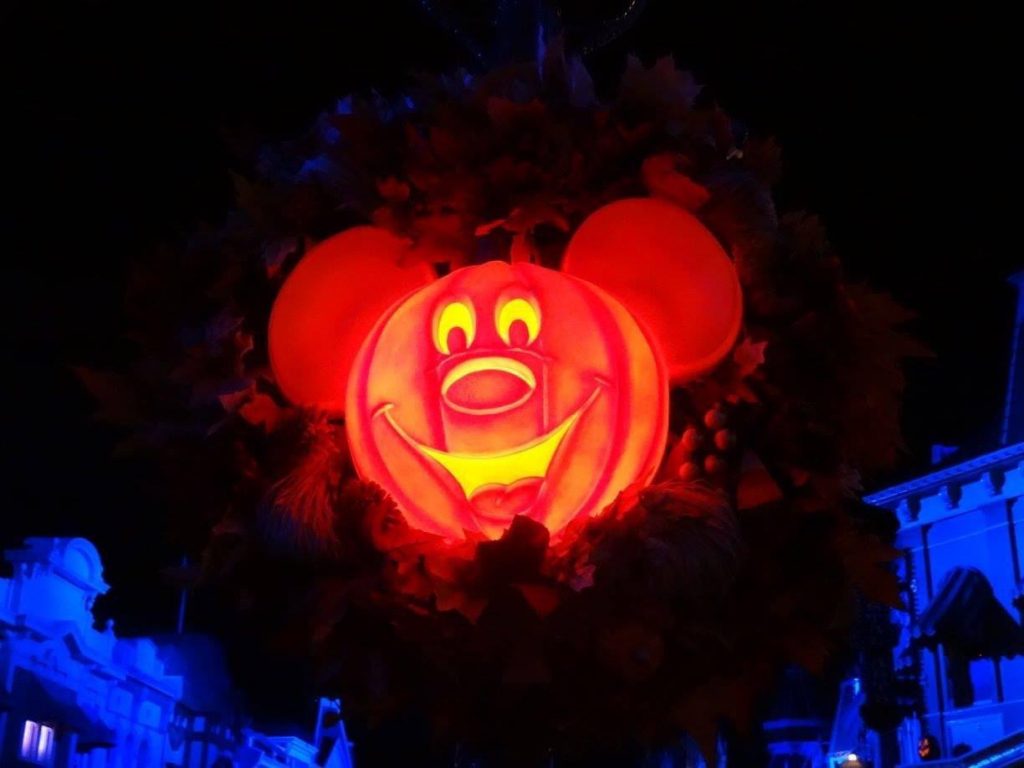 At Mickey's Not So Scary Halloween, cap off the night with a fireworks spectacular and watch the special party exclusive fireworks show, Disney's Not So Spooky Spectacular!  Disney fireworks are always a treat and the Halloween party fireworks never seem to disappoint!  We've seen the fireworks show so many times, I can sing you the show word for word!  Yes, really I can!
When your spooky night is done, it's time to head back to your resort and let those ghouls, goblins, princesses, and pirates collapse from the long day!  This experience will definitely be a "core memory" to look back on for years to come!
If you're ready to experience the magic of the Halloween season at Disney and perhaps one of the unforgettable parties, contact your Storybook World Travel agent today!
Article by Storybook Traveler Jennifer Arnold