Article by Storybook Traveler Jennifer Arnold.
EPCOT's newest attraction, Guardians of the Galaxy: Cosmic Rewind is the ultimate thrill ride and not for the faint of heart or stomach!
This attraction has made history at Walt Disney World!  It's the first reverse-launch Disney coaster and one of the largest fully-enclosed coasters in the world.  The coaster's individual ride vehicles rotate a full 360 degrees in a controlled format to ensure the riders are focused on the action.  With reports of the attraction's total cost estimating at $500 million to create, be prepared for a wild ride along the 5,577 feet of track!
Unfortunately, something you won't find in this ride are animatronics.  I personally would have loved to have a Rocket or Groot animatronic!  Alas, instead the ride uses only screens and set pieces to create the physical environment along with lights, darkness, and of course some rocking tunes.
Just like in the movies, the Guardians of the Galaxy can't save the galaxy without Star Lord loading up a song on his walkman!  Guests of Cosmic Rewind are treated to one of six randomized songs to get them pumped up!
"September" by Earth Wind and Fire
"Everybody Wants to Rule the World" by Tears for Fears
"Disco Inferno" by The Trammps
"One Way or Another" by Blondie
"I Ran (So Far Away)" by A Flock of Seagulls
"Conga" by Gloria Estefan
Plus, during the Christmas holiday season in 2022, Cosmic Rewind had a special holiday Guardians themed song.  Although not well received by some critics, there is no news yet if the song will return for the holidays in 2023!
For me, it's so hard to choose a favorite song and I have yet to experience all the songs since we keep getting repeats but I can say that so far Conga has been my personal favorite!  It's wild how each song seems to give a slight change to the feeling of the ride.  I always feel like the faster the song, the faster we move but I'm sure it's just a feeling and the ride itself is always at the same speed.
Although it's a whirlwind of an experience, Cosmic Rewind is extremely smooth!  Each time I ride, I'm always impressed at just how smooth the ride feels as you glide along the track and are whisked through the adventure.
For the attraction, there are a total of five individual cars per train with four seats per car for a total of twenty riders per train.  The line typically moves pretty fast once you are in the final queue room, with Cast Members having the ability to utilize two sets of loading areas.  Each individual ride vehicle is designed with two seats in front and two behind with the seats behind sitting slightly higher than those in the front row.  Each seat has an individual lap bar and an extremely small pouch to store loose items.  If you have a bag with you such as a pull string bag, you will be able to keep it with you on this ride.  I always just make a point to hold the bag while riding.  Additionally, any loose items like hats should be removed to ensure you still have them after the ride is complete and hold on to them tightly.
Currently, Guardians of the Galaxy does not have a standby line and is available by virtual queue or Individual Lightening Lane entry only.  This is imperative to know so that you don't miss out on the experience.  To qualify for the free virtual queue you do need to have a theme park ticket and Park Pass Reservation for EPCOT that day.  The queue opens at 7am sharp and is available to book via your My Disney Experience App on your phone.  The second virtual queue opens at 1pm and guests must be in EPCOT to participate and use their My Disney Experience App on their phone.  Additionally, guests staying at Deluxe resorts will be able to try for a third virtual queue at 6pm if EPCOT is holding one of it's Extended Evening Hours.  Ask your Storybook World Travel agent for additional information and tips on securing these virtual queue reservations.  If you are unable to book a virtual queue, Individual Lighting Lane is available to purchase.  You can hold a virtual queue and purchase an Individual Lightening Lane on the same day, if you want to experience the ride more than once that day.  However, virtual queues can only be made once per day with the exception of those deluxe resort guests that may be taking advantage of the limited Extended Evening Hours virtual queue.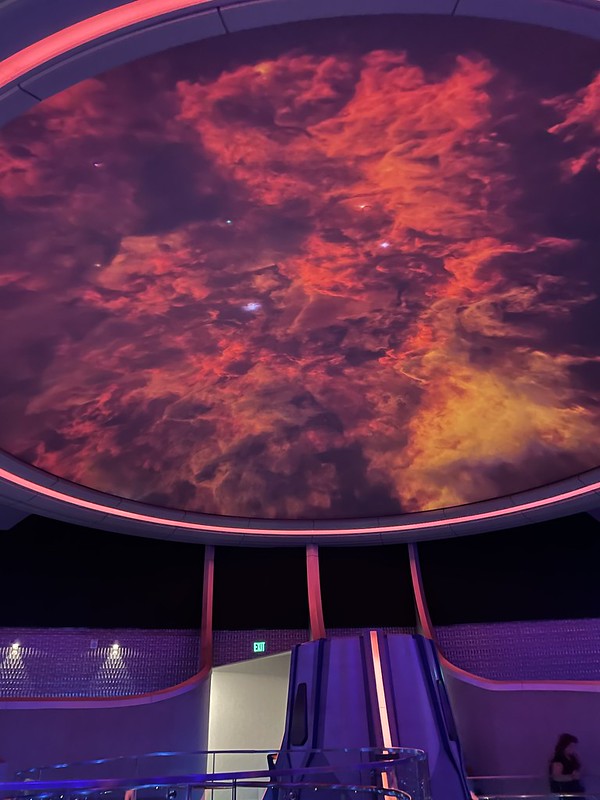 Definitely take Disney's attraction warnings seriously!
As you may have heard after its initial opening, it does seem that there are a higher than average number of guests experiencing motion sickness from this experience and Cast Members are there to help should you need any assistance.
As with other attractions, Disney has provided guidelines for riders.  Children under 7 must be accompanied by an adult.  You must be 42" to ride and it is imperative to be aware that this is a dark, thrill ride that may cause motion sickness.  Additional safety warnings stress that for your safety, riders should be in good health and free from high blood pressure, head, back and neck problems.  Motion sickness and other conditions could be aggravated by the attraction.  Additionally, those expecting should not ride.  These warnings are posted at the attraction and it's always a good idea to check these postings before riding any attraction.
It is also good to be aware that nearly the entire ride, except for the preshow portion before the reverse launch, takes place in darkness and there are bright lights which can cause problems for those that are sensitive to strobes.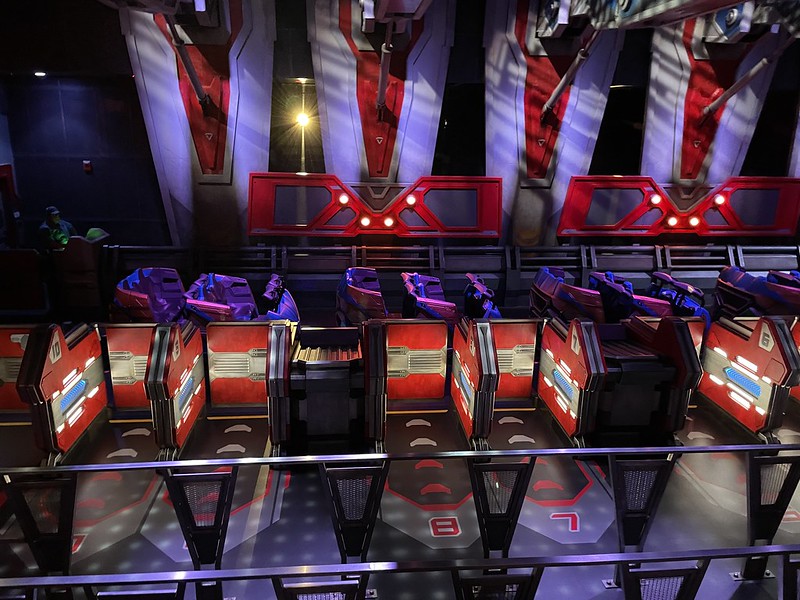 Can I handle this ride?
I love Guardians of the Galaxy: Cosmic Rewind and I'm not a rollercoaster person.  I can't handle Expedition Everest, done it once and nearly had a panic attack thanks to that insane drop but I do enjoy Seven Dwarfs Mine Train and Big Thunder Mountain Railroad.  I also really enjoy Harry Potter and the Escape from Gringotts, Harry Potter and the Forbidden Journey, and the Revenge of the Mummy at Universal Orlando but I won't go near The Incredible Hulk Coaster or Jurassic World VelociCoaster.
I personally have issues with dizziness and if I'm not careful Cosmic Rewind can cause me to have problems with my balance when exiting the ride.  Although there are elevators, most guests when exiting the ride will traverse steps up and then down as they depart the attraction and if dizzy, this can be difficult to maneuver.
Thankfully there are a few, though very few, benches available near the exit platform and along the exit walkway.  Additionally, don't forget that the elevators are available if you feel the stairs are a definite no.  Don't put on a brave face and traverse the steps if you're not up to it.  Take your time and pay attention to your body, if you need a break, take one!  No one wants to fall and hurt themselves on their vacation!
If you are prone to motion sickness, I'd highly recommend requesting a seat in the middle car.  This seemed to help me a lot and members of my family have also found that sitting in the back row of the middle car really helped as well.  Although the front row is a great option for the photo op on the ride, it was easy to watch the track when riding which we found to be a bit disorienting if you started to feel dizzy or have anxiety.
There are not really any drops to this ride, definitely nothing like Expedition Everest and thankfully no upside down sections either, just rolling hills and 360 turns.  That being said, there are several points that have a bit of height or give the feeling of height while moving but it's definitely more of a feeling of height than any high drops.  The ride is fast, reaching a top speed of 60 mph and you feel it as you quickly move through the experience.  A good comparison of the movement would be perhaps riding in a teacup while on a rollercoaster or if you ever had the chance to ride Primeval Whirl at Animal Kingdom it is a bit similar but the ride takes place inside.  You're also not constantly spinning and instead the ride vehicle is being moved to focus the rider on different scenes.
Hopefully knowing a bit about my personal preferences and experiences will help you to determine if you might want to give Guardians of the Galaxy: Cosmic Rewind a try.
Now that we've discussed all the warnings, let's take a sneak peek into this wild adventure! I'm not going to go too in depth because I don't want to spoil all that there is to experience but I do advise that you skip this part if you want to be surprised completely during your visit.
Spoilers ahead…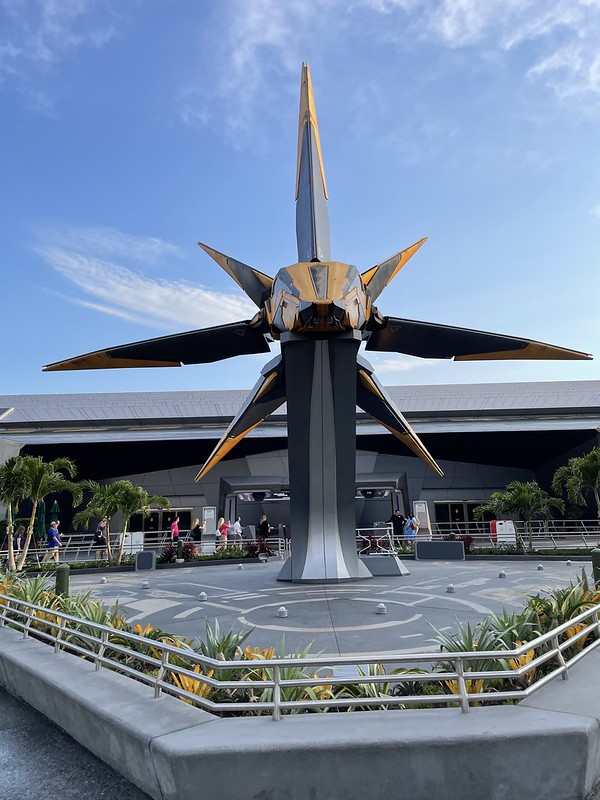 Welcome to the Wonders of Xandar, home of the Nova Corps!
Your adventure begins as you enter the Galaxarium, a planetarium-style space introducing you to the planet Xandar in the Adromeda Galaxy.  As you wind up a walkway into the next room, you move into an exhibition space enabling you to learn more about the Xandar people, history, culture, and even see models of the community and starships.  Look closely at the model of the Xandarian City and you just might spot a hidden mickey.
In this room, you will also learn about weather patterns from the planet and if you pay attention you will see that one weather system is a nod to Maelstrom, the dark ride in the Norway pavilion that was replaced by Frozen Ever After.  Overall, this pavilion is very reminiscent of the country pavilions in World Showcase.  I feel it fits in well in EPCOT and serves as what has been dubbed by some as their first "Other-World Showcase" pavilion.
As you wind your way further through the queue and into the next room, you will see display screens showing interviews with members of the Guardians of the Galaxy including an interview with Star Lord.  Listen close as Star Lord shares his fond memories of his past visit to EPCOT in the 1980s.  He even expresses his excitement of returning to revisit some of his favorite attractions including Horizons and the Universe of Energy.  Unfortunately, he will be sad to find these attractions have long since disappeared and Universe of Energy is now actually Cosmic Rewind.  For Disney fans, this is another nice nod to EPCOT past.
After exploring the Galaxarium and its exhibits, you are welcomed into the next area of your tour and greeted by Nova Prime.  She introduces you to a new and exciting invention, the Cosmic Generator.   This devise used by the Xandarians creates short cuts or jump points through space.  Nova Prime invites you to witness the devise in action and be teleported up to their ship for the demonstration.  With this announcement, you are introduced to Tal Marik who will prepare everyone for transport.  Doors open and you enter the next room to be transported.
Everything is going smoothly but suddenly an evil Celestial appears and steals the cosmic generator to fix history and wrong a right, in his opinion.  The world and galaxy are now in jeopardy!  Who can help to save the galaxy and get back the generator?!?  The Guardians of Galaxy of course!  However, you quickly discover that they're too far away to get there in time to follow the Celestial as he beings to disappear!  But wait!  Rocket has a solution and can reconfigure your evacuation shuttles to follow the Celestial and in turn the Guardians will follow you!  Now, you must decide if you will accept the call to help the Guardians of the Galaxy and rescue the device!
So, are you ready to join the Guardians and save the galaxy?  If yes, then it's time to enter the final room and board your ride vehicle to go back in time and get back the Cosmic Generator!  I'm not going to spoil the ride itself so you'll have to jump on and experience it first hand to know what happens next.
Ready?  Let's go save the Galaxy!  Oh and Drax may still be looking for that cake toast!  😉
Have fun saving the galaxy!
Article by Storybook Traveler Jennifer Arnold.