Article by Storybook Traveler Jennifer Arnold
Looking for a budget friendly resort for an upcoming trip to Universal Orlando? Well, look no further than Endless Summer Surfside Inn and Suites and Endless Summer Dockside Inn and Suites! As Universal Orlando's newest on-property resorts, these sister resorts are a true value!
Operated by Loews, which manages Universal Orlando's other on-property resort hotels, these resorts opened as Universal Orlando's first ever Value resorts! Adding to their collection of on-property resorts, both Endless Summer resorts focus on guests wanting to immerse themselves in the full Universal experience but desiring a budget friendly option.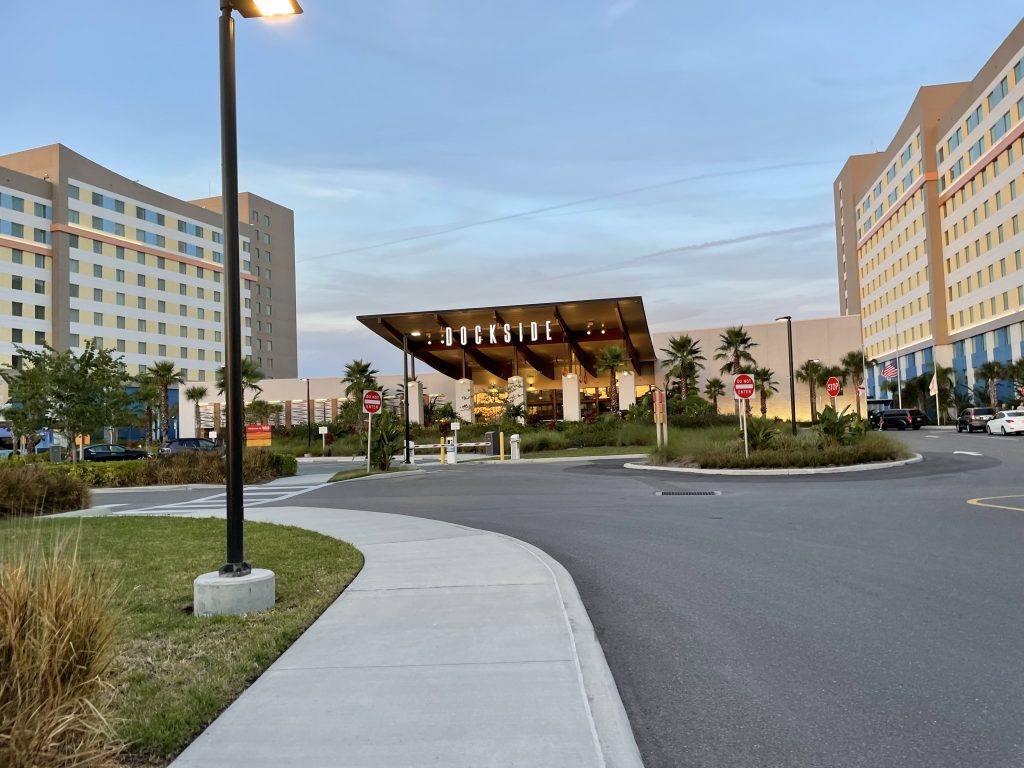 When they arrive, some guests may be surprised to find that the resorts are technically across the street from the main Universal Orlando property. However, Endless Summer Surfside and Dockside are still considered on-property resorts, have beautiful theming, and include many great amenities including Early Park Admission, resort-wide charging privileges, package deliveries to your room, and complimentary on-site transportation.
Due to their location, these resorts shouldn't be considered walkable to Universal's theme parks (Universal Studios and Islands of Adventure), water park (Volcano Bay), or Universal's entertainment, dining, and shopping district (CityWalk). For those that really are set on walking, it can be done via a sidewalk along a busy overpass on Universal Boulevard but I personally wouldn't recommend it especially if you have small children in your party. Instead, allow Universal to handle your transportation! These resorts are just a short 5 minute bus ride away from the parks via Universal's complimentary on-site bus transportation. During our recent stay, we never waited more than 10 minutes for a bus to arrive and whisk us away to the parks.
Nightly rates at both sister resorts are some of the lowest you'll find in the area for an on-property resort! Prices start at just $96 for relatively spacious standard rooms which are 313 square foot and sleep up to four or $144 for their two-bedroom suites that can sleep up to six with 440 square foot of space.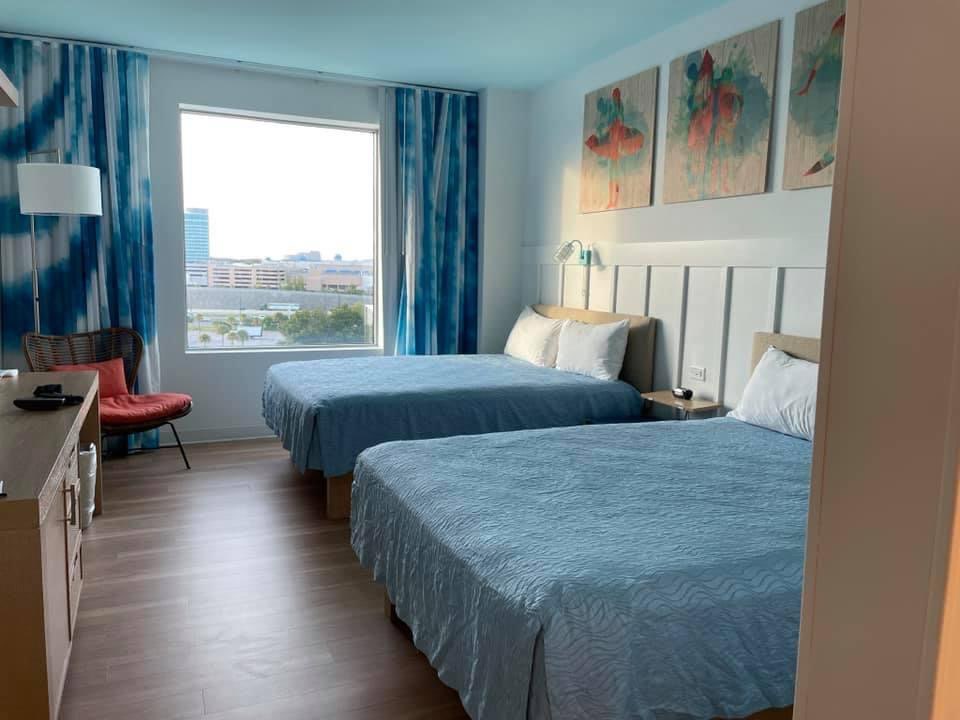 For families of four or less, the standard rooms offer two queen beds and a bathroom with separate bath and vanity area. Additional room amenities include a 43" flat panel tv, in-room safe, hairdryer, alarm clock, iron and ironing board, and mini fridge as well as plenty of storage.
For groups of up to six or perhaps smaller groups looking to have more room to spread out, the two – bedroom room suites are a great option. However, it's good to note that these are not the traditional "two-bedroom" suite design that you think of when hearing the term. The room layout is a bit different with a large main room offering two queen beds plus a kitchenette area and table that seats six and then a second room with a queen bed. The kitchenette contains a mini-fridge, sink, microwave, and coffee maker with disposable coffee cups, plastic glasses and plate, and individually-wrapped plastic flatware.
The suite also offers a bathroom with convenient separate bath and vanity areas. The main room has two flat-screen TVs with the second room having its own flat-screen TV and both rooms having plenty of storage space. This layout can be great for parents that want to have a separate room to themselves with a door to shut so that the kids can then hang out in the main room.
Now that we know a little bit about the overall resorts and room options, let's look in more detail at each individual resort to determine what might be the right fit for you and your family on their next trip!
Endless Summer Surfside Inn and Suites
First, let's look at Endless Summer Surfside Inn and Suites which first welcomed guests in June of 2019. With its brightly colored beachy design and trendy surfing touches, it is the smaller of the two resorts in both footprint and total resort rooms.
Endless Summer Surfside Inn and Suites has just 750 rooms with 390 of which being the two-bedroom suite configuration. All housed in two tower wings that are connected via the main lobby, this resort offers a compact footprint and interior hallways which are not always something you find in value priced resorts in Orlando. When you go upstairs to your room, you'll find the surfing theme continue with rooms decorated in chic and vibrant colors, plenty of storage space, and comfy beds to collapse in after a
long day at the parks.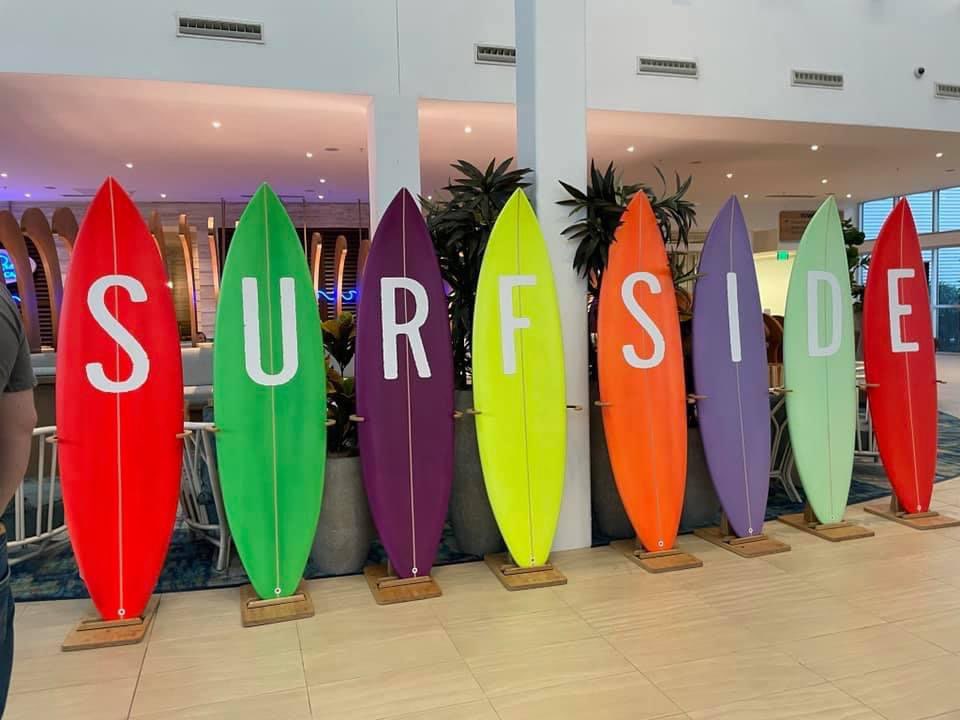 Upon entering the front doors of the resort, you'll find a spacious lobby decorated in a fun ocean surf theme with check-in desk, guest/ticket services desk, small gift shop, Starbucks and the Beach Break Café. The café offers grab and go options at their four food stations including a deli, pizza, burger, and rotisserie area as well as an area that has a selection of snacks. The café serves breakfast, lunch and dinner and is a great place to find a bit of comfort food but also some unique options. While exploring the café, you'll find many surfer inspired offerings that feature Southern California flavors and fresh ingredients that also incorporate recipes from around the world. Our family's personal breakfast go to is the Baja Burrito with chorizo, potatoes, eggs and Colby-jack cheese. Pair it with fresh squeezed orange juice and you've got a perfect way to start the day! The only negative of this café is the very limited seating. Guests will find it's often best to take your meal to go for back in the room or heading out to the parks. If you're already in your room and desire a bite to eat, the resort does offer pizza delivery. Pizza delivered to the room is a nice treat after a busy day at the parks!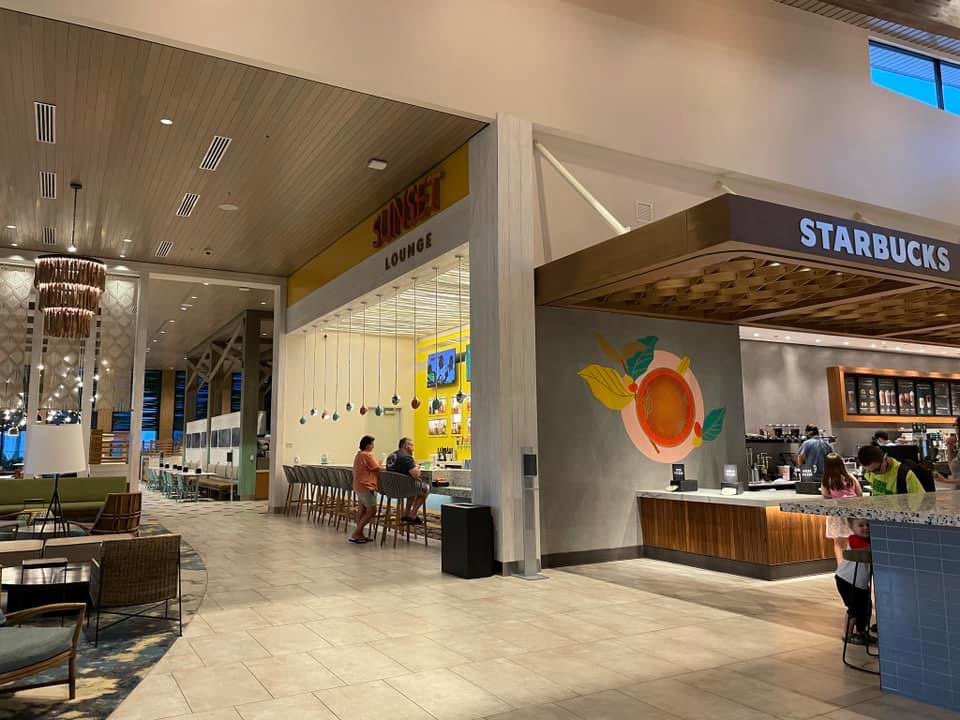 Just outside of the resort, you will find a simple and no frills pool that was created in a fun surfboard shape along with a plentiful amount of lounge chairs and umbrellas surrounding it. I suggest checking with the front desk when you arrive and they will happy to provide you with more details of daily family activities happening poolside during your stay. Special activities can often include hula hoop contests and ping pong tournaments. It's good to note that at Endless Summer Surfside, there is no separate pool for little ones but there are a few water jets built into the foot of the surfboard area allowing smaller kids to have some fun. While at the pool, towels are available for guests as well as lifejackets for those who are not strong swimmers. If you'd like a drink while relaxing at the pool, you'll find Sand Bar which offers a selection of drinks to enjoy. It's good to know that this location only offers drinks so if you're munchy you'll have to head inside to the café for food.
In addition to the pool, guests will find a small fitness center and game room. There is even a fun theme park themed I-Drive Garden offering a collection of flora with connections to park attractions. Make a point to take a few moments to explore and find the Minion Garden, Raptor Garden, Garden of Kong and more.
Endless Summer Dockside Inn and Suites
Now that we've looked at Surfside, let's head next door and look at Dockside! Opening in December 15, 2020, after it's sister resort, Endless Summer Dockside Inn and Suites has two much larger towers and over double the resort rooms, 2,050 total guest rooms. The resort also has wings that are connected via the lobby and interior hallways along with a smallish footprint at least in relation to some much larger Value resorts around Orlando. The rooms are still separated into standard rooms and two bedrooms suites with the same square footage and layouts. The room breakdown is 937 standard rooms and 1,113 suites. You will find slightly different theming with Dockside too. Instead of the surfing theme, you find a relaxing sea, sand and sunset theming. The colors provide a coastal vibe that helps to whisp you away for a fun and relaxing stay!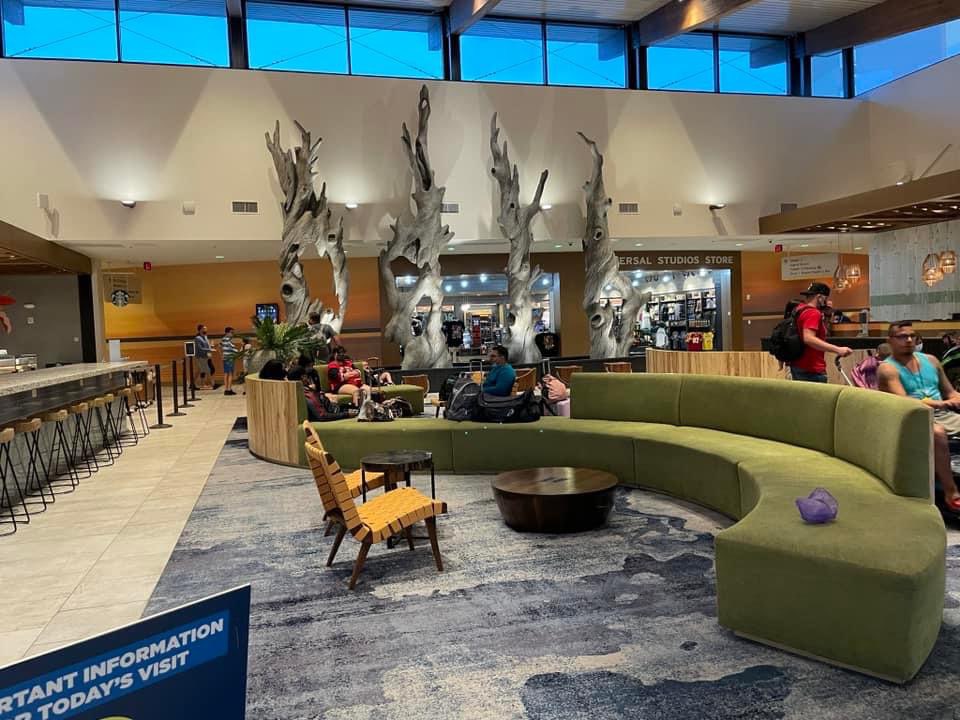 At Dockside, decorative driftwood along with a bright open feel greet you as you enter the large open lobby with dark wood ceilings and skylights. Inside this spacious lobby you'll find, a check-in desk, guest/ticket service desk, large gift shop and Starbucks with bar style seating area. Off to the corner, you'll find a brightly colored bar evoking the beauty of the sunset and named the Sunset Lounge and offers a selection of cocktails, wine and beer. Move past the bar, you will find the Pier 8 Market which offers a selection of stations with a wide variety of food options including grab and go choices. In the morning, you can find yummy breakfast items which even include avocado toast, Baja burritos, and chicken and waffles as well as a selection of lunchtime entrees like wraps, sandwiches, pizzas, pasta and selection of desserts, frozen yogurt and smoothies. One unique dessert, I didn't get the chance to try on my last trip but is on my must do for my next visit is the panini-pressed s'mores sandwich.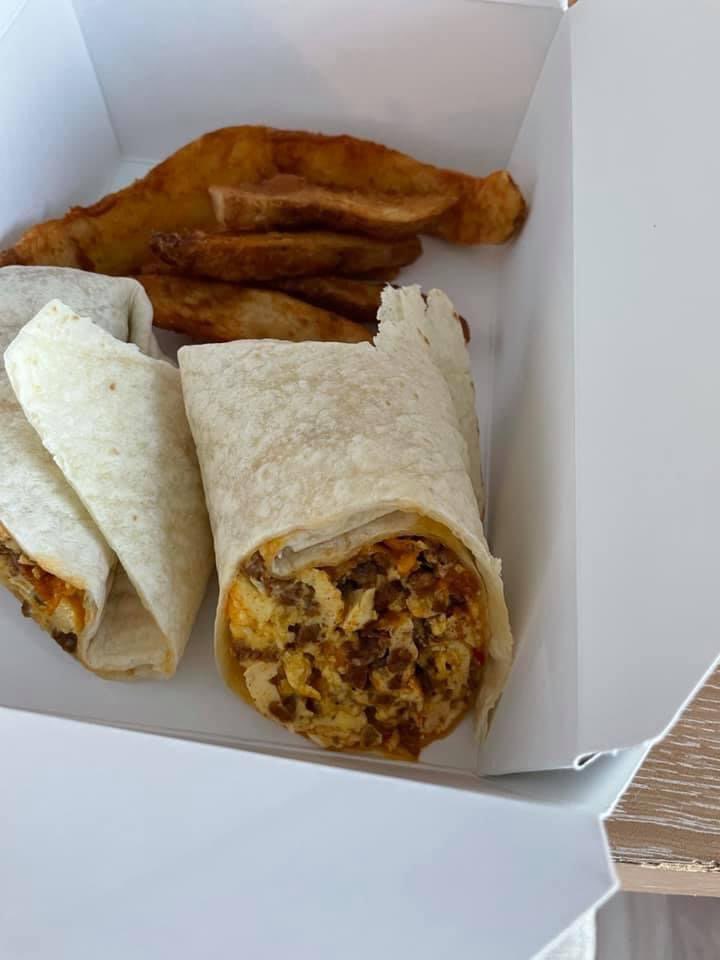 Once you're settled into your room, take the time to head outside and you'll find two large pools (one located in the courtyard of each hotel wing) with plenty of seating as well as towels and life vests available. At Tower 1, you'll find a large pool with a kids splash area with pop jets and at Tower 2 you'll find pool has a zero-entry point. Both have sandy areas as well as their own bars. Tower 1 has a fun Oasis Beach Bar with beautiful warm wood trellis and surfboard sign and Tower 2 has a fun Wave Maker's bar with a selection of unique cocktails. Fun fact! The cocktail names at Wave Maker's are inspired by the former Wet n Wild Waterpark that was once in the area. If you're looking for additional exercise, in Tower 1 you can find a spacious and well-equipped fitness center but if you're looking for fun for all ages, a game room can be found in Tower 2.
After a long day of enjoying the resorts and parks you can head to your room to relax. However never fear, if you find yourself a bit hungry but don't feel like heading down to Pier 8 Market, you can order Dockside Pizza and Fried Chicken delivered to your room!
Let's Recap
Now that we've explored each resort, let's recap and note a few items that you'll want to be aware of while considering Endless Summer.
Endless Summer Surfside or Dockside are both great budget friendly options for those wanting to stay on-property but looking to save a little on their room costs. The main differences between the two sister resorts are overall size of the individual resort, number of pools, and dining option availability.
If you're a pool person, it's good to note that neither resort for Endless Summer offers a hot tub nor do they have slides. Another item to note, is that Universal does not allow guests at Endless Summer Surfside or Dockside the option to pool hop to Universal's on-site resorts like it does at their other Universal on-property resorts.
One last item to note so that you're not caught off guard. For those driving or renting a car, it is good to remember that just like with the other Universal Orlando resorts, parking a vehicle will cost you a nightly parking rate. At the Endless Summer resorts this rate is currently $15 per night plus tax and is paid at time of check-in. Both sections of this resort offer a small lot parking area as well as garage parking although the garage at Dockside is more spacious. Vehicles with trailers can not park at Endless Summer and will be directed to park at the very limited Cabana Bay trailer parking area and higher parking rates may apply. When checking in, both resorts offer a small area to park during the check-in process with a very limited time maximum for the parking area.
If you're looking for a budget friendly option on your next vacation that will still allow you to "Let Yourself Woah," as Universal Florida likes to say, then this may be the place for you! Contact your Storybook World Travel agent today for more information!
Article by Storybook Traveler Jennifer Arnold