Article by Storybook Traveler Holly Averette.
We are rounding out our Beyond the Burger series with a trip out of this galaxy! We journey to the Black Spire Outpost on the planet of Batuu to discover the galactic cuisine at Docking Bay 7 Food and Cargo.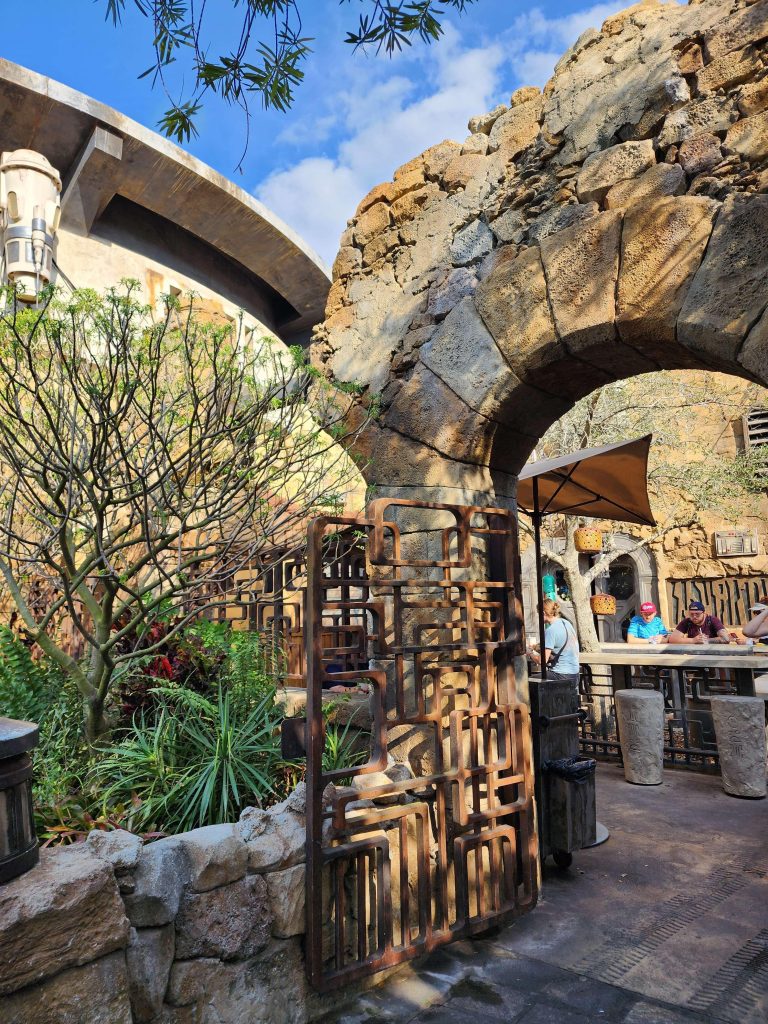 Theming:
Located in a hangar bay in a galaxy far far away, this quick service location serves up galactic fare for hungry travelers. According to the Imagineers backstory, "Chef Strono 'Cookie' Tuggs has docked a food freighter loaded with fresh supplies and he's ready to satisfy the appetites of visitors and locals alike with an array of exotic offerings." Star Wars fans will certainly appreciate the attention to detail! The space is themed to be a working hangar bay so cargo containers, exposed pipes and duct work, lots of metal, and shipping barrels all trend towards an industrial feel. Warm lighting and pops of color throughout make the space feel inviting while breaking up all the industrial elements. The space is filled with various seating options inside and out, including some unique tables inside cargo carriers.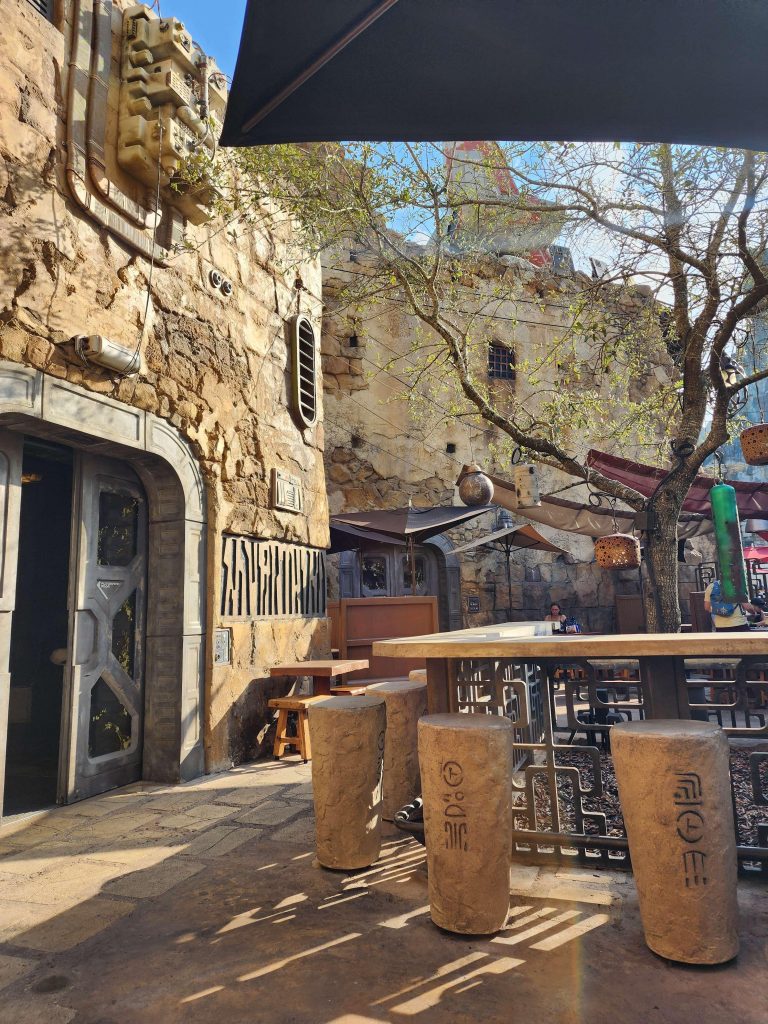 Menu:
While galactic names such as Batuuan beef and crispy Topato stir fry, Endorian chicken Yip Yip, Kaadu pork ribs, and Ithorian pasta rings may sound a little scary; don't let the unfamiliar scare you away! Many of the dishes offer a unique twist on traditional favorites. The menu is filled with fresh flavors and fun spices! If you're craving something lighter, check out the Peka tuna poke bowl, the roasted Endoriuan chicken salad, or the Felucian kefta and hummus spread. Younglings may enjoy the pasta rings or Endorian chicken with mac and cheese. Moof juice is a fun and sweet, yet slightly spicy, juice drink that all travelers can enjoy! If you are in search of dessert, the outpost puff is a sweet, chocolatey twist on a traditional cream puff. Fountain drinks, juice, milk, and a selection of alcoholic beverages are also available. In the late afternoon, the Ronto wrap is added to the menu after Ronto Roasters closes.
*Keep in mind that menus can and do change. All dishes are current as of the writing of this article. Current menus can be found in the MyDisney Experience app.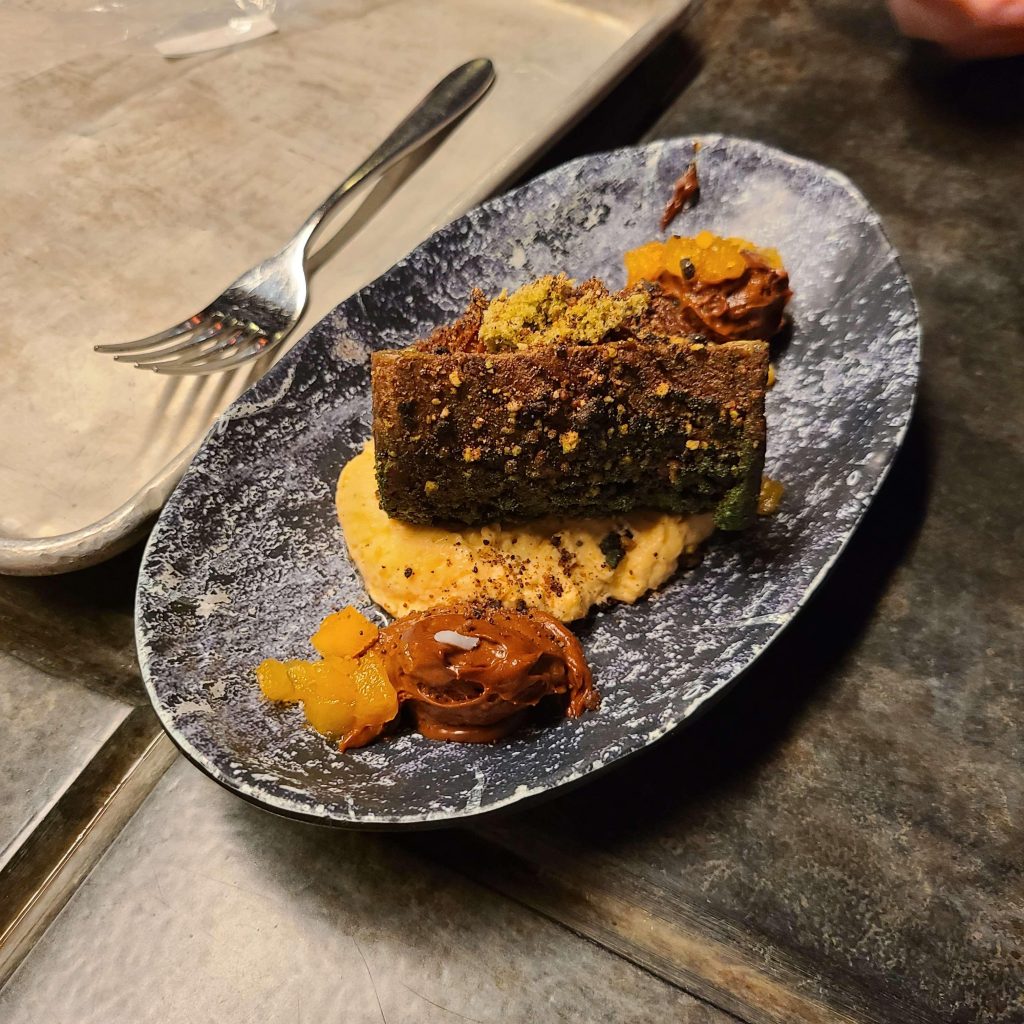 Agent Impressions:
I'll admit, the exotic sounding entree names scared me away from Docking Bay 7 for far too long! I should have known better! I appreciate the variety of flavors and attention to detail in the dishes. On a recent visit, I opted to try the Endorian chicken Yip Yip because I was craving some chicken and veggies. This dish didn't disappoint! The chicken is fairly standard but tasty. I loved the creamy, made-in-house mac and cheese, and the roasted broccoli was cooked perfectly- it wasn't mushy or soggy at all! My traveling companions opted for the Batuuan beef and Kaadu ribs. Both proclaimed it some of the best food they ate all week, which is some high praise if you ask me!
TIP: Mobile ordering is highly encouraged and may be required during peak times at this location.
Article by Storybook Traveler Holly Averette.