Article by Storybook Traveler Holly Averette
Resort Spotlight: Disney's Coronado Springs Resort
Inspired by the Spanish and Mexican influence on the culture and architecture of the American Southwest, Disney's Coronado Springs invites guests to relax and unwind at this beautiful lakeside oasis. The Villa del Lago, or "the lake villa," is located at the center of the resort and is considered the crossroads that links the various areas of the resort together. The resort opened in August of 1997 and has undergone various renovations and enhancements since. Most recently, the addition of the Gran Destino Tower transformed the look and layout of the resort when it opened in July 2019. This resort boasts a wide range of amenities, dining options, and room types not found in other moderate resorts.
FUN FACT: The original plans for Coronado looked much different! It was originally named the Alpine Resort and was going to overlook Blizzard Beach waterpark.
Arrival and check-in experience:
Upon approaching the resort, you will immediately notice the towering 16-story Gran Destino Tower with its grand arches and dramatic architecture. The tower is home to the resort's check-in area, guest services, and other guest amenities. If you are arriving by motorcoach via an airport shuttle you will be dropped off right in front of the lobby entrance. If arriving by taxi, rideshare, or private transfer, you will stop by the security gate and confirm you are checking in before proceeding to the lobby entrance. If arriving by personal vehicle you will also need to stop by the security gate. TIP: have your ID and resort confirmation number handy to show the guard. Once you pull up to the port-cochere, bell services will be on hand to assist with luggage.  Self parking is available at no cost. Coronado is the only moderate resort to also offer valet parking for an additional nightly fee. Like other Disney resorts, there is a small kids area with kid size furniture and a TV playing Disney shows or movies to entertain little ones during the check-in process. Alternatively, you may choose to complete online check-in on the app prior to your arrival. Doing this allows you to bypass the front desk and you will receive a text or email notification with your room number when it is ready.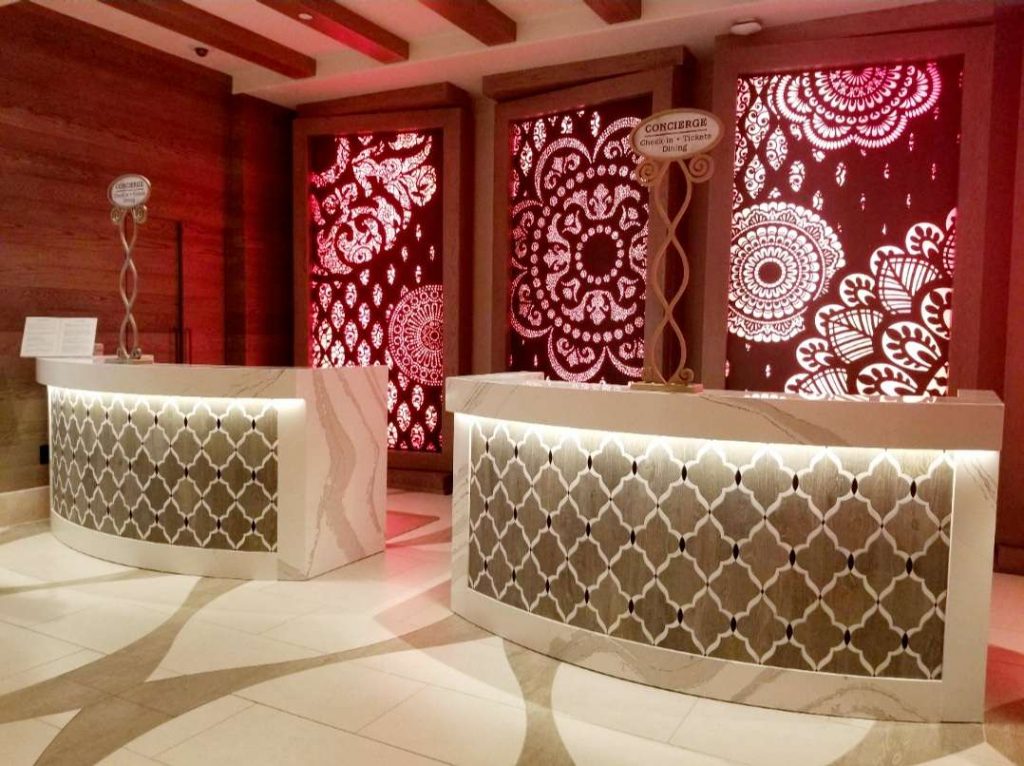 Rooms:
Coronado Springs has 2 distinct booking categories- the Gran Destino Tower and rooms in the original part of the resort. Each category has a variety of room/suite options. First, let's take a look at Gran Destino Tower. The tower houses around 500 guest rooms and suites, including rooms that have access to a club level lounge. Excluding suites, the rooms in the tower are around 360 square feet and have a slightly different layout than the other guest rooms. The tower offers sweeping views of the property and has interior hallways to all the rooms. Rooms in the regular part of the resort are divided into 3 sections- Casitas, Ranchos, and Cabanas. Aside from a few suites in the Casitas section, these rooms are the same size as other moderate resorts at just over 300 sq ft. All rooms in these sections are connected by covered exterior walkways. All rooms at the resort offer the same basic amenities and include a hairdryer, shampoo/conditioner/body wash, bar soap, lotion, beverage cooler, Keurig coffee maker with coffee and tea supplies, in room safe, iron and ironing board, and complimentary wi-fi. Beds feature under bed storage which makes storing luggage and other items a breeze!
Dining:
Coronado is home to a wide range of dining options, offering something for all tastes.
Toledo- Tapas, Steak, & Seafood: This rooftop table service restaurant is located on the top floor of the Gran Destino Tower and offers panoramic views of the surrounding area. Serving up small plates and entrees with a Spanish flair is their specialty! Adjacent to Toledo, you will find the Dahlia Lounge, a full service bar serving up cocktails and Spanish wines.
Three Bridges Bar and Grill: Located on the Lago Dorado, this over the water restaurant features open-air dining and serves up some classic bar foods with a unique twist, crave worthy shareables, and delicious entrees. This restaurant does not accept advance reservations and is walk-up only.
Rix Sports Bar and Grill: This sports lounge offers a variety of traditional bar food favorites and drinks. With 31 TVs, this is the perfect spot to stop in to watch the big game or catch up on your favorite sport!
Maya Grill: Craving Mexican? Stop in Maya Grill for a variety of traditional dishes such as nachos, fajitas, and enchiladas.
Barcelona Lounge: Located on the lower lobby level of the Grand Destino Tower, Barcelona Lounge is a coffee bar by morning and a cocktail bar by night. If you have a refillable mug, you can find coffee to refill it here.
Cafe Rix: This is the perfect breakfast or mid-morning treat stop! This cafe serves a variety of specialty coffees, smoothies, gelato, grab and go items, and delectable pastries. They have a coffee and drink station for the refillable mugs as well.
Siestas Cantina- Located by the Dig site pool, this pool bar serves quick bites and cocktails.
El Mercado de Coronado: The resort's quick service location serves up three meals a day. With a variety of freshly prepared options and grab-and-go selections, everyone is sure to find something they will enjoy!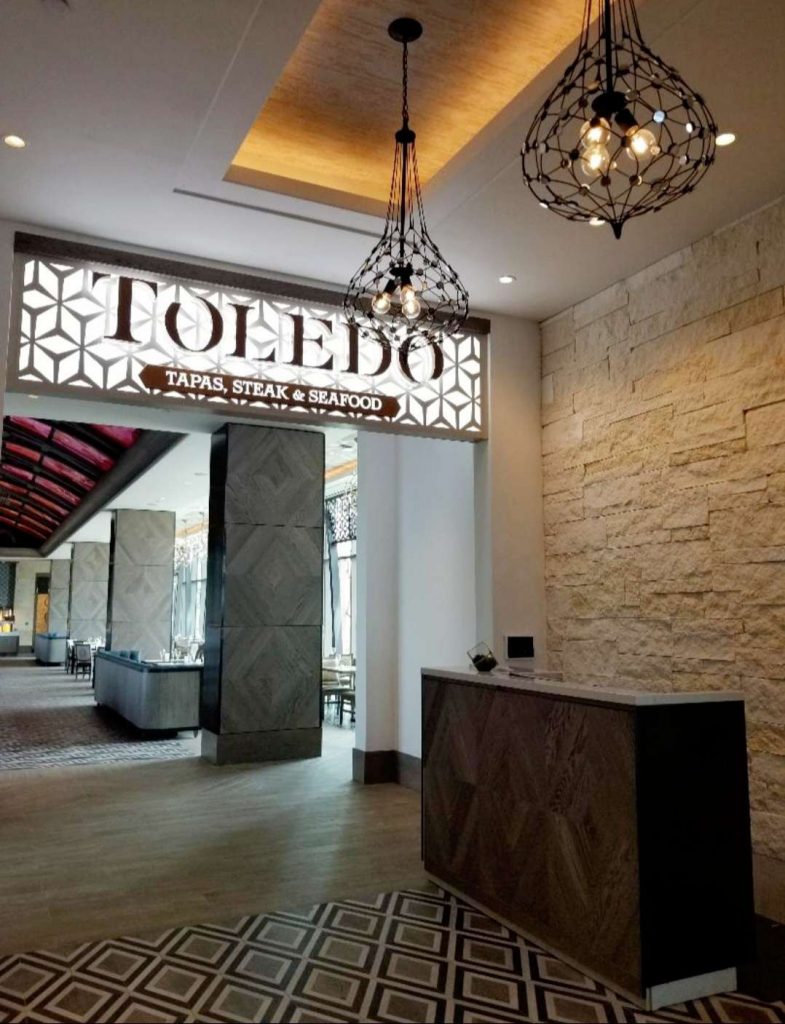 Recreation:
Coronado is home to a whole host of recreation offerings! The Dig Site is home to the Lost City of Cibola feature pool, which features a 50 ft tall pyramid and a 123 ft water slide. It also houses a kiddie pool, the largest hot tub on property, a sand volleyball court, the Iguana Arcade, a playground, and Siesta's pool bar. Three leisure, or "quiet" pools, are scattered around the resort. You can also enjoy nightly campfires (with marshmallows!) and movies under the stars near the Dig site. The resort offers a couple of art activities that can be booked in advance- Colors of Cornado Painting class and Spanish Mosaic Art.  For a unique experience, Three Bridges Bar and Grill hosts Sangria University on select days. Looking for Fitness opportunities? Coronado has you covered with a jogging trail and not just one, but TWO fitness centers!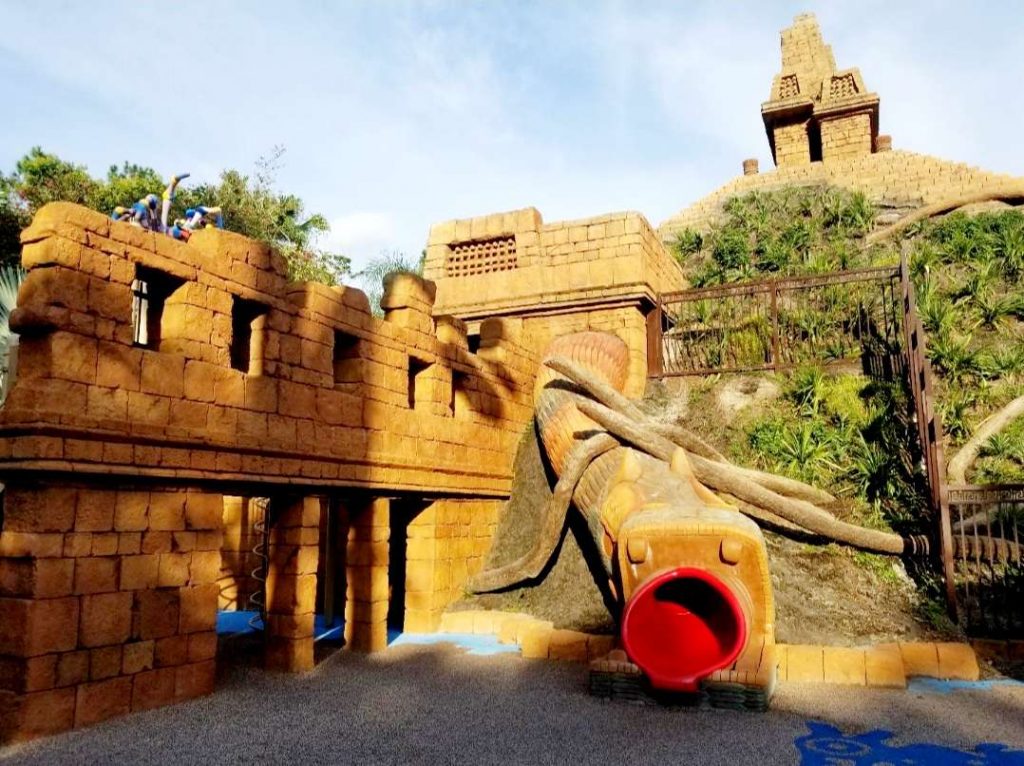 Pros and Cons:
Pros:

Nicely appointed rooms with a variety of room types to pick from.
Lots of dining and recreation options!
Quiet ambiance.
Rooms feel a little more upscale than other moderate resorts.
Cons:

Large resort with multiple bus stops.
Standard tower rooms only have showers, no tubs.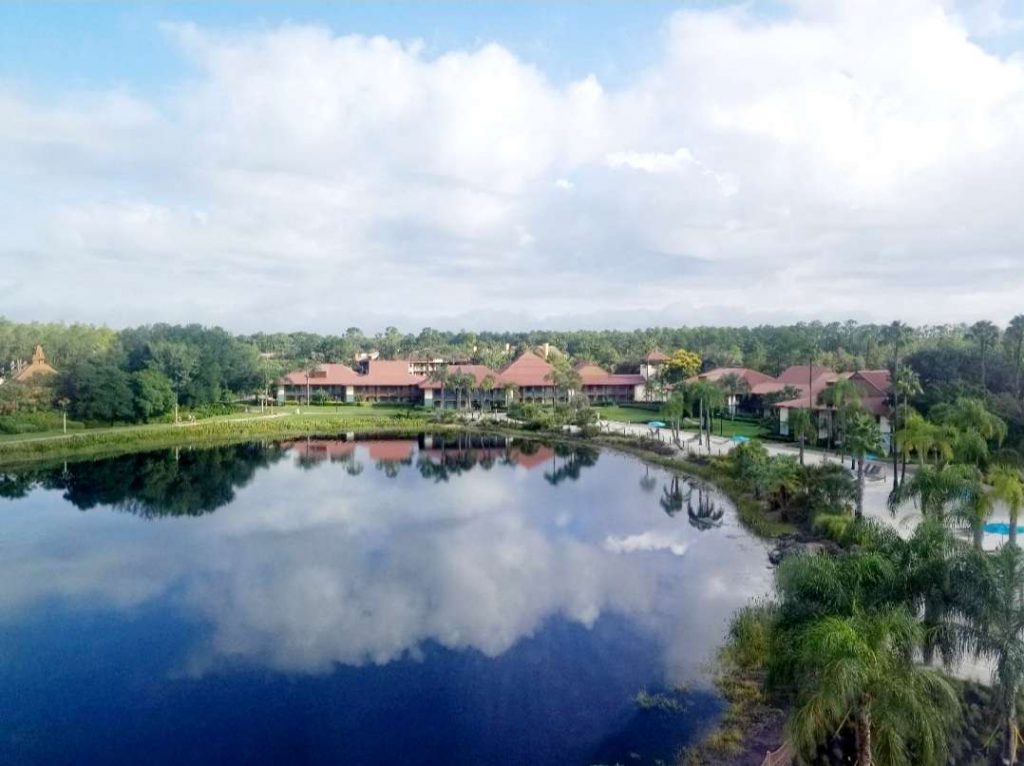 Agent Impressions:
Coronado Springs consistently tops my list of favorite moderate resorts. I love the rooms, especially those in the Gran Destino Tower! They feel very deluxe but come with a moderate price point. I enjoy having multiple dining options nearby and the variety of recreation options is nice. A walk around Lago Dorado is an enjoyable, quiet respite in the early morning or late evening. Some say that Coronado can feel "stuffy" or lacks some Disney magic because it is a convention resort, but in all my stays there I've never gotten that impression. I personally think it is a very family friendly resort, especially given its many amenities. With the variety of lounge and dining options, I also think Coronado is an excellent choice for couples looking for a low key stay. Those seeking an escape from the parks will likely enjoy the quiet nature of the resort. The only downside for me is the lack of additional transportation options.
Article by Storybook Traveler Holly Averette