Resort Spotlight: Disney's Contemporary Resort
By Storybook Traveler Holly Averette. Contact her today to get started planning your next vacation!
On October 1, 1971, the Contemporary was one of two resorts that opened along with the Magic Kingdom at Walt Disney World Resort. Its iconic A-frame design forms the main tower of the resort and is home to 14 stories of dining, shopping, guest rooms, and a monorail stop. Yes, a monorail stop INSIDE the resort! The monorail glides through the 4th floor, transporting guests to and from the Magic Kingdom and other monorail resorts throughout the day. Adjacent to the main tower is a smaller 3-story building called the Garden Wing that has a variety of guest rooms and suites. The Contemporary was refurbished in 2021 and its lobby and guest rooms were given a fresh new look.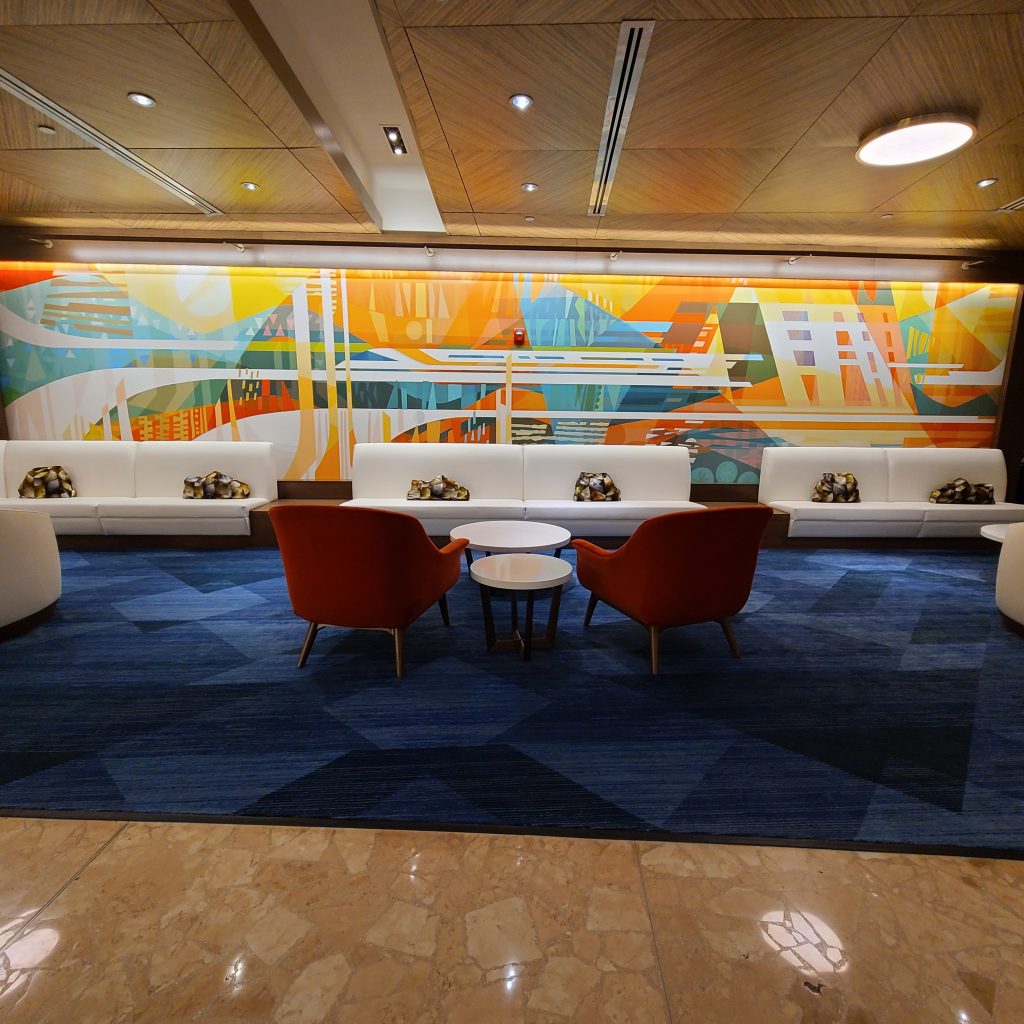 Arrival and check-in experience:
If you are arriving by motorcoach via an airport shuttle you will be dropped off right in front of the lobby entrance. If arriving by taxi, rideshare, or private transfer, you will stop by the security gate and confirm you are checking in before proceeding to the lobby entrance. If arriving by personal vehicle you will also need to stop by the security gate. TIP: have your ID and resort confirmation number handy to show the guard. Self-parking is available for free and valet is available for an additional nightly cost. Bell services will be available to assist guests with luggage upon arrival and they can hold items until your room is ready. Located on the first floor, the lobby has an updated mid-century modern design and welcoming cast members are ready to assist guests at the front desk. If you are staying in a club level room, you may complete your check-in at the front desk and then be escorted to the lounge, or you may be taken directly to the lounge for check-in (I find that this process can vary based on how busy the lobby is upon arrival). There is a small kids' area with kid-size furniture and a TV playing Disney shows or movies to entertain little ones during the check-in process. Alternatively, you may choose to complete online check-in on the app prior to your arrival. Doing this allows you to bypass the front desk and you will receive a text or email notification with your room number when it is ready.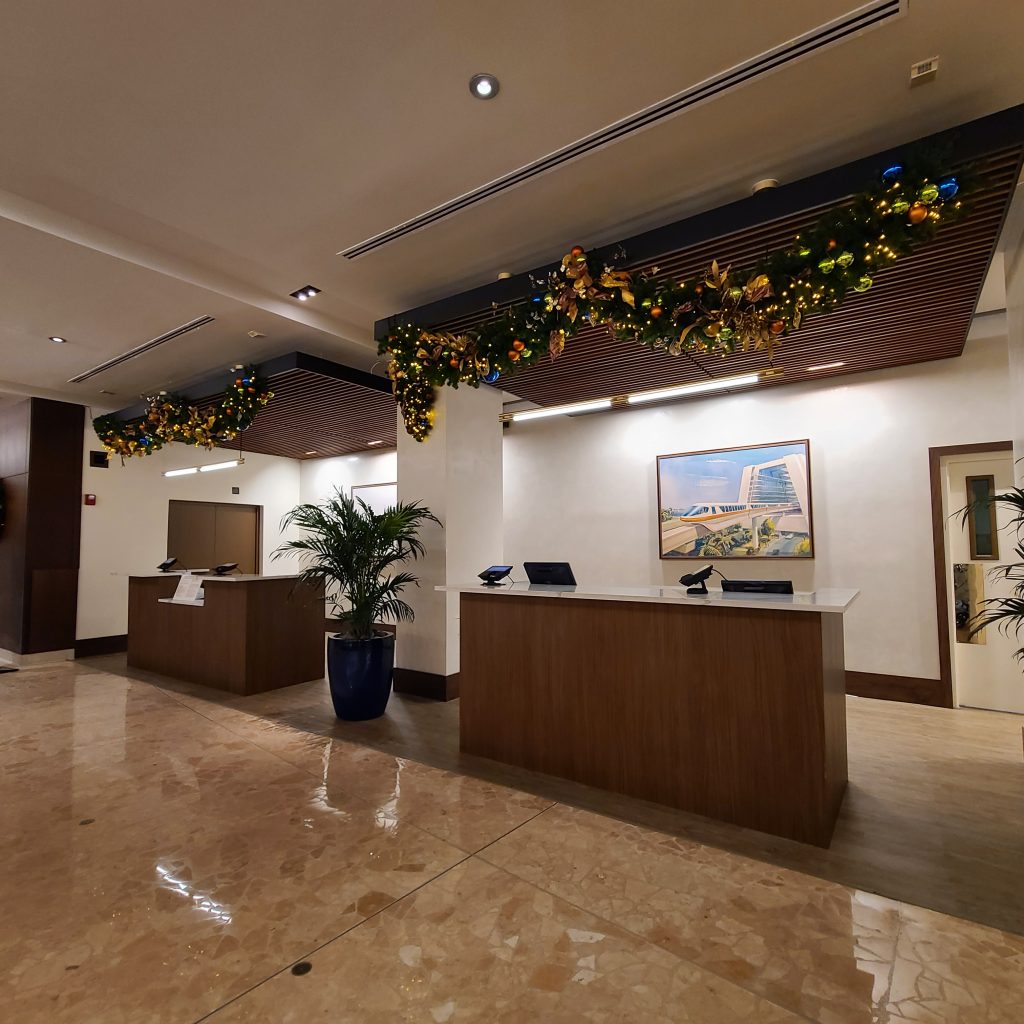 Rooms:
Based on Pixar's Incredibles, the rooms blend elements of some of your favorite superheroes and characters from the film in a fun and stylish way. Garden Wing and Main Tower are two separate booking categories so you want to make sure to specify and book the building you want to stay in. Standard guest rooms are located in both the main tower and garden wing with most rooms accommodating up to 5 adults plus one child under 3. Rooms are quite spacious at just under 400 sq ft in size and have a variety of views including standard (parking lot, rooftop, etc), garden, lake, and theme park. There are also various suites and club-level rooms available. Room amenities include a hairdryer, shampoo/conditioner/body wash, bar soap, lotion, beverage cooler, Keurig coffee maker with coffee and tea supplies, in-room safe, iron and ironing board, and complimentary wi-fi. With the exception of suites, rooms will either have a king bed or 2 queen beds, plus a twin size day bed. Beds feature under-bed storage which makes storing luggage and other items a breeze!
FUN FACT: When the Contemporary was built, its rooms were actually preconstructed and then slid into place with a crane!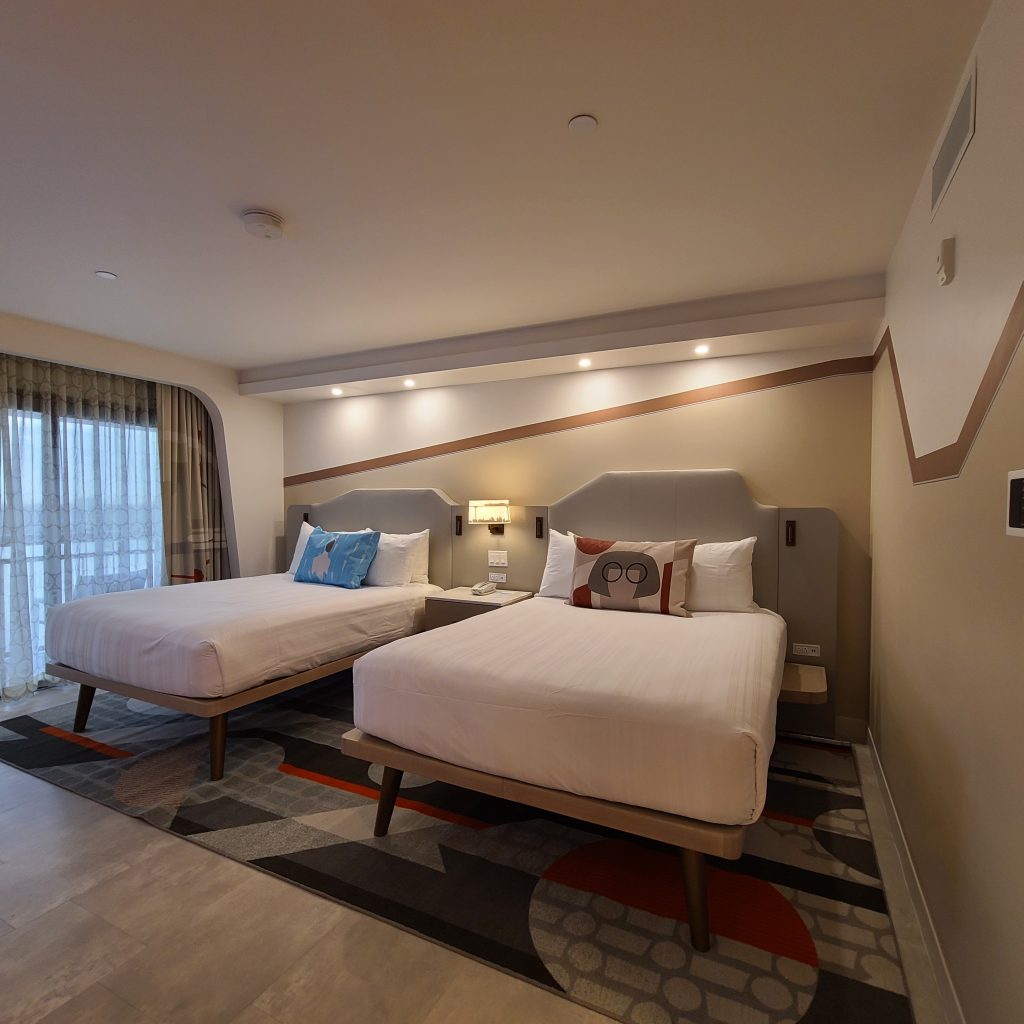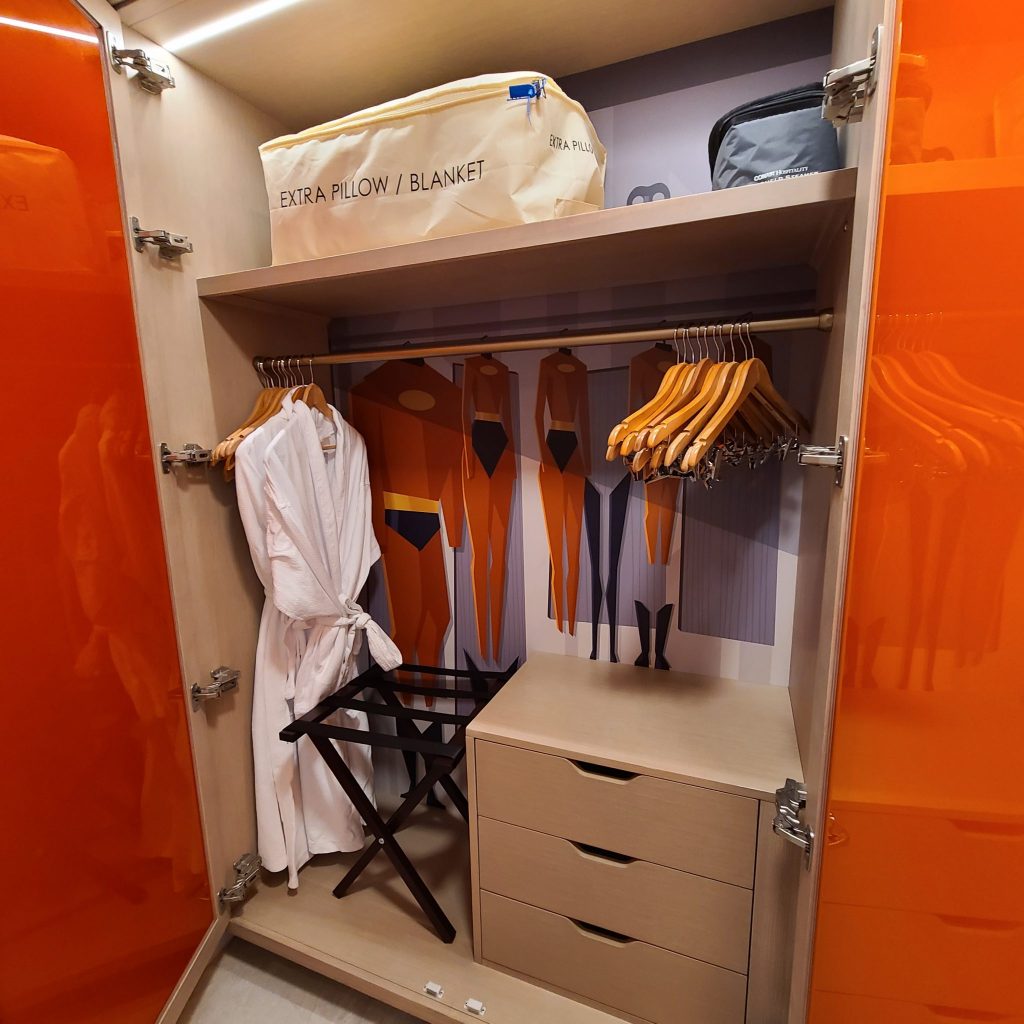 Club level rooms and suites are an excellent way to make your trip even more magical! This resort actually has TWO club levels, each with its own lounge. Most club rooms are located on the Atrium Club floor. The Tower Club houses many of the larger suites and a small handful of standard club rooms. Each lounge is staffed by a dedicated concierge team that is available to assist you throughout your stay. The lounge has several food offerings throughout the day. Breakfast is served each morning and includes a variety of continental items and hot dishes. Midday features light snacks comprised of various sweet and savory options- think trail mix, chips, cookies, Uncrustables, prepacked hummus, and pretzels, etc. Evening brings hors d'oeuvres, or appetizers. There are always a couple of kid-friendly options (chicken tenders, mac & cheese, mini corn dogs for example) along with heartier fare for adults. All the food comes from the California Grill so you know it's going to be good! Select beer and wine are available at dinner time or upon request. Dessert and cordials are served after the dinner offerings. These are a sweet way to end your evening! Coffee and tea services are available all day as are juice, water, and canned soft drinks. All of the lounge offerings are included in your room pricing so be sure to take advantage of them throughout your stay!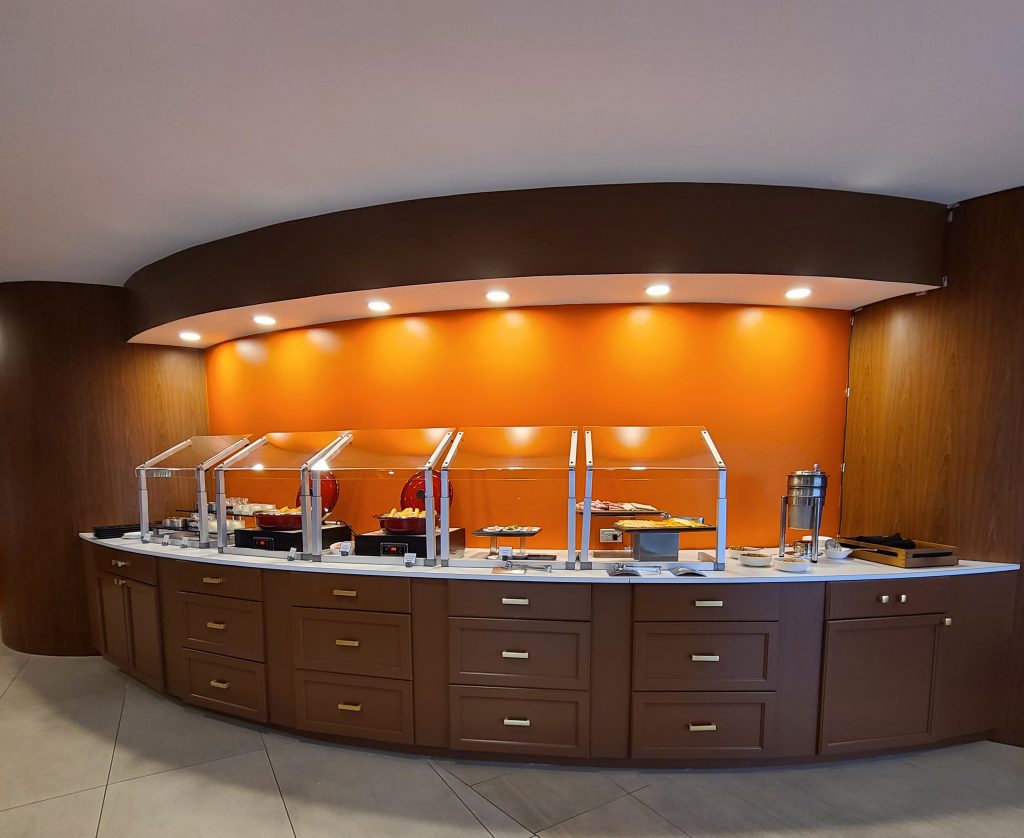 Dining:
Dining options abound at the Contemporary Resort! From fine dining to quick service and snacks, there is something to please every palate.
Chef Mickey's: Currently open for breakfast and dinner, Chef Mickey's is probably one of the most iconic character meals on property! It features all you care to enjoy family-style meals with a fun dash of character interaction from Mickey and friends! Food includes a variety of American-style entrees and dishes that will please most diners. Lively music, songs, and napkin twirling, while the monorail glides by overhead make this an exciting experience for all ages!
Steakhouse 71: Formerly The Wave, this family-friendly steakhouse serves a variety of traditional steakhouse entrees and accompaniments. The restaurant is open for breakfast, lunch, and dinner. The Steakhouse 71 lounge opens at lunch and serves a variety of 70s-inspired drinks. It also offers a fresh spin on classic dishes such as wings, mac & cheese, and the popular bacon and eggs.
California Grill: Located on the 15th floor and accessed by a private elevator, this signature restaurant offers sweeping views of the Magic Kingdom and the surrounding areas. The menu consists of California-inspired cuisine and features sushi, steak, seafood, and delectable dessert options. Sommeliers are also available to assist with wine pairings. The restaurant offers one of the best viewing experiences outside the parks for the Magic Kingdom fireworks. During the show, the lights are dimmed and the music is piped in. There is also a viewing platform diners may access to watch the show or just to take in the spectacular views. While the restaurant is kid-friendly, it is also well suited for a date night or celebrating a special occasion.
TIP: If you have a reservation early in the evening make sure to save your receipt! You can present the receipt later that same night to access the viewing platform to watch the Magic Kingdom fireworks!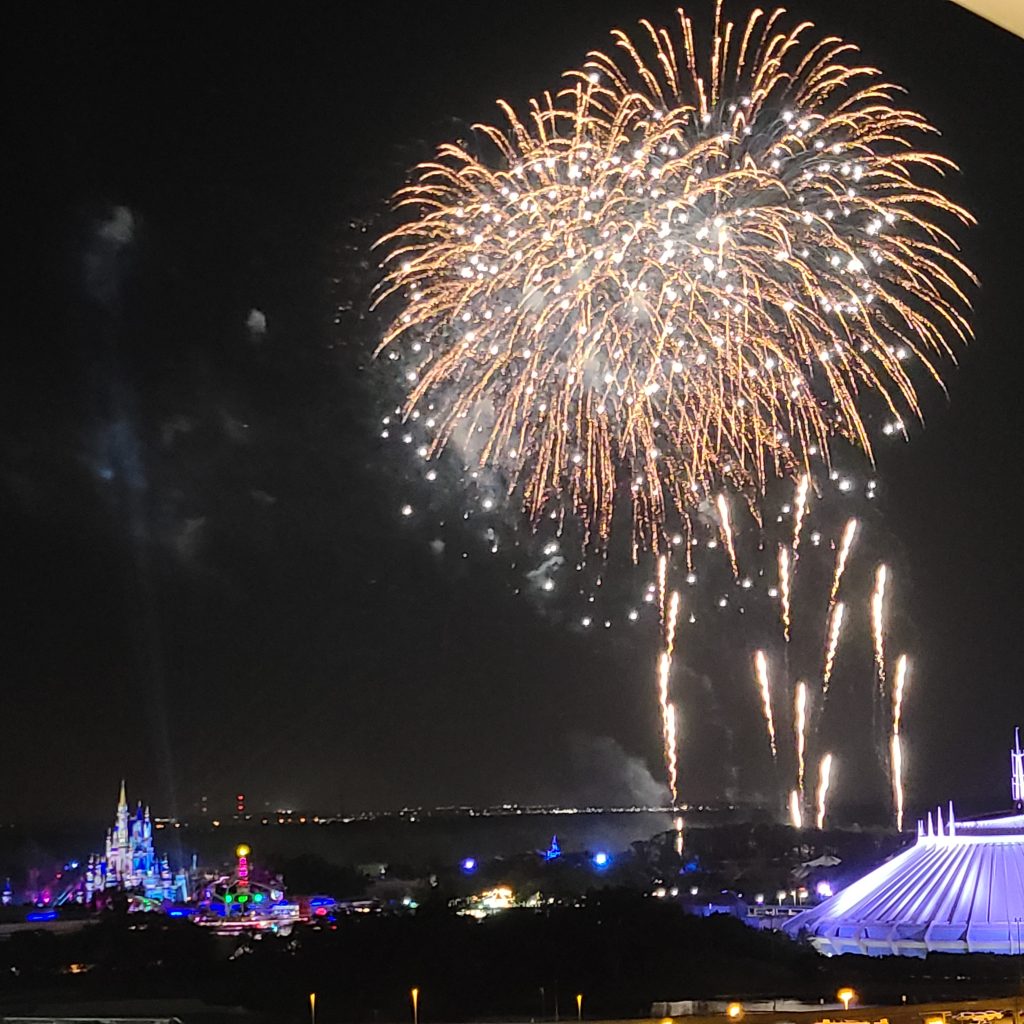 Contempo Cafe: The resort's quick-service location is open for meals and snacks throughout the day. There are a variety of grab-and-go items as well as cooked-to-order options. If you need a microwave during your stay, there are a couple available here for guest use. Resort refillable mugs can be purchased and refilled here.
Contempo Grounds: Located on the first floor, this coffee bar serves up Joffery's coffee, smoothies, and pastries. It's the perfect spot to get your java fix before heading to the parks and a welcome sight for weary travelers looking to grab a beverage upon their arrival.
Outer Rim: This lounge adjacent to Chek Mickey's overlooks Bay Lake and is the perfect spot to grab a drink before or after dinner.
The Sand Bar: Located near the pool, this quick-service location offers typical American fare such as hamburgers and hot dogs as well as a variety of drinks to cool off with while enjoying the pool.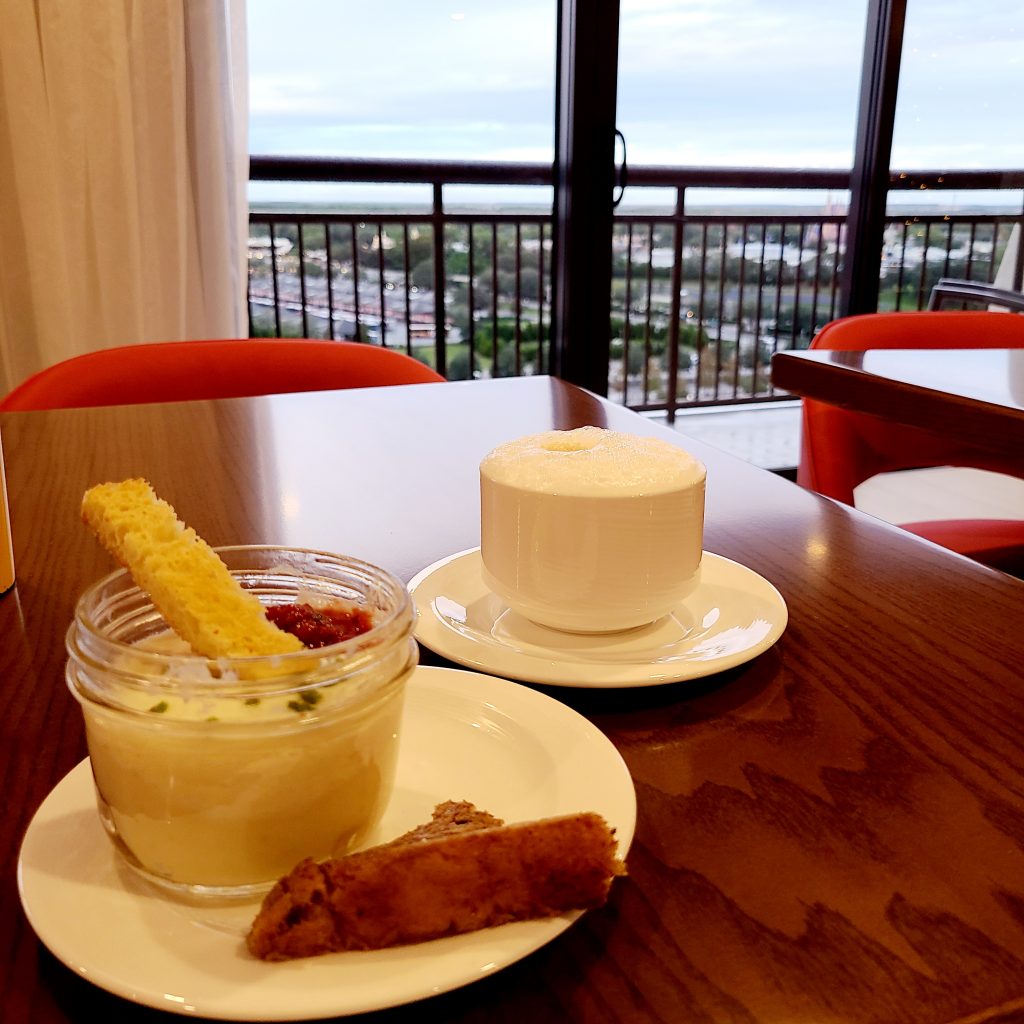 Recreation:
The Contemporary offers many recreational activities for all ages! Pools, cabana rentals, lakeside yoga, a game room, fitness center, jogging trails, boat rentals, and guided fishing excursions are just some of the fun things you'll find! Some of my favorite activities include the nightly campfire complete with marshmallows to roast and movies under the stars (popcorn included!). For a unique view of Bay Lake and the Seven Seas Lagoon, I highly recommend renting a pontoon boat and taking a spin on the water! It's a fun way to see the surrounding area and you can even pack a picnic or snacks to enjoy on your adventure. Don't miss the chance to see the Electrical Water Pagent that floats by nightly on the Seven Seas Lagoon (check the app for the current times)!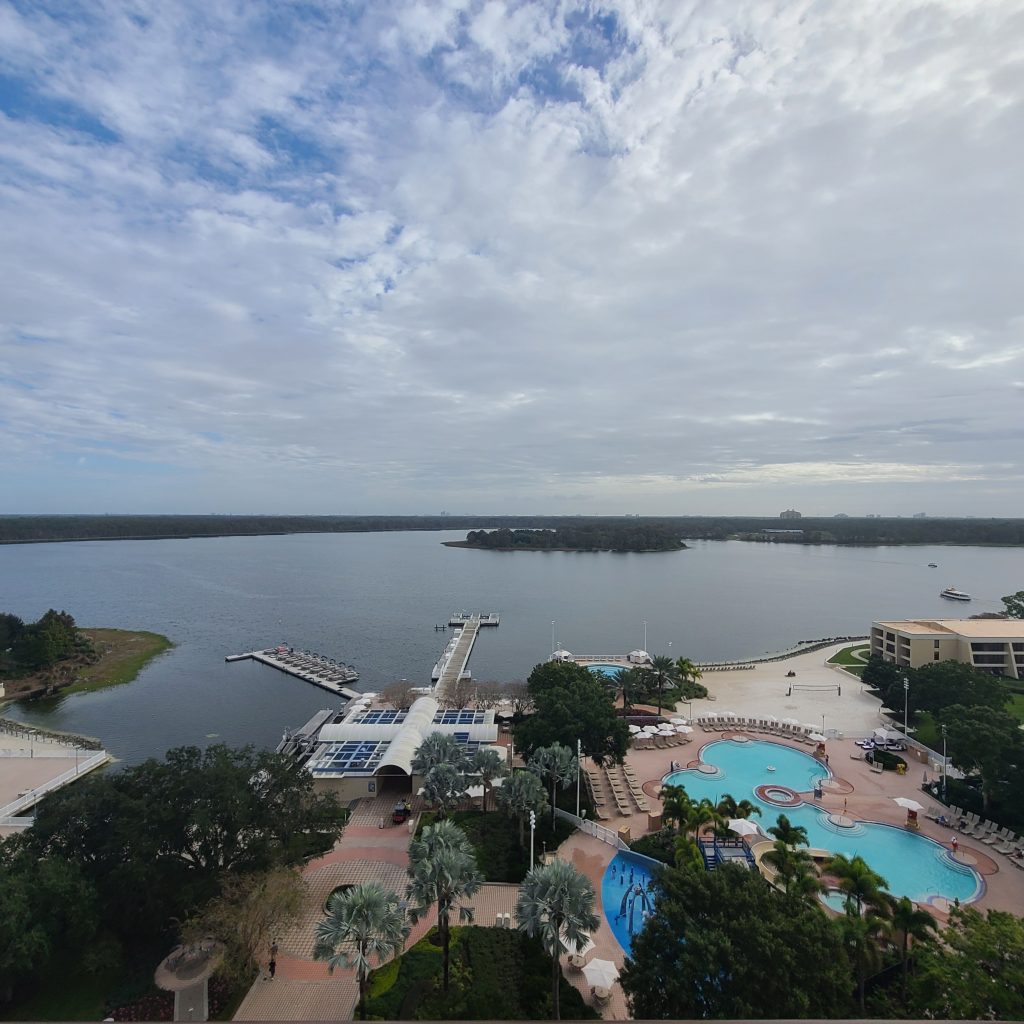 Pros and Cons:
Pros:

Location, location, location! You really can't ask for a better location than the Contemporary! The resort is about a 5-10 minute walk away from the Magic Kingdom. At the end of the night when transportation lines are winding around the park exit, you will love having the ability to walk back to your resort and be in bed before most people even make it on a bus!
Its location provides unique and beautiful views of the Magic Kingdom area.
Lots of dining options will appeal to most guests.
A plethora of recreation activities makes the resort perfect for those wanting to mix in some downtime at the resort with the busyness of the theme parks.
The monorail is convenient for those using strollers or mobility devices because you can simply roll in and out of the monorail cars.
Guests staying at deluxe resorts have access to extended evening theme park hours on select nights each week. It's like having a private after hours event!
Cons:

The feature pool, slide, and kids splash pad areas are less exciting than other deluxe resorts. *The feature pool area will be undergoing refurbishment from January 2023-April or 2023 so this may change in the future.*
The resort is home to a convention center. Some say this can detract from the Disney feel if there is a large convention going on.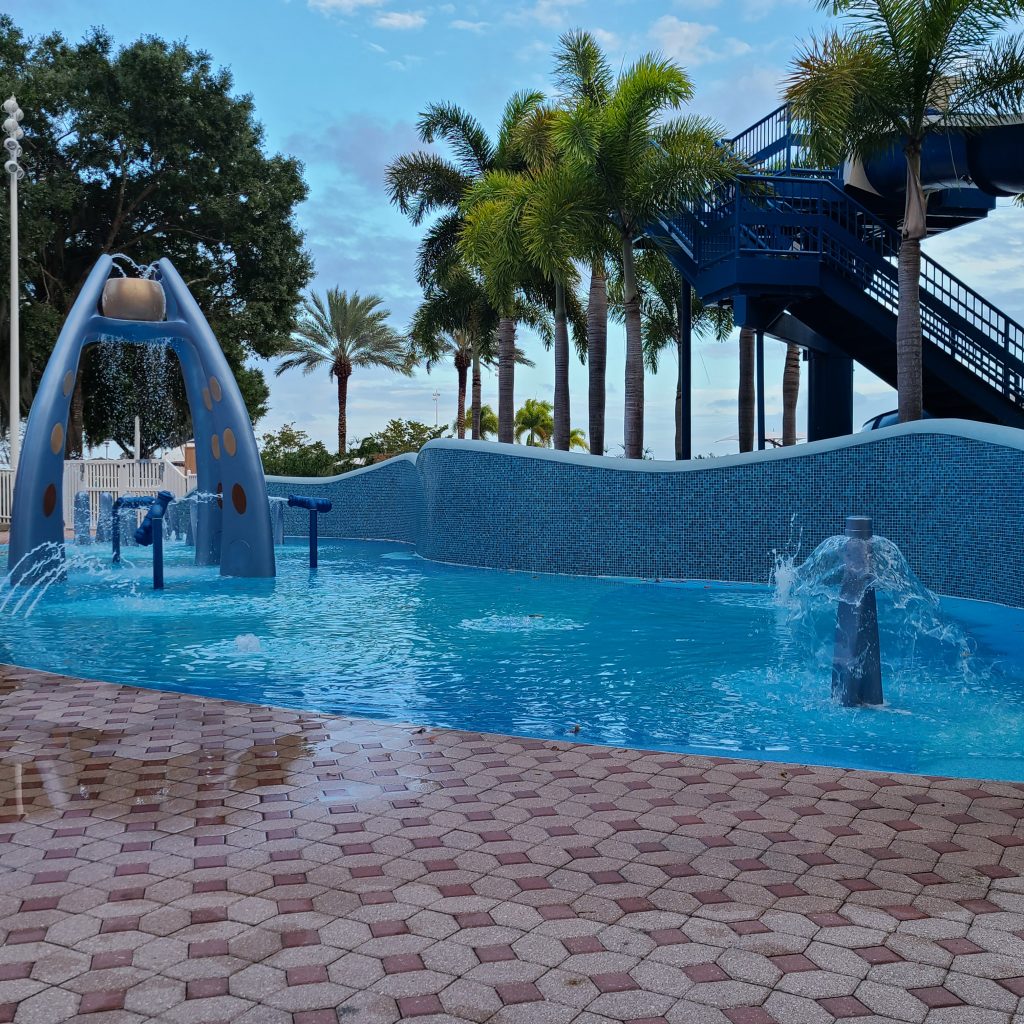 Agent Impressions:
I personally love this resort for families. Your time at Disney is valuable so make the most out of it by staying close to all the action! The monorail is super convenient for getting to and from the Magic Kingdom or Epcot. I love being able to just roll my stroller on and off and not having to deal with breaking it down to board a bus. Midday breaks are a breeze because of this! Bonus- you get a private security line when walking to the Magic Kingdom and before boarding the monorail. It's much faster than the traditional lines at the park! I also find the Incredibles themed rooms super cute and fun! One perk I find super helpful is the ability to watch Enchantment away from the noise and congestion of the park. When you are simply too overwhelmed or tired to stay late in the parks and watch the show, you can escape to the resort, enjoy the show from afar, and then retire to your room just steps away.
What are your thoughts on the Contemporary? Yay or Nay? Let me know in the comments!
By Storybook Traveler Holly Averette. Contact her today to get started planning your next vacation!