Article by Storybook Traveler Emily Engram
Hello, Cruisers!
Have you been longing for a family fun adventure at sea? Well, look no further than a Carnival Cruise Vacation! Carnival Cruise Line has a fleet of over 20 ships servicing ports all over the US. This blog post will be focused on my 3-day cruise aboard the Carnival Liberty featuring one day at sea as well as one day at Nassau, Bahamas. So, strap on your life jacket and get ready for this action-packed adventure!
Pre-Departure Information
COVID Protocols are often changing. When we went, we were required to be vaccinated as well as show proof of a negative covid test. One significant thing to note here is the requirements for a covid test result to be considered "correct":
Must be typed
Full legal name
Date of birth
Name of physician performing test
Date of test
Time of test
Test location
The place we found that worked well for us was Walgreens drive-thru testing. We easily made appointments online and were able to get our results sent to our email directly and in 2 hours or less. You can also wait and receive a paper copy in-store from the pharmacy.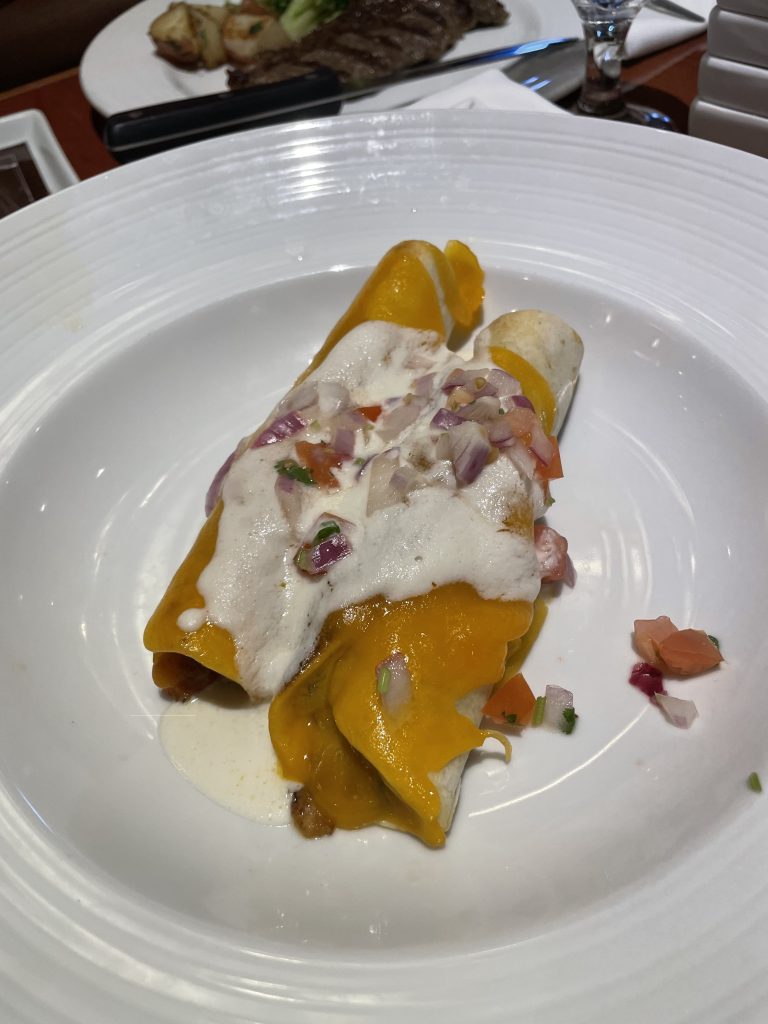 Day 1: Embarkation Day
Be sure to bring your negative covid test, passport or birth certificate, and photo ID with you to embark. You can also pick an arrival time as early as 8:00 am for our particular cruise. We made our appointment for 11:30 am-12:00 pm, arrived around 11:15 am and were able to walk right on the ship after going through security and customs. We enjoyed our first meal at the open dining options of Blue Iguana Cantina for some tacos and, of course, Guy's Burger Joint! After enjoying a quick lunch and some soft serve ice cream (they have frozen yogurt too) we enjoyed the sail away deck party while we waited for our stateroom to be ready.
Our stateroom was ready right at 2:30 pm, and our luggage arrived around 4:30 pm. After our staterooms were ready, we took a quick power nap and got ready for our early dining appointment of 6:00 pm. When booking our cruise, we were given our choice of 6:00 pm for early dining or 8:00 pm for late dining.
After dinner, we enjoyed the casino, got some more ice cream (we're on vacation – why not!), and headed over to the first night's cruise stage show. There is still much more to do onboard if stage shows aren't for you. Some of the options are bingo, live music at every turn, and, of course, those fun photo sessions to have some family photos taken at various locations throughout the ship.
Day 2: Nassau, Bahamas
We had just been to Nassau, Bahamas, on our Disney cruise in April, so we knew exactly where to go. Now, let's pass that knowledge on to YOU! There are many excursions provided by Carnival that you can book before you get on the ship or while you are onboard such as swimming with dolphins, nature hikes, and more. We wanted to experience the true Bahamian culture for ourselves, so we walked from the shopping area down to Junkanoo Beach. It is a super fun public beach with chairs and umbrellas to rent. It is right beside the Margaritaville Resort, so once you see that, you're almost there. It is about a 15-minute walk from the port so bring your walking shoes! There are public restrooms available at the beach as well to change into your swimsuits. Right next door to the beach at Margaritaville, there is a delicious to-go pizza restaurant where you can grab a quick meal to enjoy on the beach.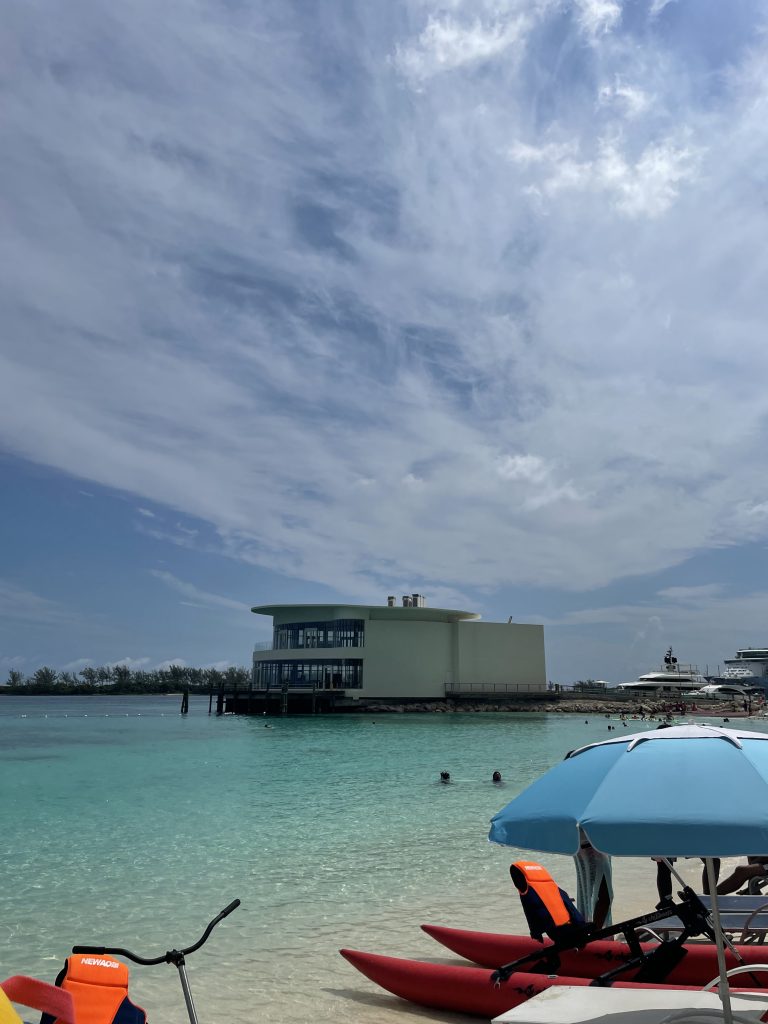 After our afternoon at the beach, we walked back down to shop in some of the fun local shops such as the Straw Market and Salty Dog Souvenirs before we headed back to the boat.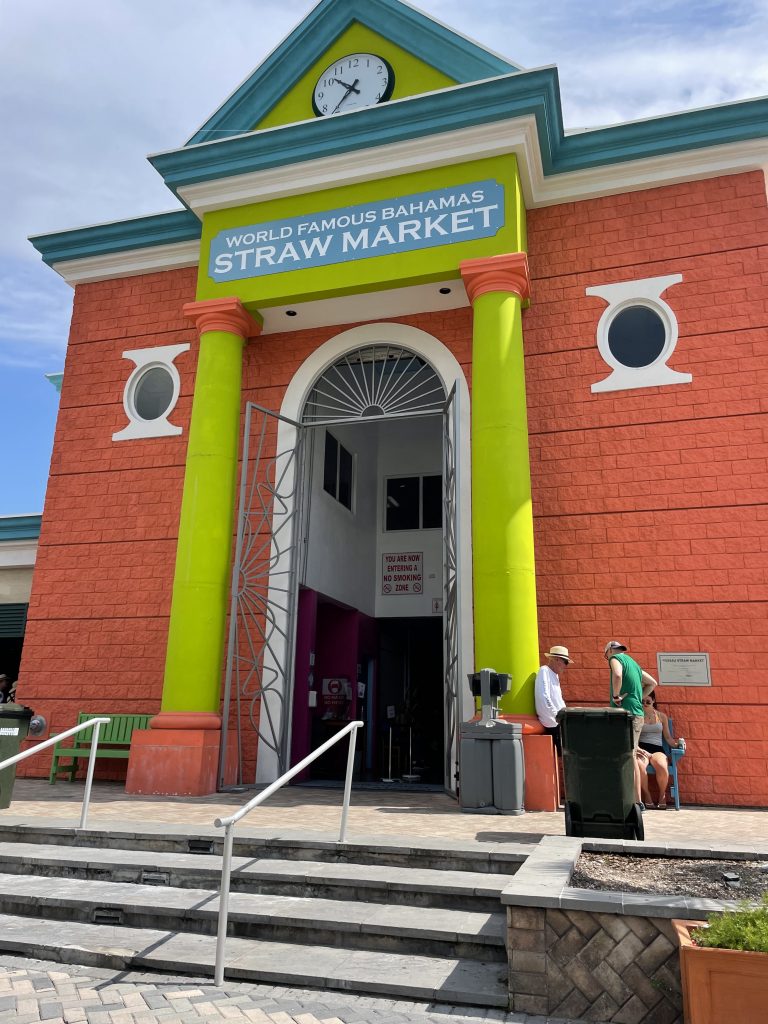 One thing to note about re-boarding the boat: You must have photo identification as well as your Sail and Sign card to get back through to the gate leading to the port. Be sure you grab BOTH!
After we got back on the boat, we took yet another power nap (again, we're on vacation – why not!) before we enjoyed our second delicious dinner. Each night, you will eat at the same table with the same waitstaff, so they get to know your likes and preferences. By night two, our server had my Pepsi sitting at the table waiting on me. He also knew that I wanted the Carnival Molten Lava Cake with TWO scoops ice cream. Absolutely delicious – must try – or eat every night!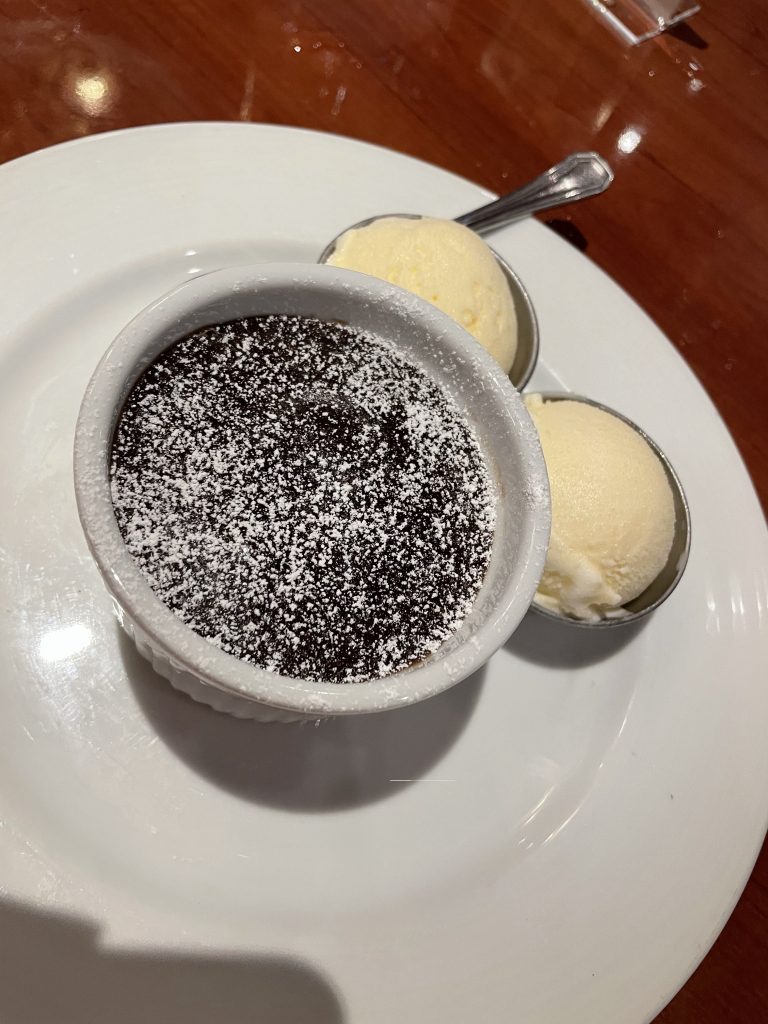 After dinner, we explored the boat some more, checked out the beautiful spa, and enjoyed some delicious drinks before we headed over to the second stage show!
Day 3: Day at Sea
Having a relaxing day at sea was much-needed after a FULL day in Nassau. We enjoyed brunch at the same restaurant where we ate dinner. For brunch, you must check in on the app before you arrive at the restaurant. We checked in on the app, were told we had a 5-10 minute wait, arrived at the restaurant in 10 minutes, and our table was almost ready. Super easy and streamlined process.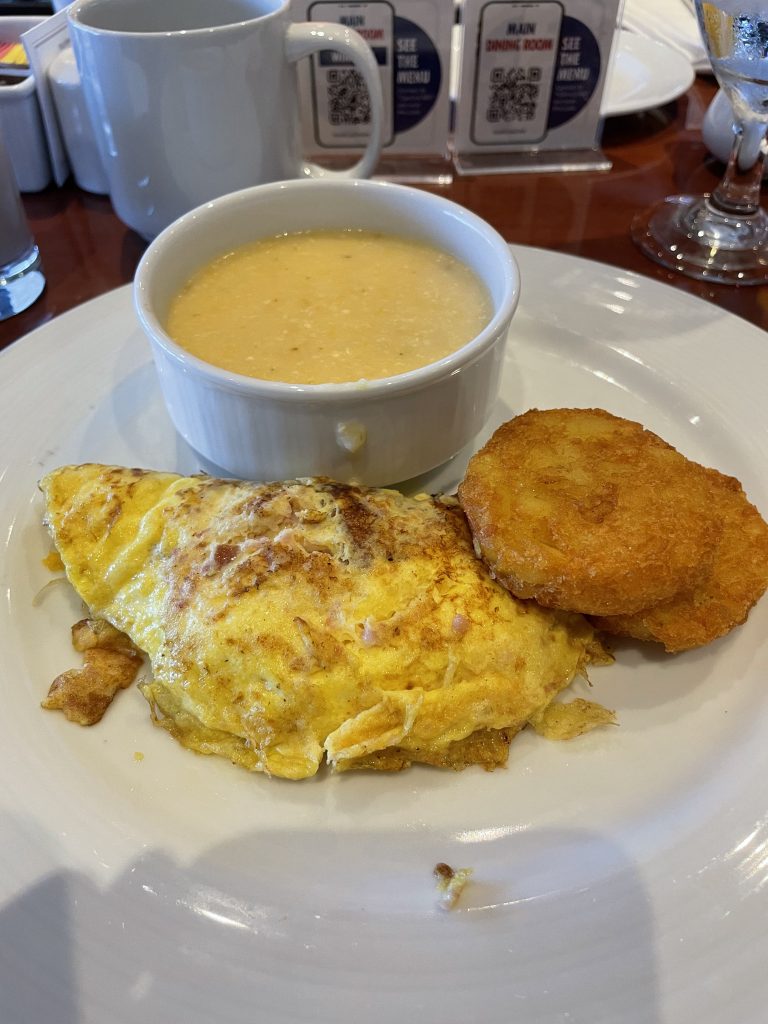 After brunch, we enjoyed some poolside sips and waited for the lunch buffet to open. We had a delicious lunch at Ol' Fashioned BBQ where we had pork butt, chicken, and smoked beef with scrumptious mac & cheese and baked beans. After lunch, we enjoyed Harry Potter trivia where I learned I know nothing about Harry Potter like I thought I did! LOL!
I believe the sunset is always best on Days at Sea so be sure to schedule in some time to catch the sunset and enjoy those last few hours of your cruise.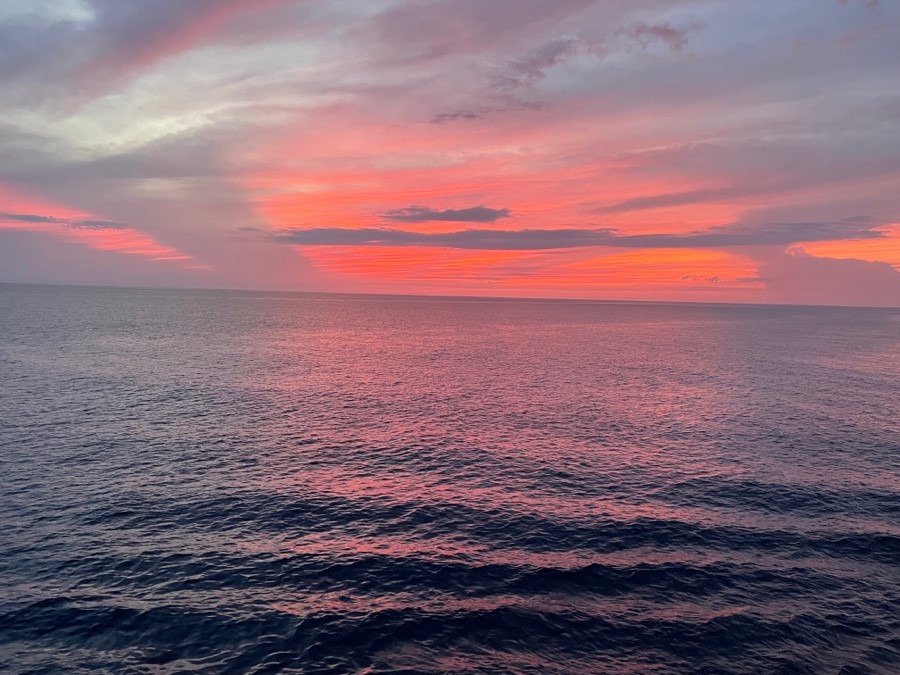 For our last dinner, our waitstaff put on an awesome sing and dance to get the guests excited about their last meal at sea.
After dinner, we watched the last stage show which was awesome! I will say this 80's music inspired stage show was a more adult-appropriate than family-oriented due to the risqué outfits of some of the performers. We had a blast – but probably wouldn't bring my kids or teenagers.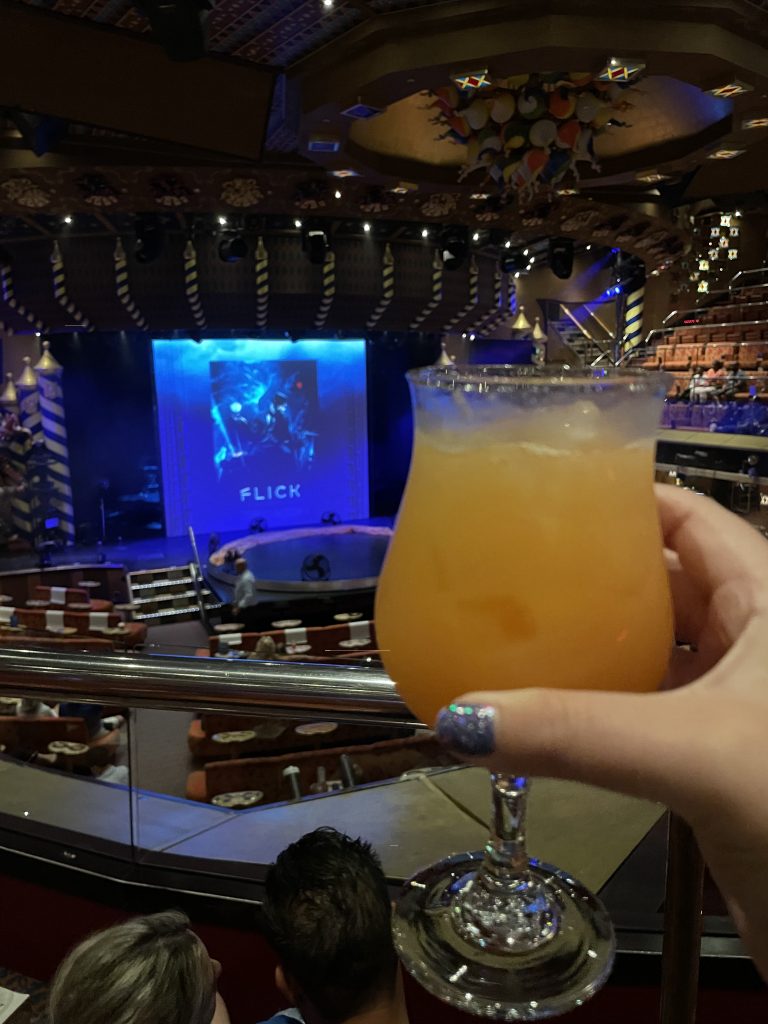 Day 4: Debarkation
We had a very early morning for debarkation day as we had to be completely out of our staterooms at 8:30 am. No sleeping in on debarkation day! We got up around 7:00 and finished packing, enjoyed some breakfast from the buffet on the lido deck around 7:45, grabbed our bags out of the room at 8:15 and were off the ship by 8:30. To take advantage of the luggage service, your luggage had to be placed outside your room by 8:00 pm for our cruise. If you chose the luggage service option, your luggage will be waiting for you on the other side of customs. One thing to note here: If you have a passport, you can use a VERY express line to disembark. We pretty much walked right off with no wait. However, those in our family that had only a birth certificate had to wait in a much longer line, and had to wait outside for them for about 20-30 minutes.
After our family finally got through the customs line, we grabbed our car from the parking deck and were officially on our way home!
Other Tips & Tricks
Be sure to pack a swimsuit or a change of clothes for little ones in your carry on! It could be a few hours until your checked bags are ready in your rooms so you want to be well equipped for anything.
Skip out on bottomless bubbles. Bottomless Bubbles is a soda service for travelers of any age to get sodas included throughout your cruise. However, it's just a hot can poured over ice and they cannot just give you cans to take to your room refrigerator. It must be opened by them and poured over ice. Each guest is allowed a 12 pack cans of sodas so just plan on bringing that and have a cold can to drink at dinner or around the pool.

PS – if you do decide to get bottomless bubbles, know that drinks are included however you do have to pay taxes on sodas until you are out in international waters. As soon as we got on the cruise I wanted a soda, so I went to the bar and activated my bottomless bubbles and was surprised when she brought me a receipt of $0.16. Just a heads up!

Bring your own beach towels if they can fit in your suitcase! Carnival gives each person one beach towel in their stateroom to use throughout the duration of your cruise. You are allowed to switch them out as well as bring them on your excursions; but, if you lose it, you are charged for the towel! I recommend you bring your own and use theirs on the ship only.
There are virtually no straws at all on the entire cruise ship. So if you're like me and love a straw, be sure to bring some with you – a reusable one works great!
Overall, we thoroughly enjoyed our Carnival Cruise and cannot wait to go back again!
Article by Storybook Traveler Emily Engram