Article by Storybook Traveler Jennifer Arnold
Dreaming of your next Walt Disney World vacation but looking for a new and unique experience?  How about camping at Disney?  Yes, I said camping at Walt Disney World!
It's funny how I always get the strangest looks when I say our family goes camping at Walt Disney World but we've been doing this for many many years and find it to always be a magical experience!
For those in the know, camping at Walt Disney World is the place to be!  If you and your family love the outdoors and want some Disney magic!
If this is the first time you're hearing about camping in Walt Disney World, you may be curious as to  how long this resort has been in existence.  Actually, the campground has been at Walt Disney World since almost the beginning!   Opening in November of 1971, Disney's Fort Wilderness Resort and Campground is one of just three original Walt Disney World resorts that opened in that year!  Located on the shores of Bay Lake and sitting on seven hundred and fifty acres, the property is beautiful and a great way to spend a vacation!   When it originally opened, it had just 232 campsites.  Today, the Fort has over 800 campsites and 400 cabins!  It has really grown!  With its rustic theming, this resort offers a taste of the great outdoors while still being in the middle of the magic.
When I say camping, most people traditionally think of campsites in camping loops for tents and RVs campers.  Fort Wilderness does have a wide array of these options for those wanting to camp at Walt Disney World.  Campsites can accommodate tents all the way up to 60 foot long RVs.  Depending on the site, campers have the option of full hookups with cable and wifi plus a nice picnic table and charcoal grill!    However, it's good to note, Disney does not offer pull through sites!  Nope, not a one!  So, if you're bringing the RV, you have to know how to back it into a site.  This can be a "fun" experience especially if you're not used to the process!
Camping loops offer convenient and very nice comfort stations for use by those without facilities in their campers or those that are tent camping. Comfort Stations offer restrooms, showers, laundry facilities, and even a small ice machine offering ice for a small fee.  We have always found them to be clean and convenient no matter the hour of day or night.  Although, I will say showering late at night when all the parks have closed can be a little creepy and it's great to have a buddy or your cell phone with you just so you don't get spooked.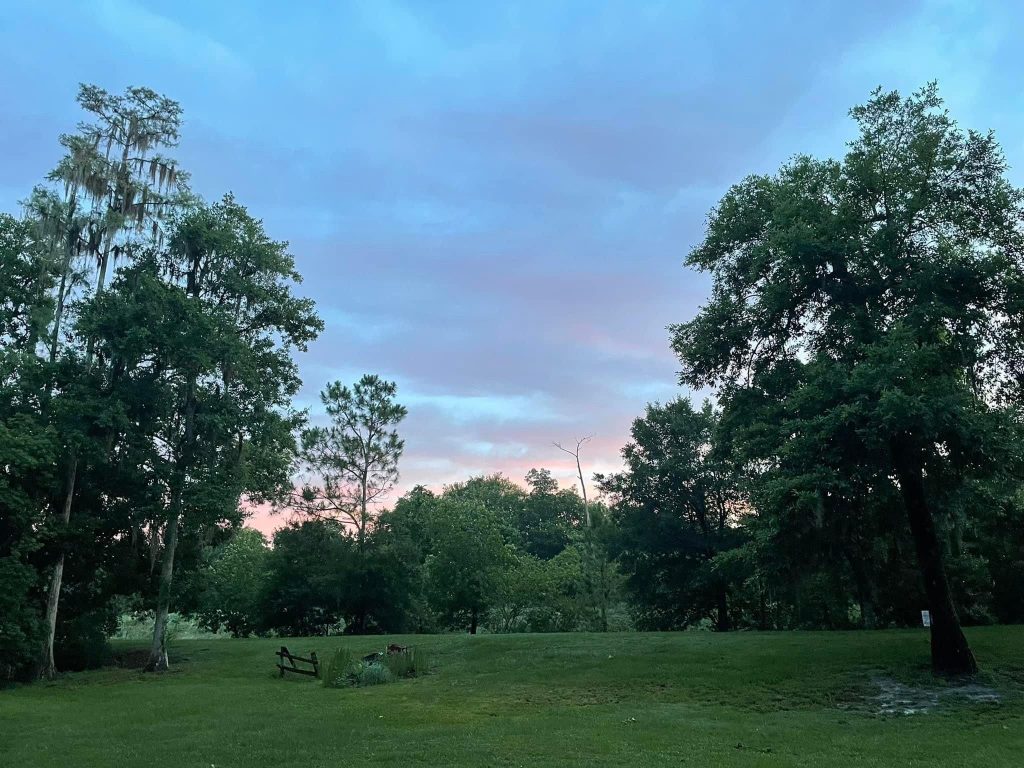 If the idea of tent or RV camping is a little bit too much for your family or maybe you don't want all the hassle of the full camping experience, Disney does offer stand-alone cabins!   Yes, cabins!   The cabins provide that Fort Wilderness experience without quite so much of the outdoors and they even have mousekeeping!   They can be a great option!
Cabins can sleep up to 6 guests and offer a separate bedroom with queen bed and bunk beds as well as a full bathroom, kitchen with small dining room and a living room with a pullout sofa.  Outside, each cabin has a spacious deck with picnic table and charcoal grill along with a personal parking space.  It's important to be aware that Disney does charge a nightly parking fee for guests wishing to park a vehicle while staying at the cabins.  (However, parking is not charged for the first vehicle for those staying at traditional campsites).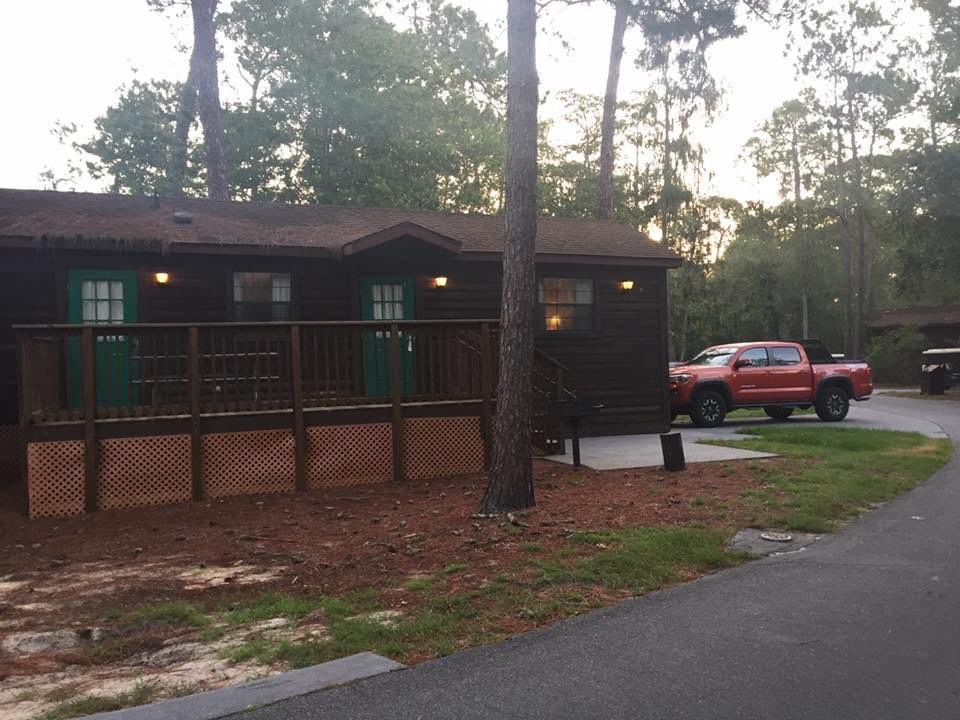 Don't want to leave your furry buddy a home while you're on your trip!  You're in luck!  Dogs and even cats are welcome in select loops, including some cabins, for a nightly fee.  Doggie friends have access to spacious doggie playgrounds with separate areas for little dogs and large dogs.  It is important to note that pets are not allowed in tents or soft sided campers so make sure to discuss your needs with your Storybook World Travel agent to ensure the perfect camping option is selected for your entire family.  For guests in the camping loops, it is imperative that they must have a hard shelled camper to bring furry friends along.  This is for the safety of all guests as well as your furry family member.
Speaking of furry creatures, you may be wondering about the wildlife at the resort.  If you or someone in your family loves animals, you're in luck.  Animal sightings are common and many are used to people being around so they often aren't hard to spot.  On our most recent trip, we saw squirrels, rabbits, deer, wild turkeys, and even armadillo.  We love getting up in the early morning to enjoy our breakfast and watch the wildlife!   These animals are very used to humans but can still be a bit skittish so it's always best to speak softly and don't make any sudden movements if you're wanting to enjoy the wildlife.  If you are person that is a bit skittish of the wildlife, you don't have to worry either.  The animals are cautious enough about humans that they typically don't bother you, you will just want to make sure not to leave open food containers out that may entice the animals to take a closer inspection of your campsite.  Squirrels and raccoons can be mischievous little guys and will run away with food left out and unattended, if given the opportunity.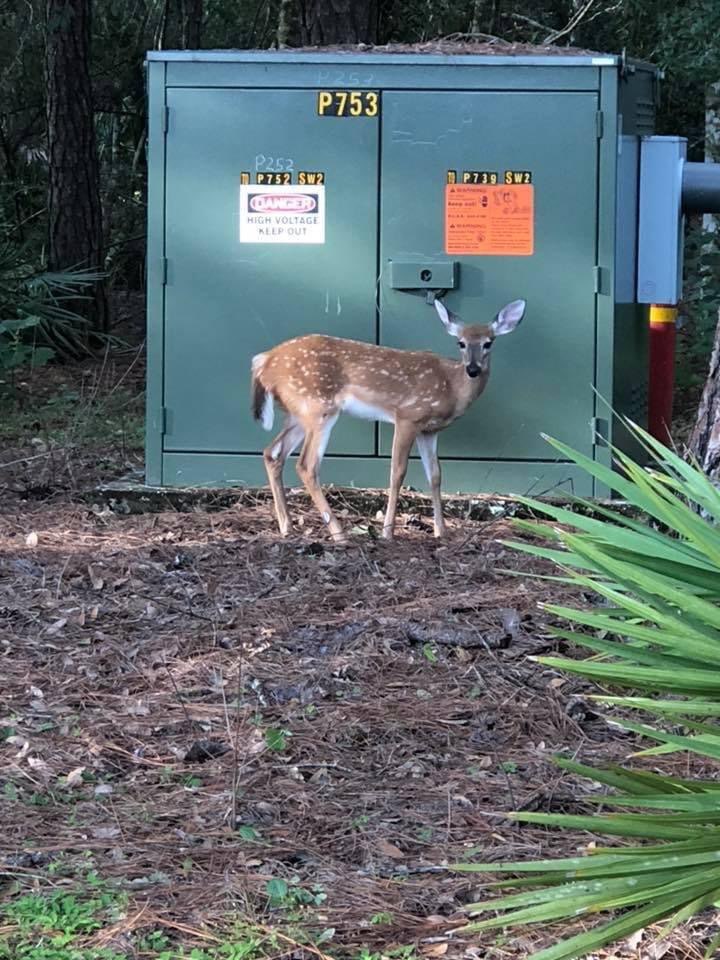 Speaking of food!  Don't think that you need to cook all your meals while camping either!  Fort Wilderness offers a great selection of dining options from snacks and quick service meals to table service and even a dinner show!
The largest selection of dining at the resort can be found up near the settlement area.  Here you'll find Trail's End, a table service buffet restaurant (currently being done family style), PB & J's Southern Takeout, a quick service takeout spot, Crockett's Tavern, a relaxing watering hole with modern drinks and snacks, and the Hoop-Dee-Doo Musical Review, a delightful dinner show with an all- you-care-to-enjoy feast.  The Musical Revue has a long history at Fort Wilderness Resort starting in 1974, it was unfortunately closed for a time during the pandemic but has recently reopened to wonderful reviews.
For those looking for a quick bite or just a little snack, more options can be found at the snack bar at the Meadow Swimmin' Pool and even several food trucks are often available during select times at various resort locations.  If you want to pick up a few groceries for your campsite, a limited selection can be found at the Meadow Trading Post and Settlement Trading Post.  They even offer a small selection of camping supplies that you may have forgotten to bring along on your trip plus souvenirs.  Additionally, Disney offers grocery delivery service to the cabins!   Print out a list of the pre-selected grocery items, mark the items that you wish to order, and place an order by email, fax or even postal mail before your trip.  It's that easy!
There are so many wonderful experience to be found around the resort that many staying at the Fort will plan a resort day or two during their stay!   There are sure to be more than enough to fill your day with fun!  Amenities include two heated swimming pools, playgrounds, volleyball courts, tennis courts, archery lessons, horseback riding and pony rides, canoe and kayak rentals, bike rentals, boat rentals, fishing, an arcade, and so much more.
For those horse lovers, head over to the very new, Tri-Circle D Ranch and take a tour of this beautiful new facility.  At the ranch, you can say hello to Disney's horses and see some horse related Disney memorabilia!   There are over 90 horses that call the Ranch and Trail Blaze Corral home and you will find several different breeds including Appaloosas, Arabians, Belgians, Clydesdales, Percherons, Quarter Horse and even Shetland Ponies.  For those looking for a romantic experience, horse drawn carriage rides are even available and can be booked ahead of your trip.  These are especially popular during the Halloween and Christmas season!
Nightly, weather permitting of course, Fort Wilderness hosts the Chip and Dale Campfire Sing-Along followed by a Movie Under the Stars.  Here you can sing songs with Chip and Dale and roast marshmallows before enjoying a Disney movie at a fun outdoor movie theater. Often a food truck is also at the event for those that want a snack or forgot to bring their smores kits.  Enjoying a movie in the great outdoors is always a fun evening!  After the movie, you can take a stroll down to the beach to get a glimpse of the Magic Kingdom fireworks and even the Electric Water Pageant as it floats by the resort beach.
In considering this resort, you may be thinking, seven hundred and fifty acres, wow that's big, how do I get around a resort that big!  Never fear, guests have access to an internal bus service with numerous bus routes looping through the resort.  These buses take you to all areas of the resort and run regularly from around 6:30 am to an hour after the parks and Disney Springs close each day which normally has them running until about midnight or 1am.
If your family would like a different, personal mode of transportation, Golf Cart Rentals are available for a daily rental fee.  Disney offers both four and six seater versions which are all extremely popular.  Although same day rental is available, it's a good idea to reserve a cart before your stay, your Storybook World Travel agent can help you with this.
When you're ready to hop over to the parks or Disney Springs, Fort Wilderness also has you covered.  Complimentary bus service is available to EPCOT, Hollywood Studios, Animal Kingdom, the water parks and Disney Springs.  Guests can take advantage of boat service at the Fort Wilderness docks to Magic Kingdom.  Relaxing on the boat as it glides across the lake on its way to the park is always an enjoyable experience.  The anticipation of watching as first the Contemporary Resort and then Magic Kingdom come into view is a great way to start your park day!  Then at night, the ride back is always relaxing and depending on what time you return, we even caught sight of the fireworks at Magic Kingdom as we sailed home.
Does this resort sound exciting to you? Maybe something new that your family would like to experience?
If so, there are a few key items to begin thinking about when contemplating a Fort Wilderness vacation.
These usually include the weather for the time of year you are considering staying and if you wish to stay during the holiday season.
The weather can be a big factor, depending on the type of camping you want to do.  If you don't love the heat and humidity, you don't really want to tent camp in the heat of the summer.  That is, unless you have a setup to ensure comfort with fans and an air conditioner.  If you have a camper with air conditioning or wish to stay in a cabin, the summer heat and humidity may not be as big of a concern but you always have to remember to keep hydrated, take breaks, and wear sunscreen.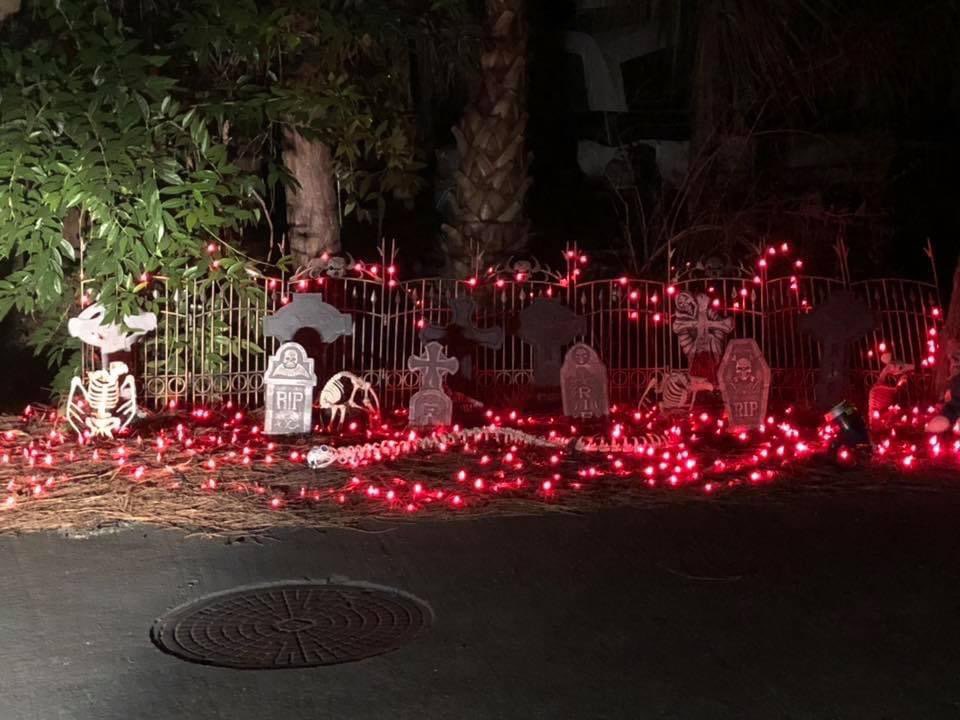 The holidays are also something to consider if you're thinking of a stay at Fort Wilderness.  Staying at Fort Wilderness is the place to be for many families during the holidays and sites fill up fast, like a year ahead fast for some key holidays!  Why you may ask.  Well, for those that have stayed in Disney's more traditional resorts during the Halloween or Christmas season, you know that guests will sometimes decorate their resort room doors or windows.  At the campsites, this is taken to a whole new level with most guests going all out during the holiday seasons!  Some even preparing a year or more in advance for how they will decorate their campsite!  If you love the Halloween or Christmas holiday season, make a plan to at the very least, visit Fort Wilderness Resort and Campground during these holiday seasons!  It's so much fun at night to loop around the sites and see all the decorations!  If you're staying on-site at Fort Wilderness, these times of the year are the perfect times to rent a golf cart and go "looping" to see all the decorations.  If you don't want the expense to rent a golf cart or perhaps they are already all rented, bring your bikes, walk around the camping loops, or book that horse drawn carriage ride and experience the magic of Fort Wilderness and decorations of campers.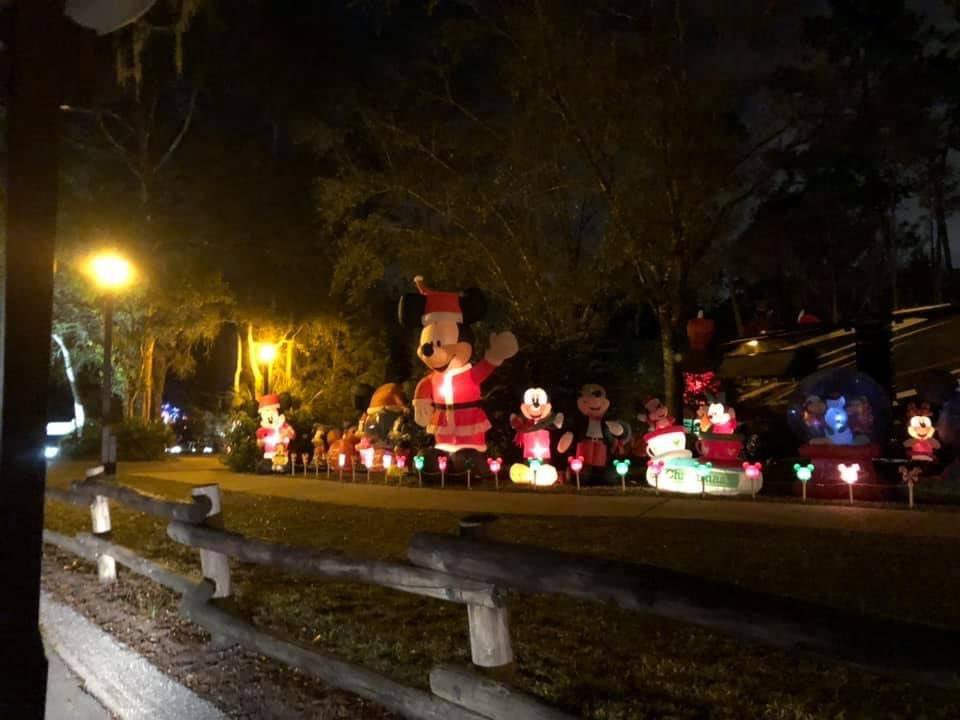 Planning a vacation can be overwhelming and these are just the first two items to consider when planning a trip to Fort Wilderness Resort and Campground.  There is so much to take into consideration!  Having a Storybook World Travel agent that specializes in stays at Fort Wilderness is a great way to navigate all the options and make the decisions that are perfect for your family!  The best part, our services are FREE to our clients!
Since there is so much to think about depending on your camping type: tent, camper, or cabin.  I'll be sharing more specific information in upcoming article.  So watch for this second article, coming soon!  Until then, have a magical day!
Article by Storybook Traveler Jennifer Arnold