Article by Storybook Traveler Holly Averette
Jambo! Opening on Earth Day in 1998, Disney's Animal Kingdom Lodge is perhaps the most unique of all the Disney resorts. In true Disney fashion, extensive research was done prior to the building and construction of the resort. Disney wanted to preserve and honor traditional African architecture, art, and stories. The design team spent time traveling across South Africa, specifically, safari game parks, to learn more about the culture and history of the area. You can find various artifacts from their journey throughout the resort. The entire property is designed to make you feel like you are going on your own safari journey. Each of the four animal savannas- the Kudu, Zebra, Giraffe, and Ostrich trails, offers unique chances to view a variety of animals. When talking about or deciding where to stay at Animal Kingdom Lodge, it is important to distinguish that there are 3 different booking categories to consider. The main lodge is also known as Jambo House and houses the regular guest rooms. It is also home to the Villas at Jambo House which are a small collection of studios and 1-3 bedroom villas. Adjacent to Jambo House is Kidani Village, a villa only property with its own set of amenities. A shuttle runs throughout the day between Jambo House and Kidani Village. This article will primarily focus on Animal Kingdom Lodge and the regular resort rooms but the villas at Jambo House will share all the same amenities.
FUN FACT: The architect who designed Wilderness Lodge also designed Animal Kingdom Lodge. You can see similar design elements in the lobby layout and shape of the resort.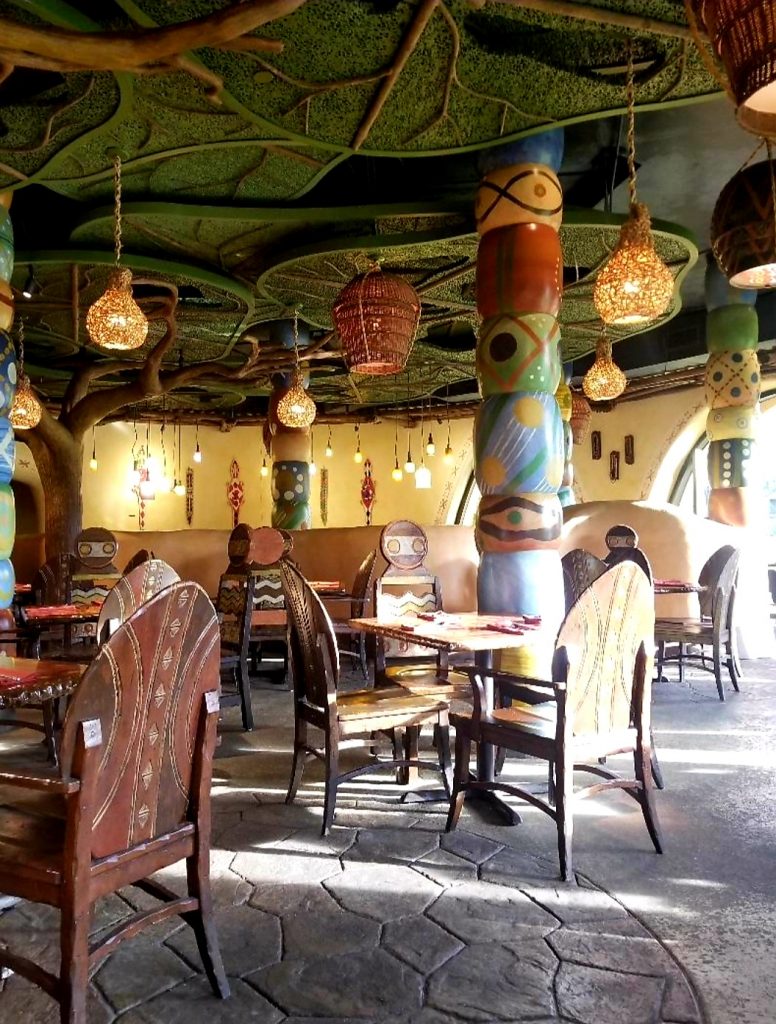 Arrival and check-in experience:
Shaped like a horseshoe, the building design replicates the traditional African kraal typically found in the Zulu communities of South Africa. These villages feature a group of thatched huts that are typically enclosed by a fence to keep livestock in. In the case of Disney's Animal Kingdom Lodge, the design allows for excellent views of the animal savannas. The lobby and most guest services anchor the building in the center while curved wings extend out and house the resort's guest rooms. You will notice a change in the landscape, including the grasses and plants you see, prior to pulling up to the porte-cochere to begin your journey. If you are arriving by motorcoach via an airport shuttle you will be dropped off right in front of the lobby entrance. If arriving by taxi, rideshare, or private transfer, you will stop by the security gate and confirm you are checking in before proceeding to the lobby entrance. If arriving by personal vehicle you will also need to stop by the security gate. TIP: have your ID and resort confirmation number handy to show the guard. Self parking is available for $25/night and valet is available for $33/night. Bell services will be available to assist guests with luggage upon arrival and they can hold items until your room is ready. Like other Disney resorts, there is a small kids area with kid size furniture and a TV playing Disney shows or movies to entertain little ones during the check-in process. Alternatively, you may choose to complete online check-in on the app prior to your arrival. Doing this allows you to bypass the front desk and you will receive a text or email notification with your room number when it is ready.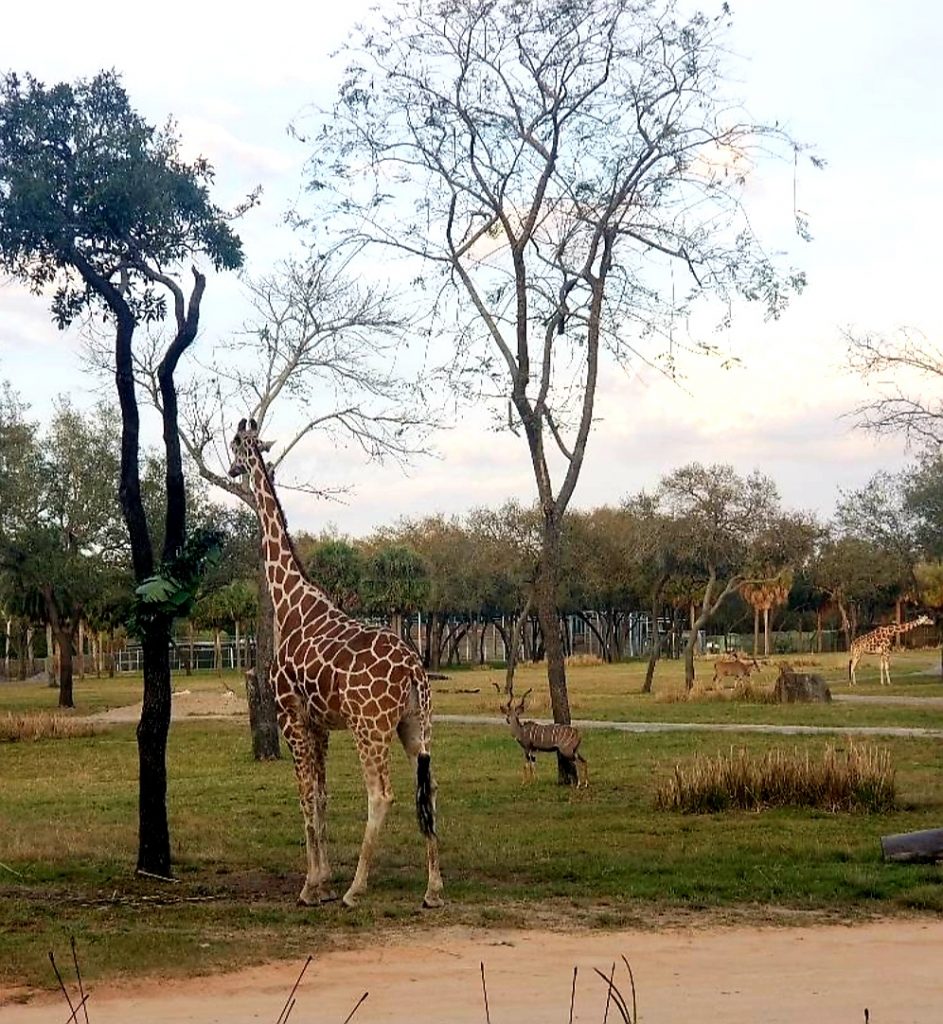 Rooms:
Refurbished in 2019, the guest rooms at Animal Kingdom Lodge seemingly transport guests to a safari camp in South Africa. Authentic decor elements with a touch of Disney fill the guest rooms. Most rooms accommodate up to 4 adults plus one child under 3. Standard rooms measure just under 350 sq ft in size, which is smaller than other deluxe rooms. You will find a small table and 2 chairs in lieu of the daybed/couch found in many other deluxe resorts. Options for room views include standard (parking lot, rooftop, etc), pool, and savanna. King beds have their own booking category within each view option as well (for example- King Bed, Pool View). There are also various suites and club level rooms available. Room amenities include a hairdryer, shampoo/conditioner/body wash, bar soap, lotion, beverage cooler, Keurig coffee maker with coffee and tea supplies, in room safe, iron and ironing board, and complimentary wi-fi. Beds feature under bed storage which makes storing luggage and other items a breeze! If you are looking to save a little bit of money, standard rooms are an excellent choice but the views can definitely be pretty standard. The savanna view rooms are worth the cost if they fit the budget. Imagine sitting on your balcony with your morning coffee while a giraffe walks by!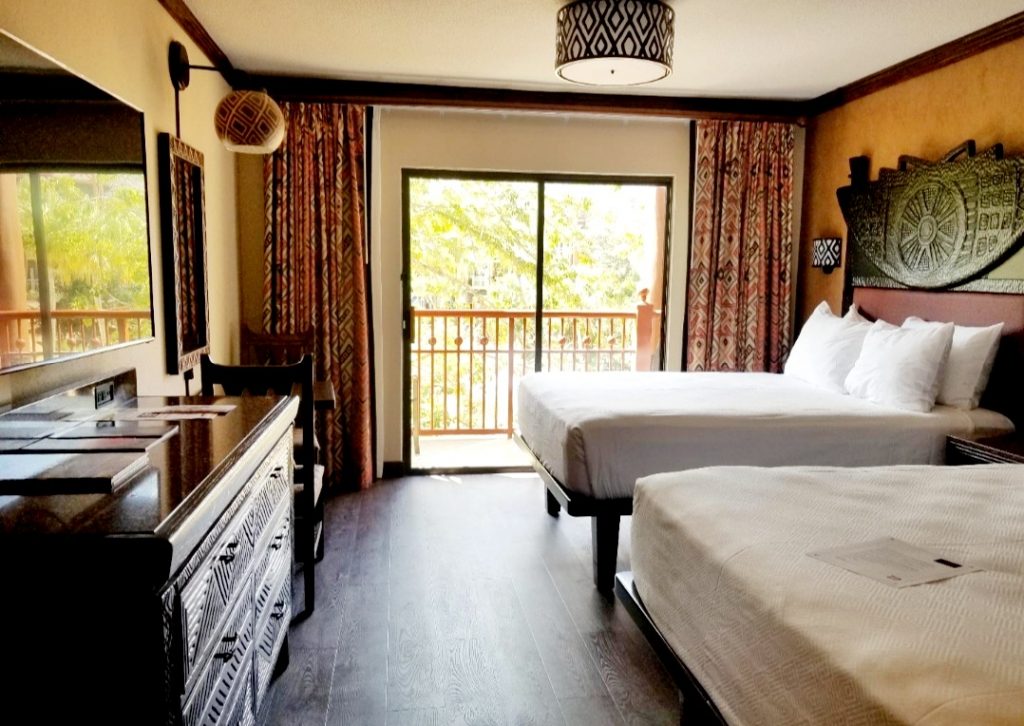 Club level rooms and suites are an excellent way to make your trip even more magical! The 6th floor is home to the Kilimanjaro Club and most club level rooms. *Note that club level rooms here can be located on other floors but they will be located near an elevator for easy access to the lounge.* The lounge is staffed by a dedicated concierge team that is available to assist you throughout your stay. The lounge has several food offerings each day including breakfast that serves a variety of continental items and hot dishes, light snacks midday, appetizers in the evening, and desserts and cordials to finish off the night. Select beer and wine are available at dinner time or upon request. Coffee and tea services are available all day as are juice, water, and canned soft drinks. In keeping with the theme of the resort, the food options here will be a little more exotic. The feature dishes during the appetizer hour come from Jiko so you know it's going to be good! The lounge overlooks the lobby and you can often hear the drummers playing from the lobby below.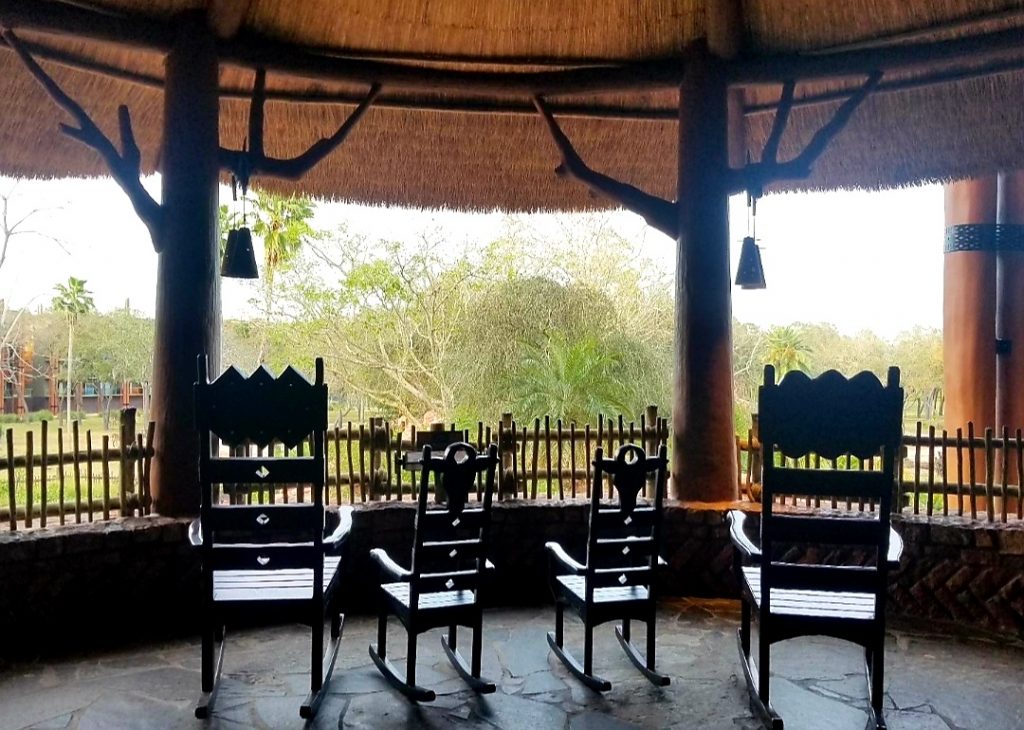 Dining:
Animal Kingdom Lodge is home to some unique and fine dining experiences that focus on African-inspired flavors and dishes.
Boma: Serving breakfast and dinner, this buffet restaurant is modeled after a lively African marketplace. African inspired dishes alongside classic American favorites fill the buffet so everyone is sure to find something they will enjoy! Make sure you grab a glass of POG juice for breakfast and a zebra dome at dinner and thank me later!
Jiko- The Cooking Place: This signature restaurant combines the flavors of Africa, India, and the Mediterranean to create unique and tantalizing dishes. If you are looking for upscale dining away from the hustle and bustle of the parks, this is an excellent option!
The Mara: The resort's quick service location serves up a variety of classic dishes and grab and go items throughout the day. You'll find more exotic items such as braai chicken flatbread or falafel along with traditional favorites.
Cape Town Longe Wine Bar: This lounge, adjacent to Jiko, serves a large selection of South African wines.
Victoria Falls Lounge: Overlooking Boma, this lounge is known for its selection of South African beer and wine. They also serve small plates and appetizers.
Uzima Springs Pool Bar: This watering hole is located near the Uzima Pool and serves a variety of both alcoholic and nonalcoholic beverages. Grab a drink and relax by the pool or sit and watch the animals roam in the nearby savanna.
Sanaa: Sanaa is technically located at the nearby Kidani Village but I would be doing a disservice if I didn't mention this place! Blending Indian and African inspired cuisines, it serves a hearty and delicious quick service breakfast and table service meals for lunch and dinner. The breakfast is a wonderful, affordable option for a slow morning. During lunch and dinner, you have to try the infamous Indian style bread service that includes nine different accompaniments and 5 types of bread! A shuttle runs between Jambo House and Kidani Village about every 10 minutes so getting to Sanaa from the main lodge is quick and easy. You can also order Sanaa to go and take your meal back to your room or eat by the pool!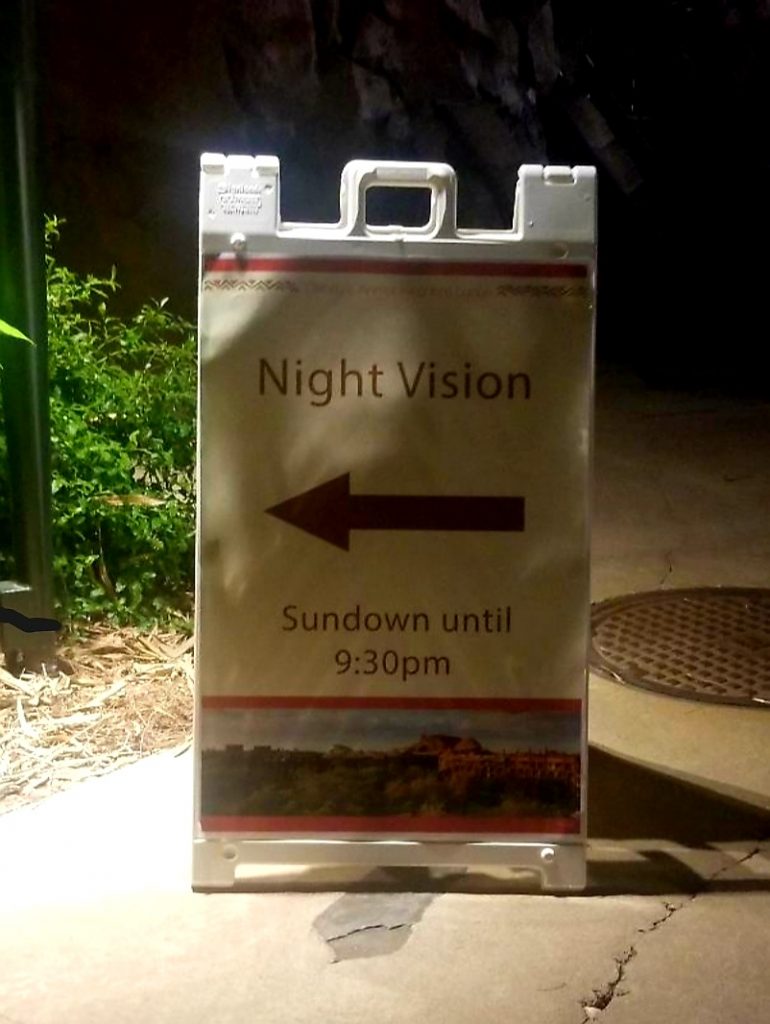 Recreation:
Animal Kingdom Lodge offers a plethora of unique activities for guests! A great pool with fun poolside activities, playground, arcade, fitness center, movies under the stars, and nightly campfire with marshmallow roast is just the tip of the entertainment iceberg! The resort also offers unique animal experiences (check with the front desk or the recreation guide for current activities), night vision goggles for viewing the animals, and pin trading with the famous "King Pin" most afternoons. A favorite pastime for many visitors is observing the animals. The animals roam freely in 4 savannas throughout the resort and watching their interactions throughout the day is a highlight for many guests! You may even spot animal caretakers checking on or feeding the animals. The Starlight Safari is a paid tour that takes place on the animal savannas at night. It gives guests a rare chance to experience the savannas and observe the animals after dark. If you are looking for a totally unique experience to add to your vacation, you may want to check this tour out! The cast members here are often full of knowledge about the resort and animals. Feel free to ask them questions!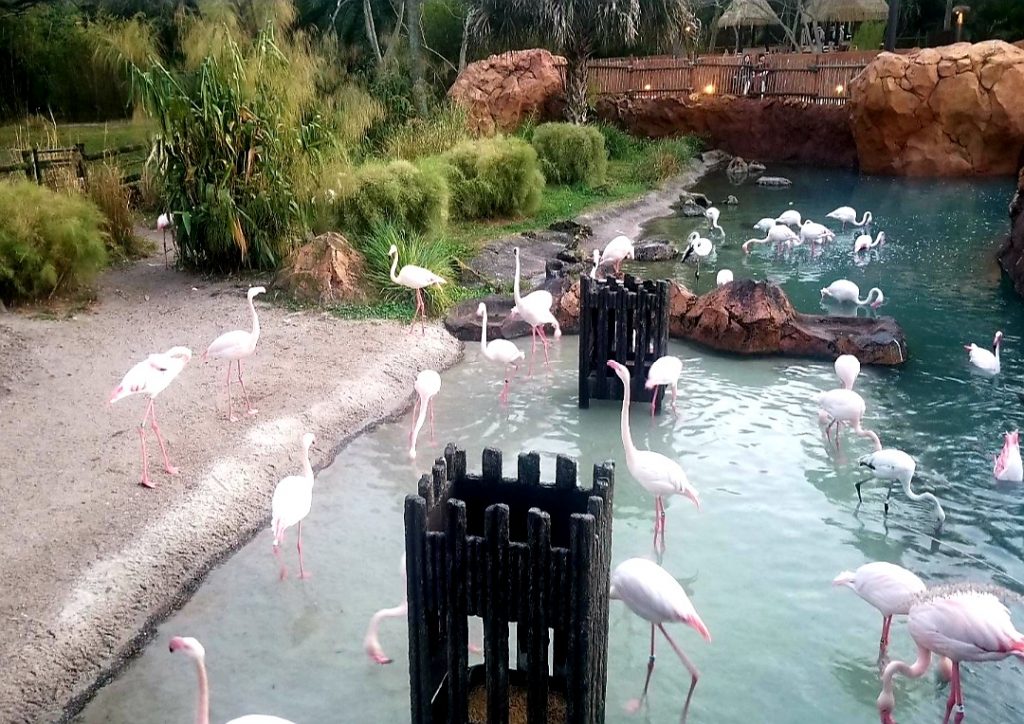 Pros and Cons:
Pros:

Beautiful and unique environment.
Perfect for animal lovers of all ages!
Lots of recreation options for nonpark days or those looking to relax in between park visits.
Guests staying at deluxe resorts have access to extended evening theme park hours on select nights each week. It's like having a private after-hours event!
Rooms generally cost less than other deluxe resorts.
Cons:

Rooms are on the smaller side for a deluxe resort and standard rooms only sleep 4 (plus one child under 3).
Some guests comment on how far away the resort is from everything. I personally think this is the illusion that Disney created (you are supposed to be on an African safari after all) and it's really no further than other resorts in the area.
Adventurous dining options likely won't appeal to all guests and other dining is more limited than in other deluxe resorts.
It is the only deluxe resort that doesn't have an alternative transportation option such as a boat, monorail, Skyliner, etc, and only offers buses to the parks.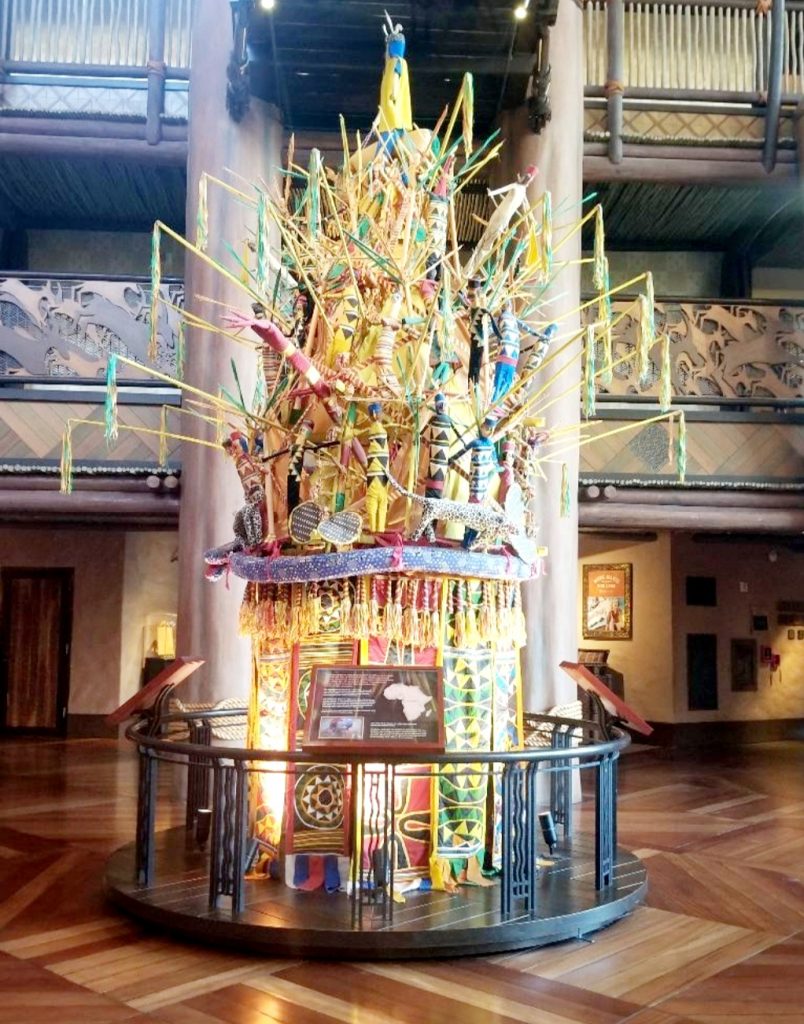 Agent Impressions:
I adore the unique atmosphere and theme of Animal Kingdom Lodge! The opportunities to see and interact with the animals really make this resort special. The new rooms are light and airy while still maintaining a cozy aesthetic. The pool area is great! Where else can you swim next to flamingos (not literally but they are super close by!)? I personally love the dining options and will never turn down breakfast at Boma. The staff here is incredible and they have wonderful stories to share. Many of the cast members are part of Disney's Cultural Representative Program and they are happy to answer any questions and educate guests about their home countries.
What are your impressions of Animal Kingdom Lodge? Let me know in the comments!
Article by Storybook Traveler Holly Averette