Article by Storybook Traveler Jay Russell.
April 22, 1998 was the day that the fourth and, as of this writing, final Walt Disney World Theme Park, Animal Kingdom, made its grand debut. However, that is not the actual beginning of the story.
When developing Disneyland, Walt Disney actually wanted live animals for the Jungle Cruise attraction. He was told that it wouldn't work and that animals would need special care, wouldn't be "on stage" reliably, and that it was just not feasible at the time. That's why we have all the animatronics in Jungle Cruise. They turned out to be cheaper and more reliable performers. At Disney, though, no good idea ever dies, it just hibernates.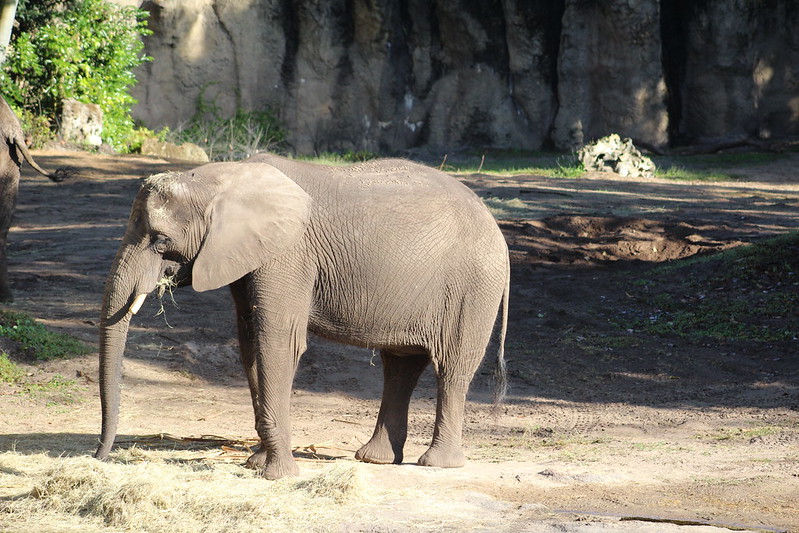 In the 1950's Walt's love for animals continued into the True Life Adventures series of documentaries.
Moving forward several years, on April 8, 1974 Treasure Island (eventually renamed to Discovery Island) opened on Bay Lake at Walt Disney World. This was the first real attempt at a live animal conservation and viewing area. The facilities on this island were the home of the last dusky seaside sparrow until it passed and was declared extinct in July 1987. There were also primate exhibits along with many different birds. Of course, being the swampland of Florida, there were alligators on display, as well.
With the construction and opening of Disney's Animal Kingdom, Discovery Island was rendered unnecessary and the primates and birds were moved to the new park. Discovery Island closed its doors to the public on April 8, 1999 exactly 25 years later. By July 9, 1999 all operations ceased on the island and the site was abandoned. All the buildings and structures are still there but many have been damaged by hurricanes and neglect.
The next big test for Disney and live animals was The Living Seas at Epcot. Upon opening, The Living Seas was the largest saltwater aquarium in the world. It remained there until 2005 with the opening of the Georgia Aquarium.
Disney began investigating the idea of an animal themed park in earnest. WDI (Walt Disney Imagineering) began visiting zoos across the country. They soon realized that just about every major city had a local zoo available for the public at a very low cost. Everyone was unsure if a Disney zoo could work. Would people come to a zoo at Disney prices? Could a Disney budget work for a zoo?
There was also the major question "were animals exciting". Joe Rhode answered that in an early meeting. He brought in a live tiger. With that, the green light was given.
How different was Animal Kingdom when it first opened as compared to now? Let's step back in time for a moment and take a look.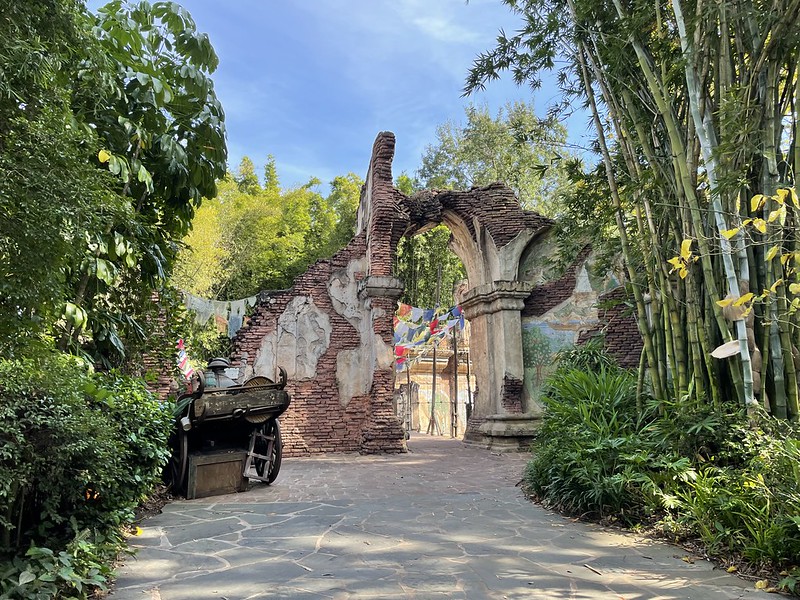 April 22, 1998
Upon entering the park, you are immediately given two choices for your path through the Oasis. Each path is beautiful and contains many species of flora and fauna. Both paths lead to Safari Village (now known as Discovery Island), the hub of the park. Here we find the Tree of Life, the icon of Animal Kingdom. Inside this amazingly designed giant tree you will find It's Tough to be a Bug. This actually opened 7 months before A Bug's Life opened in theaters. You could also board the Discovery River Boats here.
From here, we can go visit any of the lands in this amazing new theme park. What lands were there on Day 1?
Camp Minnie-Mickey: a lovely Adirondack themed campground for Mickey and his friends. In here you would have found Character Greeting Areas, Colors of the Wind, Friends From the Animal Forrest, and Festival of the Lion King.
Africa: Located in Africa was the village of Harambe, Gorilla Falls Expedition Trail, Kilimanjaro Safaris (which itself is large enough to hold the entire Magic Kingdom park) and Wildlife Express Train to Rafiki's Planet Watch.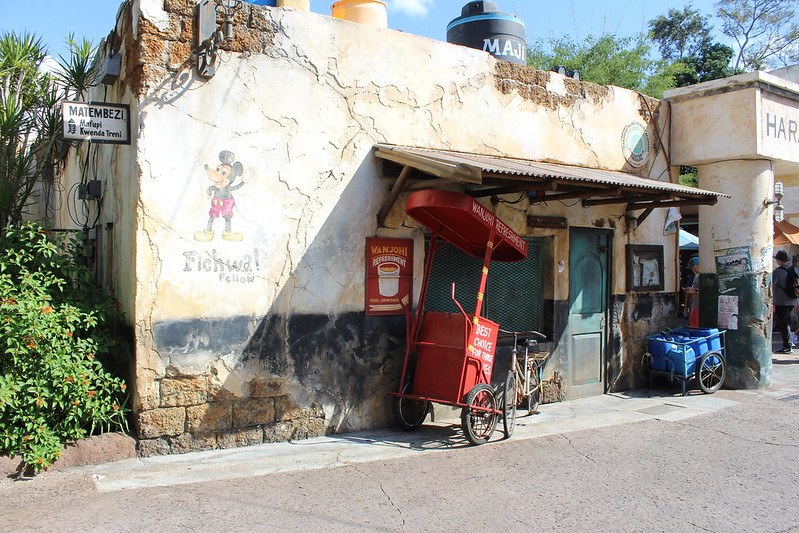 Dinoland USA: Located in Dinoland USA (originally sponsored by McDonald's) you would find Countdown to Extinction, the Cretaceous Trail, Fossil Preparation Lab, Journey Into the Jungle Book, and 1998 Dinosaur Jubilee.
Asia: Very much still under construction on opening day, Asia did have a few attractions when Animal Kingdom first opened to the public. Here you could board the Discovery River Boats at Upcountry Landing or watch Flights of Wonder.
There were also sixteen dining locations spread around the various lands. They included Flame Tree Barbeque, Pizzafari, Restaurantosaurus, Tusker House Restaurant, and Rainforest Cafe.
On March 24, 1998 the Discovery Island Trails opened.
On February 15, 1999 Kali River Rapids opened in Asia.
March 1, 1999 saw the opening of the Maharajah Jungle Trek in Asia.
July 17, 1999 Tarzan Rocks! Opened.
March 31, 2002 brought TriceraTop Spin to DinoLand USA.
April 18, 2002 saw the opening of Primeval Whirl and Fossil Fun Games rounding out the new Chester and Hester's DinoRama area of DinoLand USA.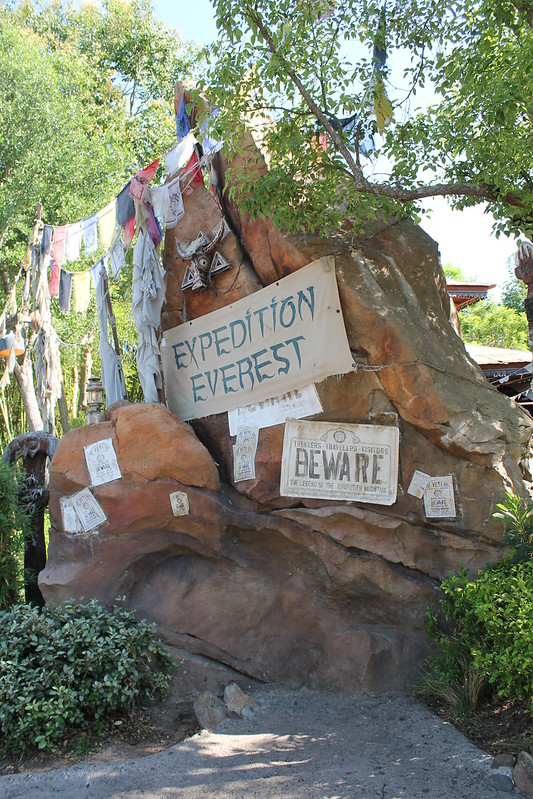 April 7, 2006 brought Expedition Everest – Legend of the Forbidden Mountain to Asia. Sadly, the Yeti did not make it much past this opening date and currently still resides in "B" Mode with the strobe lights used to simulate movement.
January 24, 2007 is the date that Finding Nemo The Big Blue… and Beyond opened.
May 13, 2013 was the first day to Meet your Favorite Characters at Adventurers Outpost.
June 1, 2013 saw the opening of the Wilderness Explorers allowing you to earn badges just like Russell and Dug from Up.
January 6, 2014 gave us the always fun DinoLand Dance-a-palooza.
May 27, 2016 was a busy day. On that date the following opened: Discovery Island Carnivale, Harambe Village Acrobats, Harambe Wildlife Parti, and Tree of Life Awakenings. Discovery Island Carnivale and Harambe Wildlife Parti both ended March 15, 2020 due to Covid shutting down all Disney Parks.
February 17, 2017 saw Animal Kingdom begin its expansion into more nighttime entertainment.
Rivers of Light was the first nighttime spectacular breathing new life into the Park. It was discontinued on March 15, 2020 as well.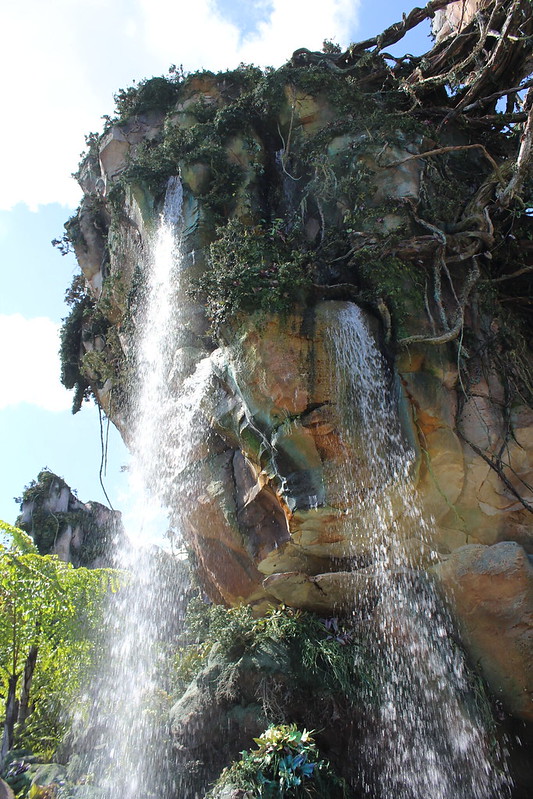 May 27, 2017 saw the opening of Pandora – The World of Avatar. This included the Valley of Mo'ara, the Pandora Drummers, Na'vi River Journey, and Flight of Passage.
April 22, 2018 brought the Pandora Rangers to Pandora – The World of Avatar as well as the updated and rethemed Up! A Great Bird Adventure which ran until March 15, 2020.
July 11, 2020 saw the once again updated and rethemed Feathered Friends in Flight taking over for Up! A Great Bird Adventure.
October 1, 2021 saw Kite Tails added to the entertainment line up at Animal Kingdom. This show ran until September 30, 2022 after being removed from the daily schedule in May 2022.
And that brings us all to today, April 22, 2023. We have watched 25 years of changes at Animal Kingdom. We look forward to 25 more!
Until Next Time, Travelers.
Article by Storybook Traveler Jay Russell.