This article by Jill Dalton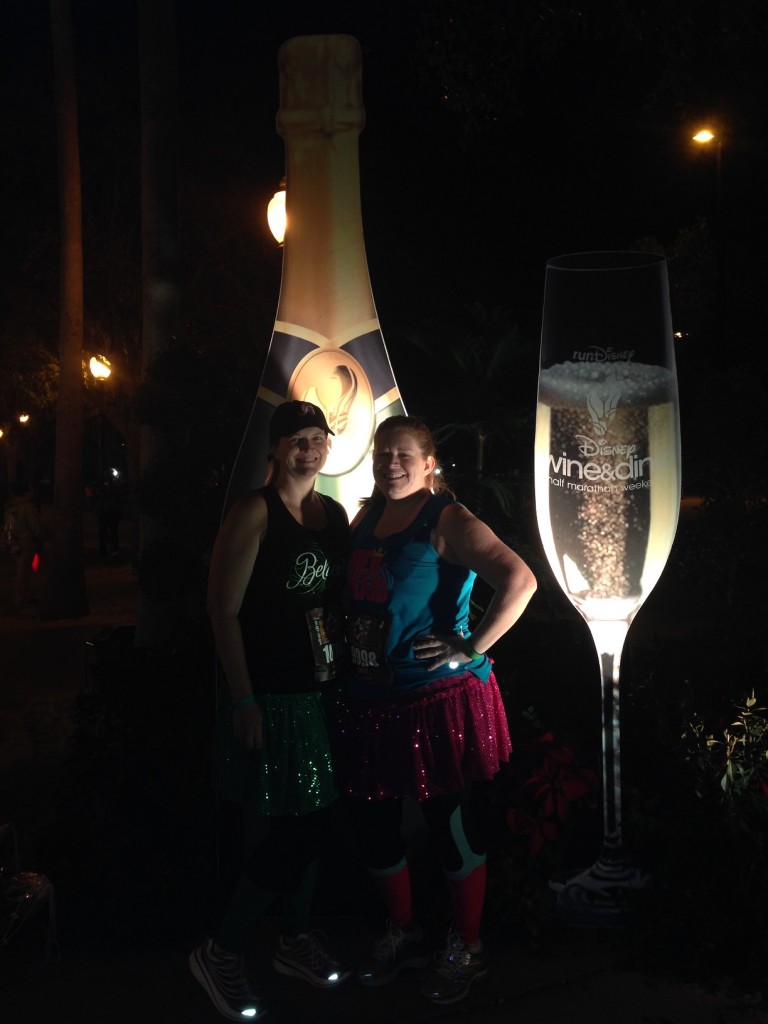 Did you know at Storybook World Travel we have many Travel Planners that are also runDisney fans?  I love to run, but I love running at Disney even more – the Characters, the course support, and I also love that Disney bling (a fancy word for race medal).  My favorite runDisney race is the Wine and Dine Half Marathon that will be taking place soon in Walt Disney World during the Food and Wine Festival.  The reasons I love this runDisney event more than others are because of the food (because I run Disney so I can eat Disney) and I am a night owl.  This run starts at 10:00 in the evening and the party, I mean run, lasts until 3:00 in the morning – my kind of run.  However, most runners are used to running early in the morning and are unfamiliar with training and fueling for a night race.  Here are a few ways to help prepare for your magical 13.1 in the middle of the night:
1. Run at least once a week for the last three weeks of your training run when it is dark outside, preferably start at the same time your night race will start.  Most of us are getting our bodies ready to relax in the evenings after a long day, starting a training run at night will help get your body used to being called upon to work at night too.  One of these runs should be a long run (10-12 miles) so that you can prepare your body and so you will know how it will react to late night running.  You might even be surprised that you can run faster in the evenings with the cooler temperatures and extra adrenaline.
2. When running at night remember to be safe – wear reflective clothing, make sure the area is safe (if possible run with a buddy), and make sure the area will have plenty of light.  For your training runs you can wear a headlamp to light your way, but for Wine and Dine you will not need to wear a headlamp because there will be plenty of light along the course.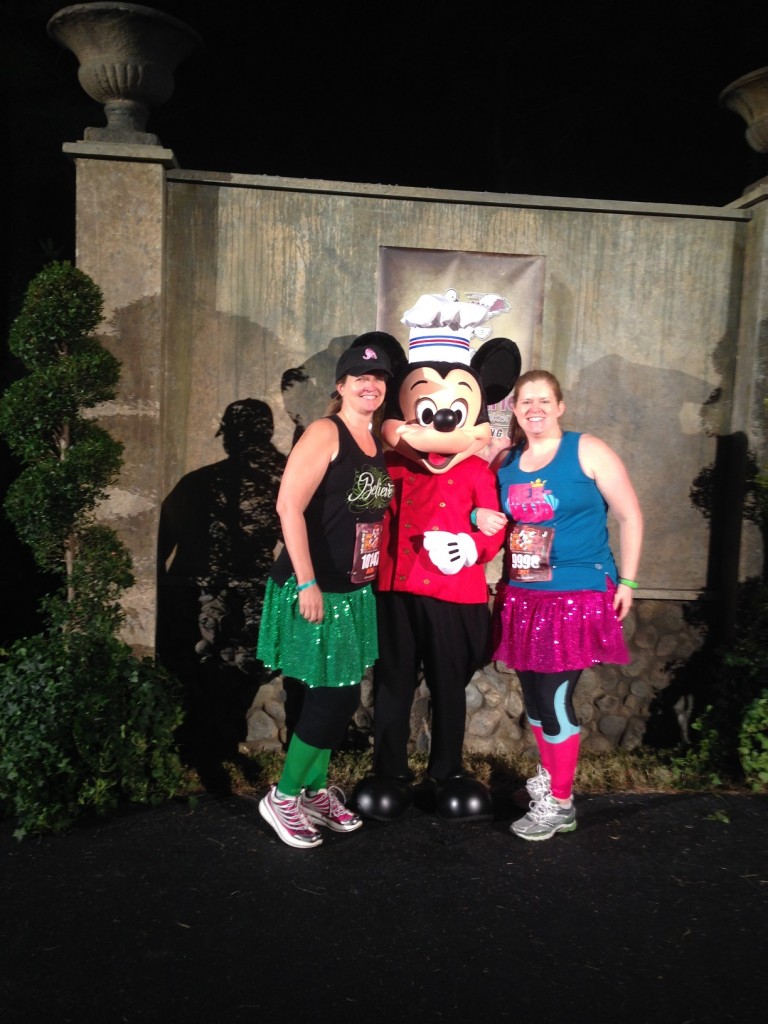 3. Fueling is so important for any type of run, but it can be an all day fueling event for a night race.  The key again is to practice ahead of time so you know what your body needs and can handle before an evening workout.  On the nights that you do your evening training runs also be mindful of your food intake those days.  I find that I have a late breakfast, around
10:00
in the morning, that is a balance of carbohydrates and proteins, then I have a small lunch/big snack around
1:00
(again balancing carbs and proteins), then dinner at
5:30
that is again a balance of carbs and proteins, and finally a protein bar around
8:30
while waiting in line to meet Characters before the race (I also carry a pouch of applesauce for refueling during a half marathon).  Please note that this is what I have found to work for me, but you will need to find what your body likes best for race night.  I also try to make sure that I do not sample new foods, because I am not sure how my body will react and do not want any surprises during my run through Disney.  That can be hard to do with all the yummy goodies in Disney World, especially at the Food and Wine Festival, but remember you can sample those goodies after you cross the finish line.
4. I also make sure my body is used to staying up late and sleeping in late starting a few days before the Wine and Dine Half Marathon, or any night race.  Getting to Walt Disney World a few days before your race and enjoying the night life is a great way to help your body get used to this new sleep cycle.  Now you have an excuse to close the parks, or Disney Springs!
5. Rest!  I know you are in Walt Disney World and you do not want to miss a minute of what Disney has to offer, but on the day of the race your need to R-E-S-T.  I usually use this day to go pick-up my packet and explore the Expo (everyone likes to go the first day, so it is not as busy the second day).  Once I am finished at the Expo I like to go back to my resort and rest or take a nap.  Yes, it is your day and you get to take a nap if you want too.  My favorite rest spots at the Caribbean Beach Resort, it is always a host resort so we tend to stay here for each Disney World run, are a hammock on the beach, or a lounge chair by the quiet pool.  Both are peaceful and a nice way to treat your body before asking it to work hard that night.  Side note – if you rest outside, or spend any time outside while in Disney World, please wear something to protect you from the sun.  Running with a sunburn is no fun.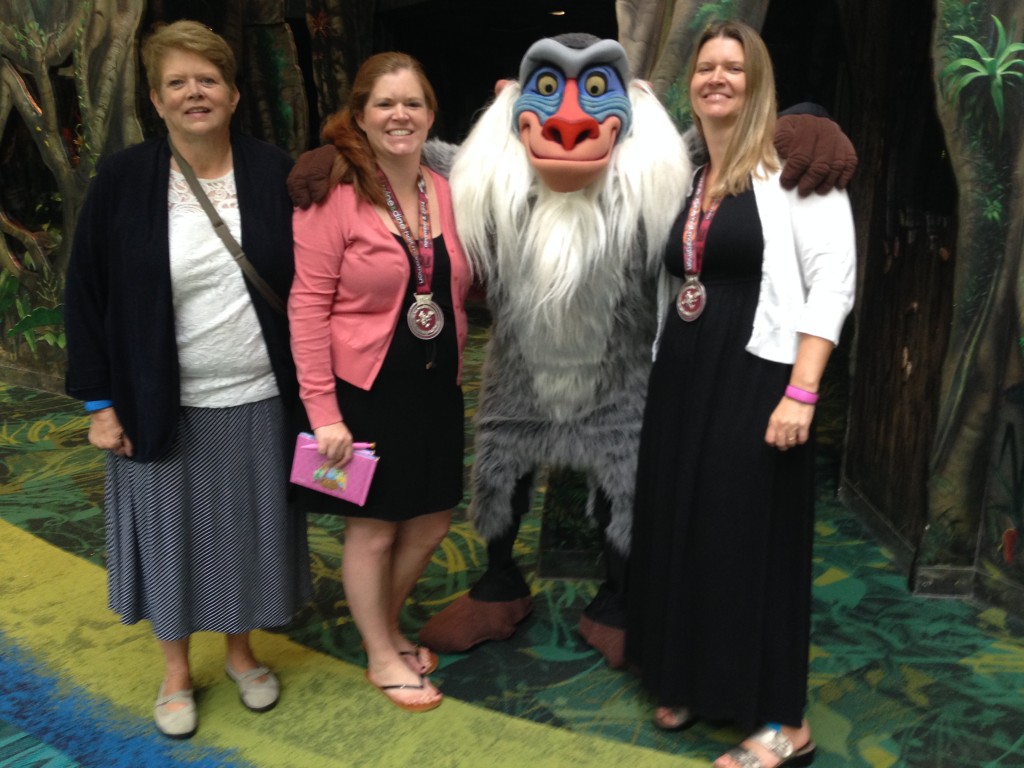 I hope these helped you prepare for your next night race – remember practice ahead of time and nothing new the day of the race.  The Wine and Dine Half Marathon is the last remaining night run for runDisney and such a special event.  This run is the smallest half marathon that they host in Walt Disney World and sells out quickly (this year's race sold out in less than two and a half hours).  If you did not get in this year and want to run next year let me know so I can help you – I would love to help you plan and book your next runcation!